EnergyBits and RecoveryBits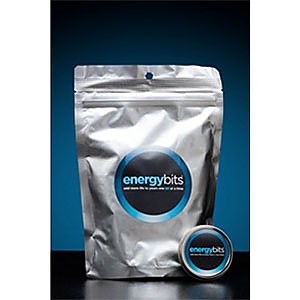 EnergyBits and RecoveryBits use algae as their main ingredient, an energy dense food source. A good substitute for the standard protein bar.
Pros
100% organically grown
High protein-to-weight ratio
I often am offered the chance to try new and unusual products, EnergyBits and RecoveryBits definitely fit into this category. Both products are made from 100% algae. The Energy Bits one ingredient is spirulina algae and the Recovery Bits are comprised of chlorella algae. While this may seem an odd choice for consumption, algae is one of the most energy dense foods available and has been consumed in Asia for centuries.
Manufactured in a pill form, a dose of 30 Bits is loaded with vitamins and minerals and provide just under 5 grams of protein and 30 calories. Touted as the latest, greatest products to boost performance and recovery, they are meant to be taken before and after exercise.
Consumption is best done by swallowing the 30 Bits in one or two swallows followed by some water as they have a very GREEN taste. Unfortunately, I was offered a very small sample size for testing. In the end, after consuming 30 Bits each of Energy Bits and Recovery Bits on two separate occasions before and after my weekly marathon mountain bike ride I can't say I saw any actual benefit from either product. If I had been given a larger sample size to test over a longer period of time it would have been easier to quantify any benefits I might see.
That being said there is a silver lining in this product for the long distance backpacker who has to consider weight and bulk when picking their food choices. 120 Bits or 4 doses offer 20 grams of protein in a very small lightweight package compared to a protein bar.
Another plus is you can swallow 30 Bits providing 5 grams of protein and 30 calories in one gulp followed by some water. This could be a real help to the many backpackers who lose their appetite on the trail.
Purchased in bulk, 1000 tablets retail for $115.00 putting the cost per 30 Bit dose at $3.45. Unfortunately, this would put it out of reach monetarily from many backpackers.
Source: tested or reviewed it for the manufacturer

Disclosure: The author of this review received a sample of the product from the brand or its representative in exchange for a review.
Your Review
You May Like