Ensolite Sleeping Pad

#9 in unisex Closed-Cell Foam Sleeping Pads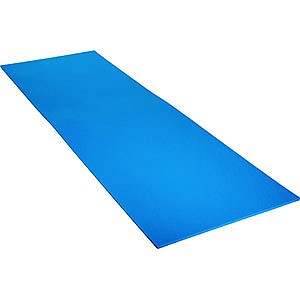 Specs
| | |
| --- | --- |
| Price | Reviewers Paid: $5.00 |
Reviews
3

reviews

5-star:

1

4-star:

1

3-star:

1

2-star:

0

1-star:

0
This product doesn't have a brand name. It's the good old Ensolite Pad, or at least that's what I have always called it. Anyway for those looking for a very durable pad to sleep on, this is it. It doesn't require inflation, it holds its own a long time and it's cheap! I would recommend it to anyone looking for a warm sleeping pad that is super light.

Adding:
I once bought a sleeping pad for my camp trips, that was in 1978, and I still use the same pad now for 35 years. I will most likely die on it if I am not working and renting like this year. I am thankful Patsy,my land owner for living in this trailer, my home these last 4 months with 1-2 more.

I plan to stay quite a while if possible. In 2 1/2 months tho I am going to stop working until summer again 2014. But by those two and a half months, I will have saved enough to live here by paying rent, but instead of going to work I am going to travel with either my bike or my backpack and be gone at times for a couple weeks, but usually 1 day to 8 nights, camping and being myself instead of an employed worker.

I want to see and learn about Sh*t as much as I can in this one lifetime, cause I think if there truely is a heaven then it will be like Eden before the fall of Adam and Eve, or when our first ancestors swam in the sea, or took the the air. Or slit away from the Big Bang, it all works out for me. Understand?

I feel I have been on a journey that started in my mothers Womb (THANKS, MOM!) :) and has not quit, tho I have had and quit many a job, about 90 jobs(?) but have spent 97% of my time outdoors "Outdoors".

The most fasinating thing, even if I cant speel that word.
Pros
Lightweight
Durable
Cheap ($5-10)
Cons
Can't think of any
Durability, new used ones will be around for hundreds of years
I have used my Ensolite Pad since 1978 (or 34 years). It has held up very well considering it's been all over the USA including Alaska.
It's made of a closed cell foam that is very lightweight. It doesn't require being inflated. It will take tons of thorns, goat heads, even your forgotten keys in your pocket can't harm this beauty!
Usually it comes in only one color, which is Blue. It's about 1/4 inch thick and is about 6 foot long x 2 feet wide. It weighs about 1 pound or less. Mine cost me $5 in 1978 and I have seen them for as much as $10 in stores. It can be bought at Kmart, Walmart and even high tech outdoor store like REI, etc.
It's very warm to sleep on, insulates from the coldest ground, snow etc. It conforms to your body as you sleep. It stays in place as you turn over a lot as I do in my sleep.
So if you are looking for a good long lasting sleep pad that you can use the rest of your life, Get an Ensolite Pad!
Source: bought it new
Price Paid: $5

Never fails, always works.
Pros
Rugged
Durable
Puncture proof
Cheap
Lightweight
Cons
Minimal cushioning
Rolls up large
My trusted blue pad has served me well for decades. It has handled Arizona rocks, thorns, and pokey plants. It worked on a coral rubble campsite in the Florida Keys. Wisconsin winter camping is no problem. This is a well used and essential item for all my camping.
I now add a Therm-a-Rest pad on top for extra cushioning, something not needed when I was in my 20s but greatly appreciated now. The dual pad combo provides for a wonderful night's sleep, I even bring a tiny down pillow, seriously, a freaking pillow. I have no problem with a little extra weight considering the comfy sleep, the whole camping trip is improved.
The blue pad and the self-inflating pad roll in to a bedroll the size of an old-time cowboy roll, but I just strap it to the bottom of my external frame pack. If I look old school at least I don't wake up feeling like a war refugee.
Buy one, try it. If it sucks you're out a few bucks. If you like it you have a pad for years.
Source: bought it new
Price Paid: Who knows, it was years ago.

Low cost entry into the large sleeping pad field of products. While low cost, it is durable and functions well. Not as compact as other more expensive pads. It works well.
Pros
Lightweight
Full coverage
Cheap
Source: received it as a personal gift

You May Like
Recently on Trailspace