Fitbit One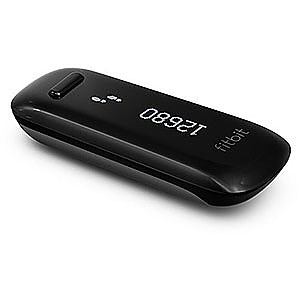 Specs
Price
MSRP: $99.95
Reviewers Paid: $100.00

Reviews
1

review

5-star:

1

4-star:

0

3-star:

0

2-star:

0

1-star:

0
Fitbit One is an extremely accurate pedometer and a fitness monitor rolled into one tiny little unit.
Pros
Accuracy
Small size
Fitness features
Cons
Doesn't account for altitude gain on a stationary device
Doesn't work with bicycles/canoes/kayaks
The word mile is derived from the Latin words mille passuum which meant literally one thousand paces. When the Roman armies marched they would plant a carved stick in the ground to record 1000 paces or approximately 5000 feet.  
I've began hiking long before there were any devices to record distance traveled and in my early years relied on Forest Service signs with designated miles. I never did know how the Forest Service derived the distances but, in my opinion, they were quite inaccurate. From time to time I would actually count my paces to arrive at a rough guestimate of distance traveled. When the first pedometers arrived on scene I was quick to jump on them and used various different models to record distance hiked. But these proved also not to be very accurate.
With the advent of accurate GPS I felt like I had died and gone to heaven as I could now record distance traveled with stunning accuracy. When the mapping GPS's came along I could record my tracks.  
I was recently introduced to a new, high tech pedometer the Fitbit One. This device is about the size of my pinky finger and uses accelerometer technology to record the steps you travel. Accelerometers are the instruments that record "G" forces in aircraft and race cars. It also calculates altitude gained which it records as floors climbed and calories burned during a day's activities. Lastly, it can be attached to your wrist at night to record "awake time" while you are sleeping.  The device charges by plugging into a USB port with a supplied cable.  A charge for me typically last about ten days but that depends on your level of activity.
I did a 12-mile hike with about 1000 feet of elevation gain and tracked that hike with the Fitbit and a Garmin Oregon 450t GPS. I was shocked to see that the Fitbit was within 0.05 miles of what the Garmin indicated for distance traveled and it was within 50 feet (five floors) of altitude gained! I have since verified this on two other hikes and always find the Fitbit to be unerringly accurate.  
Once it is activated you can change many parameters such as the number of steps you one to set as your goal for each days activities. As incentives the Fitbit.com "dashboard" shows your Steps walked, Calories Consumed, Stairs Climbed, Activity Level, and miles walked. All of these are, of course, displayed on the fitbit unit itself so you need not log onto fitbit.com to see your activity. There is a small flower that grows in length as your activity level picks up and shrinks when you're sedentary. The fitbit.com webpage rewards you with "badges" for various levels attained on a daily basis and over the lifetime of use.  You can also track activity on various tablets and smartphones should you desire.
Now the caveats.  The Fitbit must be activated with a computer using a supplied "dongle" that you plug into a USB port. The dongle self installs and recognized your fitbit unit. You then will download and install the software and activate your Fitbit. So you must be computer literate — although not highly so — to activate the unit.  
The second drawback is that the unit will not record "steps" when you are riding a bicycle or paddling a kayak.  It doesn't recognize altitude gain (stairs) when you use a stairmill device or elevation gained on a treadmill.  It does however recognize steps on treadmills, stairmills, and eliptical trainers so if you're into gym work it will record that activity quite nicely. 
In short, this is a great device if you just want to use it to record miles hiked and altitude gained but it is really much more. It has become my personal trainer in a tiny little device and I don't go anywhere without it. I can't wait to hop out of bed in the morning and go for my first 8000 step, 50 floor warmup hike of the day before heading off to work. I've changed my sleep patterns somewhat and find that I no longer have 30 to 40 "awake" periods per night — now it's usually around 8 - 10 and I awake feeling well rested.   
Source: bought it new
Price Paid: $100

You May Like
Recently on Trailspace