Gempler PVC Plain Toe Boots

Top 25 in men's Water Shoes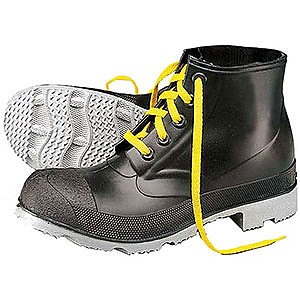 Specs
Price
MSRP: $29.40
Reviewers Paid: $28.65

Reviews
1

review

5-star:

0

4-star:

1

3-star:

0

2-star:

0

1-star:

0
Gempler's PVC Plain Toe Boot is a nearly indestructible, waterproof boot that is perfect for caving and canyoneering. It would also have great application in canoe portages.
Pros
Nearly "bomb proof" and easily repaired
Steel shank
Comfortable on rope ascents
Waterproof to 6" of water, easily drained after that
Cons
Lousy insoles (replace)
Nominal tread
Not sure why there are laces, as they are useless
Rocks can enter easily when submerged
If you ever meet a European caver, they will probably be wearing "Wellies," those big rubber boots designed for mucking about in the barnyard. The problem with Wellies is once they fill with water, you are carrying that water weight, until you drain them.
Gempler's 6" Laceup PVC Boot (sold in both plain and steel toe) is an improvement on the Wellie and a boot I have come to love.
First, they can take a beating. These boots can be dragged through mud and rocks, wedged against canyon walls, and scrapped along rocky stream beds, with virtually no sign of wear. If you can actually damage these boots, a tube of PVC glue or Shoe Goo, will patch them right up.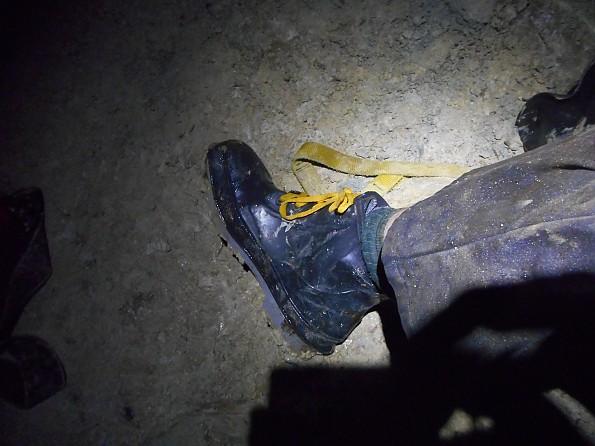 Gempler's boot in Keystone River Cave
Second, for canoe portaging, these boots are completely waterproof up to the last eyelet. If you do submerge them, they only take in a small amount of water that will slosh out as you walk. And they will dry in no time.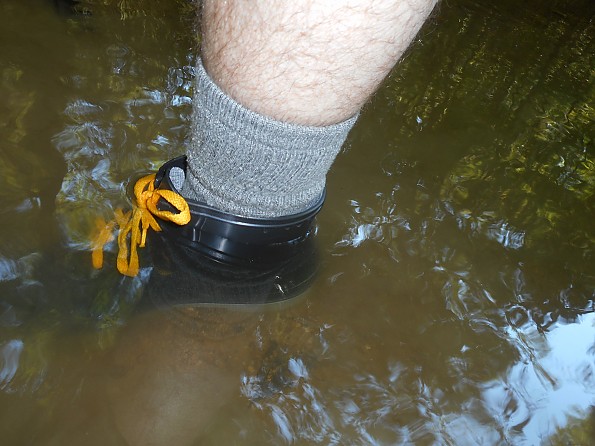 Sock is completely dry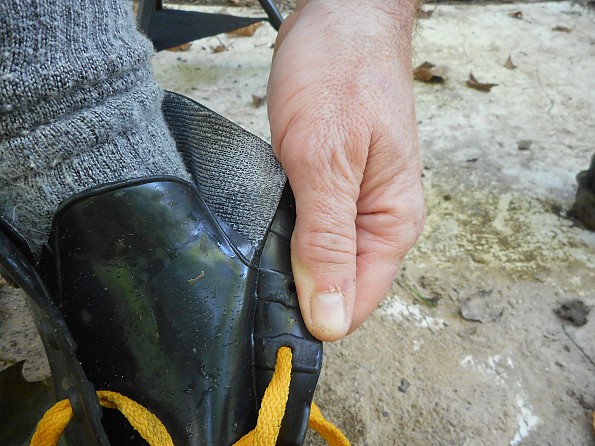 The sealed tongue on the boot ensures no water gets in.
Third, clean up on these boots is ridiculously simple. Caving gear gets muddy and soiled. These books easily hose down. I've even left them out in a rain for an initial cleaning. They can then be disinfected against White Nose Syndrome (a bat-killing virus that requires decontamination). I've never had another set of cave boots that I felt were 100% cleaned and disinfected.
Fourth, the steel shank provides plenty of support in the foot (something Wellies sometimes lack). This support is enough for ascending ropes in caves.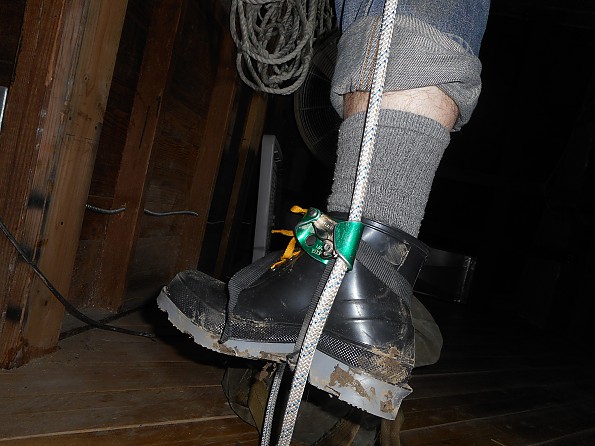 The boot easily takes a Petzl Patin. and a foot ascender
sling. I recently ascended 240' using a frog system in
these boots. My arches never felt any discomfort.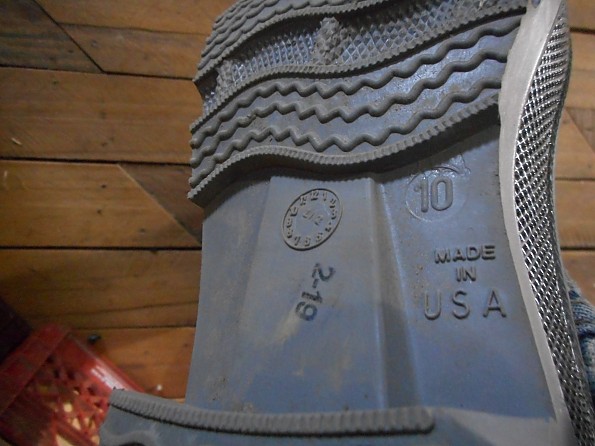 Photo of the steel shank in this boot. This boot had been
completely covered in mud a few hours earlier. A simple
garden house cleaned it this well, with no scrubbing.
Another nice feature is the tab on the back of of the boot to help take the off. Put your opposite foot on the tab and pull out. Because this tab is a part of the PVC form and not an attached piece, it is not going to rip off (By the way, I don't know if this tab has a specific name. If you know it, please tell me, and I'll edit this review.).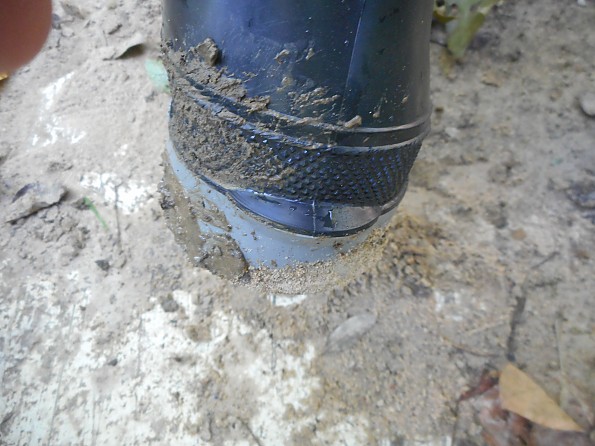 Heel tab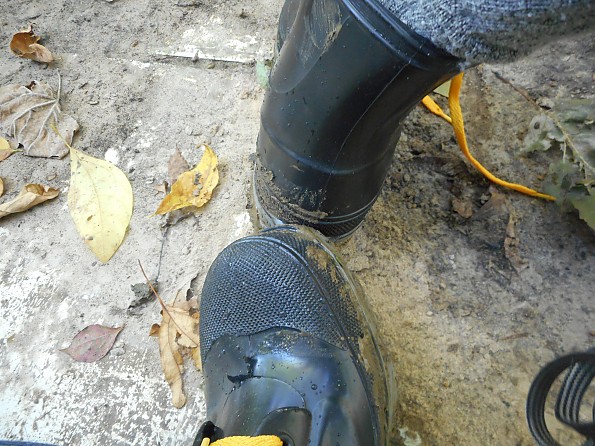 Using the heel tab to remove the boot.
Cons
There are three significant cons to these boots:
1) The insole is terrible, a thin piece of flat foam. As a guy with flat feet, I immediately went out and got arch inserts. Note: These boots run rather large in size. I hike/run in size 11 shoes. I ordered these in a size 10, and they were still a bit big, until I added the insole. With that, I got a perfect fit.
2) The tread isn't great in these things. While I haven't had any great problems in a cave, others I know have slipped in them. This makes me VERY PARANOID when I'm moving around the tops of pits or over large mountains of breakdown.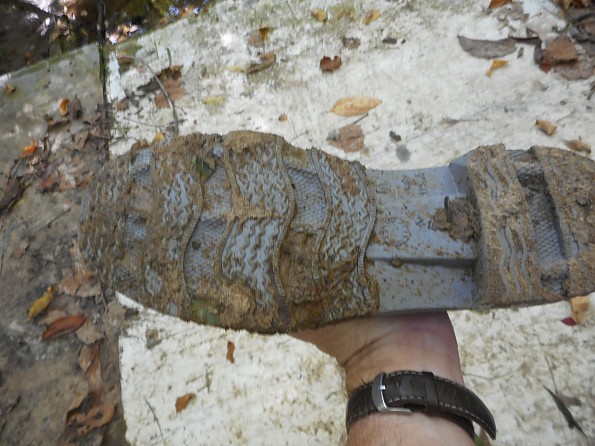 3) I don't understand why these boots even have laces. Because of the sealed tongue, you can't tighten these boots with the laces. They are basically slip ons. Because you can't tighten the top of the boots, they can allow gravel/silt into the boot when they are fully submerged in a stream. It's not a HUGE problem (In the last 18 hours of caving, I've had to shake them out twice.), but it is a con.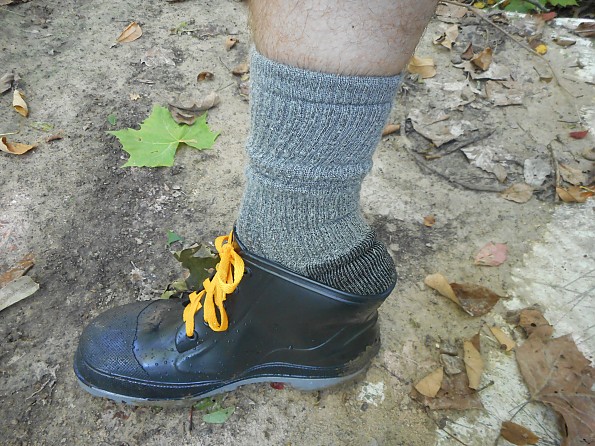 Slipping my foot into a fully tied boot demonstrates these
are merely slip ons, with no use for the laces.
In closing
In some ways, caving is underground hiking (and crawling, squeezing, climbing). So I have hiked several miles in these boots. They are not ideal for hiking. However, they are perfect for the rough environments of caving and canyoneering. They take on water and mud, then shuck it off with no problems.
Source: bought it new
Price Paid: $28.65

You May Like
Recently on Trailspace