Keith KP6001 Multifunctional Outdoor Titanium Chain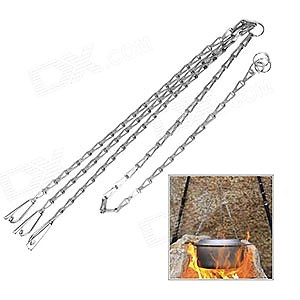 A lightweight accessory useful for those who wish to hold a pot at adjustable heights over a fire or bed of coals. Three short titanium chains end in stainless clips that attach to the rim of most pots; a longer central chain connecting to these three chains allows one to suspend the pot connected to the shorter chains over a fire.

Collectively, this chain gives one greater control over cooking, boiling, or simmering than does a grill when cooking over an open fire. It has predictable stability issues, yet it's also surprisingly stable and useful—stirring requires care, but this thing works.
Pros
Lightweight
Adjustable: vary your height over the fire
Compact
Permits pot to be raised and lowered with ease during cooking
Inexpensive
Cons
No directions!
DIY construction
Pots attached to chain sway and require care when handling
In Ray Mears' volume Essential Bushcraft (2003), Mears details how one can use sticks carved with notches to suspend a pot over an open fire for cooking. There are many ways to hold one's pot over a fire, of course, but one easy and effective method is to use the Keith Multifunctional Outdoor Chain to suspend a pot (via a branch, tripod, or the like) over a fire—no notches required.
What is it?
This product is a chain that divides into three chains, each of which ends in a stainless steel clip, and which--altogether--can be used to suspend a pot over an open fire. 
Image below: a closeup of the ends of the three chains and the stainless clips in one set-up I tried. Eventually, I moved the key rings to the other ends of the individual chains because the setup pictured allowed the stainless clips to come off of the key rings easily when in storage.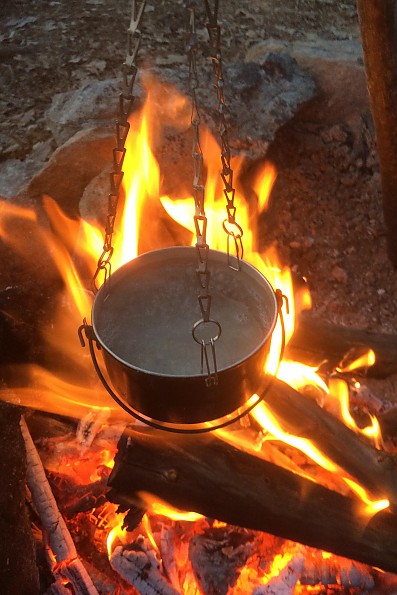 The Keith Multifunctional Outdoor Chain arrives as a bag of titanium chain pieces and a bag of stainless steel clips and key rings. The idea is to put these together in such a way that one can use the stainless clips to hold the rim of a pot or pan over an open fire, each clip being on the end of a shorter titanium chain.
To each of these three chains I added one stainless clip. This setup allowed me to hold both an old Boy Scout aluminum pot and my Snow Peak Mini Solo pot over an open fire to boil water and to cook meals.
Image below: The product as it arrives.
Image below: a close-up of the titanium chain links.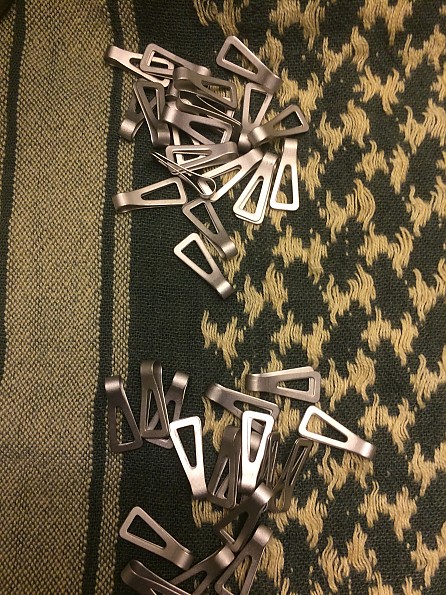 Image below: A shot of the chain (left) as it fits together with two separate links and a stainless clip in closeup.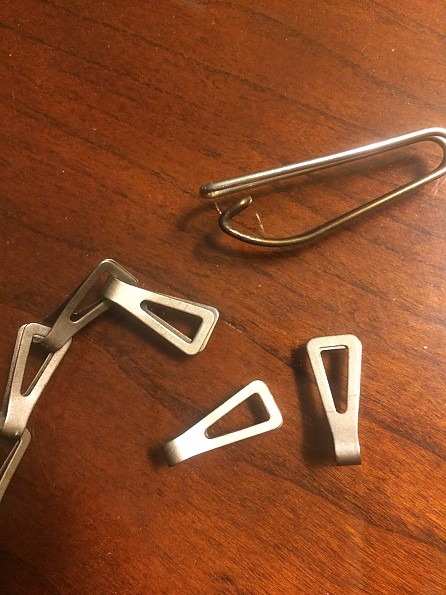 Image below: my present iteration of the Keith Multifunctional Outdoor Chain that I used for testing.
All told, this chain setup weighs 1.26 oz./ 36 g. In the absence of any real directions, I opted to make a 33 in./83.8 cm. titanium chain that ended in three equal 9.5 in./ 24.1 cm. chains. This seemed like a setup that would give me sufficient spread of the shorter chains to accommodate the diameter of my various cooking pots while also giving me a reasonably long length of chain to suspend the pot over the fire. 
The resulting chain (which, by virtue of its DIY design, can be configured however one wishes it to be) is, then, a lightweight setup compared to some species of grill which also might serve the purpose of holding a pot over a fire. I like its small size and weight: it fits neatly and quietly in a cheapie "velvet" bag that I had lying around, and the bag in turn fits easily inside of my TOAKS 450 ml titanium cup to give me a lightweight, packable option to aid in the heating of water or food.
With this chain, I can jam a stick in the ground and hang a pot over a fire, or—as I did for greater stability in my tests—lash a perfunctory tripod together to hold the chain. I also like the ability it gives me to raise the cooking temperature (by lowering the pot on the chain close to the embers) or to lower it (by raising the pot on the chain); this flexibility is something I've sorely missed when trying to balance a pot of rocks in a fire or when using a grill.
Observations from Use
If one's cooking fire has been reduced to an even, shimmering bed of coals, the chain remains cool enough to touch at its furthest remove from the fire—basically, where I had wrapped it around the top of my tripods during tests. Obviously, had I used it over a furious blaze that rose higher, the chain would naturally have absorbed the heat of the fire, rendering it untouchable. As it was, I was able to handle the chain with bare hands to remove my pots from the heat source.
The clips seem to hold a fair amount of weight. I looked at images online to see how I was supposed to clip the clips onto the rims of pots, but in practice I found greater utility in using my own technique instead of following the example of the images I saw online. I let the recurved part of the stainless clips curl under the outer rim of my pots while the flat, straight edge of the clip opposite the curled edge put pressure on the clip to hold the pot secure.
This seemed to work well. I was careful to space the three clips evenly around the rim of my pots. I actually measured and cut notches in the lid of my Snow Peak Mini Solo pot to ensure even spacing (and thus equal distribution of weight--no tippiness!).
Image below: closeup of my own preferred technique for clip the pot to the chain—sorry about the blurriness! This is a closeup of a larger image.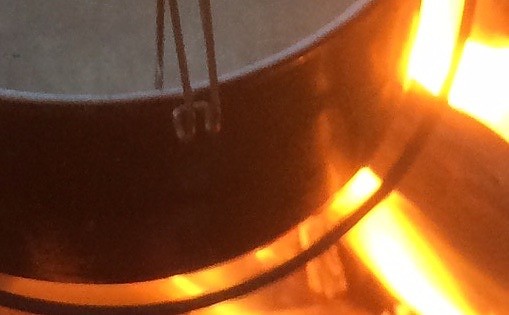 I enjoyed the flexibility of temperature control provided by the chain. When I cooked a "feast" of noodles with chicken and a lot of added seasonings, I lowered the chain to put the pot into the fire to boil the water first, then I pulled the chain up to allow the pot with seasonings and chicken to simmer at a lower temperature. With practice, one can develop quite a lot of temperature control by using this chain and this technique.
I did find that the laden pot had a predictable tendency to spin if I tried to stir it while it was suspended. With care, I overcame this—I just stirred with deliberate, circumspect movements. However, I did remove the pot from the heat, too, at times, allowing me to stir more vigorously or to enjoy the greater stability of the pot on the ground instead of the more precarious spin of the pot suspended in air.
Video (please pardon the bobbles...hard to film one-handed)
Conclusions
The quality of the chain and stainless clips and rings is good; I can't imagine mechanical failure of the product anytime soon.
I would have loved to have had more detailed directions. Ultimately, I figured out a very functional setup for the chain's components, but one does like to know that what one is doing is what one is supposed to do. There was very little to go on in terms of substantive directions.
The flexibility of the chain in terms of temperature control is admirable. If I don't want to carry my lovely but heavy Grilliput grill, this chain allows me to still cook over an open fire—with greater control over the heat than a grill can provide.
I do think it would be useful if Keith were to provide a stainless clip that would allow one to clip the end of the chain back into some of its own links. I had my own clip to accomplish this, but it seems like an oversight not to include such a clip. Without one, it is tricky to secure the chain so that it doesn't slip down into the fire while under load.
In use, I had only one disaster: a pot of boiling water spilled into the fire, but this was due to my own rushing (leading to the pot banging against a tripod leg) rather than due to the inherent design of the chain.
Overall, this is a useful product for someone seeking an open-fire cooking option apart from a grill. It is definitely a niche product, one that will appeal to those who value its light weight, its utility, and the allure of watching one's food simmer over an open flame.
While there is a learning curve with this product and some experimentation is in order, it is a solid, very functional product that I will definitely keep this handy.
Source: bought it new
Price Paid: $9.23 USD

Your Review
Where to Buy
Help support this site by making your next gear purchase through one of the links above. Click a link, buy what you need, and the seller will contribute a portion of the purchase price to support Trailspace's independent gear reviews.
You May Like
Specs
Price
MSRP: $9.23
Reviewers Paid: $9.23

Weight
1.41 oz / 40 g

Dimensions
1.46 in x 0.43 in x 0.43 in / 3.7 cm x 1.1 cm x 1.1 cm

Recently on Trailspace