Sportslick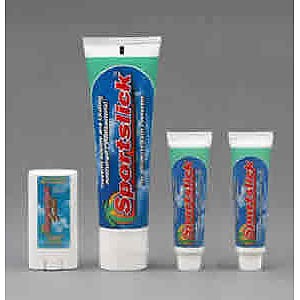 A multi-use item that provides head-to-toe protection out on the trail.
Pros
Multi-use
Anti-bacterial
Condensed
Anti-fungal
On my last backpacking trip a few of the folks I was with didn't carry any kind of sports-lubricant with them...relying mostly on (of all things) mole-skin to deal with the blisters that were forming in greater frequency and plaguing them for the last half of our trip.
To be honest...this was a little surprising to me...as I consider proper (i.e. preventative) foot-care to be one of the most important skills to acquire for backpacking. There is endless talk about the 10 essentials for newcomers to backpacking and hiking…and yet hardly a word about proper foot-care…which I would bet is probably why so many backpackers and hikers are forced off the trail early due to ailing feet.
Over the years my foot-care practices have evolved slowly (which did at one time involve carrying mole-skin)…but in the last three years my practices have changed very little…and I can now say that despite my terribly delicate feet I rarely suffer from blisters or other foot problems (i.e. fungal) while on the trail.
A large part of this has to do with the fact that I carry a very light pack and use lightweight trail-runners which lessen the stress I put on my feet. However…in no small part my relief is also due to my discovery of products like (the now discontinued) Hydropel and my current lubricant of choice Sportslick.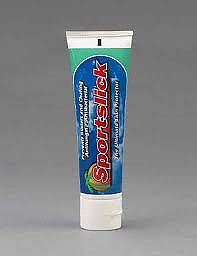 Sportslick (like Hydropel) is excellent for easing the pain of hot-spots on the feet…underarms…and thighs of runners and hikers…which is its intended purpose…but in my experience the uses of these products go way beyond a simple lubricant. In fact…I find these products an absolutely critical component for dealing with wet conditions where my feet are made soft…damaged more easily…and prone to cracking.
Taking a cue from hikers such as Skurka I am absolutely diligent about applying Sportslick to my feet before I go to sleep at night after a wet day on the trail…applying a thick coat to restore some of the moisture that is lost in the drying process...and rubbing my feet into a relaxing state after a hard day of work on the trail. In the morning…if I expect to encounter more wet conditions…or have tender spots forming I reapply more lubricant to my feet to help keep my feet dry longer and to prevent full-fledged blisters from forming and becoming a much bigger problem.
I personally find the above reasons more than enough reason to carry Sportslick EVERY time I hit the trail...but being a petroleum based product…it also has many other uses. For example…applying a healthy dose of Sportslick to a cotton-gauze from my first-aid kit I made a rather satisfactory fire accelerant on a particularly wet evening. I also…somewhat reservedly…used it as a way to prevent my lips from becoming chapped on a trip where I did not expect to need Chapstick. While I am not absolutely positive that Sportslick should be used in such a manner…I walked away from the trip with healthy lips and no apparent side-effects.
Finally…do you have stubborn zippers?...I have applied Sportslick to sticky zippers on several occasions with no apparent negative impact to the mechanical function.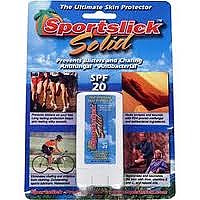 If one thinks about it…you could probably use Sportslick in a number of unorthodox ways (how about an emergency plug for pin-holes in a tarp?). The point being…Sportslick is one of the most important pieces of gear I take with me on the trail…it keeps my ONLY mode of transportation healthy and trouble-free…even in the adverse conditions which render unprotected feet a blistering mess. It prevents painful chafing under the arms and on the thighs…and one can think of a whole host of ways that the anti-fungal and anti-bacterial properties might make life on the trail more pleasant…and less smelly!
In fact…if it isn't clear yet…I love this product…but if required to cite a con for the product it would surely be the price. Currently it goes for about $5.50 an ounce…which is actually a lot cheaper than the $8 an ounce I previously paid for Hydropel. Still…despite all its uses…I find I use very little of the product...my current tube sufficing for more than a year now…with at least half a tube still remaining.
The other negative is that Sportslick comes in a rather large 3.8 ounce tube…so some repackaging for the trail is necessary…I use a small pill case with a flip-lid (screw-tops tend to get all bound up with the lubricant)…which tends to last me somewhere around 5 really wet days.
In the end then…Sportslick is a thoroughly trail-tested product…which I believe if more people were aware of…there would be less feet problems (among others) in the activity we all love so much.
Source: bought it new
Price Paid: $20

Your Review
Where to Buy
Help support this site by making your next gear purchase through one of the links above. Click a link, buy what you need, and the seller will contribute a portion of the purchase price to support Trailspace's independent gear reviews.
You May Like
Specs
| | |
| --- | --- |
| Price | Reviewers Paid: $20.00 |