Outdoor Research Interstellar Bivy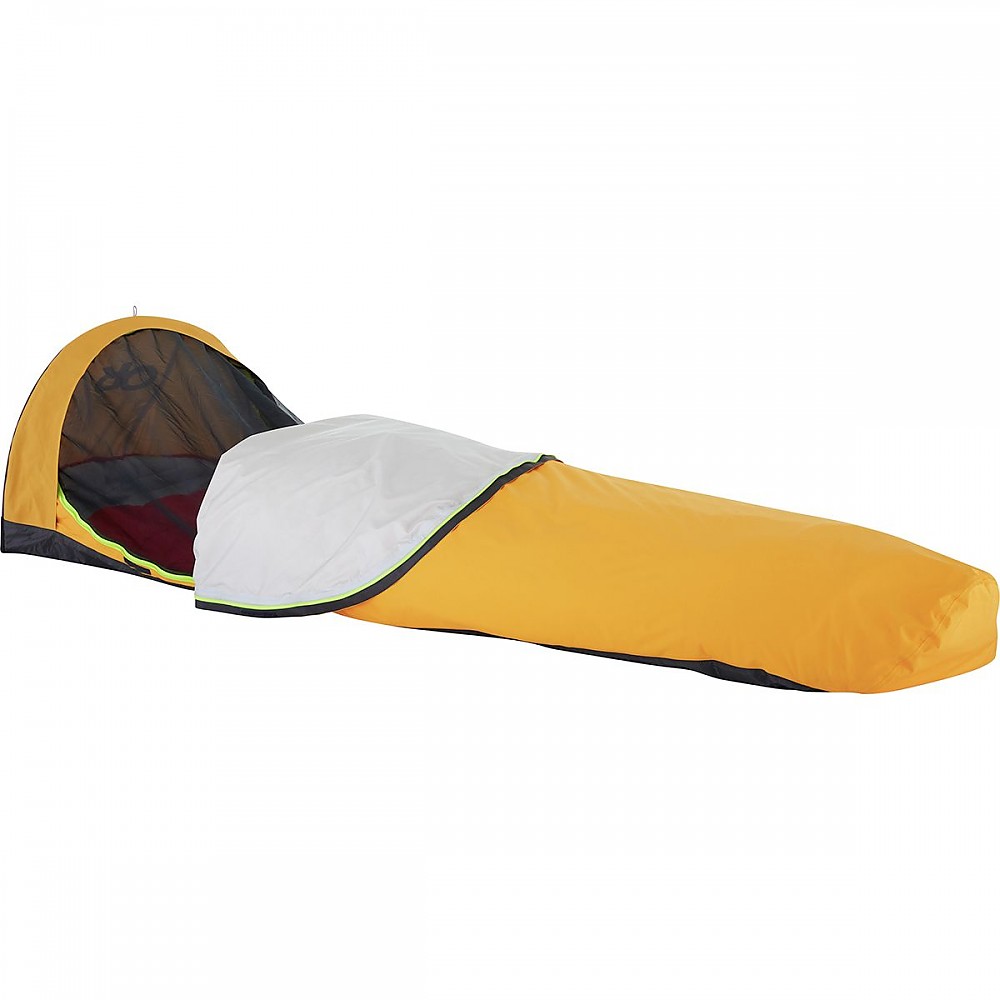 The Outdoor Research Interstellar Bivy is a four-season packable, lightweight bivy that utilizes OR's highly successful AscentShell to boast incredible breathability, even in the clammiest of situations, while remaining waterproof. At only 23 ounces (with the option to leave the pole at home and go even lighter, around 19 ounces for the bivy alone), and packing to roughly the same size as your one-litre Nalgene it is a great option for fast and light, UL, or trips where camp space may be minimal.

Pros
Lightweight (23 oz)
Breathable
Water/wind proof
Multiple venting options
Speed of setup
Pack size
Good headroom
Lower cost than most one-person tents
Cons
Entry/exit can be a little difficult (especially at night) with the number of zippers
Can be a little tight for cold weather kits (thicker sleeping bags and mats)
Specs
Face fabric: 3L 20d mechanical stretch nylon face with 12d polyester backing

Fllor fabric: 40d nylon ripstop with TPU lamination floor

Weight: 23 oz including pole and bag (19.7 oz without)

Delrin single pole (4 oz)

Packed size: 12 by 3 by 4 inches (roughy the size of a 1 litre Nalgene)

Exterior dimensions: 82 (length) x 26 (width) x 17 (height with pole)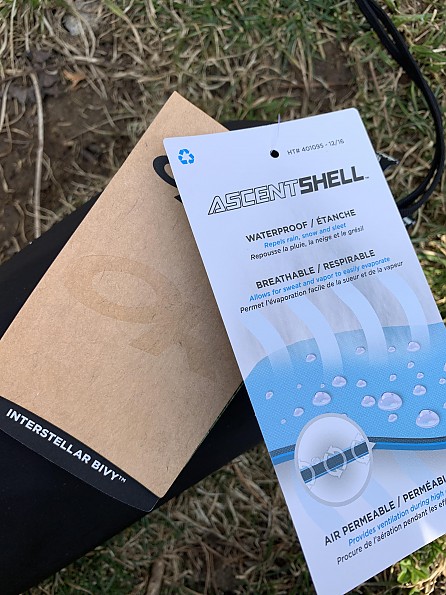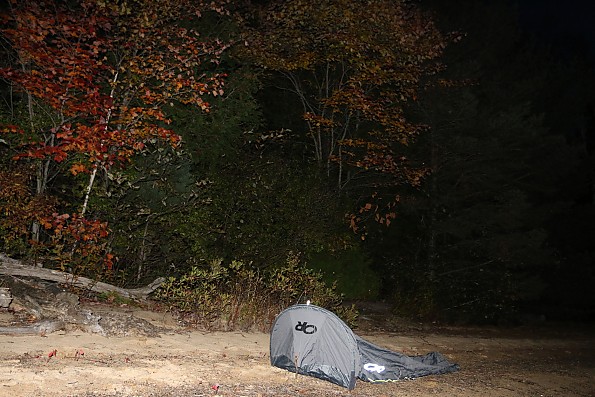 Bivies are great for when you've arrived into camp late, and don't want the hassle of a tent setup!


Weather Resistance and Breathability 
The Interstellar Bivy utilizes Outdoor Research's proprietary three-layer membrane, AscentShell, to create a waterproof/windproof barrier between you and the elements. According to O.R. AscentShell is created "by an electrospinning process where charged polymers are affixed to a grounded surface. Those polymers gather into a breathable membrane that, under a microscope, you can see forming a web that allows sweat vapors out but stops water from coming in."
I can attest to the waterproof qualities of this bivy as I have slept through nights of rainstorms without a drop entering. The first day I received the bivy I laid it out in the backyard, got in, put the hose on the jet nozzle and gave it to my kids. The laughed hysterically as they walked around spraying me from every angle (and point blank), but the joke was on them as I emerged fully dry. 
Since that test I have had seven nights of pouring rain (>10mm), and countless others that were (at least) lightly raining over the course of the past five months. In total, the Interstellar Bivy has been used 25 nights without failing.
The above water resistance is great, but there are many bivies that are waterproof but will leave you soaked from the inside. The body gives off at lot of moisture over the course of a night, either through your breath or perspiration. A bivy needs to be able to get that moisture to the outside of the fabric, more so than a tent, otherwise you'll be left with a wet sleeping bag. I've slept in bivies before that I thought were leaking but it was just condensation collecting over my head and dropping onto my face. In a tent that moisture will often roll down an angled tent wall and away from your body/sleeping bag. A bivy doesn't have the room for that.
The Interstellar has multiple ways of dealing with the moisture. First, the AscentShell membrane is one of, if not the most, breathable membranes that I've had the chance to use. One of the reasons I was so excited to test this bivy is that my experience with the Interstellar Jacket (review here) was so impressive. Even under high exertion/high humidity the AscentShell works very well, for both applications. If the weather is nice enough you also have no-see-um bug netting that comes down to almost the waist that allows you to roll the solid fabric out of the way (and a toggle to secure it) for maximum airflow.
I've also just thrown this on the ground, almost like a ground sheet, and slept directly on top of it, a la cowboy camp, under ideal weather conditions to maximize the nighttime views.
Room and Storage
I guess this section is relative, right. If you are the type of person that brings a two-person tent along for a solo trip then you're gonna find this a little cramped. But my guess is that anyone seriously looking to buy a bivy is looking to lighten their load and footprint already. If so the Interstellar is a very comfortable option. There is more than enough room for an (admittedly) wriggly side sleeper.
I am 6 foot, 175 pounds, and have excess room at the head and feet to get comfortable. There are, however, no pockets to store or organize gear or get it off the floor (not unusual for a bivy to not have any pockets, but it would be useful for the extra ounce or two).
I can become a little claustrophobic in bivies that have fabric that drapes right over the face. The OR has a single Delrin pole to give some breathing room space. It can be left at home to save four ounces, but to me it's more than worth the minimal weight penalty.
There is a slight learning curve in making sure that everything you would normally bring into your tent to keep dry, stays dry outside. You can fit a book, headlamp, phone, etc in with you no problem, but things like boots that people usually keep in their vestibule can't come in (at least my size 11 boots can't!). I almost always backpack with a waterproof pack (HMG Summit in the summer, Arc'teryx Arrakis in the winter or on longer trips) so most stuff gets tucked in there, and I'll bring an extra grocery bag to put over my boots. You can also bring a small tarp to have a fully dry entry/exit plus extra storage area. My RAB Siltarp 1 weighs only 7.5 ounces and gives me an incredibly versatile, configurable shelter when paired with the bivy.
The Interstellar is a side/top entry bivy which I far prefer for ease of entry/exit. It also allows you to keep the interior dry should you need to get in and out in wetter conditions without a bivy.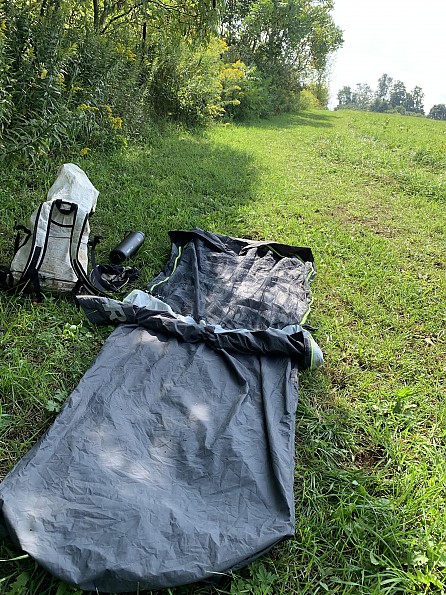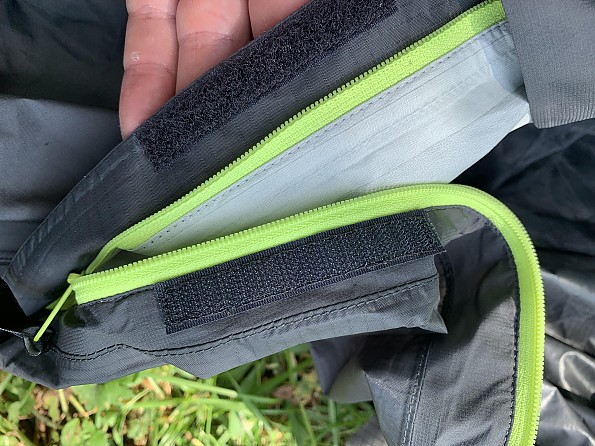 Hook and loop patches reduce strain on the zippers.



Setup and Packability 
Possibly the best part of a bivy is the ability to roll into camp and be in bed within minutes if you want to. It's as simple as unrolling your sleeping bag. Unpack the bivy, lay it out straight, insert the pole (if you are using it), and stake it out if you are expecting bad weather or, like me, toss and turn. You can be fully set up before the water for your dinner is even boiling. There's no fiddling to make sure you have a taut pitch. Setup time is a minute, literally, maybe two minutes maximum if you are using the pole and both stakes.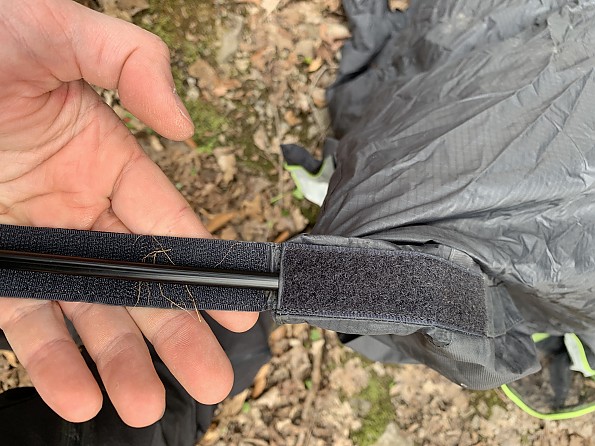 Pretty much all there is to the setup.


There are stake loops on the head and foot end (one on each side) as well as a loop on the chest, so you do have the option of leaving the pole at home and still pulling the fabric off of your face by guying it out to a branch above with some cordage.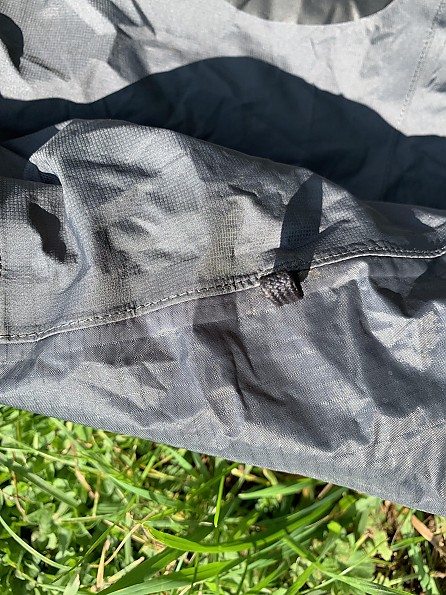 One small stake loop on each end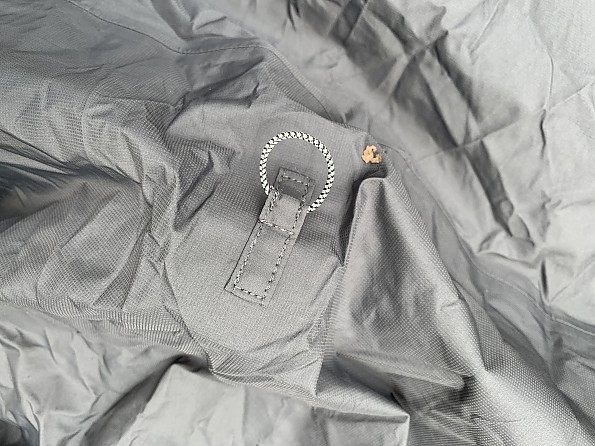 Chest loop for securing the extra fabric when rolled back, or for suspending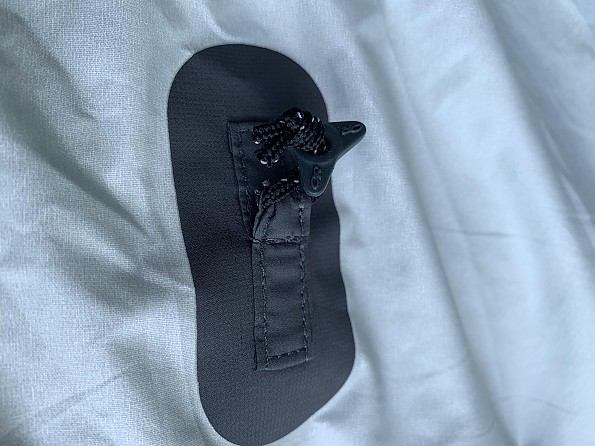 Inside toggle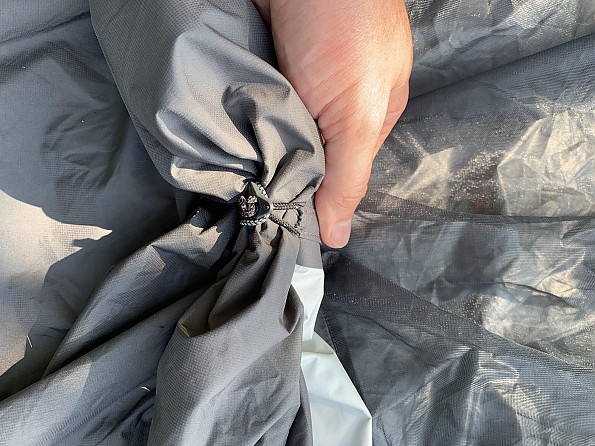 Rolled back for maximum breathability while still remain bug-free


The other huge advantage is pack size. The Interstellar Bivy packs down to roughly the size of a one-litre Nalgene bottle allowing you more pack space for what counts—food (or is that just me?). The poles break down into 12-inch sections and can disappear easily into any side pocket.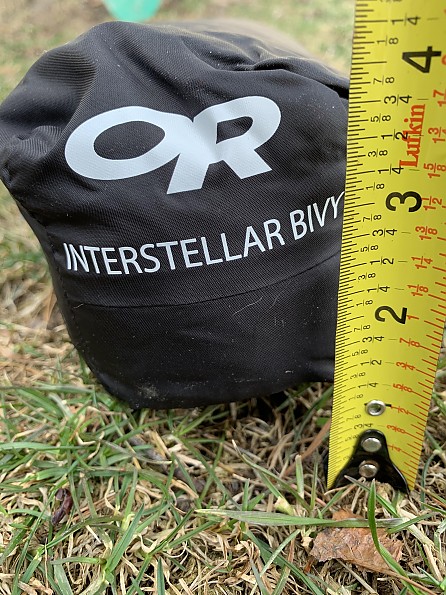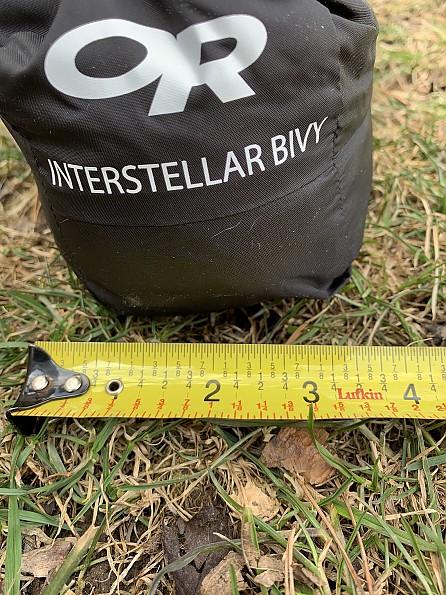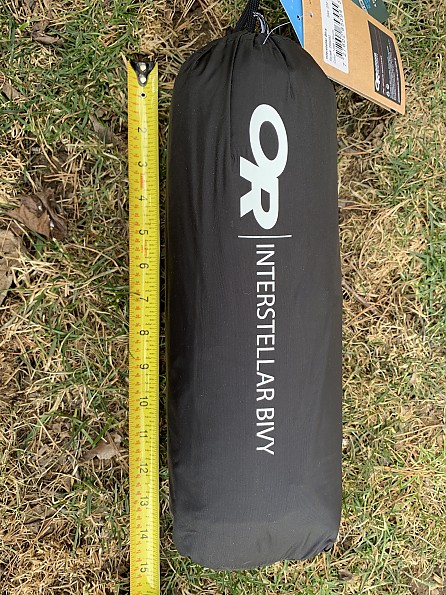 Only slightly larger than an UL sleeping pad


Additional Features and Notes
The Interstellar Bivy is unique as it has multiple zippers allowing you to remain inside the bivy while doing some camp tasks. Whether it is putting the stove on for that morning cup of coffee or sitting up to read a book, the "sombrero" (head end of the bivy) makes a hat to shield you from the rain or sun. To be totally honest, I didn't really use this feature more than a handful of times, and would prefer a cleaner, easier to operate in the middle of the night, amount of zippers to this small extra convenience.
I never once used a ground sheet underneath the bivy and the floor has help up perfectly (although I have predominantly camped on forest floors which would be far less demanding than a more rocky/alpine camp).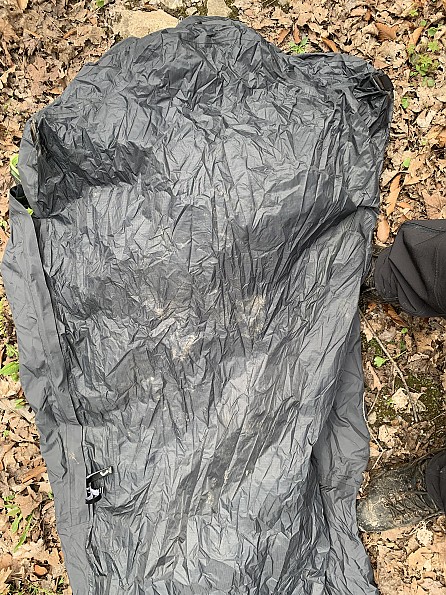 Outdoor Research has included glow-in-the dark zipper pulls and reflective details                             throughout the bivy to make it easier to locate, and operate, in the dark.
A last note: The Interstellar is marketed as a four season bivy. I would add the caveat that it would have to be a mild-winter bivy. When I first received this bivy I set it up in the backyard with my Exped Downmat 7 and -7c (20f) MEC bag. It was certainly a little tight and compressed the bag a little. Anything more than that (either a thicker pad, or bag) and both movement would get uncomfortable, as well as your precious insulation compressed. If your winter involves a little milder temperatures than mentioned, then I would classify it as four-season, however don't be expecting a -20c and thick winter pad to fit.

Conclusion
The Outdoor Research Interstellar Bivy is a great lightweight option which utilizes the highly breathable AscentShell membrane to reduce condensation to non-existence, while still remaining waterproof. It packs down tiny, requires little time to set up and provides adequate space to lounge in. I found the extra zippers/sombrero option to be a little gimicky but don't let that distract you from an otherwise highly successful product.
Experience
I have been testing the Interstellar Bivy for the past six months (April to September) in Ontario, Canada. Temperatures have ranged from +3°c to +33°c (° to 91°f). It has been used for 25 nights, ten of which have had heavy rain, predominantly backpacking/hiking in the Carolinian and deciduous forests of Southern Ontario.
Source: received for testing via the Trailspace Review Corps (Sample provided by Outdoor Research for testing and review)

Your Review
Where to Buy
Help support this site by making your next gear purchase through one of the links above. Click a link, buy what you need, and the seller will contribute a portion of the purchase price to support Trailspace's independent gear reviews.
You May Like
Specs
Price
MSRP: $275.00
Historic Range: $178.72-$275.00

Weight
19.9 oz / 546 g

Fabric
Ascentshell 3L, 100% nylon, 20D mechanical stretch ripstop face with 100% polyester 12D backer, 100% nylon, 40D ripstop with TPU lamination floor

Season
Four-season shelter

Recently on Trailspace