Outdoor Research Lucent Heated Mitts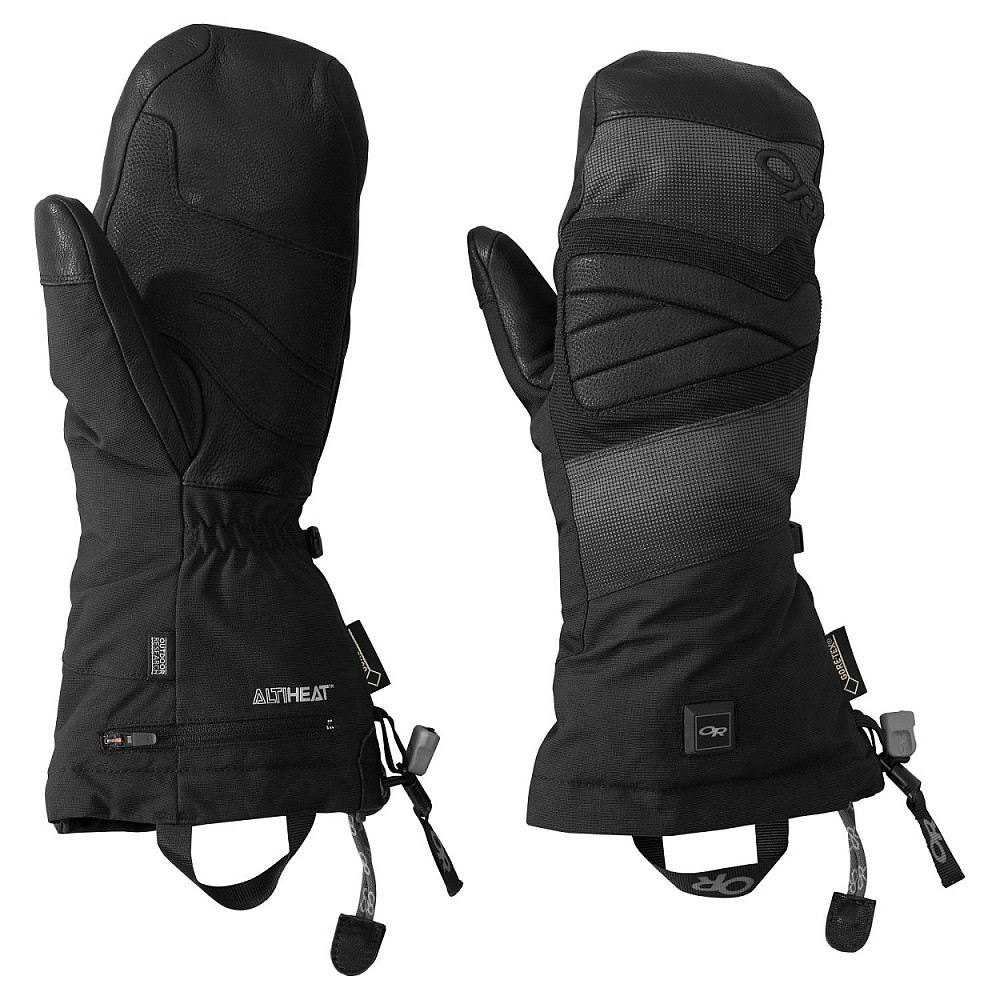 The Outdoor Research Lucent is a battery powered heated mitten that boasts impressive dexterity, warmth and durability. There is extra attention to the small details — fit, universal chargers, carry bag, cinch straps and idiot leashes, but this mittens reputation starts, and ends, with the overwhelming success of the Altiheat. It boasts an even and powerful distribution of heat throughout the hand, and the battery life has exceeded my expectations.

Limitations? Without a reliable way to power them up, solar or outlet, the battery packs can become extra weight. I have been happy with the mitten as a stand alone unit, but let's be honest, if you're paying $400 dollars, you want the external heat.

This product would be best for shorter (2-3 day) backpacking trips, belay mitts, or anyone who spends time outdoors in winter and struggles with cold hands: dog walking, commuting, construction.
Pros
Battery life
Warmth
Durability
Dexterity
Cinch tab
Carry bag
Universal chargers
Cons
Battery takes long to charge
No lock button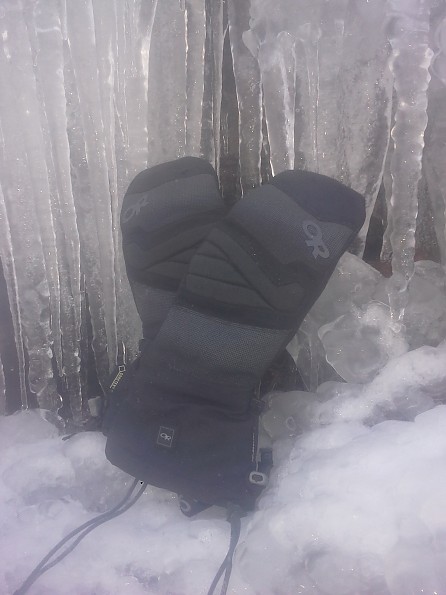 From left to right: mittens, batteries, universal plug adapters, charger, carry bag.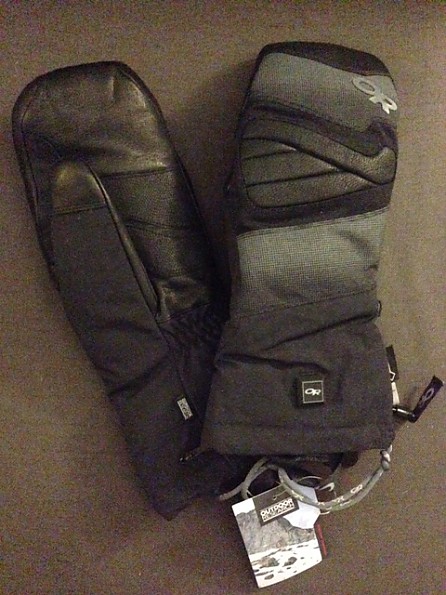 Fit & Comfort
Like someone took a tracing of my hand and made a mitten around those measurements....is that understating how well these fit me? Never really had to describe my hand to anyone before but there's a first time for everything: it measures 23 cm from tip to wrist, 14 cm at the widest part, and 24 cm around at the wrist.
The battery pack sits on the inner forearm and it's barely noticeable. There is minimal bulk and you get used to the small weight the battery adds in exchange for angelic warmth.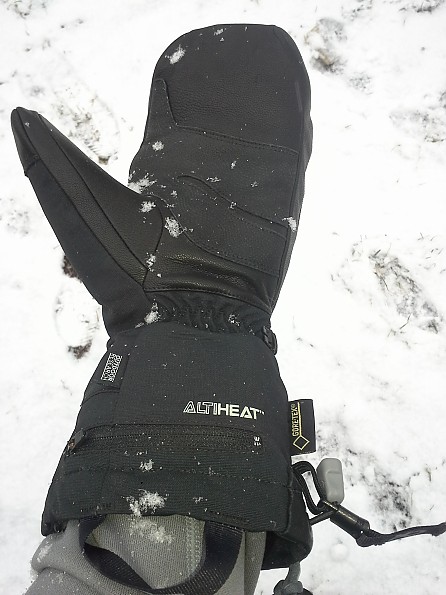 To toggle through the heat modes you simply hold the button, located at the top of the mitten about wrist level, to power on the mitten, for two seconds. The mitten will turn on to high and within seconds, literally about 15, you'll feel the warmth. Pressing the button again switches to a medium setting, again to go to low, and once more to cycle back to high.
To turn the mitten off you hold the button again for two seconds. This can all be done while wearing the mitt, no need to take them off. The three settings are represented by a colour on the button, green for low, yellow for medium and red for high. The button is rubbery (technical term?) and provides a tactile click when changing settings.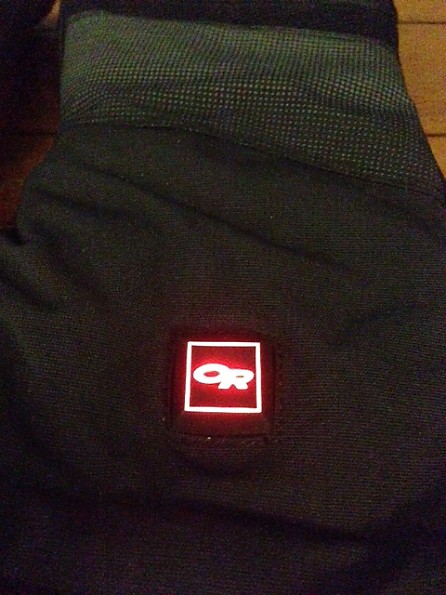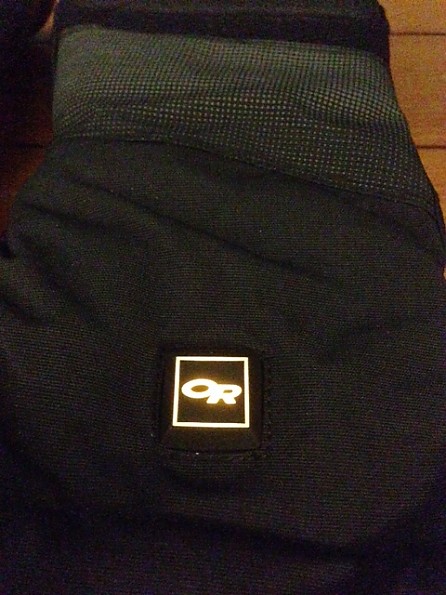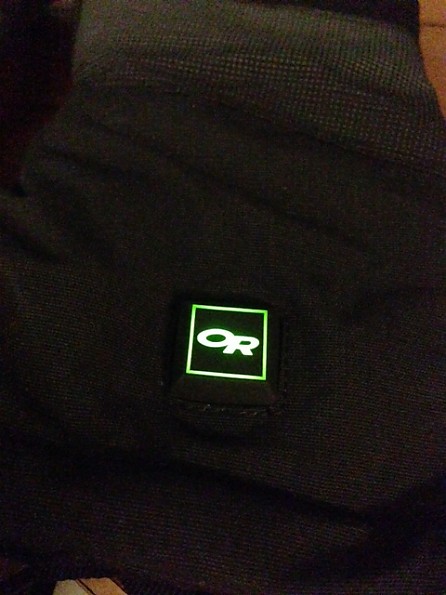 As far as the wiring that runs through the mitt, it's woven into the interior fabric, read: un-noticeable. The dexterity level is also, surprisingly, very high. Whether it's tinkering with your stove preparing dinner, adjusting a snowshoe binding or belaying a buddy up an exposed climb, I've found the Lucent has been up to the challenge.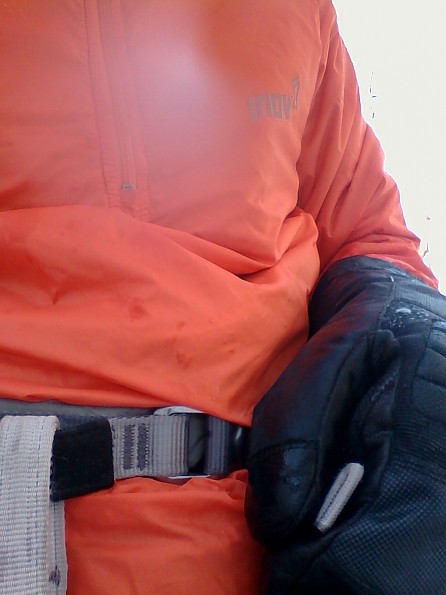 The least awkward photo I had. You try taking a photo of yourself adjusting your harness and not make it look creepy!
Warmth
It's called the Lucent HEATED mitt, people! Read no further.
Oh, you're still reading? Fine. This is a quality well built mitten on its own. I generally don't even have to touch the power button until it gets down to around -10°C, and even then I'm reaching for a low setting. Medium is lovely to about -20°C, and anything more then that, you turn on the red light (high) and laugh at the storm!
I have run full tests on each of the three settings and have consistently gotten better run times then stated by OR, a more then welcome surprise! You often hear about companies exaggerating their claims — tent weights that don't include guylines, backpacks that don't include waistbelts or lids, and yes, batteries that claim to run more than they can back up.
On each occasion I have drained the lithium-ion battery completely, let it charge overnight, then run the battery to completion. Compare my times to OR's published times...
8 hours on low — 8 hours 18 mins

5 hours on medium — 5 hours 7 mins

2.5 hours on high — 2 hours 43 mins
Are they drastically different? No. But is OR overselling the battery life? Again, no. In fact, based on preliminary test, they may even be underselling. I, of course, have probably done far less tests then OR, but I'm really impressed with the quality of the battery.
My one negative about the battery is that it takes a while to charge, on average about 6 1/2 hours from empty. I guess it takes a while to store all that power, and I'm not complaining once they are charged and the battery lasts equally long while warming my hands. There is a light on the plug so you know when the unit is fully charged.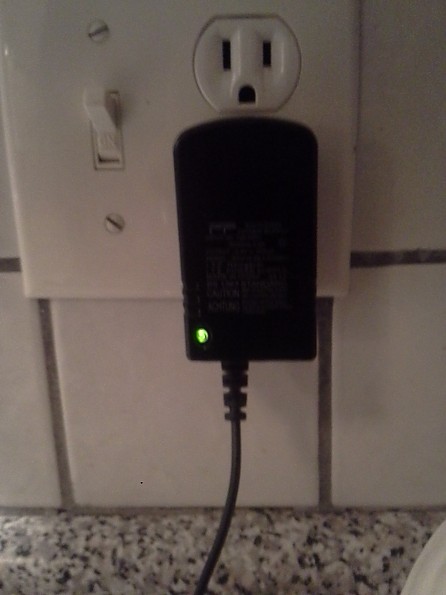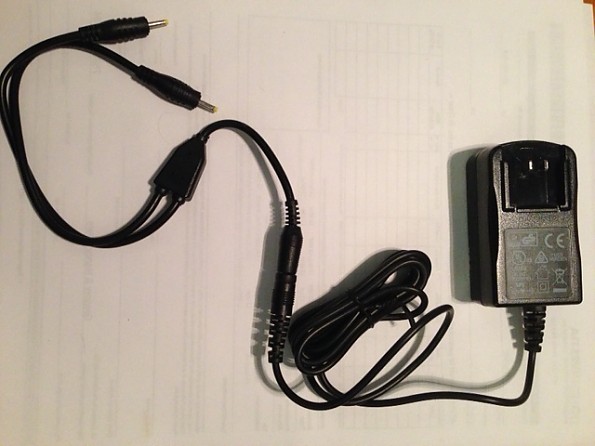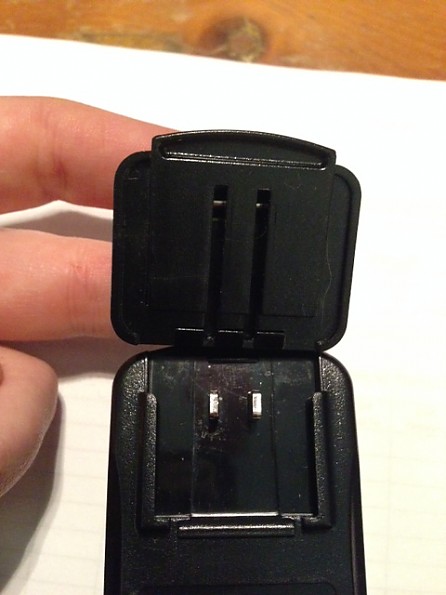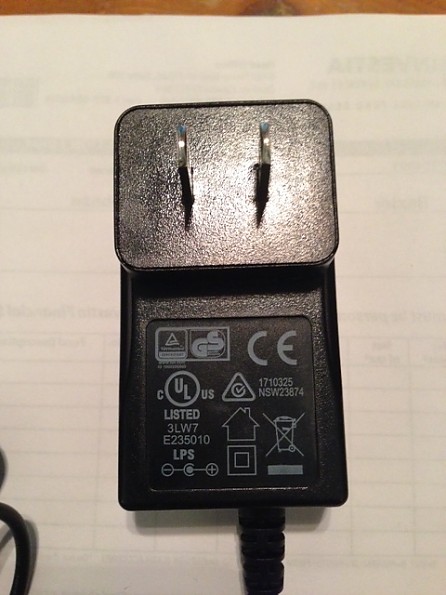 Adjustability
They have a one-handed cinch cord at the very bottom of the gauntlet. Absolutely brilliantly design, it's one of the small things that Outdoor Research has gone the extra mile, and nailed. Pulling the grey tab tightens the cinch strap and pulling the black tag releases it.
They feel different so its easy to differentiate in the dark, and it's a one-handed operation, even if that hand is wrapped in the warmth of heated mitten. There is nothing to tighten the mitt at the wrist, I've never had snow get in because the bottom cinch does such a good job, and they fit so well, but it's worth mentioning.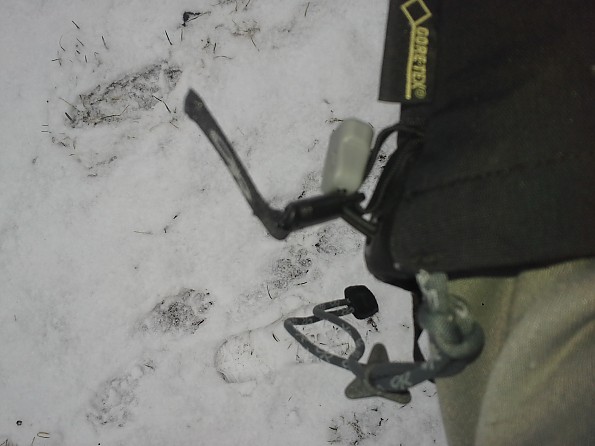 Water/ Wind Resistance
Both the Lucent heated mitt and glove are equipped with a Gore-tex liner, while their softshelled little brother (Stormtracker) boasts Gore Windstopper. Suffice it to say, water or wind is not an issue....with a caveat I guess. The battery pack sits 27 cm from the tip of the mitt, it is protected with a water resistant zipper but it is by no means submersible. Sorry, no warm hands while scuba diving! Dip your fingers in to pull out that walleye while ice fishing? No problem.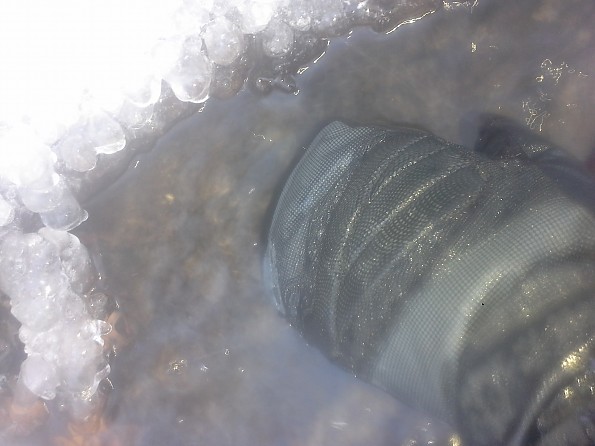 Layering
I could probably fit a thin liner glove underneath, but I don't. They are so effective in extreme cold that I don't need liners, and I prefer to have one heavier glove (my choice is the regular OR Stormtracker, which, unfortunately I bought a couple years ago before the Stormtracker Heated Glove came out) when I need the dexterity that gloves provide.
The cuff is generous without crossing the line into saggy. Fits nicely over a down jacket without compressing the insulation and seals off the cold, or snow, from entering the mitt.
Breathability
It's a mitten. The breathability is not rocket science. If your hands are too warm you take them off; if they are too cold you put them on. If they are still too cold you turn on the heat. What? Your mittens don't do that? Then get these.
I will say they do get a little clammier than some mittens along the back of your hand because this is where most of the electrical is run. This is only an issue in warmer temps (0 degrees C) when you should probably be switching to a lighter glove anyway.
Abrasion
I've chopped wood, run rope through, belayed, pulled sleds, sloppily hit my knuckles against ice when climbing, and done zero damage to the mitts. Goat leather palms and EVA foam knuckles just beg for more. I've used them with my trekking poles while hiking, but not yet with ski poles. I have worried about the battery a little, not sure I'd want to give it too hard a smack, but no problems yet.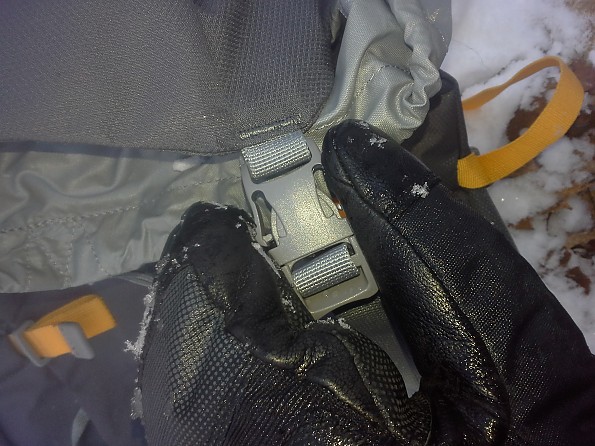 Extra
Carry bag and chargers: Again, small thing, but also the attention to detail that puts these over the top. The mittens come with a carrying bag and four outlet adapters, so these will not leave your side, no matter where you travel, if the weather is cold enough.
No lock button: Not sure if this will be a concern to anyone, but there is no way of locking the power off while these are (rarely) in your pack. I've taken to just disconnecting the battery if they are going to be in my pack for an extended period. That way I'm not concerned that they will power on by accident. I keep them in my lid pocket so there's never anything heavy sitting on them either, and they don't get bashed around when throwing my pack on the ground.
Weight: Mine weigh 16.9 oz in a size large. I can hear the collective gasps of ultralighters everywhere..."That weighs more than my tent." "Can I chop off part like I do with my toothbrush?" "Do they come in a cuben fiber version so I can save 2 oz?"
They more than justify the added weight (for me!) and I've never once hesitated to bring them because of the weight. I considered adding this as a negative, as I believe it may be to some, but for my uses I found it didn't bother me.
60% more heat: This is OR's claim about the power. I've never owned a pair of heated mitts before, always thought they were just a novelty, until I was offered the chance to test these. My life is changed! I always got by with those cheap little handwarmers and some jumping jacks — no longer.
The power is impressive and although I have nothing to judge them against, I'd be amazed if there is another heated mitt option, that provides more power than these, on the market.
Idiot leash: Nice feature to have, less likely to lose the mitts, as you're are not constantly putting them down and picking them up.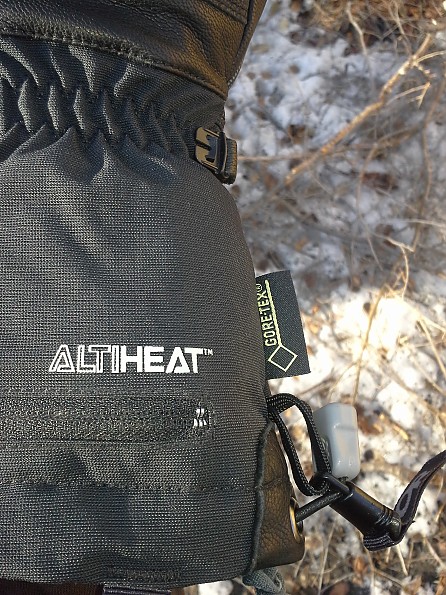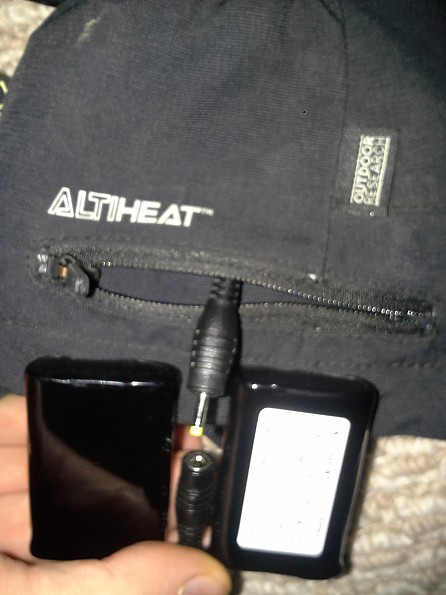 Conditions
I've had the chance to test these mittens for almost a full year now. I received them nearing the end of last winter, and OR was kind enough to allow me an extended testing time into this winter. I've used them more times than I can count, probably because I use them almost daily, throughout the winter where temperatures regularly dive into the -30°C here in Ontario.
I mentioned some of the activities I've done with these under the 'abrasion' heading. On a more day-to-day basis, they've been regularly with me if I'm shoveling snow, walking the dogs, or at tailgates.
In short, if you've seen me over the last year in cold conditions, then I've had these with me!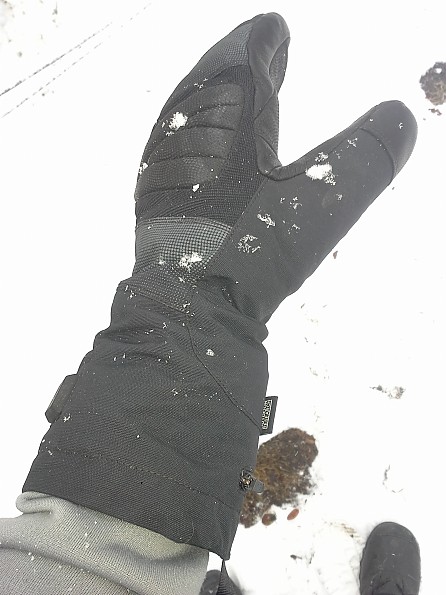 *My thanks to Outdoor Research and Trailspace for the opportunity to test these mitts. Please feel free to add any questions or comments and I'll answer them the best I can.
Source: received for testing via the Trailspace Review Corps (Sample provided by Outdoor Research for testing and review)

Your Review
Where to Buy
Help support this site by making your next gear purchase through one of the links above. Click a link, buy what you need, and the seller will contribute a portion of the purchase price to support Trailspace's independent gear reviews.
You May Like
Specs
| | |
| --- | --- |
| Price | Historic Range: $178.83-$359.00 |
Recently on Trailspace