Outdoor Research RadiantX Gloves

OR's RadiantX Gloves employ their new HeiQ XReflex insulation technology to provide warmth while active yet retain dexterity to perform tasks without taking them off. Flexible shell material on the back of the hand, durable panels in the grip area with low profile, recycled poly insulation sandwiched between. Nice leash among other features.
Pros
Retains heat well
Good dexterity
Comfortable
Dries really well
Loved the leash
Breathes well
Cons
Not as warm when inactive
Leash has one flaw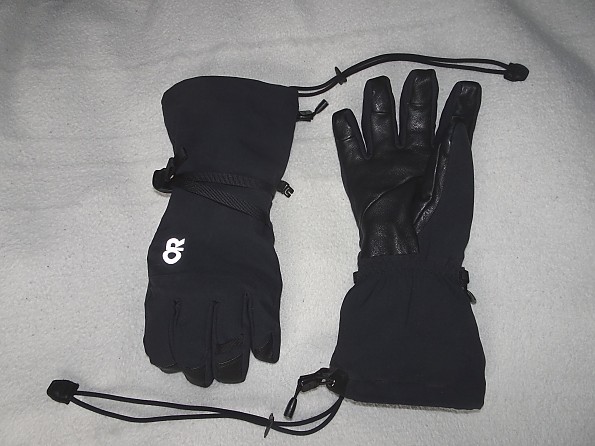 I spent the entirety of last winter testing Outdoor Research's RadiantX Gloves in a wide variety of conditions. From late fall of 2021 through to early spring of 2022 they were on my hands most days spent outdoors. It took some time to zero in on how to tell their story because it is both simple and complex. That is why I kept extending the testing period so I could try different conditions and activities. I wrote most of this review last spring, but we decided to hold it to publish now when people are starting to think about cold weather.
Fit & Comfort:
OR has used unisex sizing on the RadiantX and provides the following guidelines based on measuring palm circumference (no thumb) and length from wrist to tip of middle finger.
Unisex      XS/6                  S/7                  M/8                  L/9                  XL/10
Circum  6½" – 7¼"       7¼" – 8"            8" – 8½"        8½" – 9½"        9½" – 10"
Length  6½" – 7"           7" – 7½"           7½" – 8"           8" – 9"             9" – 9½"
Based on my measurements, 9½"C 8¼"L, I opted to test the L/9 size. I found the fit to be close, but comfortable. Sizing up might have been a good idea as there was a little restriction when trying to fully splay my fingers. That isn't something I actually need to do generally, but I mention it as an indication of how the thumb is somewhat limited. If I needed full mobility there the larger size would be better. I'd suggest sizing up if you are close on one or both measurements.

The RadiantX Gloves were easy to get on and felt good wrapped around hands and fingers. When not grasping objects, the fingers felt natural and unrestricted. While holding on to things I was often surprised that I didn't feel the gloves more. Used with hiking poles while snowshoeing they sort of disappeared, doing their job to keep the fingers warm, but eliminating tactile sensations.

We'll be talking more about fit in the Features section below because Outdoor Research used several different tricks to make certain these gloves wrapped around all sorts of hands.

Warmth: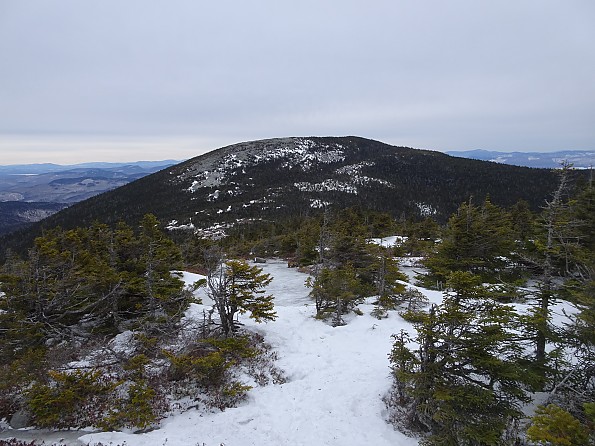 Warmth is probably the biggest reason for wearing gloves, so we might as well get to that early. It is also very subjective, so I can tell you what my experience with the RadiantX Gloves was like, but you'll have to interpret how that might relate to what your experience might be like.

First, you need to know that I tend to be stoic about cold when at rest. I feel it and acknowledge it, but it doesn't bother me unless it is trying to kill me. Some folks feel the cold differently and I understand they are not exactly stoic about it heh. Secondly, I generate a lot of heat when working, even in deep cold. Keep these factors in mind as we talk about the warmth of these gloves in different situations.

I split my testing time very well between active and passive pursuits. The RadiantX Gloves were my bus stop uniform, morning and night, all winter. They also were tested at all of Mini Stranger's hockey games and practices last season. Standing still, without the retained warmth of prior activity, I noted that my hands were comfortable above 20°f, but cooler temps, especially on windy days, resulted in feeling a bit of the chill. Inactive in deeper cold, low single digits, definitely came with a sense of the gloves probably being better for active use, as in not enough for this sort of thing.

Active testing was done while hiking, snowshoeing, and a little driveway clearing. I'll remind you again that I'm a steam engine, so my temp range for using these gloves is based on that. I found that they retained heat really well, so were great for me when it was really cold. Even slightly below zero my hands were toasty warm while active and during brief rests.
On the warmer end of the spectrum, I was surprised to find that I could keep the RadiantX Gloves on my hands longer than expected as I got steamed up. Temps in the teens are often a problem for me as fingers are right on the line between being radiators or icicles without gloves. I was able to keep these gloves on longer because they seemed to be breathing well. My hands didn't get sweaty as soon as usual, so I didn't have to take them off as soon.

Breathability & Moisture:

We've got a big head start, so might as well finish talking about this. The poly insulation, combined with the nylon layer on the back of the hand, seemed to do a great job of letting moisture get out. Sure, I could overwhelm that if I left them on as I got steamy, but these gloves really seemed to do a better job venting than most I've worn. As a function of that they dry very well if the interior gets wet.

Materials & Construction:

The outer shell is a bluesign approved, two-layer nylon spandex blend. This material has some stretch to it and lets fingers move freely. OR's Ventia material was used as a waterproof insert and lining is a tricot microbemberg. The insulation is HeiQ XReflex which is a blend of 90% recycled polyester and 10% new poly material.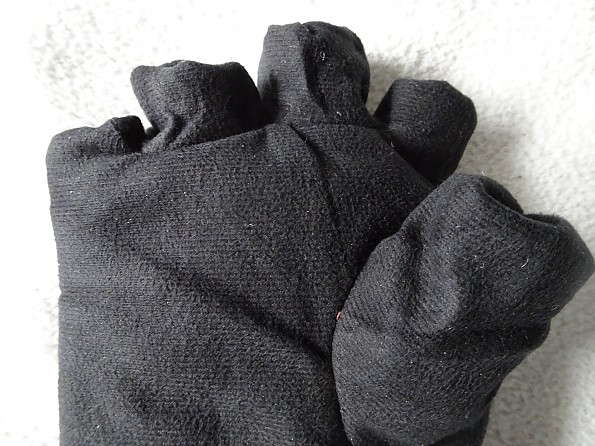 Construction is, as one might expect from OR, pretty much flawless. All stitching is even and tight. All lines are even and true. Even on the inside the stitching is worth looking at to note how well these gloves are put together.

Features:

There aren't a lot of moving parts to these gloves, but there are a few bits worth noting. Let's start with the built-in leash system OR used on the RadiantX. Super simple, yet totally does the job. I really liked how easy it was to use both attaching and detaching the leash.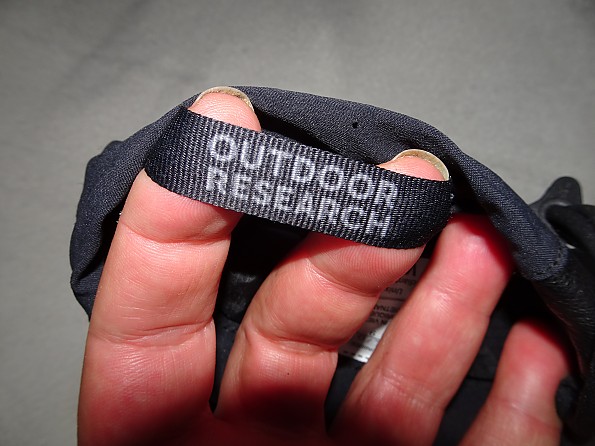 The flat pull strap at the wrist is an OR feature I recognize from their Lodestar Sensor Gloves which I tested and reviewed five years ago and continue to use. It is easy to find when you need it, but folds flat against the glove so you forget it is there most of the time.

I also like the long wrist cuff that opens wide enough to insert some sleeve. This is great for keeping snow out when you are  pushing through the trees. Many gloves are either too tight or too loose in this spot, but I found the RadiantX hit the sweet spot for sealing up that spot.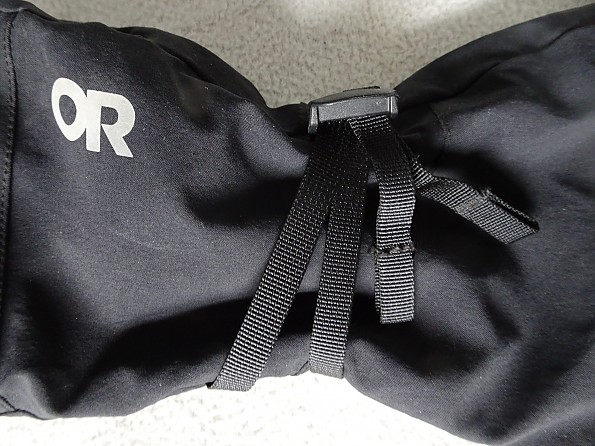 This set of straps attached to a single buckle at the wrist did a great job of cinching the gloves as tight or loose as I preferred. When tightened it created a hinge point which let the wrist bend without pulling the cuff away from the arms.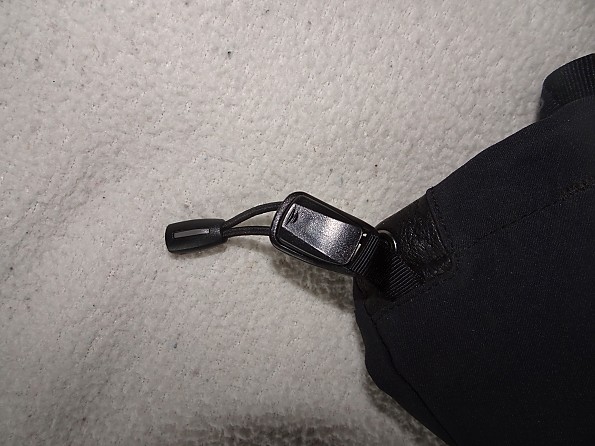 At the top of the cuff was a pull cord with an easy to use, pinch/pull controller. This was clearly meant to be used with gloves on which I really liked. The knob on the end of the cord was easy to grab and all you had to do was pull. To loosen required just pinching the clasp, again easy with gloves on. For times when you need to keep falling powder or wind driven snow out, this  cord can be used to create a tight seal around the arm.

Testing Conditions:

I put these gloves through their paces for an entire Maine winter; Hiking local trails, waiting for the school bus, overnight backpacking in the mountains and so much hockey! I even used them a few times for clearing the driveway and once or twice for driving when it was really cold out.

Conclusions: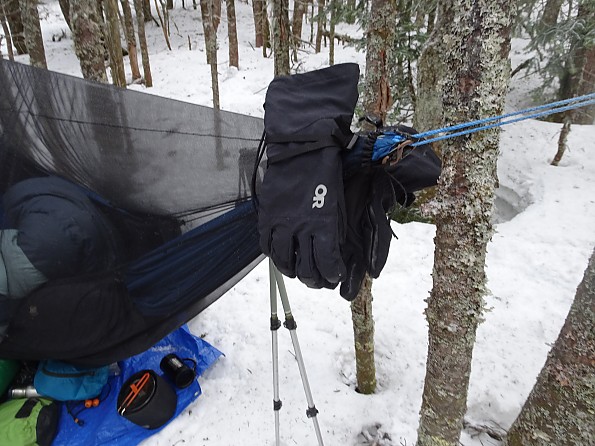 Testing OR's RadiantX Gloves was an interesting experience. They made these gloves with dexterity as a priority using their HeiQ XReflex insulation to keep hands warm without smothering them in thick layers of material. Figuring out how they worked in various conditions at various levels of activity was a long process.

While not as low profile as their Lodestar Sensors, these gloves were a bit warmer, especially when inactive. When in camp I found I was able to do things with them on that I would normally take my gloves off for. While setting up camp I couldn't manage the 1.8mm tarp lines with them on, but the hammock was easily set up. Taking down the entire camp was no problem the next day with the RadiantX Gloves keeping my fingers warm. I'm pretty certain that folks needing to tend actual ropes would have little issue based on how I was able to grasp much smaller lines.

As mentioned, I have my own personal climate so relating my experience to other people can be a challenge. Based on what I've seen over the months of testing I feel pretty confident "average" people will probably find these gloves keep them warm while active down into the teens and possibly much lower. When active I found them adequate even below zero, though stopping the activity found them cooling off fast at those temps.
I mentioned earlier about how much I liked the wrist cuffs, so I won't say that again here. Instead let's talk about how much I liked the leash system. It really was easy to use, even the second one after the first glove is on heh. Whether it was snack time or for using electronics, it was great to be able to just shuck off the gloves and not worry about losing them.
Speaking of electronics, I should mention the RadiantX have touchscreen sensitive material in the thumb and forefinger. If it is warm enough for electronics it is warm enough for me to use a naked finger, but I did test the gloves on my phone. As expected, not much use for stabbing a virtual keyboard, but one fingered swiping and thumb/finger zoom control worked well.

Overall, I was pretty impressed with what Outdoor Research did with the RadiantX Gloves. Given my temperature issues they perhaps have a narrower band of temps they work for me compared to other folks, but I think most will find they hit the sweet spot as far as active use in winter conditions. Cold enough you need gloves but not so cold you need serious mitts seems to be where these fit into the big bag of insulation.

I did find that because they vent so well they cooled off rapidly when inactive, especially with wind. Maybe I am getting old, but I seemed to feel the cold in my fingers faster than expected a few times. I also found that as much as I loved the leash, it has one drawback. Because of where the leash connects to the glove the wrist cuff is vertically below the hands. Should one be making camp and accidentally knock snow off the trees it may fall directly into the fingers of the glove, never to return heh.  Maybe an attachment point that tilted the gloves when hanging might be worth trying if they update for next season.

While the snow in the gloves thing was tragic, it did give me a chance to test how well the RadiantX Gloves dried after getting wet. That night I kept them under my quilt in the hammock. When I got up the next morning they were totally dry inside and out. I was a bit surprised, but definitely in a good way.

So that about wraps it up here. OR has a history of making functional gear and the RadiantX certainly are that. For folks who get out there in the cold and snow these are definitely a useful tool to add to your arsenal.

Background
I tested the RadiantX Gloves for about four months here over the entire winter in Maine. I own several other gloves from OR and quite a few from other makers.
Source: received for testing via the Trailspace Review Corps (Sample for testing and review provided by Outdoor Research)

Your Review
Where to Buy
Help support this site by making your next gear purchase through one of the links above. Click a link, buy what you need, and the seller will contribute a portion of the purchase price to support Trailspace's independent gear reviews.
You May Like
Specs
| | |
| --- | --- |
| Price | Historic Range: $61.55-$115.00 |
| Weight | 7.3 oz / 206 g |
| Fabric | Outer Material: bluesign approved 2L Stretch Woven, 88% Nylon, 12% spandex Waterproof Insert: Ventia Lining: Tricot microbemberg, 100% polyester Insulation: 2X 40G Heiq XReflex, 90% recycled polyester, 10% polyester. |
Recently on Trailspace