Ozark Trail 2-Person Junior Dome Tent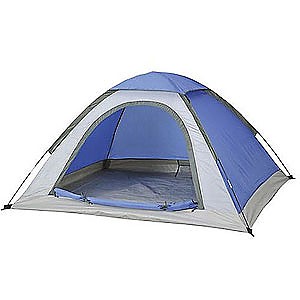 Uh, nice little play tent for the kids. Adults: get a real tent.

Pros
Up quick
Cheap
Inexpensive
Dirt cheap
Cons
Shock cord poles easy to split, but are repairable with zip ties and electrical tape.
"Stakes" are coat hangar wire. Toss them and get some heavier replacements.
Found it in the stuff left behind when a pal moved away. Set it up for the grandkids to play in. Worked for that.
Two sections on one of the fiberglass shock cord poles were split. I repaired them with zip ties and electrical tape.
I would not set one foot into the Colorado foothills let alone the high country dependent on this thing. Adults should consider a real tent with serious brand names (North Face, REI, Marmot, etc.). With a little patience you can find a good value used or on sale.
Source: I found it

After almost 15 years of abuse, motorcycle trips, camping, kids playing, weeks living out of the tent and some drunken tomfoolery the tent is showing its age.
Cons
Material is thin
Not big enough to stretch out in.
This tent has fared well over the years, only having a few dime size holes. Despite having those holes, on my most recent camping trip with five other tent campers my tent was the driest in the rain. It wasn't completely dry, but a few drops under the holes while most of the other tents had huge puddles is acceptable to me.
Over the years I have probably spent at least 200 nights in it. At 6'0" I have to sleep in the fetal position or diagonally, but even so me and all my gear always fit inside the tent.
If you are looking to do some backpacking or motorcycle camping this is a great option. Coming in at roughly 3lbs in its bag with extra stakes, this and a lightweight sleeping bag can give you shelter in under 5lbs that sets up in minutes.
So even after all this abuse I am planing to tape over the holes and take it on a one-month backpacking trip this spring in Colorado's high desert and have no qualms about it.
Update, in summer of 2016 a pole snapped during a wind storm in New Mexico. I was able to trim the section of fiberglass back, but now with that pole a couple inches shorter the tent is no longer in use and only kept for emergencies. I have since upgraded to a much heavier but more durable canvas tent.
Source: bought it new
Price Paid: $20

I use this tent for bicycle camping — works well — threw the zippered bag away to reduce weight.


Cons
Haven't broke a pole yet, but can see where it would happen without great care
Here is a trick I have learned along the way — I bought oversized foil emergency blankets (2" x 3" x .75" folded package) and use them for footprint under tent, @ $1 each on E-bay I just wad it up and throw it away after each use.  Keeps tent bottom clean.
Source: bought it new
Price Paid: $20

This tent is carried in my truck so it's always handy. I bought it for my dog. Because of the price I didn't care what he did to it.
Pros
Sets up lickety-split
Comes down quicker than a cheap ladder
Dirt cheap, it's practically disposable
Packs small
Cons
The tent poles broke first run, but still useable
Really small
Tent pegs are made from short lengths of coat hanger
It is a cheapy, but it is a great mobile dog house and we both fit. I'm 6'-2", 210 lbs and Moses is a lanky 45 lbs. The tent poles break easy if you aren't very careful. It can be set up in no time flat. It takes longer to take down because the poles hang up in sleeves, plus the usual nuisance of getting it folded, squinching the air out and smooshing it back in the bag.
It can roll around back of the truck and doesn't take up any room. I use it every other night or so on trips out west just to save on motel bills. It's not say, a North Face, but you can buy one for every day of the week for a quarter price of the premium hooch. Just be sure to bring the duct tape.
Source: bought it new
Price Paid: $19

This is a great inexpensive tent. Good for hot and cool weather. In cold weather the plastic pole clips can break. Very simple setup with few parts.
Pros
Lightweight
Durable
Has few parts: tent, 3 collapsible poles, rain-fly, anchor stakes and 3 bags
Cons
In cold weather the plastic pole clips can break and
there is no way to replace.
This is a great inexpensive tent. The fact that it uses thinner fabric, it is suitable for warmer evenings and yet still keeps you out of the elements with the addition of the rain-fly. The bottom section prevents moisture from getting you and your equipment wet. Setup is VERY easy.
Source: bought it new
Price Paid: $35-40-ish

Great light tent for backpacking.
Pros
Super light
Cheap
Free standing
And can fit two people if you have to
Cons
The ventilation is bad, you wake up with water on the inside
The rain fly is very small
I have been using this tent  for two years and have had no problems except one hole at the bottom and bad ventilation condensation, but heard you can fix this problem. And the fly is very small, but if you can improvise this will work on thru hikes such as the AT, CDT, and the Pacific Coast Trail. Hope this will help.
Source: bought it new

Great tent for a great price. We've been using it for over a month now and encountered no problems.
Pros
Light
Compact
Easy setup
Inexpensive
Cons
Too small for a log position sleeper
We really like this tent! We've slept in it in different conditions: over sand, on grass, under rain (even without a tarp, considering it doesn't have a fly tarp!). It's an ultra-light tent, great for backpacking, easy to set up and spacious enough to fit 2 average height adults (5"6) who sleep slightly curled (fetus position). It could also work for one adult who sleeps in log position if he/she were to sleep diagonally in the tent.
We've been using it daily on our trip for over a month now and the zipper is still fine and no major rips (it came with some minor ones for the mesh pocket inside the tent). This is a great tent for an amazing price and we highly recommend it!
Source: bought it new
Price Paid: $25

Good tent for introductory backpacking or lightweight camping.
Pros
Lightweight
Easy to set up
Compact
Self standing
Cheap
Cons
One-person tent with gear
My background is car, backpacking, and motorcycle camping for over 10 years. I own many different tents for many different purposes and test them on the regular. I like this little tent and use this for backpacking and motorcycle camping.
This tent is easy to set up with only two poles, however, they are fiber glass and must handle with care!  Sometimes it helps he you can warm the poles up in the sun or on your dash defroster if it is cold. However, if you are gentle they won't break. Fiberglass is lighter than aluminum.  
Stability is great, the style of the tent is a dome which is good for rain and wind. Because it is a dome style it does not need to be staked down (you should stake it down) so it can be used in a variety of environments like sand.
Tent is a simple design I all ways suggest you seam seal all cheap tents... This is no exception... I use mineral oil paint thinner and clear silicone glue... I encountered a storm with no water... I was very pleased...
I use a tarp as a ground cloth which I cut down to the size of the tent.... I actually break down the tent and role it up with the ground cloth and tie it up.  I actually ditch the bag and store rolled up... When stored like this is no bigger than 4 1/2 inches high and 7 1/2 inches long...
I like this tent over the KMart backpacking tent. The Kmart backpacking tent has longer poles and can't be stored like this tent. The Kmart tent is bigger but has weak water entry points were this tent doesnt.  
I carry this tent as a backup when I go car camping. It's a good tent to sleep in or use as a vestibule. A tent that stores gear...  This is a good buy for 25 dollars...
It's cheap ($20 at Walmart), very compact, moderate weight, and a breeze to set up. However, it's not "heavy duty" and I would not want to rely on this tent as my only shelter.
Pros
Compact
Simple and quick to set up
Low price
Versatile
Convenient
Cons
No windows
One door
Single stitching
Poles are very brittle/fragile
The tent was only $20 bucks at Walmart, and what really caught my eye at first was that a 5' x 6' tent could fit in such a small carry bag (canvas type material with a carry loop). My original intention was to carry it in a motorcycle saddle bag for overnight rides.
Before I was ever able to use it, a neighbor borrowed it for a slumber party. When I got it back, a lot of the poles were split 1-2" from the open ends. They are still usable, but they don't snap into shape like they are originally designed to do. However, with only 2 poles to set up the tent, it is extremely easy, simple, and quick to set up. A kid would have no problem setting this tent up by himself.
The tent comes with 4 stakes, a length of cloth (to tie the tent in a roll) 2 identical fold-a-poles, and the canvas carry bag. The rain-fly is sewn on at two corners, and hooks into two other loops of cloth on opposite sites. The rain-fly is not removable. Convenient, but it limits the use of the rain-fly for any other purpose (such as a wind tarp, or to collect water drip etc).
The 5' x 6' measurement is pushing it, I am 5'10" and I cannot fully stretch my legs out unless I lie diagonally. For kids, you may be able to sleep 3, however, 2 is easily comfortable. Two adults can fit, if you cuddle.
The tent is pretty smothering - it has no windows except for the top-half of the door, and a small screen on the top (covered by the rain-fly). The door zips 180 degrees all the way around the bottom, for ease of getting in and out. The tent itself is made of a rip-stop type nylon, and has single stitching throughout. For this reason, I cannot verify how long the tent will last. I have used it minimally in the year I've had it. However, I would not want to stress the stitching any more then I would have to - not set up for heavy duty.
As far as the rainproofness of the tent, I can only say that it is water resistant. You won't wake up in water, but as with most "waterproof" tents, it is not 100% waterproof. Water will not enter the tent AS LONG AS nothing is touching the sides of the tent. Anything that touches the walls of the tent (blankets, backpack, skin) will get damp as long as it is raining. I have experienced this issue with other tents, some of a very well prestige name. The bottom of the tent is made of a tougher tarp-like woven nylon material and the seams that connect the bottom footprint to the walls are waterproof.
Source: bought it new
Price Paid: $19.99

It's very affordable, but you get what you pay for. GARBAGE! Ozark Trail Scout Jr. Dome Tent is a waste of money.
Pros
Very cheap $
Good for two small kids or one fat kid
Easy to set up
Cons
Not at all LIGHT rain resistant. Kids got wet inside!
Poor stitching at the pole pockets.
NOT AT ALL LIGHT RAIN RESISTANT!
It works great until the first light rain day came. This tent is garbage. I WANT MY MONEY BACK! And don't try calling the company Northpole Inc. in Washington, MO, because none of the phone numbers work.
This tent is crap NOBODY BUY THIS PRODUCT! ALL OZARK PRODUCT are now crap to me. Oh yeah, I bought this for my sons from Walmart and it was cheap and now I know why. You get what you pay for.
Source: bought it new
Price Paid: $20

This tent was very easy and quick to set up and is extremely lightweight. That being said, it is very small and would be best suited for one person and their gear. I did set it up outside on a day I knew it would rain all day to see how it performed and not a drop of water came in. The rainfly is very small and I was concerned about it but it worked fine.
Pros
Light weight
Performed well in the rain
Ease of setup
Cons
Extremely small for two people
Could use a little bit better ventilation
I bought this tent to take on a backpacking trip as I didn't have one and I didn't want to spend very much as I wouldn't be using it often.
This tent was very easy and quick to set up and is extremely lightweight so it would be good for backpacking form a weight prospective. The poles are very lightweight and I was a bit concerned, however, they did hold up. 
It is very small and would be best suited for one person and their gear. If you are very tall, you will need to sleep diagonally. I did set it up outside on a day I knew it would rain all day to see how it performed and not a drop of water came in. 
It does not come with a seperate footprint, which I think might be helpful and would help keep the bottom clean.   The rainfly is very, very small and I was concerned about rain getting in but it did work fine, however, there was very little wind on the day that I tried it. The tent could use better ventilation as there is very little and condensation is a bit of an issue. 
Given the fact that this tent was under $30, I was actually very suprised that it is as durable as it is.
Source: bought it new
Price Paid: $24

Poles are weak. Otherwise a great tent.
Pros
cheap
a little over 3 pounds
small
I bought this tent based on others who bought it for the AT. It does say jr. tent. Which means it's made for small usually children sizes. Most tents that say it's for 2 people are really big enough for one. Or two without your gear. 
I thought it was a good tent for the price. I got rain on and had a little water in my tent. But it's because my things touch the sides of the tent. Tents will leak during the rain if anything is touching the sides. It worked well. I have another dome tent but it was too heavy to take.
My only problem was being careful was not enough for the poles. One split and I can't find a replacement. You can't find the company to call for replacement like the expensive tents. I called Walmart while on the AT. They said I had to bring it in with a receipt after only using it for 5 days for an exchange. Where on the AT most top dealers would send you the replacement for free on your next stop on the AT.
If the poles were made better I would say it's perfect knowing that it is a jr. tent. It's not made for 6 foot people though it can be use for them. You got to learn your vocabulary terms to know what you are buying.
Source: bought it new

Bought this tent as toy for kids, they are 2 and 4 years only and they broke the pole on first day!!! Not able to find a replacement poles. This is useless now.
Price Paid: $19.99

I love this tent. I hike parts of the AT and it works perfect.
For the price, it rocks.
Price Paid: $20

Great tent. My nephew loves it, never been outside home though.
Wish i could get replacement for pole.
Ease of Setup: yes
Price Paid: $20

So far, it is overall a great tent. Got it at a Walmart Supercenter for $19 and put it up in about 15 minutes (although it would be up in 5 or 10 if it wasn't 112 degrees outside) and has not broken yet.
I have heard that poles are the main problem on Ozark Trails tents, but they do not seem flimsy at all. Although the stakes could be stronger, (they bend if you whack them with a 4 lb. mallet) they still work.
Overall a great tent. Used on the Mogollon Rim Mountains, AZ for a 140 lb. male.
Design: Red 7' x 7' square dome
Sleeps: 2
Ease of Setup: Extremely easy
Price Paid: $19

Version reviewed: 6x5
Great tent for the money. Some of theses reviewers are 2 hared on it. It's not some super awesome backpacking tent that's wut i use it for but like some others say stick a tarp on it. Those poles r not plastic the people who say so r dumb. This tent will with a tarp hold against rain and woopy dee do if your bag gets wet u can dry it in the sun in 1 day and u will still b comfortable if you're a real camper!
Design: dome
Sleeps: 1
Ease of Setup: 2 min at max
Weight: like 2lbs
Price Paid: $21.40

It's a good tent, and lives up to the description, but it is definitely not 5x6'. I'm 5'6 and only fit diagonally across the tent. Returned it to Walmart today. I only tested it indoors, but the rain fly also seemed small, as it only covered the very top of the tent.
It say it sleeps two, but that is definitely two children. No one over 5' will fit lengthwise in this tent. One person 5'6, no taller, sleeping diagonally, max.
Design: two-pole dome tent with rain fly
Sleeps: 2
Ease of Setup: very easy, aprox. 5 minutes
Price Paid: $19.88

I have used this tent two years in a row for 3-4 night hikes on the Appalachian Trail and it performed extremely well for the price. Set-up and take down are very quick and easy.
My hiking companions with high-dollar tents were still struggling to get their tent gear out of their packs while mine was already set up. I have had no trouble with poles breaking or water leakage.
In fact, the first night I used this tent on the AT we experienced a violent hail storm with high wind and heavy rain. My hiking buddies soon bailed out of their expensive tents to try to cram into an already occupied shelter, but I hunkered down in this little tent with minimal water intrusion.
I was very surprised and pleased with its performance and the others at the campsite were amazed that the tent held up under those conditions.
Also, it is very easy to pack and is lightweight.
Main drawback is that its interior hardly accommodates two persons, and it requires me to sleep on the diagonal, however for the price I can't really complain too much.
I plan to use it again this year without reservations.
Design: three season free standing dome
Sleeps: 1
Ease of Setup: very easy
Weight: 4 lbs approx.
Price Paid: $20

WE ran a test run inside before going camping with our scout troop. The floor does not really want to lay flat. Good thing. The pole broke on day two of use in the Living room.
This is obviously not even going to work as a toy. and there is no way that this is 6 feet long, I am 5 ft 7" and I had to lay corner to corner. I am so sorry. I guess you get what you pay for. I will have to learn my lesson and go with REI.
Design: Junior Dome Tent
Sleeps: 1
Ease of Setup: very easy to set up
Weight: 16 oz
Price Paid: $20

I am a very serious hard-core backpacker and I got this tent on a whim because I needed a personal tent. This tent is extremely light and packs down very small in a convenient carry case that fits nicely in my backpack. It has survived a couple very intense backpacking trip one of which involved 5 inches of snow. I am yet to experience rain with the Jr Dome and don't know how it would do.
It is just enough room for me (I'm 6'2") to sleep diagonally with my pack on one side and everything else on the other side. It goes up easily and has a nice overhead mesh shelf which I put my light up on. For $20 bucks you can't beat the Junior Dome.
Price Paid: $20

Well let's face it, it is a $20 dollar tent need I say more. It's very light weight and not very water proof so for its intended use it's not a good choice. I guess it would be ok for the kids on a backyard campout on a nice summer night if your kids are not too rough on the equipment. Or you could use it as a gear tent if you're car camping or something like that. But other than that I cant say to much good about this tent.
Design: Warm Weather
Price Paid: $18

I got this tent for my son. He used it twice and a pole broke. I am disappointed in this product! My family are experienced campers and take pride in our gear. This tent was supposed to be a tent for my son in the backyard. So far it has been a disappointment to him!
Design: junior dome tent
Sleeps: 2
Ease of Setup: very easy
Price Paid: $29.99

I bought it to use inside b/c I was painting my room. It's awesome. The poles didn't break for me and I put it up but it was the wrong way so I redid it like times and the poles never broke. I am 4'11" and it fits me and a twin air bed. :)
Design: good
Price Paid: $20

***************************
PROS:
-decent construction
-heavy duty floor
-overhead suspended pocket (great for a light)
-rear suspended pocket for tools, etc
-light weight
-inexpensive! (VERY few options fall below $30 any more)
***************************
CONS:
-small rain fly
-ugly color schemes!
-pole sleeves are okay - pole snap hooks would have been nicer...
***************************
PERSONAL EXPERIENCE:
This tent was a sought-after item for me.For years I'd lugged around my old Coleman 3 pole 8x9 and I would watch my friends packing their fancy, lightweight tents with jealousy. I had a hell of a time finding one for myself. In fact, I had to visit three different Wal-Marts continually for nearly a month to finally find one in stock! These things are really difficult to keep on the shelves. I suppose the sub $20 price tag keeps them selling quickly.
So far, I've used this tent several times out doors, and I feel it perfectly meets my needs as a weekend camper. The rain fly is small, but I usually carry a blue 8x8 tarp with me, so if the weather gets bad, I just chuck it over top of my tent, which seems to work fine so far.
Compared to my last tent, it's a dream come true. Only two poles and a quick setup means my shelter is ready in a flash. Then I just chuck my gear in the back corner, lay my bag diagonally, and have a free corner near the door to keep my boots and flashlight handy.
Let's face it - no matter what tent you have, you will have issues with water and rainfall. Do the tent a favor, and keep it dry as well. Most tents are designed for ideal conditions, and a downpour is certainly not ideal, for ANY tent. Consider packing a tarp, a few feet larger than the footprint of the tent you use. String it up over the tent as a canopy, and your water issues should dramatically lessen. The less water that HITS your tent, the less water you'll find INSIDE it. For a little extra pack space, you may have ensured a dry nights rest!!
**For instructions on setting up a tarp as a canopy, you may search google for "how to use a tarp" **
*****************************
FINAL NOTE:
This tent seems to appear in two versions: a two-pole rectangular floor shape, and a three pole diamond floor shape. The three pole version is considerably smaller when erect, (it reminds me of a bright orange coffin), is slightly more difficult to set up, and seems to have problems with rain gathering in the central triangle in the middle of the ceiling. I would suggest avoiding this version, as for the same price the two-pole version is more roomy and more capable. Both seem to pack down to the same size. ( My friend has the diamond shaped one, and he practically has to sleep curled around his gear.)
In all, there are four of us who own this tent, three of us have the two pole rectangle, and one owns the three pole diamond. Each of these tents (except mine) have seen several seasons, and done quite well, although none of us has had to endure any major rainfall.
Update: February 2, 2009
THIS REVIEW IS FOR YOU IF YOU ARE:
1. carrying your own gear
2. sleeping alone in your tent
3. limited on cash
4. practical
I liked this tent so much, I bought a second one! I used the new one just this weekend, and even compared it side-by-side with my Coleman 3-pole 6" igloo tent, sleeping the first night in the bigger Coleman tent, and the second in the Ozark Trail junior tent.
When I camp, I sleep alone, and have to carry my own equipment by myself. I'm an average guy, and not athletic. I stay out for two to three nights at a time, and I camp regularly. I've tried several different camp arrangements, and this little tent has really outshined many other options, in many ways.
First, PRICE.
For $20 you can have this tent, or nothing. There are simply no other options for this price. Every other tent is more expensive or just plain useless. One can find the plastic survival tube-tent for around $5, but it does not close at the ends, so it offers no protection from cold nor critters, and tears easily. One could consider sleeping under a $10 tarp, with the same disadvantages. For $30 or more, you could buy a bigger tent, and you may find the disadvantages listed below. Further note - go ahead and look at some "professional" tents. The ultra-light tents, with have about the same size, go for around 2 to 3 HUNDRED dollars.
Secondly, WARMTH.
It reached 30 degrees (freezing) both nights, which is VERY cold for Florida. The large tent had a double wall design, but did not hold out the cold AT ALL. I always carry a small blue tarp ($8), and lay this over the small tent, which stayed warm inside all night, with NO condensation or water getting in at all. The larger tent has so much air space inside that a single person will not give off enough heat to warm it up, no matter how long one stays inside. I could try the tarp trick with the larger tent, but a tarp large enough would cost $20 or more, and would have been HUGE even when packed down. The junior tent starts warming up inside as soon as the door is zipped up. My breath alone was enough to keep the small tent warm through the night.
Thirdly, the larger tent is an absolute BEAR to set up and break down. The poles are long and difficult to bend, and once it's up I have to spend even more time putting the rain fly up, which covers the entire tent, to the ground. Breaking it down isn't bad, but fitting it back in the original bag is a real wrestling match!! The junior tent is so easy to set up that using a stopwatch to time it would have slowed me down! Break down is just as quick and easily fits back in it's case.
Fourth, the weight. This trip had a one mile trek from the parking area to the camp site. Trust me, if you carry a 2 person adult sized tent for even a quarter of a mile, you'll realize how heavy it actually is. The junior tent is so light that i don't even notice any difference in my pack weight.
ON THE OTHER HAND:
The only complaint I really have is the size of the gear pocket in the back and the gear loft in the top. They're almost too small for anything. However, I find it handy to hang my mini LED lantern from the gear loft. Even setting a flashlight up it, turned on, lights up the tent pretty well!

This was the fifth or sixth time using the Ozark Trail Junior Dome Tent for a -SERIOUS- camping trip, and it's held up exceptionally well. However, I TAKE CARE of my tent. I even keep the original cardboard case inside the zipper bag to further protect my tent. The advantages: Low price, small pack weight, quick setup/break down, and small thermal space; add up pretty quickly. Highly recommended for those people described at the beginning.
Finally, USE A TARP. All tents allow condensation to seep in. A cheap tarp costs very little, and it completely defeats the condensation, which can get your gear wet, and ROB you of precious heat!!! Just throw it over top of the tent and you're done.
Good luck everyone and thanks for reading!!!
Design: two pole free-standing dome
Sleeps: 1
Ease of Setup: EASIEST TENT EVER
Weight: too light to measure
Price Paid: $19

Okay, so I was in Wal-Mart the other day and thought it might be kinda cool to buy a new tent. Yep, my Boy Scout troop will be hiking this weekend and I thought I'd treat myself to some new accommodations.
Which brings me to the Ozark Trail 2-Person Junior Dome Tent. It was $17 and came in a handy carrying case. 'Nuff said. I haven't used this thing yet, but I have to give it at least 3 stars based on the comedic value it has already provided.
Oh, by the way, the forecast is calling for steady rains all weekend where we're going to be camping. Sweeeeeeeeeeeeet!
Design: dome
Sleeps: 2
Ease of Setup: yet to be determined
Weight: light enough to carry around Wal-Mart with ease
Price Paid: $17

I bought this tent because I figured I could fit into it. This is the most compact, useful tent ever. I can stow it away in my car and throw it up whenever I want. It is so small that it takes up almost no space in my car. It is also very light.
I am 6'2" and I fit it in perfectly if I sleep diagonally. You really don't need anything more than this. I am going to rain proof this thing after reading other reviews.
I have two of these and I love this tent. It is perfect for one person. Mine has withstood some good winds. If it gets windy all I do is use my car as a wind block and I'm good to go. It takes less than 5 minutes to set up and take down.
Design: dome
Sleeps: 1
Ease of Setup: Simple
Weight: Light
Price Paid: $13

Hmm well. I have only slept in it one night but I thought it was alright. I do admit the poles were very thin, but I don't think they would break if you are careful.
IT WAS VERY EASY TO SET UP. I set it up by myself in about three minutes. The rain fly is easily attached. It is only 5x6 which is alright but remember you need a place to put you pillow and you don't really want your feet and head touching the walls. I am 5'10 and I had to lay "kitty-corner". It was also very easy to get into the bag again.
The weight is very reasonable. It looks good to use for a week long hike. This not waterproof- it is water resistance. I have plans to spray on aerosol waterproofing spray. So that is an option.
Design: 2 person junior dome tent
Sleeps: 2
Ease of Setup: easy!
Weight: 2.5 pounds
Price Paid: $20

I have owned this tent for at least three years now. I'm not sure that Wal-Mart makes it any longer.
It all started when I was waiting in Wal-Mart to get them to fix a flat tire. Due to store design, the camping section was next to the auto section. I'm a gear head, so I love looking to make sure I've got all the gear I could possibly need (despite knowing this from having been on the trail many times).
One thing I did not have, at that point, was a tent. I routinely borrowed a dome tent from a friend and so was familiar with the basic setup.
This tent was on the end cap and was offered at $17-and-change. This seemed too good to be true, so I read on: 5' x 6', bathtub bottom, contained rain fly, marketed for 2 children. The two children were supposed to lie side-by-side on the 6' portion of the rectangular tent floor, and their bodies were supposed to take up less than the 5' length available.
I'm 5'2", so I figured that I could easily lie along the 6' length, and not share with anyone, and could fit. Though I later did some Pythagorean theorem calculations and found that the tent has a 7.8' diagonal, so unless you are 8' tall, you can use this tent as a one person tent.
I was impressed that the bathtub bottom (which was discontinued on models that were later produced; and also had 5' by 4.5' dimensions) was made out of tarp material. Not the sil-nylon tarps that are prone to ripping; the heavy duty tarps like one would find in the auto section.
I hefted the tent and, being a backpacker, really liked the weight.
Figuring that it was worth the $20 to experiment, I bought it.
I have camped in nothing else since. It takes me under 5 minutes to set it up. The poles are loosely shock-corded, which means that in the process of sending them through their dead-end sleeves, they do separate. But again, you get what you paid less than $20 for, and with a setup time of under 5 minutes, it is hardly an inconvenience.
Because this was my first and only tent, I did seam-seal all of the seams, as was recommended in my instructions. I used purchased-at-Wal-Mart seam sealer.
Most recently, the tent has survived 4 days of constant downpour as a tropical storm passed overhead. There was some dampness, but the folks with expensive tents (Big Agnes, REI, Sierra Designs) were flooded out long before I emerged from my tent to ask if anyone else's tent might be leaking. One woman asked, astonished, "You've only just now experienced leaks? You don't even have a footprint!" She had a Sierra Designs tent, with footprint and rainfly, and the floor of her tent was swampy.
Negatives? It doesn't have much ventilation. There are two vents at the top, covered by the rain fly, and one on the door. This does not vent the moisture that you exhale, and I have never had a morning where the walls weren't somewhat damp from my sleeping breath. Nothing dripped on me, nor was it even drops, but the humidity in the tent had risen.
Design: three-season freestanding dome
Sleeps: 1
Weight: 2.5 lbs including bag and original stakes
Price Paid: $18

I was in a bind, my borrowed tent for my cross-county bicycle trip leaked the first time it rained. I was checking tents at Walmart. I was first attracted by the size and weight. I have to carry all my gear on a bicycle. Then the $20 price attracted me too, as I am on a budget.
I camped that night with the new tent. I felt the tent was about as roomy as my other tent. The 6 foot length was fine for my 6 foot air mattress. It looked like rain, so I stashed all my gear and me in the tent. Soon strong winds and rain arrived. I was impressed. Only a little water came in the top though the fly covered vent screen. I slept well that night.
I do note that if the temperature gets low enough you get a lot of condensation. That is annoying, but
it is a $20 tent. It sets up quick, but I take it easy as the poles are a bit flimsy. It is roomy as a light backpacking or bicycling travel tent could be. I hope if I take care of it, it will last me all summer. Sorry everybody else had so many issues with it.
Design: 5x6 three season? Dome tent
Sleeps: 2
Ease of Setup: Very easy 5 minutes
Weight: 2.5
Price Paid: $20

I wish I could give this 0 stars. I bought it as a toy for my kids and it broke the very first day we had it. As other reviewers said, the poles are plastic and are really flimsy -- just in normal use one of the poles broke in two different places. I am glad we were only in our backyard and not dependent on this as a shelter.
Sleeps: 2
Price Paid: $17.89

DO NOT BUY THIS TENT!!! If it rains - you WILL be soaked. The first time I used it, it rained and the rain came through the walls of the tent which leaked down and completely soaked my sleeping bag. This tent is garbage and I wouldn't use it if it were given to me for free. Don't walk away from this tent - RUN!
Sleeps: 2
Ease of Setup: easy
Price Paid: $17

This tent can't even be considered a toy. One of the poles broke the first time it was used. Go ahead and try to find a replacement pole. They want you to buy the whole thing again. Not a chance!!!
Design: warm weather dome
Sleeps: 2
Ease of Setup: easy
Price Paid: $19.99

I had a previous Junior Dome Tent that I liked well enough... but the current style is awful.
My older tent had, as advertised, a 5-by-6 foot square floor. As I'm 5'1", this was perfect for me. The traditional dome design worked fine. Unfortunately, I carelessly left this tent where insects ate holes in it.
So I bought a new Junior Dome tent in the new style. The packaging *says* it's 5-by-6 feet. Well, it's six feet long at the longest point, and five feet wide at the widest point, but the floor is diamond-shaped!!!!! So it was a tight fit even for my tiny self. I can't imagine sleeping two people in there.
Much worse is the dome design. It has three poles instead of two, and they form a horizontal triangular shape at the top. My first night out, it rained hard. I woke up in the middle of the night to find that my sleeping bag over my torso was completely soaked! Turns out the rain had fallen into the triangle formed by the three poles, and had nowhere to drain to. Even the most "waterproof" tent fabric won't stand up to a heavy gallon of water, so the rain was leaking straight through. No amount of seam sealer is going to fix this basic design flaw. Pushing up on the sagging triangle of fabric caused a cascade to run down the sides of the tent and relieved some pressure... so I stayed awake all night doing just that. Miserable.
I can't think of a reason in the world to buy this tent, even as a toy. Look for the older models that at least come to a rounded top and have a reasonable-sized floor.
Design: horrendous
Sleeps: 1
Ease of Setup: don't bother
Weight: 3 pounds, more or less
Price Paid: $20

I would agree that this is not a serious tent and should only be used for backyard camping only. The poles are plastic and easily bent and break if not careful.
Design: 6 ft. x 5 5ft Junior Dome Tent
Sleeps: 2
Ease of Setup: Easy to set up

This tent is a toy--do NOT bring it on a serious trip!
Not only does it leak--in a high wind or two it will stretch the fabric--causing the material to lose its tension. You will not be able to tighten the walls as you cannot stretch the floor. This leaves you in a very bad poisition with the elements.
Design: Dome
Sleeps: 2
Ease of Setup: Easy
Weight: 3-5lbs
Price Paid: $40

Junk, don't buy it at Walmart. Leaks, cold, clammy.
Junk, total waste of time.
Source: bought it new
Price Paid: $30

Your Review
You May Like
Specs
Price
MSRP: $22.97
Reviewers Paid: $13.00-$40.00

Weight)
3.28 lbs

Dimensions
72.0 x 60.0 x 36.0 in

Recently on Trailspace