Pacerpole 3-Section Alloy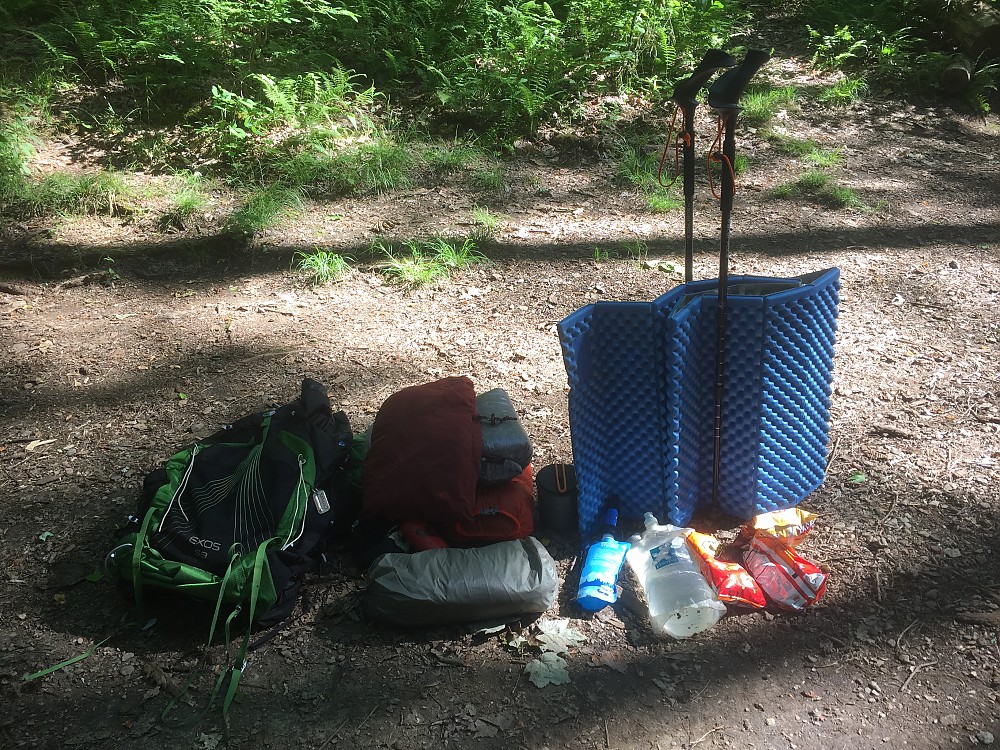 Excellent trekking poles that have helped reduce stress on knees and wrists, encouraged proper posture, better breathing and efficient movement. Pacerpoles have become a key component in my everyday hiking gear. I highly recommend these poles for hikers and backpackers.
Pros
Anatomical handle design
Sturdy quality construction
Twist lock design
Textured surface and Eva sleeve allow easy adjustment
Instructional material provided and online
Cons
Only available directly from company
Takes a little practice and time to get used to
I have been using Pacerpoles almost daily since I purchased them 4 months ago, hiking with and without a backpack and on a variety of terrain. Most hikes are between 3-10 miles long over a combination of packed dirt, rocks and at times pavement. It didn't snow here in my area of California this winter, so I have not used them on snow.
When using these poles I experienced a reduction in knee pain, especially on down hill sections of trail compared to the standard trekking poles I had been using. I have not experienced any wrist pain using these poles. There was some initial soreness in my triceps the first few days of use, using muscles I hadn't used much. 
I also found that the proper posture reinforced by using these poles encourages better breathing and I am not as tired at the end of a hike. While they are heavier than some other types of poles, once I got used to using them they feel like an extension of my body and are nearly effortless to use. 
It wasn't until I recently had to ship my gear to Georgia in preparation for hiking the Appalachian Trail did I really realize how much I loved using these poles. Sometimes it is easy to take for granted a piece of gear that performs outstanding when you use it all the time. The switch back to my old traditional trekking poles brought with it a recurrence of wrist and knee pain. 
I wrote to the Pacerpole company telling them about my positive experience with their product and my upcoming Appalachian Trail thru-hike. Pacerpoles offered me "another pair of poles as a gift for taking-up the AT Challenge". Now on to the details. 
Pacerpoles are a uniquely designed trekking pole. The standout feature is the anatomically designed handle which allows wrists to mainly stay in a neutral position while using the poles. The method of using the poles is different that the other types of trekking poles and takes a bit of practice to master. The company provides ample information on their website http://www.pacerpole.com/ along with demonstration videos. The Pacerpoles arrived in a mesh storage sack with printed instructions and extras.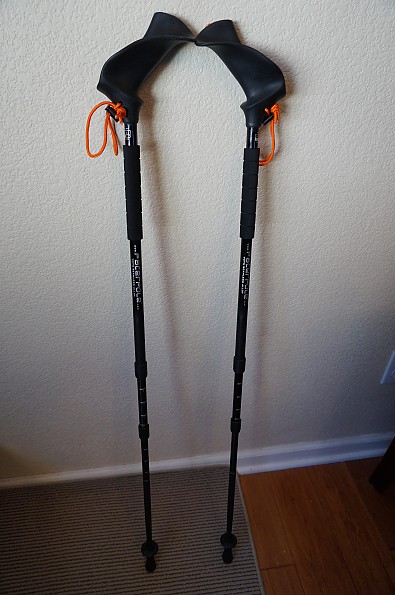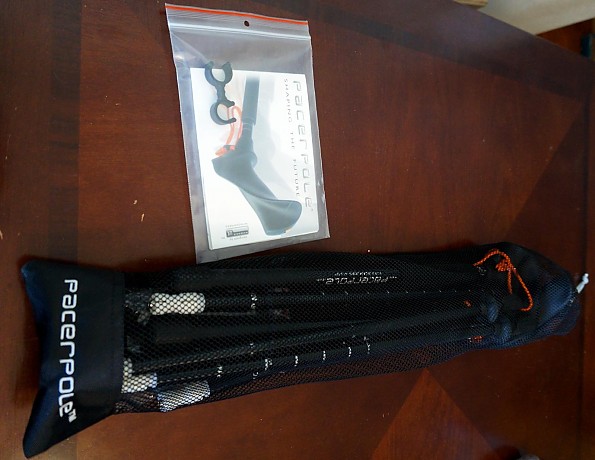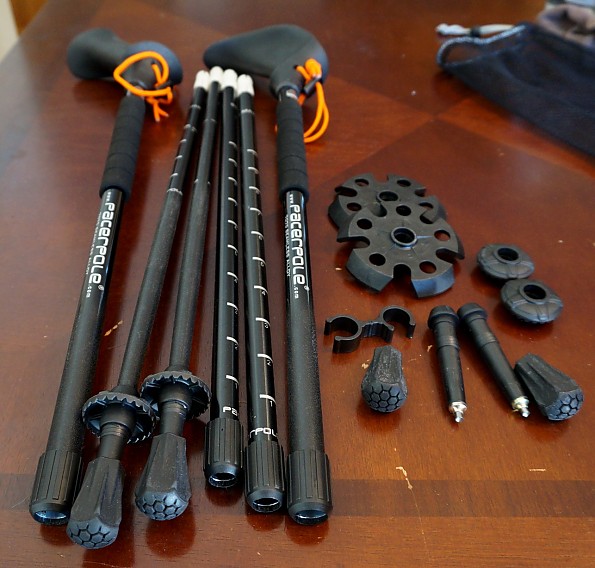 The molded handle allows you to grip the pole while keeping your wrist in a neutral position. The shape of it fits naturally in your hand so straps are not a needed component. Resting the hand on the grip with a very slight pressure between fore finger and thumb is all that is required to keep the handle in your grip. This is a very comfortable and natural feeling resting position for the hands.
There are safety straps attached to the poles, not to be used in the action of using the poles but to retain the pole in case it is caught or dropped. I have only used mine once when negotiating a steep slippery sections of trail where dropping a pole would result in it being lost for good. They can be easily removed if desired.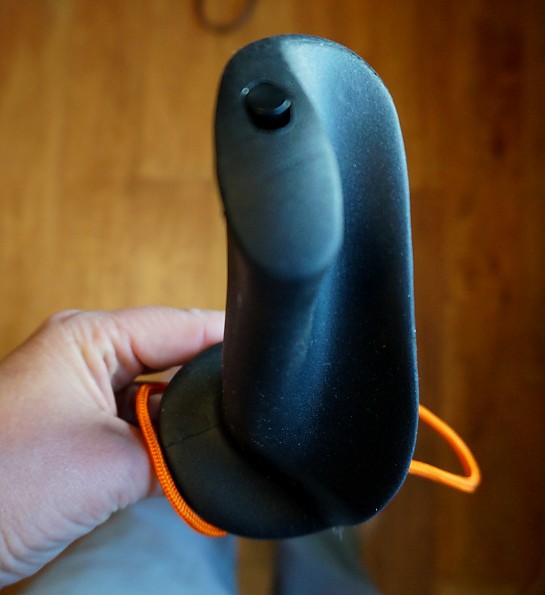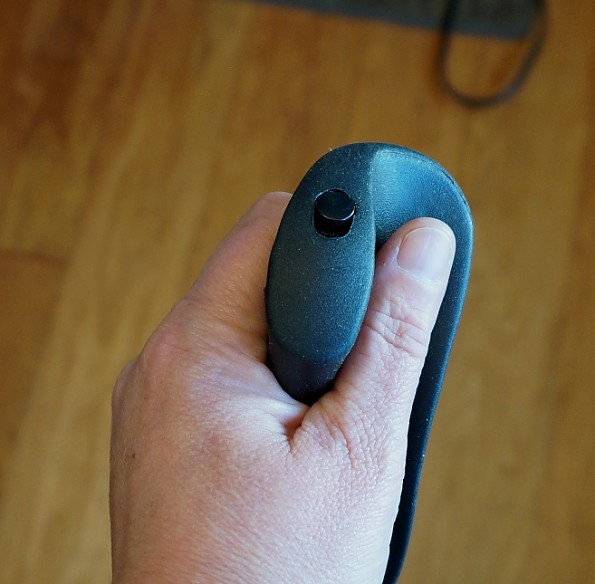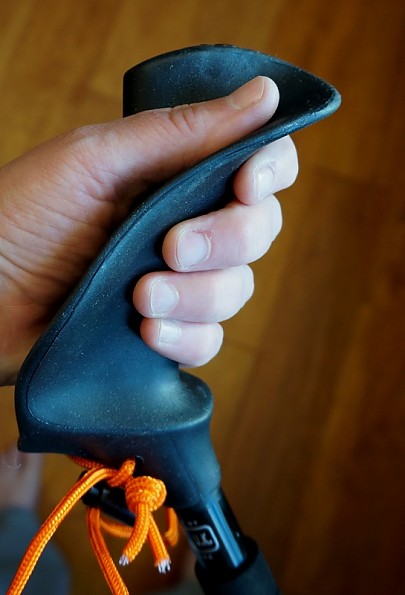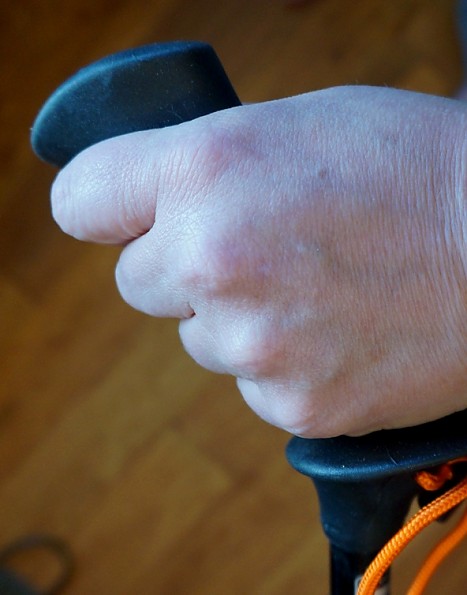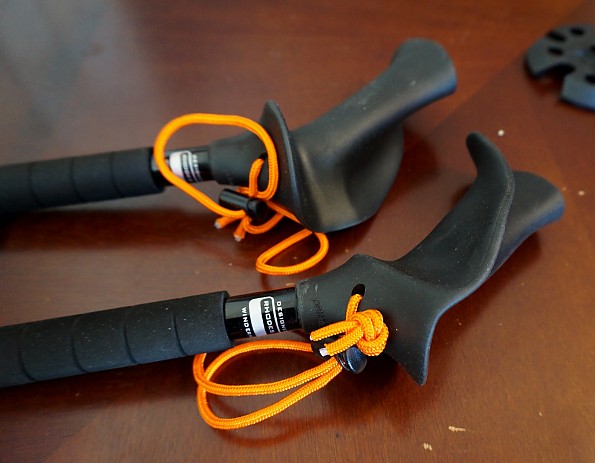 The 3-section 7075 alloy poles are secured with twist lock mechanisms. They have never slipped during my use. Poles can be adjusted to a personal fit following the instructions provided. The textured portion of the poles along with the EVA sleeve make it easy to get a good grip on the poles in order to tighten or loosen the twist locks. These features come in handy when you need to collapse the poles with cold wet hands. These poles do not have shocks. The shafts are marked to allow for consistent proper adjustments.

Textured area of shaft above basket for easy grip while adjusting.

The package I purchased came with snow baskets and smaller 4 cm trail baskets. They are easy to replace and while in place allow for some movement. I have kept the smaller baskets on the poles for the hiking I have done.
The poles have 8 cm tungsten carbide tips that can be replaced. These performed well giving good traction on a variety of wet and dry surfaces. The package I purchased came with "street feet" which are rubber feet that can be quickly added or removed for use on pavement.
All components of the poles are durable and well made. The overall feel of the poles are very sturdy when using them. I don't notice any shake or vibration along the shaft when pushing off with them. I was able to use them to arrest a slide down a steep embankment with no damages to me or the poles.
The poles come with a mesh storage sack. Instructions for routine maintenance and storage of the poles is provided. I use mine almost daily so I periodically take them apart to inspect for damage and wear and wipe the parts clean. So far the only wear to be seen is a small amount on the rubber street feet. 
Besides the bit of a learning curve involved with using the poles, the only other con is the fact that they are only available directly from Pacerpoles. At the time of this review, they offer free worldwide shipping and 4 weeks to use the Pacerpoles with a full refund if not satisfied. Those features are the reason I took the leap and purchased them untried. 
There are camera mount and over-mitt accessories available, as well as combination packages. There is a lighter weight carbon fiber model available. I have not yet had the opportunity to use these other options. A full range of replacement parts are also available through their website. 
The specifications per the Pacerpole website are as follows:
Weight for pair of poles without baskets 650 grams
Maximum length 140 cm 
Collapsed length 67 cm
Dismantled length 56 cm
Shaft diameters 18 mm, 16 mm, 14 mm
I am very satisfied with my Pacerpoles. As a person who has experienced several knee and wrist injuries in the past and still deals with pain from them, these poles have made a huge difference in my enjoyment while hiking and backpacking. They are thoughtfully designed and well made. I highly recommend them to all hikers and backpackers.
Update 7/9/2015
I can honestly say I would have never gotten as far as I did on the Appalachian Trail without these poles. After extensive use on the AT, these incredibly sturdy poles still function like new, including the twist locks. They do not look new anymore though. They wear the battle scars of the hike in the form of surface scratches on the shaft, but the foam and hand grips remain unscathed.  
I don't head out on a hike without them.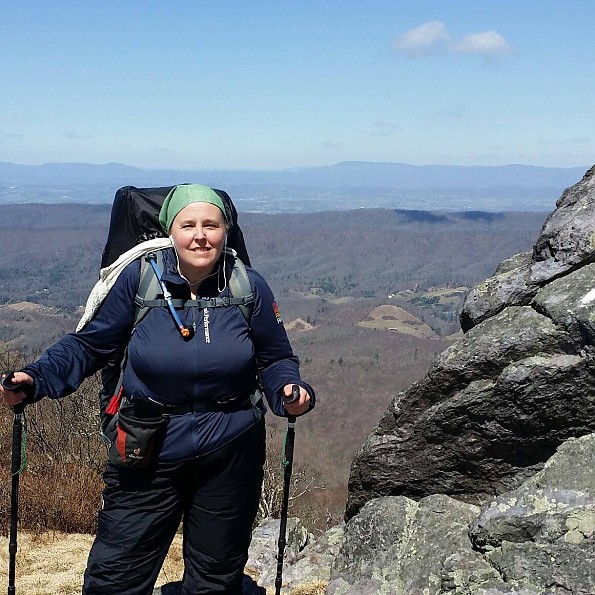 Source: I purchased Pacerpoles new for $128.96. After 4 months of use, I wrote to the company telling them about my positive experience and my upcoming Appalachian Trail thru-hike. I was offered "another pair of poles as a gift for taking-up the AT Challenge"

The handles make all the difference—walking with these is unlike any other poles. Great for all seasons. Also awesome for people with leg injuries for daily use if you don't quite need crutches or a walker but something for stability (of course, ask your doctor if this is right for you etc).
Pros
Designed for best biomechanics by a physiotherapist
Encourages better posture while hiking.
Amazing customer support
Able to replace sections if damaged
Works for our tent (Zpacks Duplex)
Durable handles (no rodents chewing your cork)
Great accessories to take them from summer to snowshoe backpacking
Cons
All the instructions can be overwhelming at first (you can skim them—you don't need all the details)
Posts from the UK, so if in the US you can't try them first.
I have tried other poles before and been skeptical. Many are uncomfortable, weird to get used to placing, and while they provided balance on lose material they didn't seem that helpful the rest of the time. When planning a hike that would involve a lot of balancing/loose terrain I decided to research poles more. I can't remember how we came on these were much more than jut for balance—I was convinced they were worth a go.
A lot of thought went into the design of these poles. 
Biomechanics
Although there are carbon fibre versions, these are heavier than the lightest poles. Some people will think is a down side but it is much better for body biomechanics. Biomechanics and ergonomics are at the centre of the design of these poles. With these I can move faster without noticing. My posture is better and as a result I breath deeper. I get some additional forward propulsion from these and I am super stable. 
Fit
The position of the hands on these is super comfortable—a really nice open feel that is designed to work with all hand sizes. I have done hot summer hikes with them with no blisters or rubbing and no issues from sweat, and I have used them with gloves and mittens on snowshoe backpacking, no problem. The angle, so different from other poles, is key to the way they allow you to move faster over normal terrain as well as the loose stuff, without tiring your hands and arms. The handles are simply superior—as despite their different shape, they still work fine with my Zpacks Duplex tent. 
Adjustability 
The three section poles are super adjustable and have markings so you can keep track of your preferred height for different uses (flat, downhill, tent height). The locking mechanism is easy to use. I have very occasionally noticed them nudging down in use and readjusted and tightened. I think this is a thermal expansion/contraction thing. It doesn't happen often and they also didn't just suddenly give way. 
Traction
Other than on snow trips, we use the rubber feet to reduce our impact on trails or off trail hikes. The feet are great. The poles also work with other pole feet (e.g. Black Diamond, Leki) if you lose them. This is great as you can get replacements at outdoor shops locally in a hurry, rather than ordering from the UK (although their service is fast too). In winter it is easy to swap out for baskets and the hardwearing metal tips. We found the feet came off in sucky mud. We contacted Pacerpoles and we ended up using tape under the tip for extra stay. This is easy and works great. 
Baskets
There are multiple sizes of baskets to choose from. I have never had a problem with them coming off in use. They are easy to swap out and work well in snow and mud. 
Accessories
You can get an accessory connector to use one as a monopod. This is pretty neat and easy to do. Very light addition to your kit. They also have overmits that go with the poles now. I would consider these for winter trips but haven't used them myself. The bags for them are great for storage an transport too.
Construction and Durability
Fantastic. There is pretty much no wear on these. They have held up to all sorts of use and are going strong. The alloy is a very strong pole, with no visbale flex. I can fully trust these to take my weight, and when I have stumbled, these have definitely taken it and saved me an injury. I like to tuck them under my pack and lean back for breaks with nowhere good to sit. It works better than it sounds!
Costumer Support
Pacerpoles are a font of information about poles and walking/hiking biomechanics. You have a question about the pole, a problem with the poles? contact them. They will seriously work with you to get them working how you need them. Fantastic company. 
Recommendation:
We liked them so much we got another pair for my husband. Then two pairs for his parents to help them keep going hiking (they love them). Then a pair to replace one of ours that we gave to an older family friend who had knee and hip surgery and was struggling—he thought they were amazing—just the thing for getting around Glacier NP with us. My friend who didn't want to take poles with him on a backpacking trip we did together, ended up using mine on the crossings because of vertigo. When I tore my posterior tibial tendon (long story) and had three days more to hike out—these and tape took the weight to get me there—then I used them during recovery.
I love these poles.
Experience
About two months on trail with these poles over the last five years. From summer day hike and backpacking to winter snowshoe trips.

Source: bought it new
Price Paid: ~$100

I've always thought the handles on my trekking poles should be angled forward to better match the natural position of my hands and to better simulate a hand railing. The Pacerpoles people were reading my mind.
Cons
Weight
Hard plastic grips
For 15 years, I've backpacked with the same pair of Leki Super Makalu poles I bought at the NOC during my 2000 thru hike. Even though the Leki's handles are tilted forward just slightly, I've often thought that it would be better to tilt the handles of trekking poles farther forward to better simulate a hand rail, and match the natural position of your hands.
I did some research, and it looked like the Pacerpoles do just that. I'm kind of upset I didn't take the idea and make my own poles. I got really lucky and found a pair within days on eBay.
These poles are absolutely more comfortable to hike with than traditional poles. The handle/grip design just feels right. Once you get the proper height setting for you, and learn how to keep the poles at your side instead of throwing them in front of you, you really get to experience how these poles help you to keep your balance and aid in forward propulsion in addition to adding additional stability over difficult terrain. 
With these poles, you don't need to use a strap like you do with a vertical-handle pole because your hand naturally rests on the grip, and it takes minimal effort to grip the pole. I do use the safety loop just to keep the pole attached to my wrists so I don't lose them while crushing miles over challenging, rocky, and steep trails.
The locking mechanisms are the twist-style. I've used these poles for about 75 miles of backpacking without any issue of slippage. They quickly adjust with a twist so I can lengthen them to support my tent. 
The poles don't have shocks, but who wants shocks anyway? That's extra weight, and there is no evidence that spring shocks help absorb any of the shock from the trail. In fact, it seems to me that the shocks in my old Leki poles actually cause me to use more energy staying balanced as the poles collapse under weight. Over time, I think people will all acknowledge that there's no need for shocks in a trekking pole.
The Pacerpoles have the Tungsten tips, so they grab onto every surface, including wet rock. You can also use the optional rubber tips as well. The standard basket is a little small, but I really didn't notice an issue, so it's probably just in my head. I could switch to the larger snow baskets, but that would be overkill. Baskets switch on and off easily, but they stay put under strenuous use. 
I don't own one, but you can also purchase a camera mount that slides into the top of the handles of each pole. 
For many, these poles are a little heavy, and they do come in a carbon model which probably weighs less. But, I never found them too heavy. After hiking 12 miles a day for 5 days, I never felt fatigued from the poles. 
If I were to make one improvement, I would make the grip out of a material that is a little kinder on the hands than the hard plastic. My hands never really got tired, but something softer would be nice. Of course, the hard plastic handles are probably the best when things get wet from sweat. The hard plastic doesn't absorb it so it just evaporates away. But, in a humid climate, sweat isn't going to evaporate fast enough, and things could get slick, and possibly lead to blisters. Of course, if you keep a bandanna handy, problem solved.
Overall, I'm sold on these poles because they made a 60-mile hike, including the 8.8 mile uphill climb out of the NOC up to Cheoah Bald, a better hike than it would have been without them. 


More photos and info on the manufacturer's website. 
Source: bought it used
Price Paid: $69

This is a strong, light, invaluable walking aid. It takes the weight off your knees, supports you uphill and downhill, and the contoured forward sloping grips make using them perfectly natural. Brilliant for trekkers of all ages and after sales service second to none. I walk the Camino trails in Spain and will not leave home without them!
Pros
Overall design
Weight
Strength
Quality
Fit for purpose
I have used this product for a number of years on the Camino Frances (800kms), the Portoguese route from Porto to Santiago, and from Malaga to Merida. This September I will pick up the route from Merida to Santiago again and head north. These routes are long and for me at 77 years they are arduous, covering as they do a variety of terrains, altitudes, and often inclement weather.
For me, it is a simple equation. No poles=no pilgrimage!
Source: received it as a personal gift

Broke within 9 months—doesn't store well.
Pros
Good feel
Lightweight
Good customer service
Cons
No warranty
Breaks easily if not properly taken care of
I ordered these for my boyfriend last Christmas and he loved them up until they broke this past month. The pieces got stuck together and we can no longer extend the poles. We contacted the owner and tried to troubleshoot but nothing worked.
We asked for a warranty but there isn't any. The owner asked us to buy new pieces instead. I wanted to support small businesses, but for the price, it feels like we wasted a great deal instead of just going to REI and guaranteeing we get what we pay for.
Experience
My boyfriend loved them until they unexpectedly broke
Source: bought it new
Price Paid: 112 euros

Your Review
Where to Buy
Help support this site by making your next gear purchase through one of the links above. Click a link, buy what you need, and the seller will contribute a portion of the purchase price to support Trailspace's independent gear reviews.
You May Like
Specs
| | |
| --- | --- |
| Price | Reviewers Paid: $69.00 |
| Weight | 650 g (per pair) |