PahaQue The ScreenRoom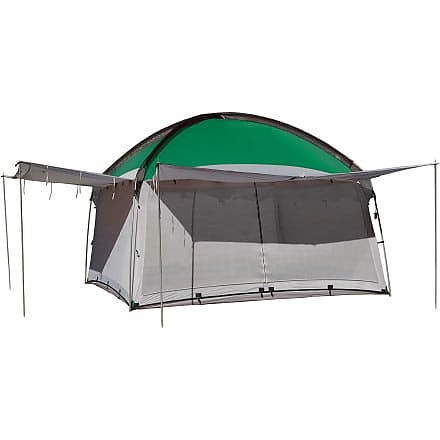 First off I want to say that I loved parts of this tent. LOVED it. I was so excited for it. I have been camping all of my life and my husband used to work for Eastern Mountain Sports so we did a TON of research before buying this Screenroom. We were so excited when it came we went right out to set it up. We had watched the video on their website so we felt informed on the set-up.
Well, before we even got it all the way up one of the roof poles snapped. Now we have probably set up at least 20 different tents between the two of us, so I would say that we are fairly knowledgeable in tent set up and how poles need to be all the way together. I was so bummed but when I contacted Jason at Paha Que they said if I sent the pole back they would fix it fast and send it back in plenty of time before my first camping trip 4 weeks later. 3 weeks later I contacted Jason again just to make sure it would be back in time for our trip. I am not sure where it was in the process but he said he would put a rush on it so it would come in time. It came the morning of our trip and I wanted to set it up to make sure we knew how to do it before we got to our campsite...we are nerds like that! We set it up just fine...I loved the light colors and the vertical walls.
I was really paranoid about the poles at this point though. So I took a really good look at them. They are good aluminum but it seems really thin for the size of the tent(My husband says they look like the poles on the old style lawn chairs). Also the part where one pole slips into another is not at all reinforced. When it's set up there is only one clip on the lower end of the corners so the poles bow out quite a bit on the top half.
So very satisfied with the tent and also with the set up of it...although a little difficult, we start to take it down. I had one corner, my husband the other and we lifted together to get them out of the grommets. There was a loud snap and I said I bet another pole broke! One of the cross beams was broken. I was heartbroken! I loved this tent.
I called Jason at Paha Que and was basically told it was our fault and that their poles and tents are the best on the market and they never have any problems with them breaking. Which is a lie because I have found reviews on other sites where people have had problems with broken poles. I felt he was very argumentative. Finally he said they would take the tent back and do a whole new pole set because maybe there was something wrong with the poles.
Well we went on our camping trip, without a Screenroom and when we got back I took the tent to UPS to send it back. Well UPS said it would be $110 because it was oversized. I was confused because it only cost $30 to send it out and they said that corporate accounts get a better deal because of volume. He said to contact the company and see if they will schedule a pick up.
After this I let some time go by because it was the height of summer at this point and we were very busy. We camp about every other weekend. So it was August by the time I got back to the Tent and called Jason. At this point he had forgotten about me and the story of the tent poles. So I went over it all again and he was again very argumentative and insisted that we broke the poles because we didn't set the tent up right. Now he doesn't even want to replace the poles.
I finally was able to talk to the owner and said "I don't want to walk away from this mad. I loved the tent but it broke, I would still consider Paha que in the future for our next family tent". He was VERY nice and said he would take the tent back and also refund shipping because of the hassle. So we arranged for a pick up of the tent.
That was in August. I kept an eye on my account for the refund. When it still hadn't come by the end of October I was starting to get worried. I contacted them in early November to see what was happening with it. Jason said he was sorry for the delay and he would refund my money minus a 15% restocking fee and no shipping. I contacted him again and went over the WHOLE story again. I didn't return it because I didn't like it...I returned it because it was BROKEN!
He insisted again that it was totally our fault and we should be lucky they took it back at all. So I reminded him what Jeff the owner had promised me and asked if he could consult with Jeff because I really don't want to walk away from this unhappy. I had already paid $20 to ship the poles back the first time. Jason said he was talking to Jeff and they would refund the total amount minus shipping and we should be grateful for that.
I felt like I had to argue at every step and defend ourselves against someone who thought we were idiots for breaking a pole when I know we set it up exactly how the video said.
So Bottom Line I am out $50 on a tent I don't even own, not to mention all the hassle and not having a Screenroom for half the summer. (I finally ended up buying a Eureka with MORE features, sturdier poles and better flaps to keep the rain out. It is darker fabric though which is a bummer.)
Be VERY cautious when working with this company.
Ease of Setup: fairly difficult

Version reviewed: 12x12
Paha Que Wilderness (PQW) made this one right! Three areas the I think need special mention
1. Quality Construction:
Frankly, I've never seen such high quality parts on a screen room that comes anywhere near this price point! The main poles (7/8" 6061 series aluminum alloy with thick tube walls and machined connection points - all shock- corded for ease of set-up/take-down and with bottom "tips" to fit quickly and easily into the screen room's grommetted bottom corner webbings - what a time-saver itself), the staking and guying system (I had it up and anchored in sustained 30 knot winds with no issues), all zippers (heavy-duty and corrosion proof), the roof AND awnings are both 150 Denier polyethylene (PE) with heavy-duty waterproofing and UV coatings - the awnings have heavy-duty velcro strips at their bottom edge as well as tie-off points at each corner pole, the no-see-um mesh (1.8oz/yd - very fine), the rain fly is waterproofed with 1500mm PU coating and its seams are fully tape sealed to keep out even the hardest rain, and the guy-outs lines themselves are all thick-braided water-repellent nylon (minimal stretch). Every attachment point is overbuilt with double and triple stiching and reinforced for peace of mind. There are enough stakes for every stake tab at the base (four on each side IIRC) plus the multiple guy-out lines.
2. Ease of set-up
This is a big screen room and while one person can set this up by themselves (figure at least 30 mins S-T-F), for ease and speed use two people (~ 10 mins S-T-F). Set-up is very intuitive and directions are excellent (see the PQW website for a video too), but at least set it up before you head out to your site so you can familiarize yourself with the pole connectors for the ceiling vault/suspension mechanism, fly (if you purchase this and I recommend that you do) and the best way to configure the awning guy-outs. This screen room will stand alone, so if you won't be experiencing any wind, then just simply stake-out the bottom edges, and raise your awning(s). However, if you'll be getting rain or heavy gusts (15 knots or greater), then PQW recommends that you stake AND guy the side towards the wind. If you have vectoring gusts, as I did on my last trip, then guy the two sides, the back and double-guy the awning. As I mentioned previously, this screen room was up in sustained 30 knot winds with no drama or concerns.
3. Utility:
There is nearly 6 1/2 feet of step through room and the ceiling is a lofty 8 1/2 feet, so you never feel like you're cramped for room. Colors are well-coordinated and add a nice ambiance both inside and out. But what sets this screen room "system" apart from other competitor's models, is the ability to raise and adjust, or lower and lock, the side awnings at all four sides. This feature is priceless, especially if you're using it as your main cooking/dining and socializing center in a location where temperature swings and/or inclement weather are the norm, i.e., desert (hot days/cold nights); beach (gusty wind and spray); mountain locale where the sun is warm but the wind creates a steady chill, or rain is frequent and/or heavy.
- On my last trip, where the day-to-night temperature swing was nearly 60 degrees, we were able to experience firsthand the flexibility of the side/end awning system. We kept the leeward awning up full-time and the no-see-um mesh on that end folded back (day)/zipped (night) and then rolled, raised or lowered the sides and opposite end (back) awning as needed.
- Since each awning is 12 x 6.5 feet, raising the awning on the sun-ward side creates an additional 78 square feet of cooling space around that side of the screen room. Raising the remaining two awnings added an additional 156 square feet of sheltered area and created a wonderful place to stretch out in a lounger and enjoy the cooling cross-breezes coming through the screen room. At night we would just drop the side awnings, set a two-mantle lantern in the middle of the table, and the screen room would warm enough to sit around and talk, play games, or just relax in the lounger.
- With 144 square feet of usable room inside, you can set up your camp kitchen, your 6-8 person dining table, your coolers, your loungers, etc., or lay out a ground sheet, your sleeping pads and sleeping bags and use it for a tent. It works so well in just about any environment I think you could imagine.
Conclusion
To say that I'm sold on this item, is an understatement. I will likely purchase the bottom as well for grass camping, but for now, it meets every requirement we have and provides us the utility and flexibility we need. Given its quality construction, ease of set-up, and utility, I honestly believe you can't go wrong with the PQW 12 x 12 screen room and expect to use this product for many years before giving it to my kids for their use.
Design: Double-ended Screenroom with 4 awnings
Sleeps: 6+
Ease of Setup: Very easy - see write-up
Weight: ~30 lbs w/rain fly and 4 awning pole kits
Price Paid: $385 w/Rain Fly

Version reviewed: 12x10
I bought my 10 x 12 ScreenRoom and optional rain fly two years ago and have used it multiple times for family camping. My normal mode of use is to set it up over the picnic table found at most state and federal campsites. With the roll-up side curtains you can keep your gear dry even in wet weather. Another nice feature is any of the side curtains can be rigged out as a canopy. A pair of poles is included but you can buy extra poles and have all four sides raised as canopy area.
This summer I bought the optional floor and took everything to BSA Summer Camp. I shared the tent with another adult Scout leader and we were able to get to cots and a small table comfortably in the tent. As I get older, backpacking tents are very uncomfortable after a couple of days. With my Paha Que' ScreenRoom I was comfortable for the entire week, so much so that I am now considering the Promontory from Paha Que.
My only complaint is that there are no loops inside the tent to hang my battery powered Coleman lantern on. I solved that problem with a folding, telescoping lantern stand. That worked so well that I got a second one to hang my uniforms on.
Great company and nice people to do business with!
Tim Shannon
Design: 10 x 12 Screen Room
Sleeps: 2
Ease of Setup: Very easy
Weight: approx. 30 lbs.
Price Paid: $189

Best screen room. Withstood wind, rain. Kept outer flaps down at night and first thing in morning would go in to make coffee. Nice place to keep warm in the early morning or a damp day.
Pros
Easy setup
Have had for years
Keeps kitchen items dry
Good place to warm up in the early morning as coffee brews
Cons
Only that I cannot find another as finally my kids are interested in camping.
Love my screen room, held up in the wind and rain.
It's an easy setup. With the sides down in the early morning or on rainy day when using the stove would hold the heat. Nice place to sit to keep warm. Lots of room for table with benches and lawn chairs 
Source: bought it new
Price Paid: Not sure, purchased over 12 years ago, maybe more

I agree with Nathan's review. Pole broke first time out. Called number on warranty card and was pretty much told I was stupid. Worst c/s ever.

I asked about replacing parts. Was told they don't do that; call someone else. $500 tent and this is how you're treated!!
Cons
Very difficult to set up
Poles poorly designed
I would not recommend this company. I am sooo sorry I bought their product.
Source: bought it new
Price Paid: $500

Poles sucks. Their customer service is terrible. Like the tent though. Never buy a Paha Que product again due to their terrible customer service.
Source: bought it new
Price Paid: $500

Cons
Lifetime warranty is a selling gimmick. Poles, while part of the tent, are not covered. Advice as to where you can pay to have them repaired is. Warranty person also explained, after 7-8 years, the lifetime expectancy was over and any problem would most likely not be covered in the fabric, as it has lasted the normal lifetime.
If you want a lifetime warranty, look to a company like Osprey.
Had been looking at scree tunnel for my aliner, when my screen room pole broke. Knew then to not proceed with another Pahaque product.
Great, if you never have a warranty issue.
Background
Great when it works, lifetime warranty is on their terms
Source: bought it new
Price Paid: $4-500 u.s.

The poles are junk...
I agree with everything Nathan said. The poles broke after three uses. Customer service is terrible. Do not buy their product!!!!
Background
Poles broke after three uses. Customer service says do not use it in Colorado then.
Source: bought it new

Your Review
Where to Buy
Help support this site by making your next gear purchase through one of the links above. Click a link, buy what you need, and the seller will contribute a portion of the purchase price to support Trailspace's independent gear reviews.
You May Like
Specs
Price
Historic Range: $152.97-$398.95
Reviewers Paid: $189.00-$500.00

Recently on Trailspace