Patagonia Grade VI Jacket

The Grade VI Jacket has been discontinued. If you're looking for something new, check out the best waterproof jackets for 2022.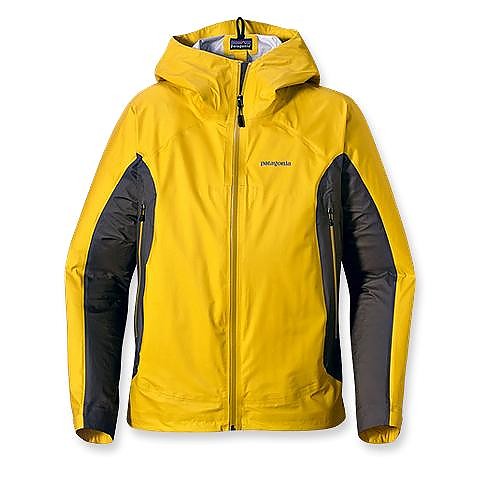 Specs
Men's
Price
Historic Range: $119.96-$325.00
Reviewers Paid: $100.00-$299.00

Women's
Price
Historic Range: $149.99-$325.00

Reviews
6

reviews

5-star:

4

4-star:

2

3-star:

0

2-star:

0

1-star:

0
Great product. It does exactly what it should and more. I tested almost every aspect of this jacket with a mission to find a flaw, but the result is IT IS FLAWLESS.
I am really annoyed by the comments of the previous reviewer "disgusted". It sounds like the reviewer reviews the item based on the fashion value and, what other people think of it. Yes, outdoors gear could be a thing to SHOW OFF, but that's not where its real value is. The performance is the real value of a true outdoor gear, and attention to performance is the mark of a true outdoors man. Not whether it's in fashion or in vogue or not. Unless it makes you look obnoxious. So, let's get real.
Price Paid: USD 190

Pros
Light
Durable
100% functional
Minimalist
I've had mine for over 10 years and it has been my go-to jacket for hiking, snow, and the eternal Northwest rain. It is minimalist and yet has held up in durability all this time.
I have a theory that its production was ended because it was just too good, no return customers when you sell them the perfect and everlasting product! 
Source: bought it new
Price Paid: $100

I have about 15 hard shells ranging from Arc'teryx to Berghaus to Rab, and I must say that I like wearing the Grade VI. From my experience, I have been well protected from pretty hard rain storms and quite foul London weather, although I don't entirely get peace of mind when wearing such a light hard shell, as I am more used to a shell that is slightly heavier and thicker (not that any of the other brands are too heavy anyway).
The fit is superb and the hood once adjusted to the head does not move about and obscure your vision by falling into your line of vision.
Speaking from a technical point of view, the garment is made for specifically mountaineering level endurance and hypothermic altitude conditions when coupled with undergarment layers. From that point of view it is a great piece of kit despite being now a discontinued hard shell. If you like your hiking and mountaineering you will enjoy the jackets level of performance,as it won't let you down. However, I am frustrated at how Patagonia with ease just discontinue a line of clothing which is barely a year old.
Sum up. If you want one buy a new or virtually new one for a bargain price and forget the fashion.
Fabric: 50 denier
Price Paid: $200

Seriously, this jacket is great. If you are buying it for the fashion value or that "new jacket smell" as Disgusted seems to have done, then you are wasting 300 bucks being vain. Look into The North Face. Since they were bought by Vanity Fair a while back all they seem good at is sponsoring shitty car companies (GM) and making fashion clothes, and it will still cost you $300. Otherwise, get outside, get dirty, and use your clothes for what they were made for.
I must agree with the reviewer "Disgusted." Though not an appropriate intro to Patagonia Grade VI Jacket, he did make an interesting comparison of gear makers and how they change their items too frequently. I purchased this jacket as soon as it came out and paid the retail price of over $300+ (with tax).
One thing I really like about this jacket is that at 10.5oz it's the lighest full storm shell I've EVER seen or heard of. There are lighter rain jackets, but not for alpinism and not as durable as this jacket's 3-layer foundation. It breathes really well and I have never been clammy or wet from rain/snow.
I would not buy this jacket again nor would I recommend it at the MSRP price, but as "Disgusted" hinted this jacket is already out of production and can be found at great discount prices. I've checked Patagonia's new collection for Fall 2005 and there are no jackets that are as light as this one.
If there are any of you who do not like the fact that manufacturers change their items all too often (to sell you need new stuff in the market, right?), then check out Arc'Teryx brand. They make shells and other quality clothing that have been around (in name, design, and quality!) for many years. On fine example is their Arc'teryx Theta shells. Expensive but definitely worth it!
Fabric: Patagonia's Proprietary H2NO
Price Paid: $299

Bought this jacket for sale a few months after it came out and must say I'm very disappointed in it. For one, how would you feel if you bought a brand new car, but that company continually changes every single one of their models, changing their names, putting them out of production and continually replacing them with shiny new cars and so your new car becomes old after a few months? That is exactly what Patagonia is doing!
When it was purchased the jacket was in line with Patagonia's Spring/Summer '05 collection but now just after three months it is no longer made and that makes my jacket look outdated already! You quickly lose the "New Jacket Feeling" and you just look at the jacket for what it is, a jacket.
There are some good things to say about it though. The performance of the 3-layer H2NO fabric was pretty good in breathability and the lightweightness always made sure I brought along when I went outdoors, and it seems tougher than those UL jackets made with GTX Paclite (Which is made to degrade fast). I've only had it for four months as of this date so I cannot tell how it will stand to the test of time.
Would I buy it again? Maybe, but even at the sale price of $200 (MSRP $299.99) it was still too expensive. If you buy Patagonia, buy only the items that have been around forever, such as their Capilene line and Regulator Jackets. Other than that, I would not recommend it. Who knows there soon might be the update for the Grade VI Jacket with the Grade VII, then Grade VIII, Grade IX and so on....
Fabric: 3-Layers H2NO
Price Paid: $200

You May Like
Recently on Trailspace