Patagonia Merino Air Bottoms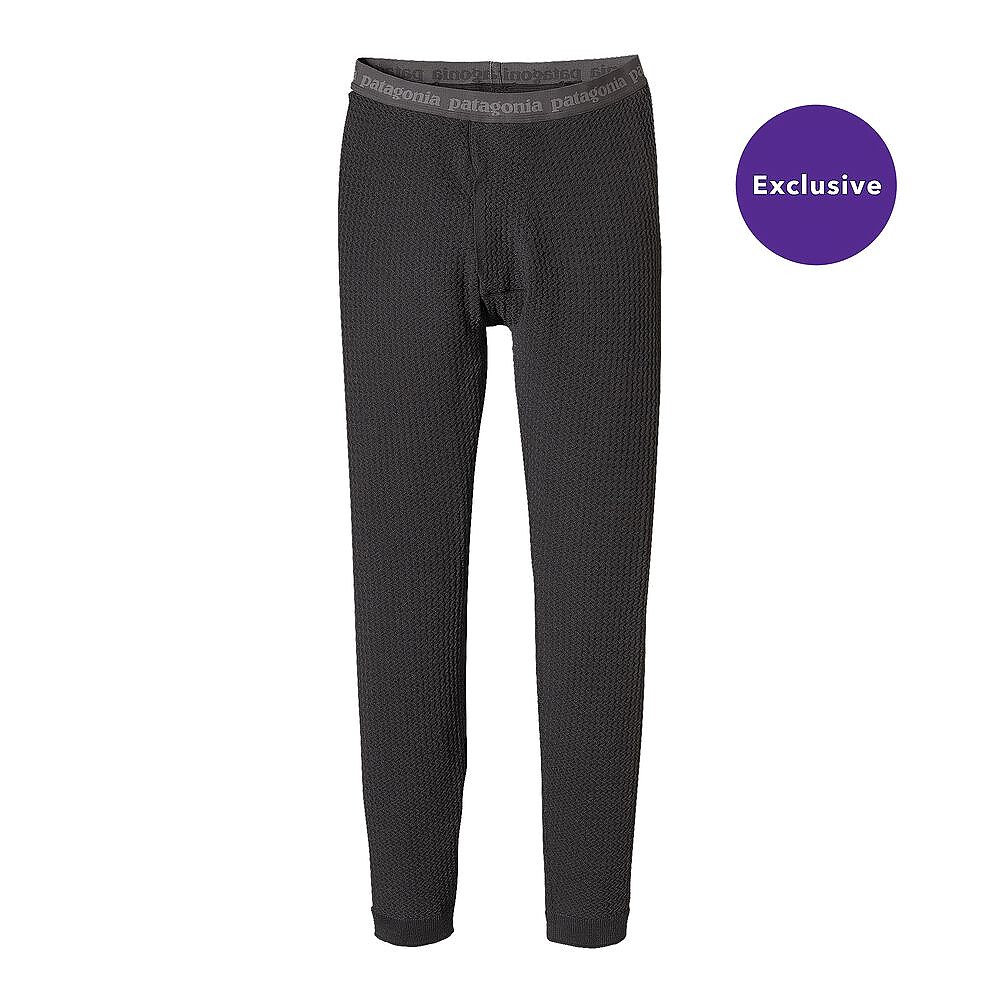 The Patagonia Merino Air Bottoms exceeded my expectations. Game changing merino-synthetic fabric with no seams and effortless stretch. Material that breathes, holds heat, and moves water away from your skin as you heat up.
Pros
Zero bind stretch
Knit material captures a boatload of heat
No seams to chafe your tenders
Generous length
Responsibly sourced
Stink-free
Patagonia is one of the companies that other brands hate and simultaneously wish they could be. 
The Merino Air Bottoms are made from recycled polyester and merino wool (the stuff men's suits are made of) grown in Patagonia. 
I used to think that no single baselayer material could do it all; wool is only okay at wicking, absorbs some moisture and doesn't stretch well, synthetic fiber can get REALLY stinky and doesn't last. Patagonia has blended its Capilene (synthetic) material with Merino wool to make a baseleyer that you can wear without feeling like you are making a compromise.
Manufacturer's Claims:
"We use a unique lofted yarn technology to give this seamless Merino baselayer exceptional warmth, stretch and breathability."
"Made from wool from the grasslands of Patagonia and blended with Capilene fibers for improved wicking, durability and dry times"
Testing Conditions
Trying to test winter wear in summer/fall can be a challenge. I was planning on a Mt. Baker climb but my partner's grandmother died (pretty decent excuse) so we had to bail. I tried Mt. Adams, but wildfires had the entire approach closed. Not deterred I took the clones on a late-season two-nighter to the tree-line and tested the breathability of the bottoms.
Another test trip was in the Chair Peak neighborhood in the Alpine Lake Wilderness. Temps were in the lower thirties in the mornings with winds in the range that causes you to cuss a lot while setting up tents and wonder why the heck you left gloves at home. I also wore the Merino Air baselayer on several day hikes layered under my outer layers in temps hovering around freezing.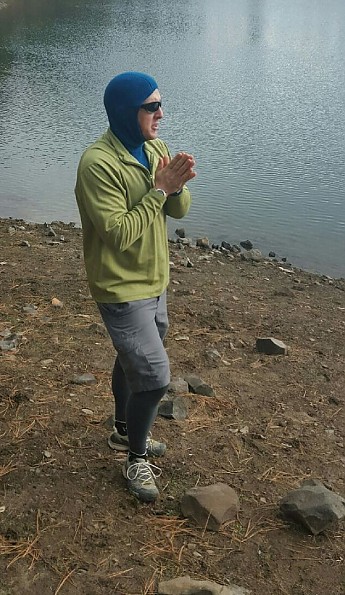 Merino Air Hoody top and bottoms paired under shorts. Cold hands.
Fit
I am 5' 10" and weigh 185 pounds. I am medium build and I wear 32x32 pants. I fit the medium size perfectly, with a little extra length.  I imagine that a six foot guy could even wear this size if he were slim.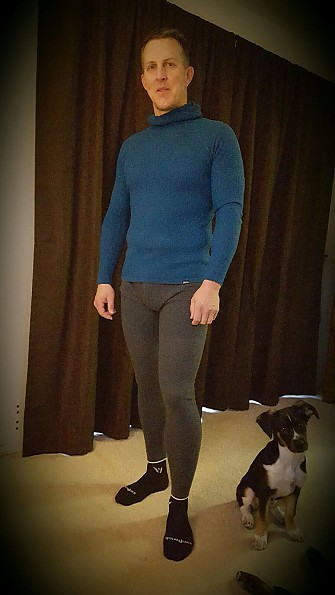 Standing around in my baselayer like a Cabella's ad. Tika, the piranha puppy also.
I like the form fit.  As I layer up over this garment it stays in place nicely.  It's not tight like Under Armor, but allows complete freedom of movement while staying next to my skin. 
Material
Combining wool with synthetic Capilene fibers gives the warmth, moisture management and stretch of the synthetic fibers with the stink-free properties and durability of wool. I also like that this can be washed at home without worrying that the process will ruin the garment.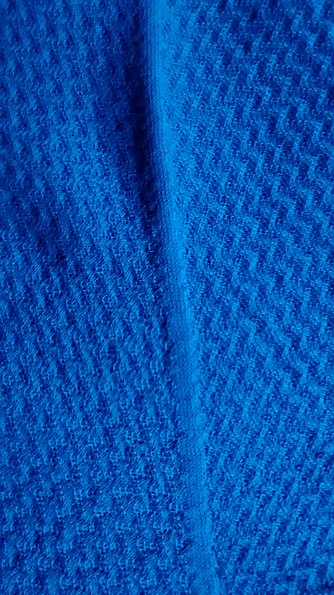 The knit fabric gives it amazing stretch and heat-trapping properties. Pants are woven together rather than stitched.
Warmth:
The knit material traps more air next to the skin and has a higher loft than standard Capilene base layers and provides superior warmth in my opinion. A great step between medium and heavyweight base layers. I'd gladly wear this layer on summit day on Mt Rainier or any day where temps are lower than about 35°F.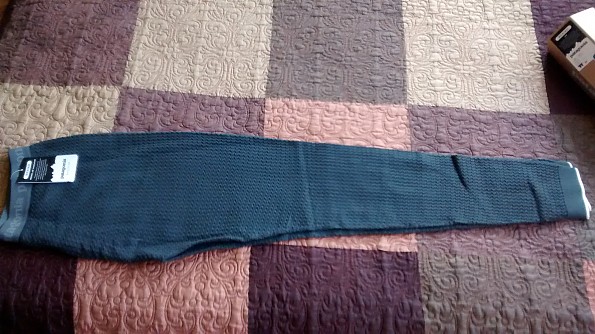 Because closeups of me wearing them would be odd
Stretch
Like I said, in this department the Merino Air is nearly magic. With every other baselayer when I crouch I have to overcome the baselayer material, making me feel like I'm wrapped in elastic and this garment has none of that.  After putting it on I never once felt it bind or bunch or slide over my skin. It seems to stretch exactly where my body moves. Put it on and forget about it.  The knit material simply takes less force to stretch therefore making it move with your body without feeling like you are inside a sausage casing.
Fellow climbers take notice, you can step as high as you want and never have your baselayer restrict your movement!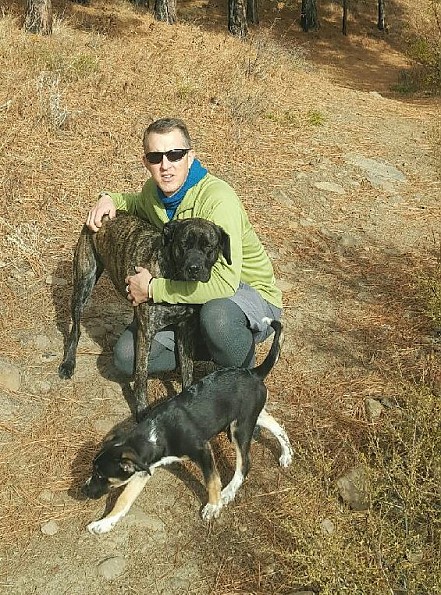 Note the thinning of the material over my knees while I crouch. Great stretch and possible chilly spot.
Moisture Management
Even though it was chilly, I still sweat while I climb and hike. The Merino Air baselayer had no problems wicking moisture away, even during a summit push on Kaleetan Peak. While everyone else was taking off layers, I stayed fresh and dry. My sweat never stayed on my skin long enough to make me feel clammy. 
After washing I simply hang the baselayer up and, in the time it takes a load of jeans to dry in the dryer, it's dry. 
Baselayer bottoms cover a very sweaty area of the human anatomy, which gives a great test of the garment's claims to breathability. This material provides superior breathability wicking in that area. If one were inclined, going commando would be completely appropriate with this material. 
Comfort
No traditional seams, along with the butter soft yarn make for an abrasion-free snuggle-friendly base layer. The flat seams (not truly seams) eliminate the need to worry about chafing, even during a heavy sweat. 
Durability
I removed the legs from my hiking pants to allow more air in and the Merino Air Bottoms were none the worse for wear afterwards even after a few bushwhacking episodes. Still though, it's knit so be careful if you wear this as an outside layer. 
Price
It's Patagonia, these bottoms aren't cheap at $129 MSRP, just the best.
Layering
You can call this the Achilles heel of this garment. Since you are basically wearing a thin sweater for a baselayer you need to plan for a tiny but noticeable increase in bulk under your "work" clothes. It will compress in pinch points but the benefit of this garment is that it has loft so, give it some room to work as you layer up. 
Summary
Airweight material, stink-free fabric, no seams, extra long legs, what's not to like?
Compared to traditional baselayers, which make you feel like you are inside an ACE Bandage, the Capilene-merino material moves with your body so well that you quickly forget about it. 
This Merino Air baselayer will be with me on every climb from now on. 
Flaws
I have zero issues here.
Were Patagonia's claims realized?
Yes, this material stretches better, wicks faster, and dries faster than anything else in its warmth category. The natural material keeps the body odor in check and the synthetic material jacks up the dry time and moisture transport.  The stretch knit fabric is weightless, warm, and moves with your skin and there are truly NO seams to chafe you.
Compared to traditional Capilene-only, polyester, poly-pro and straight up wool which I have owned at one time or another, this material does the most. The old ECW Army-issue super-heavy and stretchless stuff is the only other baselayer I could imagine needing for EXTREME cold (cold like ice fishing) but the Merino Air beats all the others in every category. 
Who Needs This
First of all EVERYONE needs a base layer of some kind. Who needs one that packs all this radness into one package? People who want the maximum warmth per ounce. People who need a high-performance garment for climbing, snow sports, and high energy backcountry shenanigans where sweat, snow, and dirt happen.
Also, this is for people who'd rather wear things sourced responsibly and made from recycled and renewable material and don't mind paying for it.  
Climbing, running, skiing. These are the activities that will benefit the most from an upgrade to the Merino Air baselayer. 
I'm not sure what El Nino has planned for this winter, but I'd feel confident facing it in the Patagonia Merino Air base layers. 
Source: received for testing via the Trailspace Review Corps (Sample provided by Patagonia for testing and review)

Your Review
Where to Buy
Help support this site by making your next gear purchase through one of the links above. Click a link, buy what you need, and the seller will contribute a portion of the purchase price to support Trailspace's independent gear reviews.
You May Like
Specs
Men's
Price
Historic Range: $64.00-$129.00

Women's
Price
Historic Range: $77.00-$129.00