Patagonia Merino Air Hoody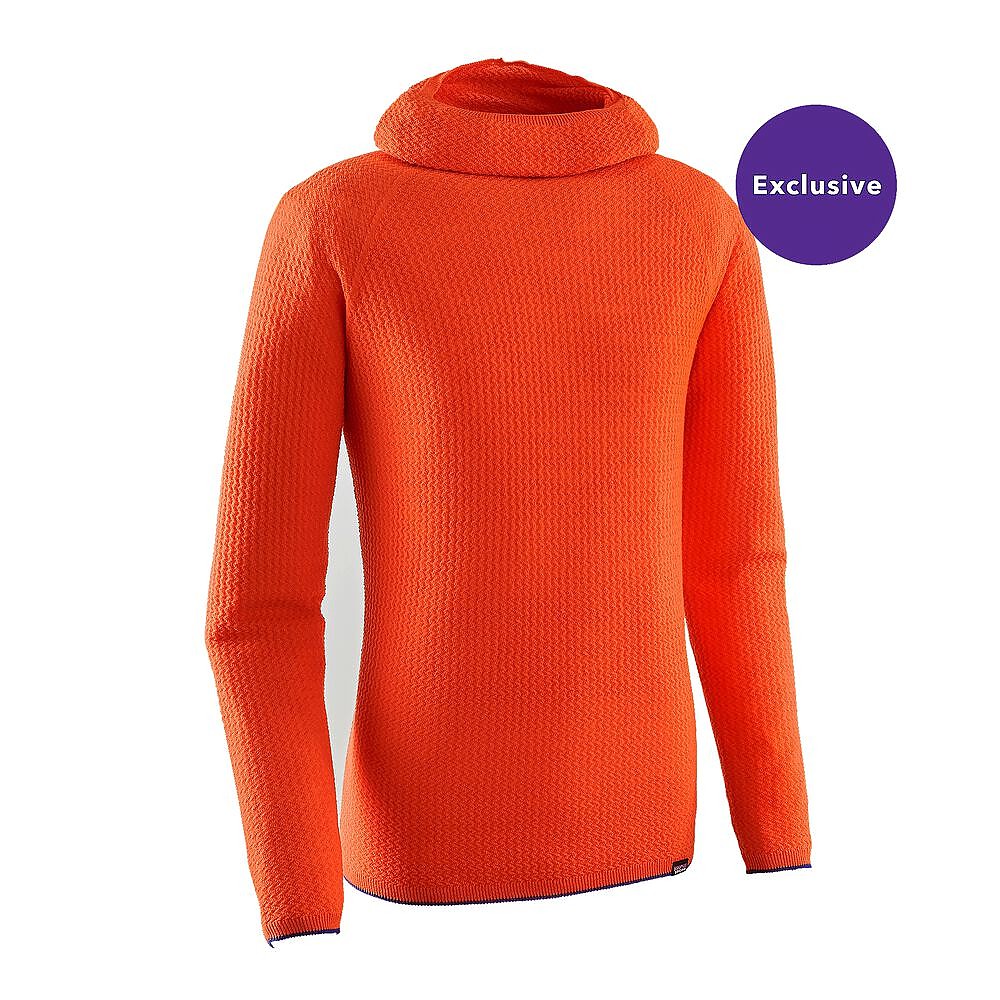 Every base layer needs a hood. I could hardly tell it was there since it stretches and breathes so well. The Merino Air Hoody, made from Merino wool blended with synthetic Capilene, is easily one of the best products I have reviewed so far.
Pros
No seams
Warm
Soft
Stink-free
Hood
Airy
Light
Recycled material
I have often repeated the advice, "it's no good with no hood." Hats are okay but they get lost (kids take them) and make your head itch. Most of my jackets have hoods, my insulating layers have hoods, if I could buy socks with a hood, I'd do it. That is why I was so stoked to finally try out a base layer that features such a sweet one.
Patagonia is one of my favorite companies. They seem really responsible for a big company. The Merino Air Hoody is made from recycled polyester and merino wool (the stuff men's suits are made of) grown in Patagonia.  Yet, even if none of that were true this hoody would still rock.
To me, no single baselayer material can do it all; wool is only okay at wicking, absorbs some moisture and doesn't stretch well, synthetic fiber can get REALLY stinky and doesn't last. Patagonia has blended its Capilene (synthetic) material with Merino wool (expensive suits are made of this) to make a baseleyer that you can wear without feeling like you are making a compromise.
Manufacturer's Claims:
"We use a unique lofted yarn technology to give this seamless Merino baselayer exceptional warmth, stretch and breathability."
"Made from wool from the grasslands of Patagonia and blended with Capilene fibers for improved wicking, durability and dry times"
Testing Conditions
Trying to test winter wear in fall can be a challenge. I was planning on a Mt. Baker climb but my partner's grandmother died (pretty decent excuse) so we had to bail. I tried Mt. Adams but wildfires had the entire approach closed. Not deterred I took the clones on a late-season two-nighter to the tree-line and tested the breathability of the hoody.
My other test trip was in the Chair Peak neighborhood in the Alpine Lake Wilderness. Temps were in the lower thirties in the mornings with winds in the range that causes you to cuss a lot while setting up tents and wonder why the heck you left gloves at home. 
I also wore the Merino Air baselayer on several day hikes layered under my outer layers in temps hovering around freezing. 
I also tested the Merino Air Bottoms base layers on these trips and you can read about them in their own review.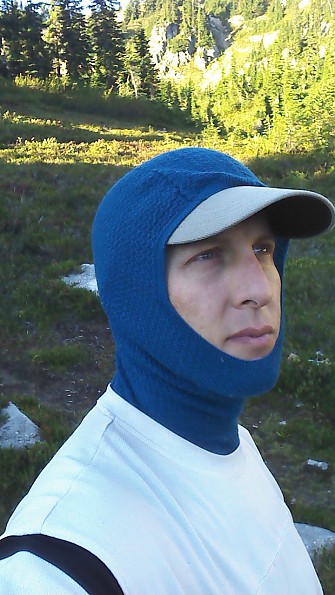 Testing the "Scuba Steve" hood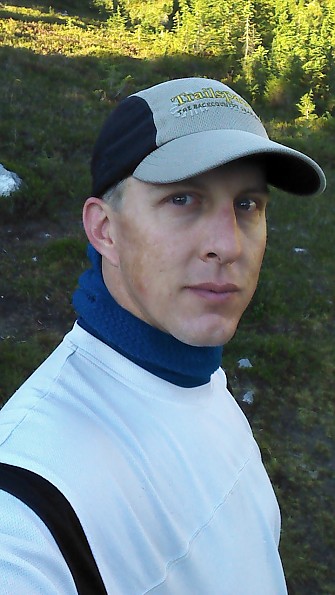 More like a nice neck gaiter when not worn

Fit
I am 5' 10" and weigh 185 pounds. I am medium build and have long-ish arms. I wear 32x32 pants and have a 42" chest.  I fit the medium size perfectly, with room to let the cuffs of the hoody ride over my hands a bit. I imagine that a slim, six foot guy could even wear this size. 
I like the form fit.  As I layer up over this garment it stays in place nicely. It's not tight like Under Armour, but allows complete freedom of movement while staying next to my skin. 
Material
Combining wool with synthetic Capilene fibers gives the warmth, moisture management, and stretch of the synthetic fibers with the stink-free properties and durability of wool. I also like that this can be washed at home without worrying that the process will ruin the garment. 
Warmth
The knit material traps more air next to the skin and has a higher loft than standard Capilene base layers and provides superior warmth in my opinion. A great step between medium and heavyweight base layers. I'd gladly wear this layer on summit day on Mt. Rainier or any day that temps are lower than about 35°F. 
As a matter of fact, layering up as I would normally do with a Primaloft jacket over this base was unnecessary and I opted for my old white polyester T-shirt over it most of the time.
Stretch
Like I said, in this department the Merino Air is nearly magic. With every other baselayer when I bend my arms or crouch I have to stretch the baselayer material, making me feel like i'm wrapped in elastic, this garment has none of that. After putting it on I never once felt it bind or bunch or slide over my skin. It seems to stretch exactly where my body moves. Put it on and forget about it. Compared to every other material, including Patagonia's own Capilene-only baselayers, the knit material simply takes less energy to stretch therefore making it move with your body without feeling like you are inside a sausage casing. 
Climbers take notice, you can reach as high as you want and never have your baselayer restrict your movement!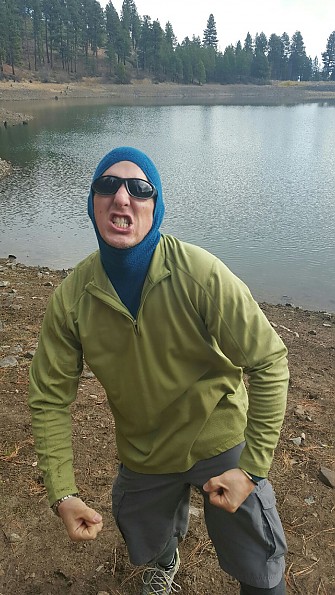 Can you handle a baselayer THIS sexy? Paired with an REI wool blend shirt and polyester pants with the legs removed.

Moisture Management
Even though it was chilly, I still sweat while I climb and hike. The Merino Air baselayer had no problems wicking moisture away, even during a summit push on Kaleetan Peak. While everyone else was taking off layers, I stayed fresh and dry. My sweat never stayed on my skin long enough to make me feel clammy. 
After washing I simply hang the baselayer up and, in the time it takes a load of jeans to dry in the dryer, it's dry. 
Interestingly, after hiking fifteen miles and gaining then losing four thousand feet, my hoody was the only garment between my girlfriend and I that didn't smell like a foot, thanks to the antibacterial material. Jen took advantage of this fact and made me wear my stinky polyester t-shirt to the apres-hike water hole while she wore the Merino Air Hoody.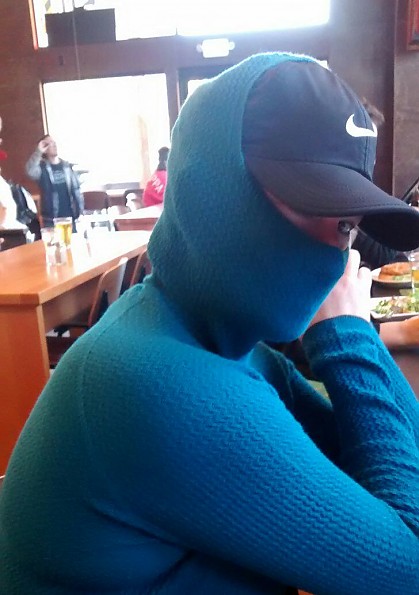 Girlfriend approved (temporarily stolen)
Comfort
Besides the mentioned stretch, this hoody weighs 7.3 ounces and feels like spun air. By far the lighter option in this warmth range. No traditional seams, along with the butter soft yarn make for an abrasion-free snuggle-friendly base layer. The flat seams (not truly seams) eliminate the need to worry about chafing, even during a heavy sweat.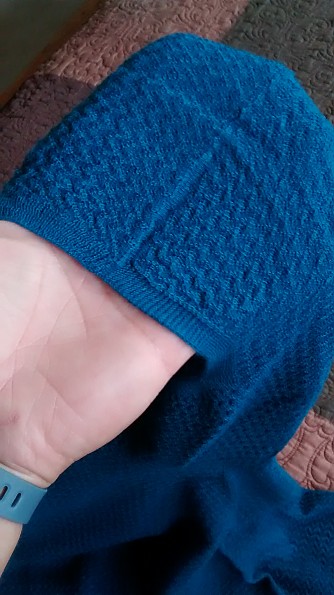 Zigzag knit traps hear near the skin
Durability
Our hike to Kaleetan Peak involved a little bit of route finding and bushwhacking. While this is a base layer and not normally subjected to this abuse, I had no concerns and it came through with zero snags. Still though, it's knit so be careful if you wear this as an outer layer.
Price
It's Patagonia, OK? This company puts in a lot of research to make the best garments available and does a lot to make it happen in an environmentally responsible manner, which isn't free. Maybe in 5-6 years Wal-Mart will be selling something like this, but Patagonia is the company bringing innovations to market and they aren't cheap at $149 for the hoody, just the best. 
Layering

You can call this the Achilles heel of this garment.  Since you are basically wearing a thin sweater for a baselayer you need to plan for a tiny but noticeable increase in bulk under your "work" clothes. It will compress at pinch points, but the benefit of this garment is that it has loft, so give it some room to work as you layer up. 

Features
Airweight material, stink-free fabric, no seams, a badass hood, extra long sleeves and shirt tail, color that matches my eyes, what's not to like?
Compared to traditional baselayers, which make you feel like you are inside an ACE Bandage (Under Armour), this Merino wool and synthetic Capilene material moves with your body so well that you quickly forget about it. 
This baselayer will be with me on every climb from now on.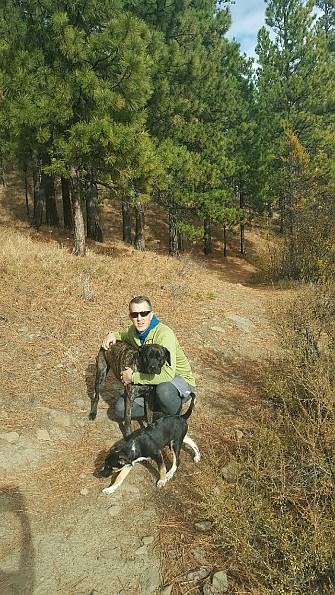 Notice hot thin the material becomes over the knees when I crouch. This keeps it from restricting your moves but temporarily makes a minor cool spot. 
Flaws
If they were to ask me for any way to improve this garment I'd add thumb holes. While they are a slightly feminine feature to some, they are pretty handy on a base layer and the sleeve length would make it an easy addition. 
Were Patagonia's claims realized?
Yes, this material stretches better, wicks faster, and dries faster than anything else in its warmth category. The natural material keeps the body odor in check and the synthetic material jacks up the dry time and moisture transport. The stretch knit fabric is weightless, warm and moves with your skin and there are truly NO seams to chafe you.
Compared to traditional Capilene-only, polyester, poly-pro, and straight up wool which I have owned at one time or another, this material does the most. The old ECW Army-issue super-heavy and stretchless stuff is the only other baselayer I could imagine needing for EXTREME cold (cold like ice fishing cold) but the Merino Air beats all the others in every category. 
Who Needs This
First of all EVERYONE needs a base layer of some kind. Who needs one that packs all this radness into one package? People who want the maximum warmth per ounce. People who need a high-performance garment for climbing, snow sports, and high energy backcountry shenanigans where sweat, snow, and dirt happen.
Also, this is for people who'd rather wear things sourced responsibly and made from recycled and renewable material and don't mind paying for it.  
Climbing, running, skiing (looking forward to this at the time of this writing). These are the activities that will benefit the most from an upgrade to the Merino Air baselayer. 
I'm not sure what El Nino has planned for this winter, but I'd feel confident facing it in the Patagonia Merino Air base layers. 
Update 11/24/2015:
Another bushwhacking trip near Mt. Stuart, temps are single digits in the shade and in the thirties in the sun: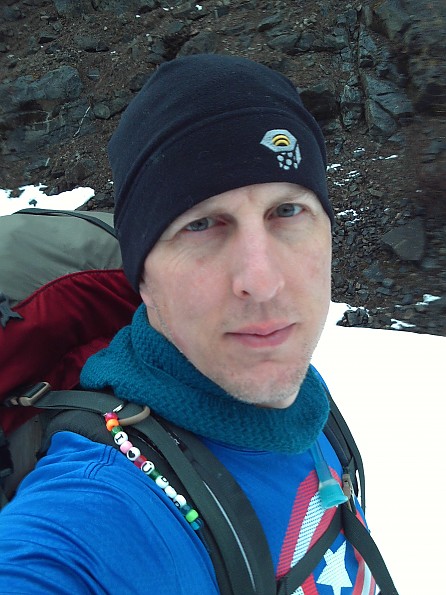 Update 03/2016: Ski Touring? Yes.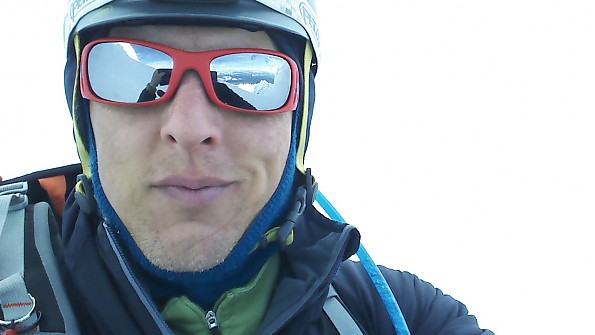 Update 04/2016: At the top of Mt Hood? Yes!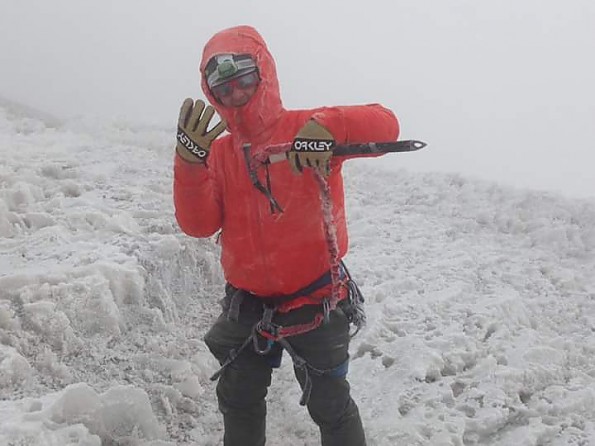 08/2016 Mount Rainier again 40-50mph wind, single digit windchill.  Only my nose was cold.

Source: received for testing via the Trailspace Review Corps (Sample provided by Pataonia for testing and review)

Your Review
Where to Buy
Help support this site by making your next gear purchase through one of the links above. Click a link, buy what you need, and the seller will contribute a portion of the purchase price to support Trailspace's independent gear reviews.
You May Like
Specs
Men's
Price
Historic Range: $74.00-$149.00

Women's
Price
Historic Range: $149.00-$11,988.00

Recently on Trailspace