Patagonia R2 Jacket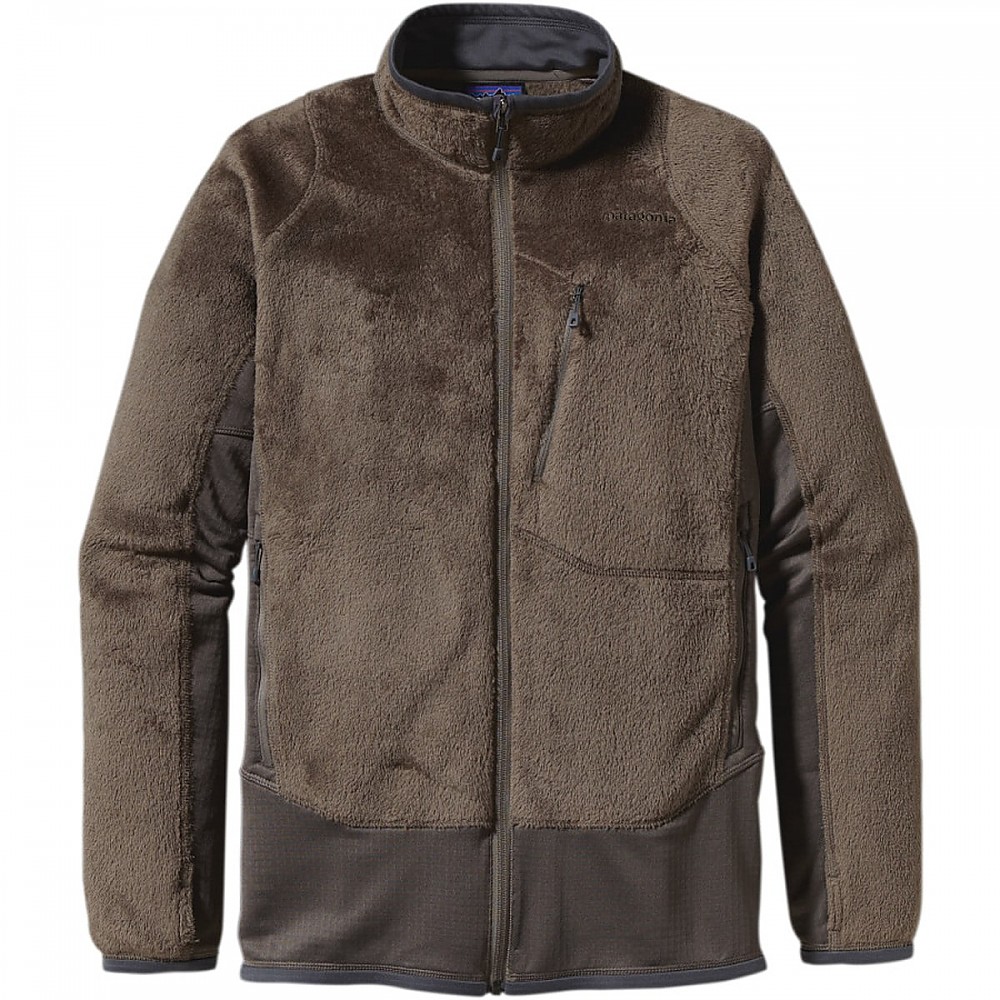 The R2 is a solid jacket if used appropriately.
Construction, Material, and Effectiveness:
The construction of the seams are conducive to backpacking and rock climbing, as the seams do not lie on any pressure points a harness or straps lay on. The seams are well stitched and have a low profile with no "humps" on the seam lines. The zipper is YKK, which is a good zipper manufacturer, and has glides up and down the track with ease, but does holds its zip position until I unzip it.
The pocket position is good. No issues to date with an awkward angle of accessibility because of my backpack straps.
The material that composes the body of the R2 is very warm, lofty, and breathable. Great for cold days on the trail or an even better applied at the campsite when you want to cool down after hiking, but want to stay warm as the temperature is dropping. The body material wicks sweat well and dries effortlessly. Inside the front portion of the jacket is an extra layer of essentially gym short material which helps wick moisture and manage dead air providing extra heat retention when exertion levels are low.
The most efficient part of this jacket lies within the porous, lofty body material. The fluffy exterior texture is reflected on the interior providing excellent loft and dead air management. The porous material provides excellent breath ability, as mentioned earlier, but more importantly makes drying this garment quick as lightning. On a cold, wet day I have dried this garment from damp to dry as a bone hanging inside my tent in well under 3 hours. On sunny days it can get soaked and hung dry in less than an hour. **I did not time the dry times but an estimation should be sufficient to drive my point home.**
The cuffs and collar are composed of a different material than the body; I imagine to help wick sweat on the extremities of the jacket more efficiently. Works well, as I have not had a problem with them and they are very comfortable; Patagonia gets a check plus on the collar and cuffs.
Fit:
I am 6'1" and weigh 195 plus or minus 5 lbs. My torso is an average length for my height but have an above average chest circumference. The XL fits me comfortably loose. Usually I wear larges but reviews on suspiciously short length of the jacket backed by my own physical research drove me to purchase the XL. With my pack on the length covers the top of my pant pocket. Jacket arm length is perfect!
Application:
I use this jacket for spring and fall backpacking as well as day hikes in winter. The loft and breath ability really pays off in those situations. However, because the porous nature of the fabric, this jacket is far from wind proof. If the wind kicks up I immediately layer up. This is why if I pack it in, I use it primarily as my camp jacket.
Great for light weight backpacking.
Overall:
2007/2008 model R2 series. Great construction and efficient technology yield a superb mid weight jacket. 4/5 stars mainly due to vulnerability to wind. It is an easy on, easy off jacket.
Fabric: Fluffy, porous, R2 material.
Price Paid: $65 *Sale price

I really love this jacket. It's light enough to backpack with and looks good enough to wear around my campus all while keeping me perfectly warm. I've have mine for around 2 weeks and it's holding up very well and I've worn it several days doing several different tasks and usually catch a few good compliments about how soft or light it is. I would recommend it but also try to catch a sale!
Pros
Lightweight
Looks great
Warm but never too hot
It's a little large for size, however it's the most comfortable jacket I've ever owned, hands down. I think the most highlightable quality of this jacket is the weight-to-heat ratio. It's simply amazing. I combo this with my Gortex rain shell and stay perfectly warm and super dry when I'm on the trail.
I purchased this from 6pm.com brand new for around $90 and it's been through two weeks of trails and campus with plenty of good qualities in both areas.
Source: bought it new
Price Paid: $90

I'm writing this mainly because my version of the R4 is drastically different from the others reviewed below. This is a great layering piece, but doesn't make it into my pack very often because I rarely go out into the conditions in which it would be useful. I mainly wear it under a puffy coat during those bitter cold, windy Missouri Januarys and Februarys.
Pros
Soft and comfortable
Easy layering
Vents almost too well
I purchased this jacket for $2 at a thrift store in Stockton, Calif. I don't know how old it is, but I believe it to be several seasons older than the others reviewed here. That main difference is that it is NOT windproof. This is actually why I wear it as much as I do.
When I hike in it, the breeze created from moving pulls the heat away and when I stop (out of the wind) the heat instantly starts building up again. I stress getting out of the wind because the slightest breeze just rips the heat away from your body. A light shell helps this if it's a problem.
This version has R1 fabric on top of the arms from elbow to wrist. These panels dump heat even while walking.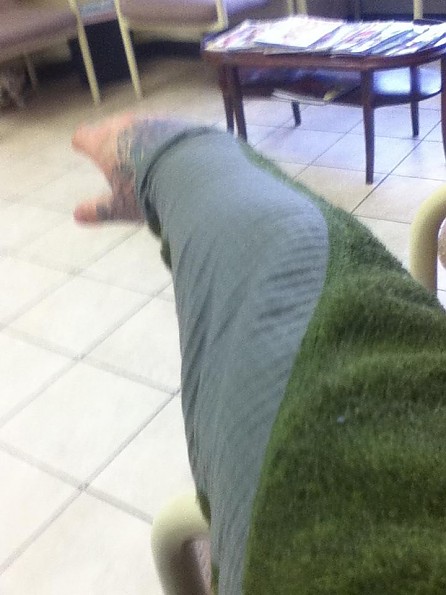 Also, this version has no drawcords and the hand warmer and Napoleon pockets are backed with mesh so you can open them and dump even more heat.
Source: bought it used
Price Paid: $2

I'm not sure if Patagonia is still making these in the USA but this is one heck of a great fleece! I've owned this R2 jacket (the 2001/2002 model that is made in the USA) for the last 5-6 years. Making it one of my all time favorite camp gear. I loved it so much that I picked up another one in the red color from the 2001/2002 model line, in brand new condition, last year from eBay (paying only $26 plus shipping).
Knowing little about Patagonia products at the time, I needed a fleece for camping to replace my burnt North Face Denali fleece and I didn't have the $170 in my wallet to buy another Denali so I picked this R2 up instead since it was on sale for $79 at the local outfitters. Over the years I found this R2 to be the warmest fleece for the weight without being windproof. In saying that, I will add that the fleece is very wind resistant and the high collar and blend of stretch panels and reinforced fleecing where you need warmth the most makes this a very reliable and durable garment.
It machine washes easily, dries in minutes and has outlived scores of other softshells that have come and gone in my life since owned this fleece.
Amazingly I found the R2 to feel warmer than my old 1999 North Face Denali (which is the same Denali being sold to this day). Also the R2 is about half the weight and cost of the Denali fleece.
I noticed the recent models of the R2 looks slimmer and thinner and still incorporates recycled plastic which is great. But what is even more important is the warmth per weight and weatherproof reliability this fleece has consistently given me over the years!
People still sell the older "Made in the USA" R2 fleeces on eBay and I totally recommend getting yourself one of these.
Fabric: Polyester Fleece!
Fill: none
Price Paid: $79 & $26

Hola, soy de Chile y practico mucho treking y escalada , he usado chaquetas de polar de una gran variedad de marcas, y la verdad es que la Patagonia R2 me ha ofrecido la mejor experiencia de confort, la recomiendo totalmente ya que es muy calida y comoda.
Escriba su comentario aquí.
Source: bought it new

This review is for the earlier model R2. I purchased this fleece the first year it came out to see if the "high loft" fleece worked as well as advertised. After roughly 7 years of use I can honestly say this fleece doesn't owe me anything! It's been awesome!
The fleece is really warm, fits great, and is highly breathable. The fleece is alright on its own on cooler days with no wind - but on windier days a shell is definitely needed. As a mid layer this fleece is unstoppable.
I'm 5'9" 140lbs. and the medium fits me great, leaving a bit of room for a heavier base layer if needed. Over the years the fleece isn't quite as warm as it used to be. Some areas such as the elbows and back have become worn and lost most of their loft over the years of hard use.
Last winter while ice climbing on a particularly cold day (-20 to -25C) I came to the conclusion that my favorite fleece finally needs to be replaced. Normally it would have kept me warm in these conditions with a light shell, but I found myself getting chilly. I knocked off half a star because I feel it's a little pricey for a fleece.

Fabric: Polartec Power Dry/Thermal Pro
Price Paid: $170 CDN

This review is upon just getting the jacket and I will update down the road.
The quality and fit of the jacket are top notch. In these respects, it is exactly what I wanted. I am 5'9 and fairly skinny and the small fits me great. Fairly comparable to most Mountain Hardwear size small stuff. Trim and athletic but not restricting. I wear 15 inch shirts in the neck and find the jacket cut just right.
The jacket itself is a little thinner/lighter than I expected, some sights compare it to a 200 wt. fleece and I don't know how it will stack up to a thicker fleece but would be surprised if something so light could be that warm.
The fabric looks a little frilly when I first saw it but I think if I would have gotten it in a darker color (I got the 2006 bright ass red) it wouldn't be as noticeable. Not really a positive or negative to a piece of outerwear but everyone expects something different from things so I thought I should mention it.
Fabric: Polartec Thermal Pro
Price Paid: $65

My favorite outside cozy, it washes & dries well, large pockets, feels so soft even after tons of washings
Pros
soft
warm
wash & dries great
Cons
not a rugged trail fleece
finds burrs very easily
not campfire spark friendly, anything will show a lot
not a rain or wind fleece
This is a great lounge jacket or for travel days that are not windy or too rainy. I admit I wear it the most outside next to the fireplace on the patio. Wonderful cozy feel with easy care.
Not for trail or camping. This is a Patagonia city or home product.
Source: bought it new

I have owned this jacket for about a year. During this time I found myself wearing it more frequently than the jacket I initially hung in my closet for purely athletic use. The construction seems to fit my body type quite well, even the neck.
It really hit me that this is a real standout when I got back from a snowshoeing trip on the Superior hiking trail and noticed a picture of the guy I spent 10 minutes talking to about the jacket (it was five in the morning with full blizzard conditions very conducive to conversation) in the trail brochure I picked up.
At first I swore a T-shirt was warmer because it caught less wind, but below zero temperatures are not the place to make rash decisions about lighter weight fleece. Overall this jacket has survived the good kind of abuse and seems to elicit interesting grins in town.
Price Paid: ?

This jacket is great! I can see why it won an Editor's Choice award. Why is it great? Because you get a very warm insulating jacket that can vent at will. Of course you have to pair it with a lightweight waterproof/windproof shell with pit zips. This creates the perfect combo for a wide range of temperature variations without having to remove your jacket. That is, you close up your zips and the monkey-hair fabric traps warmth in in its air pockets--perfect for riding the lift up a mountain. On the way down, you find yourself starting to work up a sweat, open up your vents, and the air goes right through the monkey hair. This jacket is an insulating (mid-layer) jacket and does a great job at it.
Price Paid: $125

I bought this jacket because of its fit, light weight, and the promised performance of the new R2 Regulator fleece. It looks gorgeous and feels like silk. But I'm selling it after owning it only a week. Why? The neck closure is uncomfortably tight.
A cold weather jacket needs enough room at the neck to hold the air in yet not give one the feeling that one is about to choke. The jacket is a medium and my neck is 16". I thought about cutting the collar open and sewing in some fleece, but I'm just going to sell this and get something with a better designed collar. This problem is not unique to the R2, I've noticed -- Patagonia designs many of their jackets this way. What a shame.
Fabric: Fleece
Price Paid: $130 US

I got this jacket because the the Mountain Hardwear jacket my wife got me did not fit. The sale person said it was very comparable to the monkey fleece jacket. I love it. It weighs next to nothing. It very warm, and breathes well too. If you have ever had a cheap fleece jacket you will appreciate this jacket. It is highly compressable. The price was high, but after wearing the jacket I would gladly pay it again for another one. I can't say enough about this jacket. The heavier fleece on the torso and lighter fleece on the arms was a great idea. I have wore it under my rain gear and had great maneuverabilty. I have been very pleased with it.
Fabric: R2 Fleece

Great for layering and 2nd outer layer on cool days.
Pros
light
packable
chest pocket
I bought this jacket as layer under my Primo hard shell but found it useful as an exterior layer over a mid or expedition weight shirt on cool days with little or no wind. This jacket isn't meant for cold windy days. The chest pocket is perfect for the cell phone. I find medium fits me just fine.
Source: bought it new
Price Paid: $75

Absolutely love it!
Exceptional warmth-for-weight, superbly breathable, compressible. Great fit, won't ride up. So comfortable and soft you'll always be wearing it.
I find it looks great, very technical-looking fleece... Though some may find it looks like a dead cat, which it kinda does!
Neck closure it tight enough to have it snuggly and comfortably wrap around your neck and seal out any drafts, that's if you're not wearing another layer with a collar underneath in which case it might be too tight to close. High collar with slightly off-center zip at the top and flap behind zip: i.e. definitely no chafing.
Fabric: Polartec Thermal Pro

I was lucky enough to have this jacket issued to me for my work and now I never leave it at home. I use it primarily as an insulating layer as, with modern softshell technology, it seems silly to use fleece as an outer garment nowadays.
This jacket is comfortable and cozy. I've used it on winter pursuits from hiking to snowboarding, and I prefer this jacket over any of my old Polartec fleeces. It seems much more comfortable through a broad range of winter temperatures where I often found myself removing my Polartec fleeces due to overheating. A great midweight fleece layer.
The concept, Thermal Pro fleece in a jacket, is great. However, at 6'2" tall, it barely comes down to the top of my pants, and the sleeves are equally as short. The same is true of the R2 Body Rug and the R4: too short in the torso and the sleeves. Patagonia should make some TALL stuff.
I ended up returning the R2, R2 Rug, and the R4. The EMS Quadzilla works better with High Loft Thermal Pro, and sections of Power Stretch, for a bit less (retail) price. It is long enough and the stretch sections vent well.
Price Paid: $90 (on sale)

I bought a medium and I also have a 16 neck size. I have had no problems layering anything under it. It is lightweight and keeps heat well as long as you have it under a shell. It was made for layering so don't expect it to cut wind, it won't. It has a good fit that leaves room for layers. Dries in no time flat. Overall it is the most versatile piece I own. Gave it a five for the versatility that it gives.
Price Paid: $150

This is for the early type of R2 fabric (I haven't tried the new waffled looking stuff). Breathes well, compresses well, lightweight, pockets are good, neck fits, arms articulated, hem is ok (could be longer maybe).
Works great as a mid layer under a lightweight wind proof. Pile looks ok after years of use under a rucksack.
It can catch easily on thorns, being such a loose knit surface.
The breathability is fantastic, but I don't think it's nearly as warm as my other Patagonia fleeces. For me, this is a 3-season jacket. In winter I prefer a loftier fleece layer.
Your Review
Where to Buy
Help support this site by making your next gear purchase through one of the links above. Click a link, buy what you need, and the seller will contribute a portion of the purchase price to support Trailspace's independent gear reviews.
You May Like
Specs
Men's
Price
MSRP: $169.00
Historic Range: $52.73-$225.00
Reviewers Paid: $2.00-$150.00

Weight
380 g / 13.4 oz

Body
6.1-oz Polartec Thermal Pro 97% polyester (64% recycled)/3% spandex

Side panels
6.9-oz Polartec Power Grid 93% recycled polyester/7% spandex with HeiQ Fresh durable odor control

Other
Fabric is certified as bluesign approved / Fair Trade Certified sewn

Women's
Price
MSRP: $149.00
Historic Range: $59.98-$175.00

Weight
12 oz / 340 g

Body Fabric
6.1 oz Polartec Thermal Pro 97% Polyester, 64% Recycled / 3% Spandex

Side Panels
6.6 oz Polartec Power Stretch 88% Polyester, 60% Recycled / 12% Spandex.

Kids'
Price
Historic Range: $32.40