Patagonia Tin Shed 6 Waterproof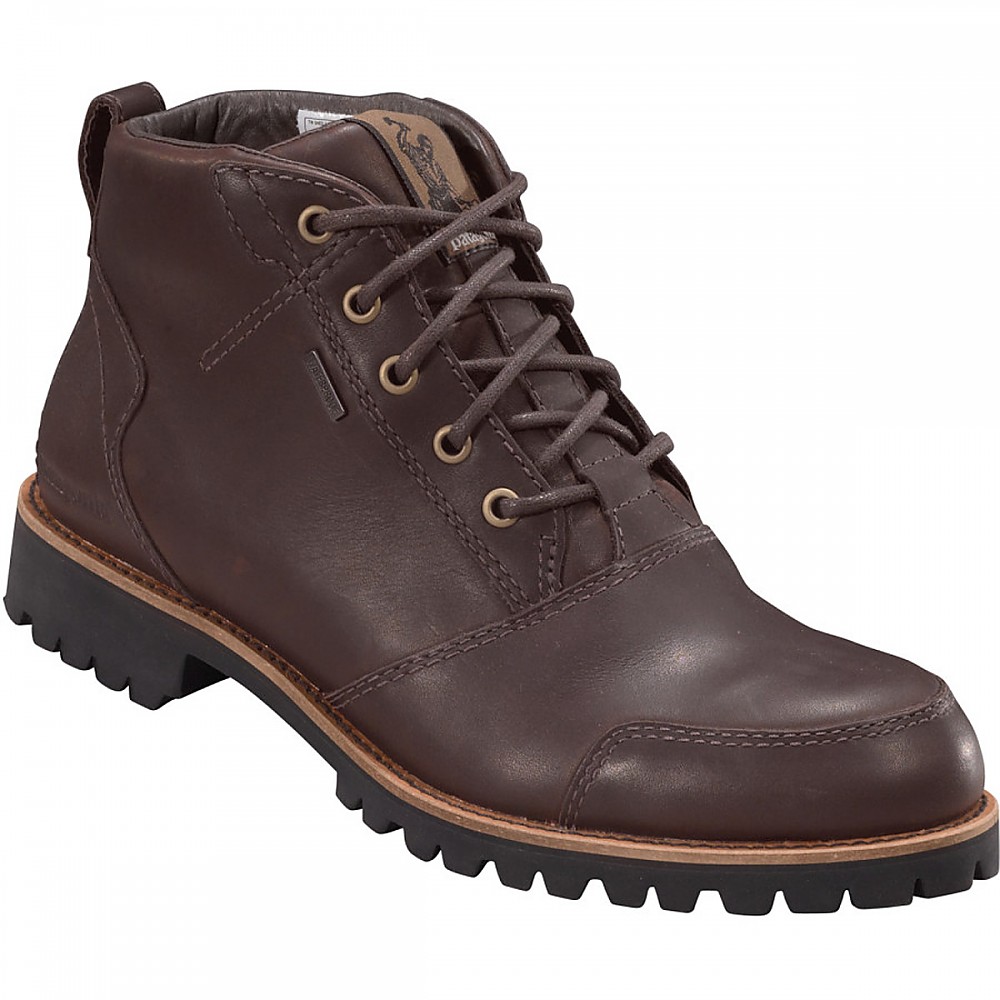 Hang on. I'm going to gush a bit here. I have worn these boots almost every single day for over a year (well, except when I've been hiking). While it's no surprise for such a time-tested and trusted brand, Patagonia's craftsmen have accomplished nothing short of the finest footwear that human hands can make. I want a backup pair for the inevitable replacement, as I won't be looking for different boots. They nailed it.
Pros
Tough as nails — bomber construction
Awesome outsole traction
Properly built medium arch support
Light insulation, though well sealed to work with insulation
Have lost track of how many miles I've put on these
Firm shank creates confident footing
Cons
This boot is heavy by hiking standards, so not recommended for hiking.
Waterproofing seems to cause some clamminess, albeit manageable.
If you need aggressive arch support you'll need inserts.
Here's a picture of the boots sitting next to the coolest hat on the planet.  :-)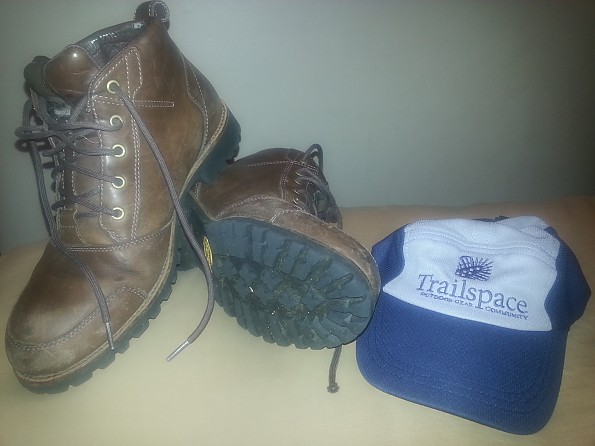 The goods:
Weight: 3 lbs 10 oz for the pair.  For hiking, this would be unacceptable to me.  However, it does not seem that they are sold as hikers, so I can't hold it against Patagonia. From an "Everyday Wear" point of view (around the office, around the house and such), the weight translates more as quality heft rather than unnecessary bulk. I like it.
Size: I bought these in 11.5 to accommodate thick wool socks (I normally wear 11). This was a perfect choice.
Break-in period:  For typical daily wear, these did not need a break-in period. They were comfortable from the start.
Outer design: The boot's design features a full-grain leather upper with double-stitched seams.  Patagonia uses a bootie design to minimize the areas where water could penetrate the inner boot, thus maximizing waterproofing performance.  I think it worked.  
Further, an armored toe-box has been designed into the forward of the boot. While not steel, I'm confident this reinforcement would protect my toes from some level of impact. I don't wear them as that type of work boot, but it's nice to know there's extra protection built in.
Wonderful and Replaceable Sole:  I was so thrilled to find a boot that is so stinkin' comfortable that ALSO includes welt construction so I can get the boot resoled locally if I want to.  That's getting pretty difficult to find as so many boots seem like they are disposable. That said, I will definitely send these back to Patagonia for resoling (when the time comes) so it comes back exactly the same again and again.
Why? Because not only has Patagonia paid close attention to the comfort details in the boot, they also used an OUTSTANDING sole: the Vibram Ecostep. I don't know how it does it, but this product definitely does what it advertises.  I have never slipped on any surface while wearing these boots: not on mopped floors, not in the bathroom after showers, not on moss-covered rocks while walking through streams, and not while walking on wet (moss covered) logs in the Pacific NW wilderness... I'm not saying they couldn't slip, but they haven't slipped; and I've given them well over a year to do it and in many different environments (though admittedly, not on wet ice).

Inner design: Patagonia builds in a polyurethane footbed with pigskin lining. They then reinforce it with internal EVA padding so the owner gets the same cushioned support for years to come. So far, they still seem very comfortable. In addition, the Patagonia website states that "A supportive polyurethane comfort chamber has natural thermal protection for long hours on cold, hard surfaces." I don't know a thing about this comfort chamber, but I can attest that cold, wet surfaces outside have not created issues for me.  Score 1 for Patagonia!
Insulation: It seems there is light insulation built into these boots. But the website does not really say anything about it.  The entire boot has a poly liner designed to help with moisture management.  Strangely enough, I think it must be acting similarly to how a vapor barrier would help your feet stay warm in cold weather (sweat management).  It seems backward compared to what we've all been hearing from a certain waterproofing company that owns this space in the outdoor industry (starts with a G).
But many things I've been reading from mountaineers suggests that this kind of moisture barrier may do more for waterproofing / moisture management / sweat management in colder temps than the typical wicking technologies.  If that's what's in this boot, I'd say it's working since I've never felt wet in these boots while moving.  Nice.
Waterproofing:  Since we're on the subject of moisture management, I think the waterproofing could use a word or two.  Some users have reported that the boot feels clammy to them and that the waterproofing does not work.  I could see the poly barrier I mentioned earlier could make this challenging in hot environments. In the Seattle area with high humidity and temps ranging from 30°F to 80°F I have not felt clammy while moving.
I've made that distinction twice now, so here's why I say it that way.  There have been two occasions that I felt like my feet were getting clammy and cold in these boots.  On both occasions I was sitting still in my outside shed in colder temps working on my laptop at a desk.  In other words, not moving around.  So I do think these may not be perfect for desk shoes in colder temps.
That's a pretty narrow application, so I'm not docking my star rating for it.  But if you buy these, this is a good section to understand.
What would I recommend these boots for?  This is a work boot and a daily boot, though I don't recommended them for distance hiking. I wear them in business environments (I don't need to be in a suit), at home, during Scout activities and while doing volunteer maintenance of a local 10-acre kids camp. These boots get lots of outdoor use, and I can definitely recommend them for the same.
How many miles have you used these boots for?  I've put hundreds of miles on these, I'm sure.  Because I haven't used them for hiking, per se, I have not kept track of mileage.  But I have worn these boots darn near every day since I bought them.  The greatest exception has been while I'm exercising, hiking and sleeping.
Do these boots look good?  I think this is a silly question, but the attractiveness of the boot warrants attention.  Perhaps it's difficult to tell from this picture, but this is a handsome boot that draws lots of compliments.  They're so good looking, I think of them as gentleman's footwear.  If you polish them up, they really do look handsome.  The only thing keeping me from wearing them with a suit is (a) the lugs will look a smidge out of place and (b) I avoid wearing suits as much as possible.  :-)
My Idea of the Ultimate Test:  Disneyland. I think the true test of footwear that separates the mass-produced from the craftsman's creation is how your feet feel at the end of a very long day. For example, can your shoes hold up to Disneyland for a full day and how will your feet feel at the end of that day? I believe these would pass the Disneyland test (I haven't used them there... yet).  
I have walked for hours and stood for an entire day in these boots.  When I take them off, my feet don't hurt.  My knees will hurt before my feet do while using these boots (not that the boots have anything to do with the knees).  I only own one other pair of shoes that stand up to this test, and they are handmade wonders whose equal I never believed I'd find.  I certainly found their equal in the Patagonia Tin Shed 6.
Happy Adventuring!
Source: bought it new
Price Paid: $170

Your Review
Where to Buy
Help support this site by making your next gear purchase through one of the links above. Click a link, buy what you need, and the seller will contribute a portion of the purchase price to support Trailspace's independent gear reviews.
You May Like
Specs
Price
Historic Range: $90.00-$200.00
Reviewers Paid: $170.00

Recently on Trailspace