Pat's Backcountry Beverages Carbonator Bottle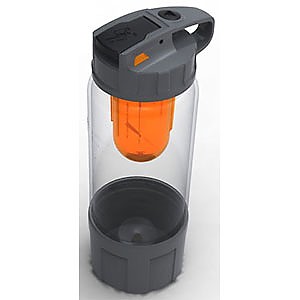 This is a product for those for whom a little extra expense and a little extra weight is money well spent and weight well carried if it can produce the comfort of a soda or beer in the backcountry. Not for beer snobs or ultralighters, but cheers to the rest!
Pros
Soda and beer in the backcountry without the weight!
Well-made system
Easy to use
Cons
Activator flavor detectable in some beverages
System-specific bottle required
Convenience comes at a price: more expensive than store-bought beverages
This winter holiday season I tested Pat's Backcountry Beverages Carbonator Bottle, a 12-pack box of Activator Packets, and a generous supply of Pat's All-Natural Cola, Pat's All-Natural Root Beer, and the Pale Rail (5.2% ABV) and Black Hops (6.1% ABV) beers. While I used my own experience to test the beers, I enlisted the palates of my children to test the sodas—kids are always honest about foods and drinks they like or dislike, and their takes on Pat's sodas were no exception.
I am fortunate to live in the central Piedmont area of North Carolina, a region with more than 80 miles of greenways and watershed trails and one that sits in close proximity to the 50,000 plus acres of the Uhwharrie National Forest. It was to these haunts I turned for testing, for they offered me the opportunity to go on kid-friendly treks with my boys (and to be a super dad capable of producing sodas mid-hike) as well as allowing me to experience solo wilderness travel.
For purposes of familiarity for comparison, I also tested Pat's sodas and beers at home in the environment where I experience their store-bought counterparts in mugs or glasses. I also toted a plastic glass into the wilderness, too, just to be fair.
The Pat's Backcountry System
Three purchased components are required to make backcountry beverage magic with this system:
the

Pat's Backcountry Beverages Carbonator Bottle

,

a

beverage concentrate

, and

an

activator packet

.
You will need your own preferred choice of potable water, too.
The Carbonator Bottle is a 20 oz./ 592 ml BPA-free bottle that weighs in at 8.92 oz/ 253 g.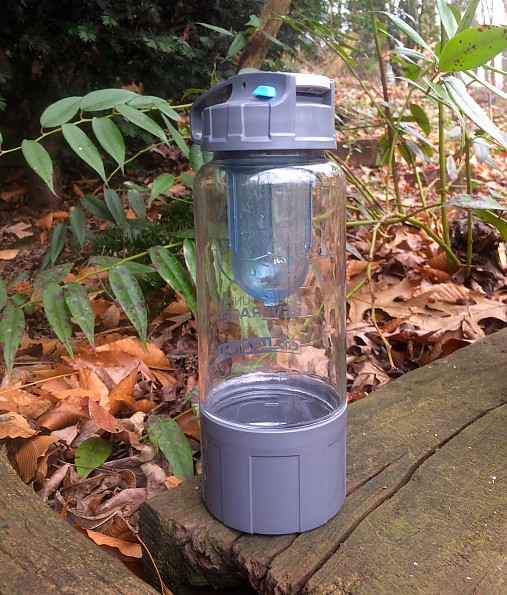 A clear plastic exterior is marked with the pertinent measurements for using the bottle as a carbonating device—16 oz.—and more: 6, 8, 10, 12, and 14 oz., too, measurements that could be handy for backcountry cooking (though metric measurements are not provided).
Naturally, the bottle can be used as a water bottle if one wishes, too, by simply unscrewing the lid, which has a loop of plastic that would allow one to fasten it to a pack with a carabiner. One unique and essential aspect of this bottle is this lid, though, which contains a pump that draws a sufficient amount of water into the lid to later cause a reaction with the Activator Packet's contents. It also has attached to the lid a blue carbonation chamber.
Into this clear bottle go water and Beverage Concentrate, a base mixture (at right, below) that will eventually produce a carbonated beverage. The average beverage concentrate weighs 2.12 oz./ 60g. Mixing concentrate and water is as simple as filling the bottle with water and one concentrate packet to the 16 oz. line and shaking the closed bottle.

A blue plastic interior container attaches to the lid, and it is this carbonation chamber wherein the Activator Packets (above, at left) are emptied when one wishes to carbonate a beverage. Each Activator Packet contains separate compartments of Potassium Bicarbonate (7.9 g) and Citric Acid (5.1 g) which—when mixed together—react with water to provide carbonation for the bottle's contents, whether that is a soda or beer concentrate. Activator packets weigh .5 oz./ 14 g.
The Procedure
The procedure is simple after a few times through it. First, potable water is drawn by way of the lid's pump lever into the lid. Then the activator mix is added to the dry carbonation chamber, which is reattached to the lid and set aside.
Next, one empties a packet of concentrate into the bottle and fills the remaining space with potable water, reattaching the lid to the bottle (see image, below).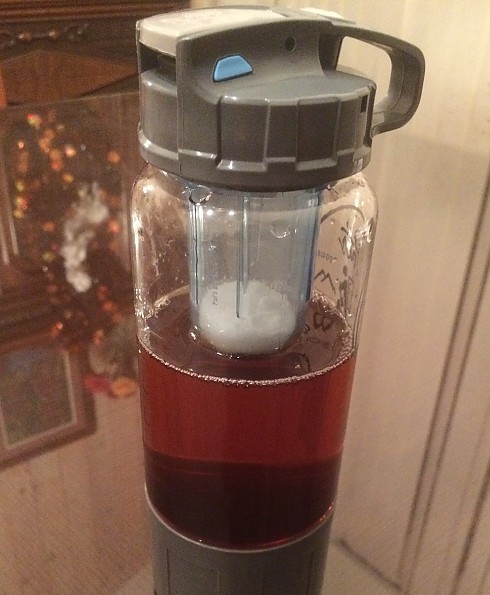 The pump lever in the lid is then used to squirt water into the carbonation chamber. As things start to fizz, one shakes the whole contraption side to side for a minute or two, then opens the pump lever one more time to release excess carbonation before unscrewing the lid an enjoying. Pour in your favorite glass or just drink from the bottle itself as one would from a Nalgene. Voilà!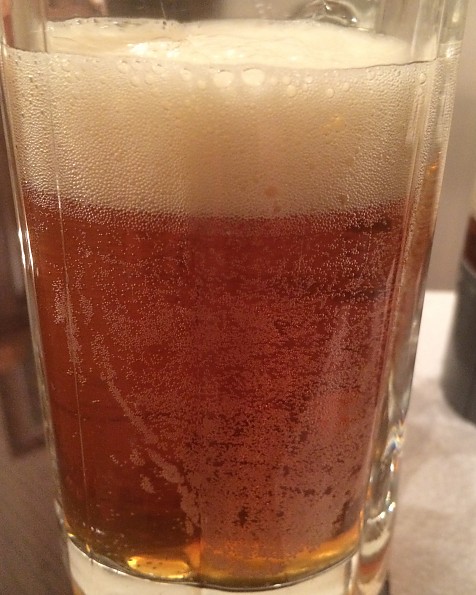 Below is the Black Hops, carbonated and ready to have the pressure released . . .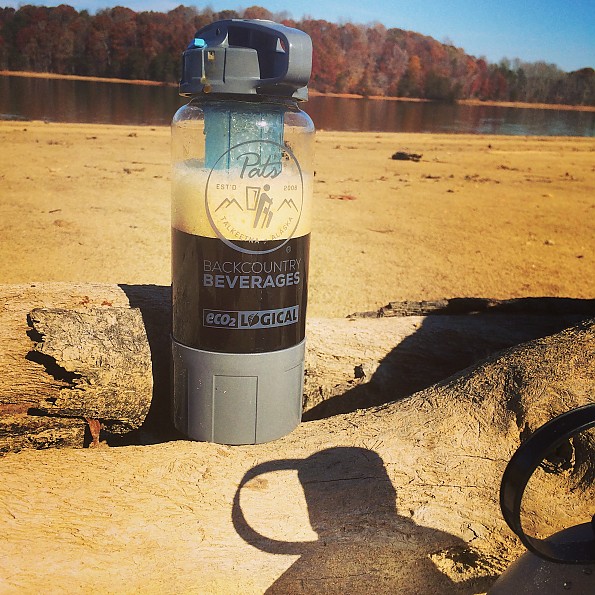 . . . with the lifting of a lever.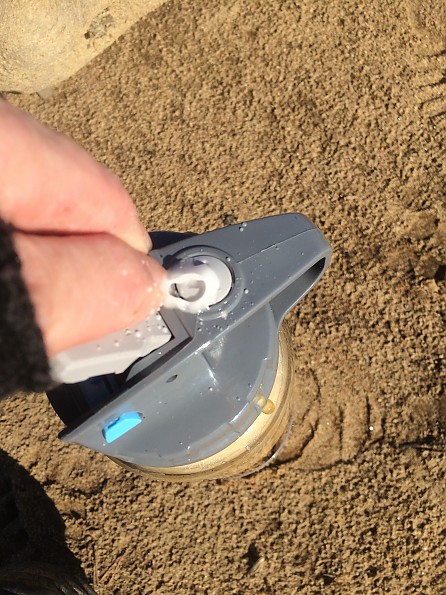 A handy plastic glass adds a touch of on-the-trail luxury!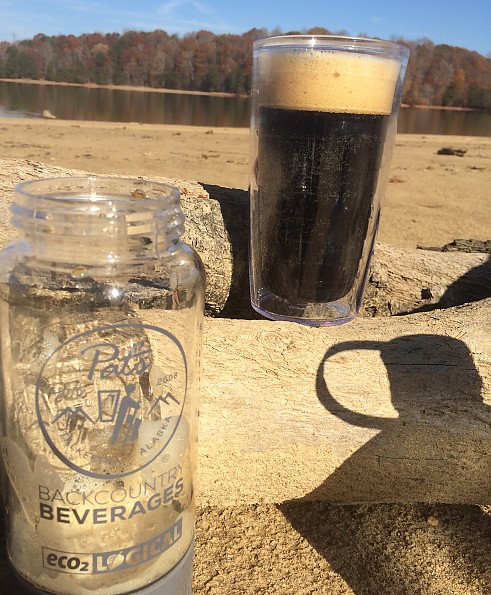 In practice, this procedure becomes like any camp routine such as pitching a tarp or building a fire—virtually automatic. But if my explanation is unclear, take a look at this video wherein I demonstrate the bottle at the core of the system.
Reviewing the Sodas
My team of experts—my boys—and I found the sodas to be palatable. "Not as fizzy, dad, as my regular root beer," said my sixth grade expert, and this critique is one that holds true for all the Pat's Backcountry beverages I made using this system.
The carbonation the system produces is finer than carbon dioxide-injected, store-bought beverages or most naturally fermented beverages. I would call it subtle but apparent, like a beverage in a two-liter bottle that has been open for a day or two.
Soda flavors are rich and recognizable given their labels—All-Natural Root Beer tasted like what I think of as being root beer, All-Natural Cola tasted like cola (maybe more like Pepsi than Coke). We'll call them more or less true to taste, but with less effervescent carbonation. The low carbonation did cause hesitance from my kids: while they loved the wow factor of being able to make these drinks in the wilderness, they said they were "different" due to the lower carbonation.
Fair enough. But testing the root beer again on an unseasonably warm day in the Uhwharrie Mountains (64˚ F), I found the root beer to be perfect: carbonated enough to tickle the tongue, rich in flavor, and satisfying after a brisk hike to camp. Context influences perception.
Reviewing the Beers
Like the sodas, the beers had a smoother, subtler carbonation than most store-bought brews. The beers both had a distinctive flavor (not unpleasant) that I attributed to the activator ingredients, something that the soda concentrates seemed to mask more effectively with their thicker, more syrupy concentrates. Initially, this flavor got my attention, but after a few sips, the effect was less obvious. Pinning down the exact flavor of this activator is elusive—it is a vaguely citrusy-soda-watery.
The Black Hops (6.1% ABV/ pint) is described by Pat's as "hand crafted using the world's most environmentally friendly brewing process. Generous additions of Cascade hops combined with a bold blend of dark roasted malts creates a smooth yet robust craft brew." This was the richer, heavier, and maltier of the two brews. That also translated into less susceptible to having the activator flavors intrude.
For me that was a bonus, but I also like  dark beer, and this has a dark chocolate hue. I enjoyed relaxing in my hammock with a Black Hops on a clear 33˚ F day!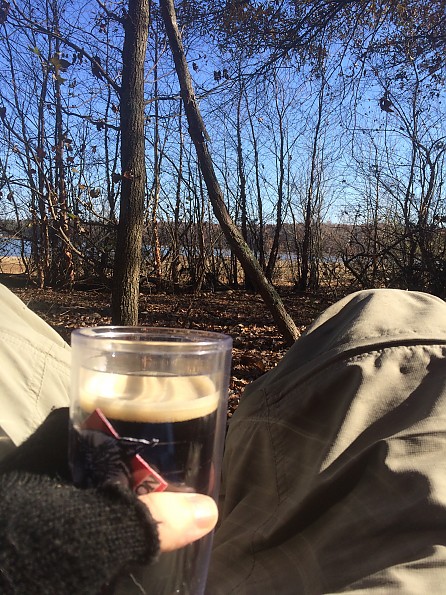 The Pail Rail (5.2% ABV/ pint) is the lighter brew, reddish in color and described by Pat's as being "hand crafted using the world's most environmentally friendly brewing process. A delicate blend of aromatic malts and Cascade hops delivers a complex, yet well-balanced, craft brew."
This was to my palate the milder of the two brews. Review Corps member KiwiKlimber noted that it sounded like the Pail Rail was a summer brew, and I think that is a fair description. I'd love to try one of these mid-July after a brutal uphill climb.
Because Pail Rail is the milder one, it was also a bit more subject to the flavor infusion I attributed to the activator ingredients. I found myself wanting to have the second and third sip to lessen this curious flavor, but never did this keep me from finishing a brew: I liked Pail Rail, but I would have liked to have the activator ingredients assume a less prominent role in the flavor synthesis. I can only imagine what a dice roll it is to brew beer, knowing that the final product will be carbonated with an infusion—part-science, part-art. I imagine Pat's will keep toying with recipes.
Conclusions
The product quality of this system is good. The bottle feels as solid as any Nalgene, although after some use, the threads on the lid got a little quirky—be careful not to over tighten the carbonation chamber. Activator packets and beverage concentrates come in easy-tear, air-tight packaging with adequate directions included. Nothing feels cheap about this system. 
Let's talk weight and let's get the obvious out of the way: no ultralight purist would sanction carrying the extra weight required to make your own carbonated sodas or beer in the backcountry. But for those who may want a little refreshment beyond potable water, the weight is this: for 11.5 oz./ 327 grams, you can tote the bottle, an activator packet, and a beverage concentrate along on your quest.
This weight does not include water weight—you'll be toting or finding that anyway—but in comparison, a single bottled beer (I am out of canned beverages as I write) weighs about 19.7 oz./ 558 g. Given a ready supply of water, a second beverage of choice—just the activator and concentrate packets—would cost you only an additional 2.6 oz./ 74 g.
Gram weenies earn the admiration and envy of this lightweight camper on many a climb, but if I were to hoist a pint of Pat's Backcountry beer in camp, the tables might be turned.
Flavor-wise, this system offers some intriguing backcountry options. I will confess that I am probably too much on the lightweight side of the scales to bring this system with me to carbonate soda (sans kids, anyway). It isn't that these aren't passable backcountry options: if one wanted a soda at the end of a long day, and if one recognized that these are somewhat different than store-bought, pre-carbonated sodas, I say go for it! It is the kid-friendly option, too.
But the more spirited aspects of Pat's beers would and did induce me to tote them along on my own treks after testing them once or twice. Pail Rail and Black Hops are unmistakably beer. Backcountry beer, yes, but the differences I noted between backcountry carbonation and other brews are ameliorated by one key ingredient in these beverages, especially if one pint becomes two (or if, as I did, you only use about 14 oz. of water).
If you like beer for all of the usual reasons, you will understand my own satisfaction at pulling out this system, making a brew, and settling into my hammock to watch Mother Nature do her thing. A pint made from cold water after a long hike—that is the stuff that dreams are made of.
Additional Reflections
KiwiKlimber asked me about temperature. I tested these beverages in weather ranging from the low 30s to the mid-60s degrees Fahrenheit. I saw no discernible difference in the effectiveness of the carbonation process based on any particular temperature range.

Another Trailspace Review Corps member, Bill Heiser, inquired about altitude, relaying an anecdote about one of his own JMT experiences wherein he ingested quite a lot of carbonated beverages and subsequently rued his decision. I have little altitude around me, sitting as I write this at 920 feet above sea level. If anyone has tried these at noticeable altitude, please add a comment below.
Source: received for testing via the Trailspace Review Corps (Samples provided by Pat's Backcountry Beverages for testing and review)

Pat's Backcountry Beverage Carbonator. I love sipping back a cold soda after a hard day's hike, climb, etc. but hate carrying the weight. With Pat's Backcountry Carbonator now you can have an ice cold soda without having to pack all the weight of a 6 pack. Beer is coming soon too!
Pros
Eco friendly
Lightweight
Did I mention you can make your own soda?
Cons
Takes a little bit of practice to learn.
Company response to emails is slow.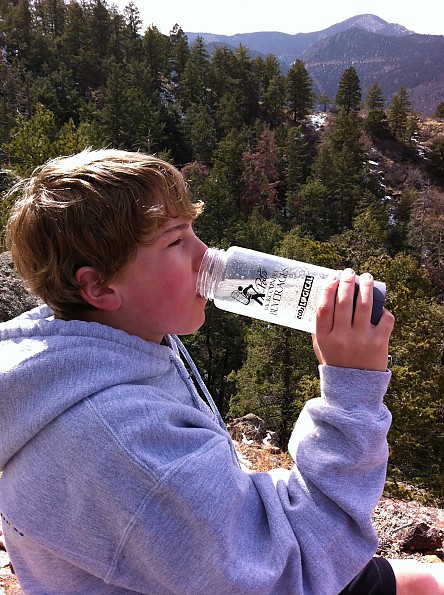 It's been a long hot hike and now it's time to settle down, camp is set up, sun is setting and the moon is rising. Suddenly you wish you had a cold soda or an ice cold beer. Then you remember you've been drinking water from your CARBONATOR! You head down to the ice cold stream that is fed from the melting snow and begin to purify some water right into the Carbonator. In a few minutes you're sipping a Bear Foot Root Beer watching the sun set over the peaks, thinking "What a life!"
Pat's Backcountry Beverage Portable Carbonator rocks! Love having soda (soon beer) in the backcountry but hate the hassle of carrying a 6 pack of bottles? Convenient, eco friendly, and TASTY!
The Carbonator is a little smaller than a Nalgene bottle. Using the soda concentrate which comes in a pack about the size of GU, the eco2activator pack, and clean, purified water you can now conveniently make a 16 oz size soda in the backcountry. The process takes about 3 minutes once you get the steps down. (If my 9-year-old can figure it... you know.)
The Carbonator Kit (which is a starter kit for $39.95) comes with everything to get you started. The Carbonator bottle, 5 tasty and creative soda concentrates; the flavors are Terra Cola, Poma Granite Cola, Lemon Clime, Bear Foot Root Beer (my favorite), and Ginger trail. Plus 6 packets of Eco2 Activator powder and easy to follow instructions. They also have instructions on how to make your own soda concentrate! The soda concentrate is made with cane juice, contains vitamins and has natural flavors. There is nothing artificial.
There is a learning curve with this but as I stated above if my 9-year-old can figure it you should be able to as well. Practice before you go out. The company keeps pushing back the date on the Beer Concentrate. Disappointing, but I think it's due to the difference in laws from state to state. Pat's Backcountry is a small business based in Alaska according to its website.
Enjoy!
Source: bought it new
Price Paid: $39.95 for Starter Kit

Your Review
Where to Buy
Help support this site by making your next gear purchase through one of the links above. Click a link, buy what you need, and the seller will contribute a portion of the purchase price to support Trailspace's independent gear reviews.
You May Like
Specs
Price
MSRP: $29.95
Historic Range: $19.83-$34.99
Reviewers Paid: $39.95

Recently on Trailspace