Specs
Price
Current Retail: $115.12
Reviewers Paid: $75.00

Sleeps
3 people

Trail Weight
6 lbs 6.7 oz / 2.91 kg

Weight
4 lbs 8.6 oz / 2.06 kg [Poles, Footprint, Fly, Stakes (2)]

Size
90 x 67.5 x 45.5 in

Floor Space
41.9 sq ft. / 3.9 sq m

Vestibules
2

Storage
2 Side Mesh Pockets and 1 Hook at Tent Apex

Zippers
#8 SBS

Poles
2 - 7001 Aluminum

Floor
68D 210T Polyester Coated PU3000MM

Fly
75D 190T Polyester Coated PU1500

Walls
75D 190T polyester

Mesh
40D Polyester

Doors
2

Reviews
1

review

5-star:

0

4-star:

1

3-star:

0

2-star:

0

1-star:

0
Inexpensive car camping tent, that's amazing for two and will fit three if needed.
Pros
Inexpensive
Durable materials
Substantial zippers that rarely snag
Large doors
Minimal mesh keeps sand out
Footprint in the combo
Large vestibules
Easy pitch
Fly vents
Minimal stakes needed
Reflective pulls and guys
Decent height for room, but not too tall to catch the wind
Cons
Minimal mesh—will not breathe as well in warm weather
Stitching is uneven with some loose threads
Stuff sack requires decently tight roll to refit all pieces back (including footprint)
Cheap stakes
No name poles
Cheap feeling clips, will they endure?
Only 2 inside pockets
We car camp a decent amount, particularly in the winter months, and I wanted a less expensive tent that was more durable and that I felt good about leaving unattended. I've owned several tents over the years and just before this, I ordered a Marmot Tungsten 3. I liked the Tungsten 3, but felt its weight and features really didn't justify its price. Particularly annoying to me was the bathtub floor that had seams on all edges—not really a bathtub in my mind. I happened on the Gannet, and found it at a good price so I decided to take the plunge.
The Gannet is a simple two-cross pole design. This creates a stable structure, but it has less shoulder room than something like the Tungsten that has a brow spreader pole. Since this tent is really just a two-person for my wife and I, that really didn't matter. And the space of the three-person for the two of us was great.
I set up the tent in the yard prior to its maiden voyage to test for water repellency, room, and setup. Setup was easy, except for the footprint, with no color coding, I of course got it wrong. Once I figured that I should be able to read the Peregrine logo on the long side, it was good. I set the tent up by myself in a matter of minutes with no issues after the footprint was rectangled (it's not square) away. The other gripe I have is the clips for the poles feel a bit thin. I fear they could break pretty easily, only time will tell.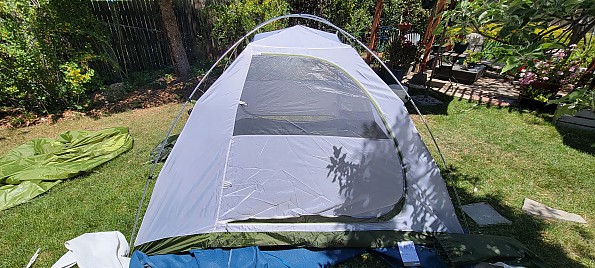 I then turned the sprinklers on for a few as my grass was looking dry.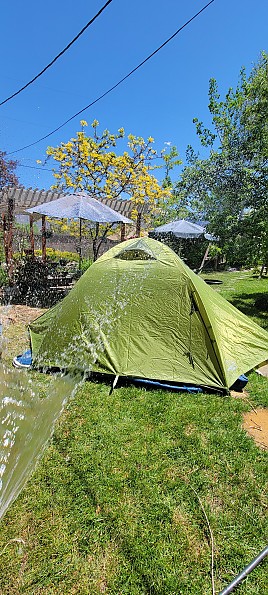 I wet down all sides, top, and hit it pretty hard like a good storm in the Uintahs would do. And I purposely focused on hitting the vent to see if they would leak. After 10 or so minutes I went inside to assess.
Opening the fly let some of the beaded water drip onto the floor of the tent. That is one drawback of NOT having a brow pole and having a fly opening centered over the door instead of being offset. A pretty standard problem in my opinion.
Once inside, I found no other water had entered the tent. The vent had kept water out successfully. The seam sealing worked great and the polyester had not stretched out the way nylon does.
Inside the tent is a decent amount of space, particularly for two people. As you can see in the pics, there is plenty of headroom and decent shoulder room. I'm 5'10" ish and had no issues moving around. The specs from Peregrine are 90 x 67.5 inches; I measured and verified these. Three 20" pads will easily fit inside. And for tall people, the extra length will keep your feet and head from hitting the walls. But that lack of brow pole, reduces shoulder room and three may not be enjoyable for very long.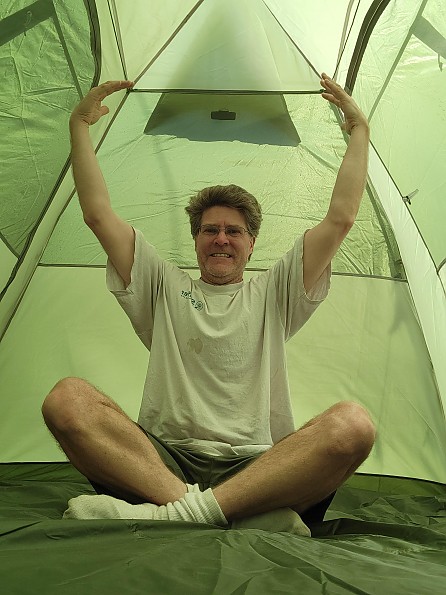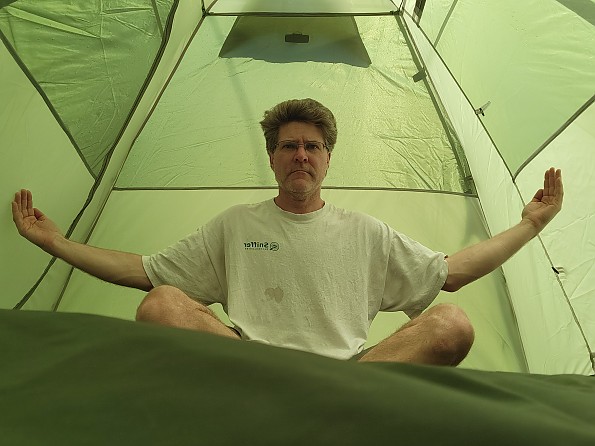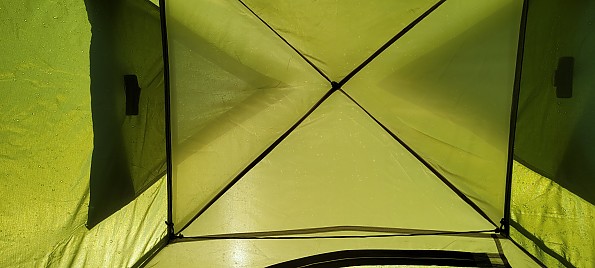 Zippers on a tent are a bugaboo for me. My Klymit Cross Canyon was returned after the first use as every opening and closing ended in a jam. The Gannet seems to avoid this issue. During my tests and four nights in the tent so far, we have yet to jam the zipper. This may be a new record. However, the zips are not without flaws, there were several loose threads that dangled into the zipper. I trimmed those off, but some dangly threads remain.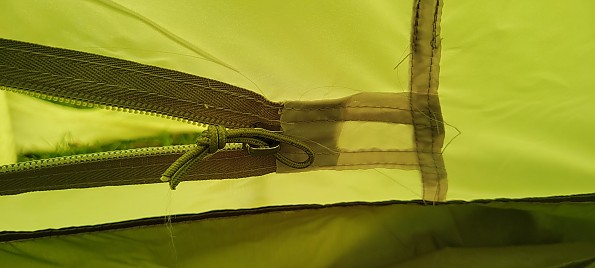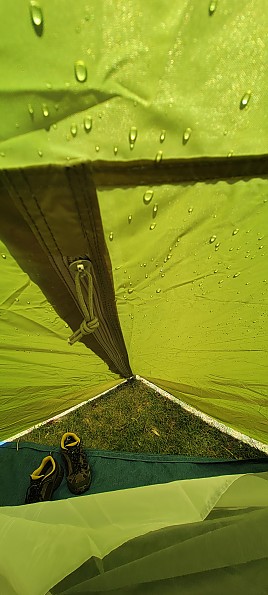 I played around inside the tent for a few. It was 90 outside and it was starting to get toasty and now humid inside. This presented the first downside of a large vestibule. That zipper is really far away. And I found I had to nearly exit the tent to reach it; this makes unzipping a little awkward. Given I am using this for two and will barely use the vestibule, this was a downside for me.
But, a big vestibule may come in handy someday. You can see from the pic, the vestibule can get very close to the ground. This is good and bad; in cold, it will be nice to keep drafts out, but in warmth, I'll need to pitch it pretty far out to get some airflow under it.
We hit a cold spell this October, but had permits for Zion's subway and reservations in the park for camping, so this would be its first test. We got to the campsite at dusk and had no issues setting up the tent in dark conditions.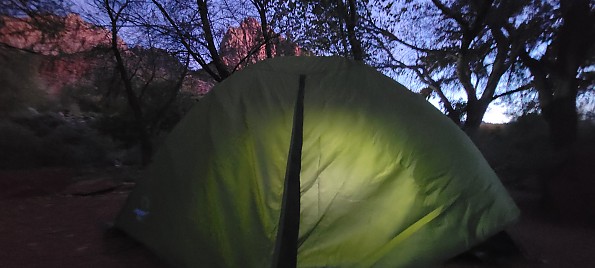 We needed to carpool to our hikes, so all gear had to fit in the tent; it was cold and we were car camping so we brought lots of stuff.
Lots of room inside for our two-person Klymit insulated pad and a two-person Big Agnes sleeping bag. And all our other gear fit neatly at our feet and by our sides. Inflating our double pad can be a real pain with Klymit's tiny inflation sack. It takes a ton of bag "fills" to get the pad pumped up. This is challenging to do inside a small tent. But again, with the size of this tent, we had ample room to fill up the inflation sack and inflate the pad. With our LL Bean Microlight 2 UL, you have to inflate the pad outside.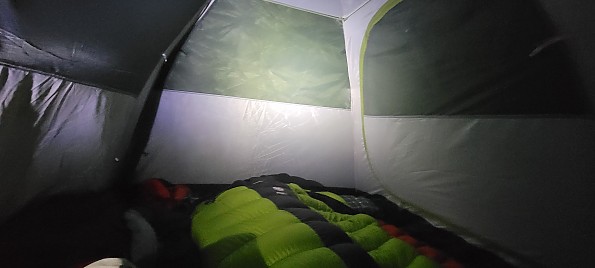 There are only two mesh pockets in the tent. We oriented these at our feet the first night on accident. Then flipped stuff the next night so we had better access to our glasses, phones... Pockets on all sides would have made life a bit easier. And I'll probably get a gear loft of some sort at some point. I don't see one from Peregrine, so it will be a DIY. The cordage at the top was great for hanging my headlamp and our socks that got pretty soaked in the subway. 
By night two I accidentally realized I really didn't need to unzip the fly. I could just unhook it from the stake and pull it over my head to exit. Maybe that's why the zipper gave me few problems—cause I stopped using it?? Anyway, that is how big the vestibule is. 
The winds really picked up on the second night and I tightened things down as my first night was pretty slack. I was happy with the wind performance. I only staked out the vestibules and with just that, there was not an inordinate amount of flapping or noise. Putting a stake in each mid would have cut the noise down a bit more, so for night three that is what I did.
I'm not a huge fan of the shepherd hooks that come with the tent, they appear cheap and have a decent amount of flex. The campground soil was hard packed and I got one more in, then gave up and tied some cordage around a rock instead. With three stakes and a big rock, things were good enough for the next few nights, that were breezy, but less than 10 mph.  
The nights dropped into the mid 20's, but humidity was low. I left the vents close and observed 0 condensation inside the tent on any of the night. We were quite toasty in the tent using a 15 degree Bag Agnes Saddle Mtn bag and the insulated Klymit double pad
Packing up the tent was also easy, but with the footprint and all, you really have to roll the tent up pretty tight to get it to fit back in the sack. 
This is not a lightweight tent—coming in at 7 lbs 6.9 oz for the packed weight (including a stout 12.6 oz footprint). Poles, stakes, and their bag make up 1lb 13 oz. And the rest is weight from the heavy 75 and 68 denier fabric and minimal mesh. The footprint would allow you to set up the tent in "fast flight" mode using just the fly, footprint, and stakes. This would drop the weight down to 4 lbs 6 oz. But, I typically camp in bug and scorpion country, so I don't see this ever happening.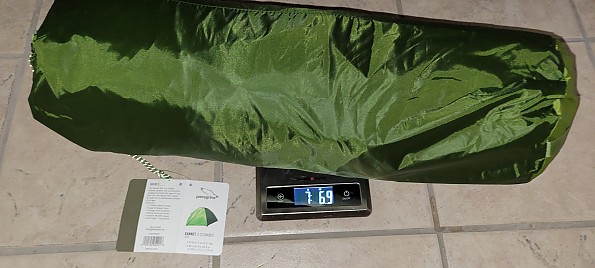 The poles are no-name, but feel decent and at 9.5mm they keep the tent sturdy. 12 stakes were included, that would be vestibules, corners, mids and 4 guys (one at each corner).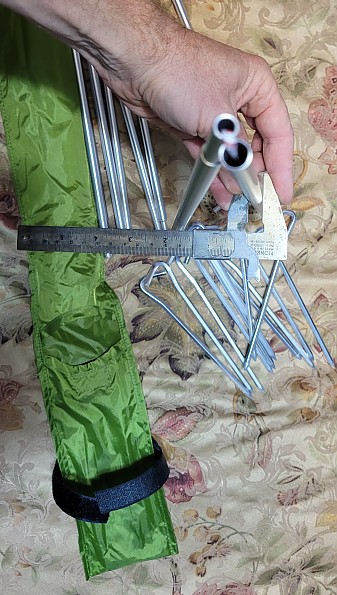 Overall this is a great car camping tent. The colors and features remind me of my beloved Mountainsmith Morrison, but in a 3p for more room. The stitching is a bit non-straight, but my OCD can handle it since everything is double stitched and the seam sealing looks solid. And for the price, I can leave this unattended and not fear losing an expensive piece of equipment (but I would miss it).
BTW, the bathtub floor on this tent has one seam in the middle and runs up the sides without any further seams, much better than the Marmot Tungsten.
Experience
I've tested numerous tents over the years. This will be my third attempt at a decent, cheap 3p car camping tent. It will replace my longest used, most favorite Mountainsmith Morrison.
Source: bought it new
Price Paid: $75

You May Like
Recently on Trailspace