Klymit Cross Canyon 3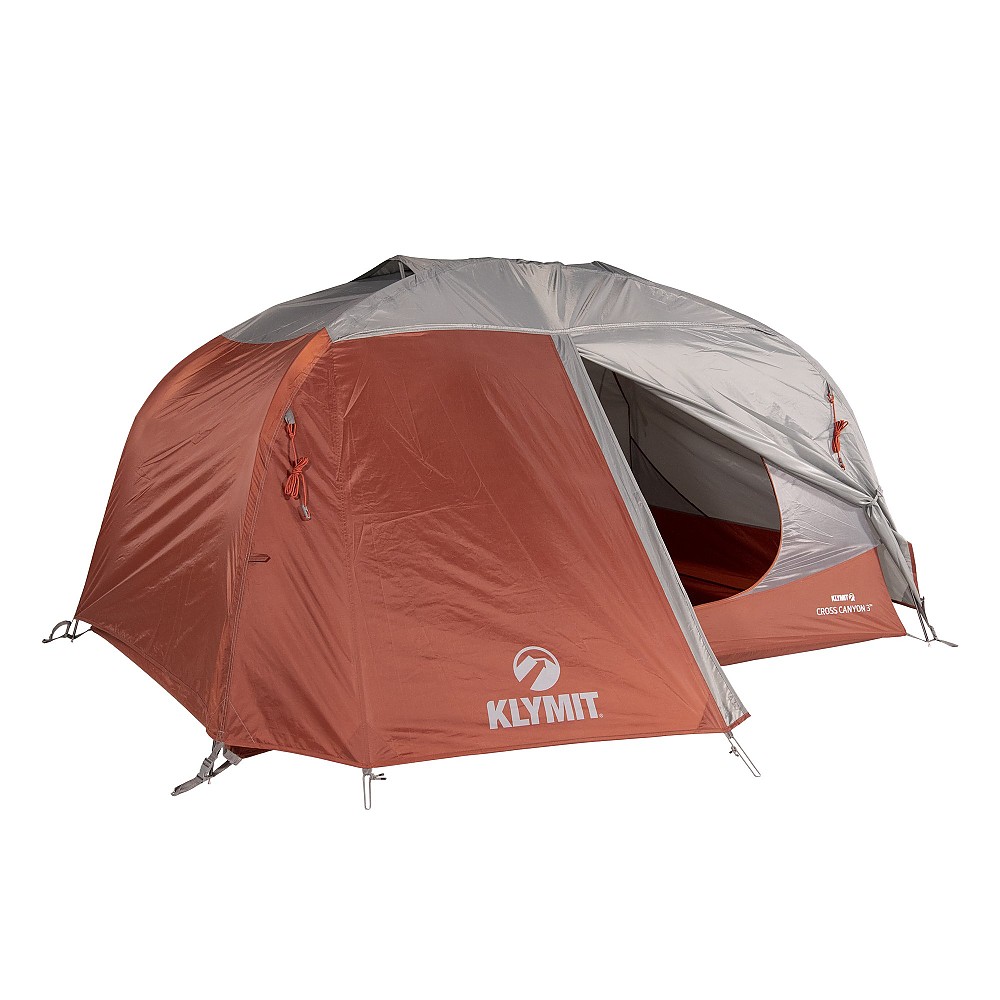 Expansive interior, flappy exterior, cheap—but not cheap enough.
Pros
Durable materials
Vertical end walls
Lots of vestibule space (also a con)
Big tent doors
Zips on tent body worked great
Lots of pockets
Cheap
Cons
Flappy in the wind no matter how many stakes
Cheap stakes
3 stakes required per vestibule, 12 total
0 color coding
Short length
Sticky fly zip
Heavy!
After enjoying the space in our Sierra Designs Meteor Lite 3, we decided to upgrade our car camping tent. Our venerable Mountainsmith Morrison had provided us years of shelter, and I stupidly sold it off to buy the Klymit. 
The fabrics used are all heavy. This is a car camping tent so almost 8 pounds is fine if the tent holds up. So I'm not going into details about weight like I normally do. We bought this tent for its size. And it is great for two shorter people (I'm 5'9.5"). The length of 84" (by spec), 82" (measured), means this tent is NOT for taller people. Our Klymit double pad only had 5" left over at the foot and head. But it worked great for my wife and I. We went with a friend and we had ample room for three to eat and play cards inside the tent.
We spent three days in Canyonlands Needles district putting the Klymit through its paces, but it didn't fare well. The first night was pretty windy with gusts hitting 20 mph. We were camped out on slick rock and I couldn't get a stake in the ground. No worries, we'll just stack some rocks—right. I got the tent together, which took longer than normal thanks to the wind and no color coding on any of the buckles to attach the fly to the body. The buckles that attach to the tent seem really cheap, like they will break at any moment, and tightening them down did not get the fly tight. There was no forecasted rain, so I got lazy with a 4p footprint that was a little too big. But if you look at the pic, you can see how loose the fly is on the head area. This is tightened all the way down. So if its not staked out, its going to flap. And even staked out (with rocks), it flapped.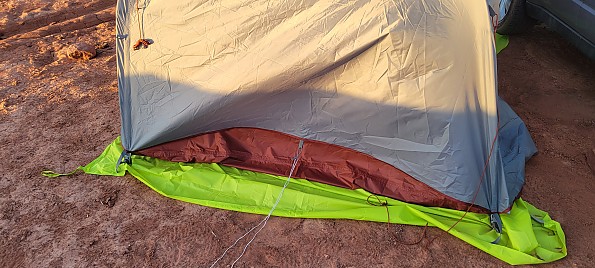 The tent has lots of stake points, but none seemed to work well. I added some guy line to the mids at each end and put those around rocks. That seemed to make the fabric at the top loose, so I put the rocks lower and closer—nope still not taut. I kind of gave up and moved on to the vestibule. The vestibules are big! They are also not cut normally and require 3 stakes to pull it tight. So I gathered more rocks.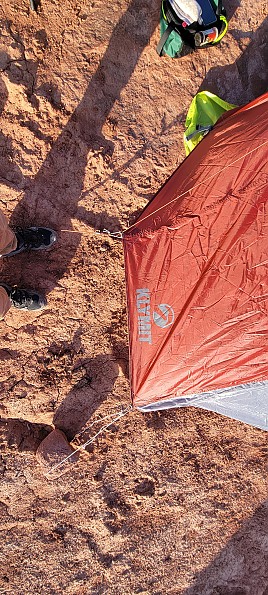 Eight rock piles later and the tent was still flapping loudly. We tightened things down, added more rocks, moved things around. Nothing worked! We were car camping, so we pulled the car right up to the windy side to use it as a wind break. That worked better than the rock piles on that side. All three of us ate our food in the tent without hitting elbows thanks to the large floor area and vertical-ish walls.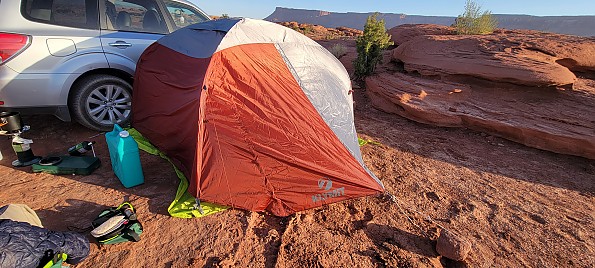 We called it good and went to "sleep". Unfortunately the flapping of the fly kept us up. We tried ear plugs and that helped, but it was a terrible nights sleep.
We packed up the tent and did several miles of incredible hiking.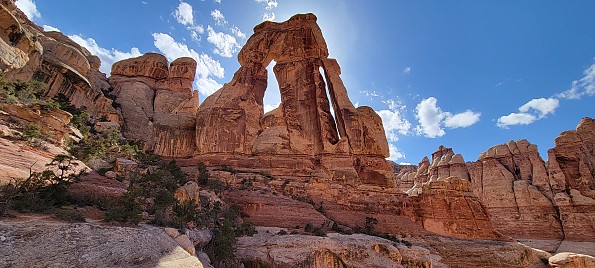 Night number 2 was calm with just a little breeze. So we got the tent set up a bit quicker and cleaned out some of the sand that had accumulated inside the tent from the prior night. 
The tent has a ton of headroom and the end walls are pretty vertical because of the pre-bent poles. But there is no brow pole, so the side was are not as vertical as our Meteor Lite 3.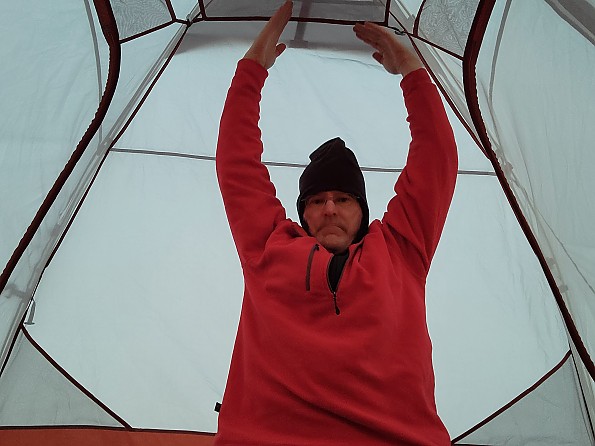 There are pockets at each corner, above each door and an attic area. All except the ones above the door worked well. The ones above the door kept coming unhinged when we opened the door and fly, so we didn't use them. 
Now for the fly. ARRGGGHHH!
All three of us were able to get the fly zipper stuck. One night venture required 10 minutes of work to get this thing unstuck. I've always had issues with fly zips getting stuck, but not like this. Every other time we zipped it up, it got stuck. Two hands and very slow zipping seemed to minimize the sticking, but wow, it was frustrating. Maybe having all 3 stakes in each vestibule would help with the sticky zip?? I don't know, but at 2AM, trying to fix a jammed zip is not my idea of fun. On the plus side, I was up anyway with the flapping, so ... The body door zips did work great and could be opened one-handed. The doors are massive and make entry and exit easy.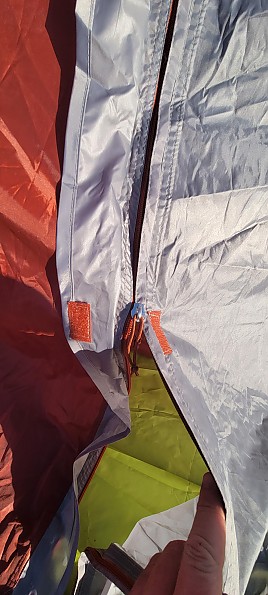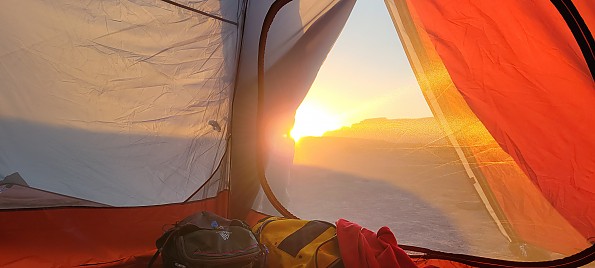 It was very dry and no rain, so 0 condensation was found inside the tent. But, because the guys are on the corners of the tent fly, the fly at the mid of the head and foot touches the tent body near the top. Having the fly touch the body is never good for condensation. Our Mountainsmith has guy outs at the mid points and this works very well to keep the fly off the body. I really miss our Mountainsmith!
The guy lines are NOT reflective and sure enough we tripped over one of them in the dark. Not a big deal as we just moved the rock back into place. But seriously, an extra $0.20 to get reflective guy lines should have been spent by Klymit.
The included stakes are heavy! Yet somehow pretty flexible. I don't see these stakes lasting long before becoming bent. They are also very large diameter, something that should give them strength, but will also make them very hard to get into the ground. There are 12 stakes and I wondered why. Now I know why, 6 stakes for the vestibules, 4 for the corners and 2 for the mids = 12. Way too many required stakes, that don't keep the tent taut. I've used non-freestanding tents that require fewer stakes. Klymit did include a pole splint which is a nice extra. The bag is a cool idea. You roll the tent, fly, stakes, and pole up into a piece of nylon, clip it closed then pull 2 side "bags" over each end and clip that together. Klymit show the bag being used as a door mat and I think it could work well. But, I found it a little awkward as the fabrics slipped a lot and stuffing into a burrito like the Sierra Designs is much easier.  I also noticed the webbing on the bag was starting to look a little worn after only a few uses. The weave on the webbing seemed not tight enough to hold up to a ton of use.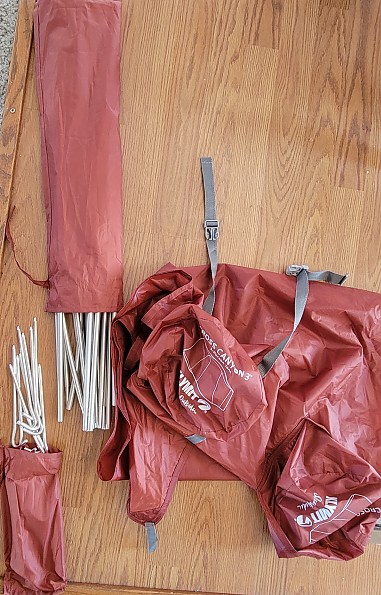 I bought the Klymit at Costco for $150—much less than the MSRP, which given the features of the tent the $220 price is NOT justified. I never put stuff in the vestibule as I don't like spiders, scorpions, snakes, ants... in my gear, so I really don't need a big vestibule. And the flapping that occurs because of the large vestibule is just too much for us. I hate abusing return policies, but this tent is just too many compromises to be worthwhile keeping and it will be going back. If you are looking for a tent with a big interior, a relatively cheap price, want lots of vestibule space and are willing to put in a lot of stakes, then this tent is for you - but not me.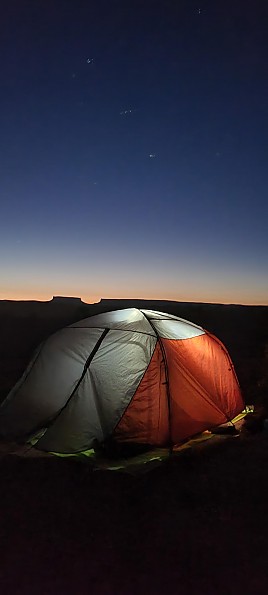 Experience
Only 2 nights with this tent, both were frustrating.
Source: bought it new
Price Paid: $150

Your Review
You May Like
Specs
Price
MSRP: $249.99
Current Retail: $259.95
Historic Range: $229.95-$259.95
Reviewers Paid: $150.00

Pack Weight
7.6 lbs / 3.4 kg

Pack Size
20 x 7 in / 51 x 18 cm

Trail Weight
7 lbs / 3.2 kg

Fast Fly Weight
5.1 lbs / 81.6 oz

Floor Area
44 sq ft / 4.1 sq m

Floor Dimensions
86 x 75 in /218 x 191 cm

Vestibule Area
27 (13.5 sq/ft x 2) / .5 sq/m (1.2 sq/m x 2)

Peak Height
52 in / 132 cm

Pole Construction
Aluminum

Mesh Fabric
40D Polyester Mesh

Fly Fabric
68D Polyester Taffeta PU / 1800 mm WR coating

Floor Fabric
75D Polyester PU / 3000 mm

Recently on Trailspace