Petzl Tikka R+

The Tikka R+ has been discontinued. If you're looking for something new, check out the best headlamps for 2023.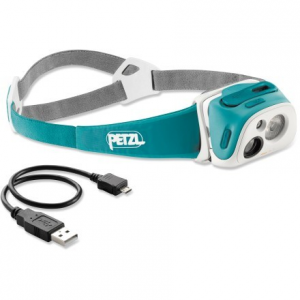 Sometimes the best time to evaluate a piece of equipment is when it is nearing the end of its useful life, and that is sadly what is happening with my Petzl Tikka R + headlamp. After 6 years of use, it is time to start thinking about renewing it, even though it has only given me good experiences.
Pros
Battery life
Rechargeable lithium battery
AAA battery compatibility
Comfort
Cons
Less powerful than the latest models
The plastic began to break over time
It is an excellent led headlamp, which can be used for different activities, depending on how it is set.
It has a PC program that allows you to adjust the different light modes, showing us in a simple way how its approximate battery life will be according to the chosen power.
Although it is a less powerful flashlight than the current ones, since it has 170 lumens, and in the market there are many options that double or triple its power, I think it is a great choice, since this power gives us a battery life excellent and allows us to carry out all kinds of activities without problems.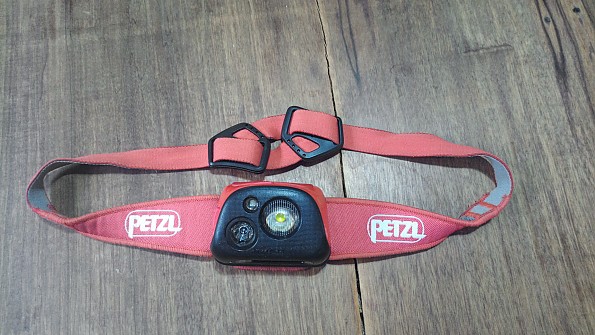 1) Range:  I have not really measured what its exact range is, but I can assure you that having used it in a large number of expeditions, rescues, and mountain trips, its power was never a problem for me.
2) Beam & Brightness: It is a headlamp that has a diffuse and open beam of light, but without losing the necessary luminosity to reach great distances in the center of the light beam.
3) Burn Time: In my case I usually use it in the low power Reactive Light mode. That is why I have always had very long battery runtimes, getting to use it in outings of 7 or 8 days without having to recharge its battery.
4) Power Source:  One of the great advantages of this flashlight is its 1800 mAh lithium battery, which allows us to use it for several hours with its Reactive Lighting technology that automatically adjusts the power to the light needs.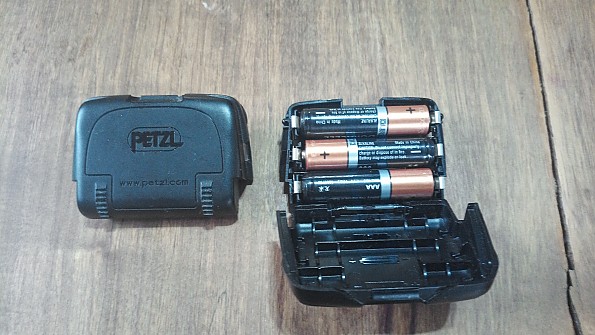 This battery has a led that changes color according to the% of its charge:
Green: 66 - 100%

Orange: 33 - 66%

Red: 0 - 33%

Flashing red: standby mode
Also, buying the battery adapter separately, allows us to continue using it with AAA batteries in case we have no way to recharge our battery.
It is important to note that when we use it with AAA batteries, the Reactive Lighting function is canceled.
5) Ease of Use: It is a very simple flashlight to use.
It has two buttons, one on the top and one on the right side. Keeping the upper button pressed, the flashlight turns on and with it, it passes power in the same mode.
With the side button, we will change the mode of use.
Reactive ligthing, Constant ligthing, Red led mode.
6) Weather: With its IPX4 certification it can handle very well any type of rain or snow that occurs on the ground. I would not recommend it for canyoning or waterfalls, where there is a lot of water pressure or it must be submerged. Regarding the duration of the battery in the cold, in my case this was never a problem, it has always behaved well in all the environments where I use it.
7) Modes:  This flashlight has three modes of use.
The first is the Reactive Lighting mode, where the power of the light beam is automatically adjusted according to the clarity of the environment, allowing us to save battery at times when we do not need so much power.
The second is the Constant Lighting mode, where the power is fixed and can be varied in three levels that we must have pre-set through the application.
The third is the red light mode, for those moments where we need not to be dazzled.
8) Construction & Durability: This is one of the low points of this headlamp, and it is what makes me want to change it anytime soon. Since after a few years of use the plastic broke on both sides (which I repaired with glue) and then in this last expedition the battery support was finished, leaving me at 5000m with a headlamp repaired with duct tape.
It is a flashlight that has been in use for 6 years ... so the question is the following, is it breaking due to the passage of time? or because of a design problem?
I really wouldn't know how to answer it.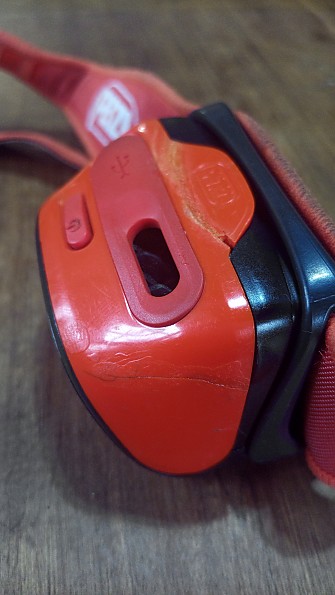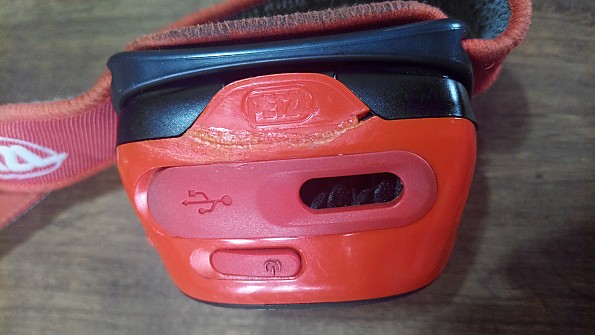 9) Best For:  It is a flashlight that I could recommend for mountaineering and outdoor activities in general, if I think that for trailrunning, there are more powerful and lighter flashlights that will be better for that activity.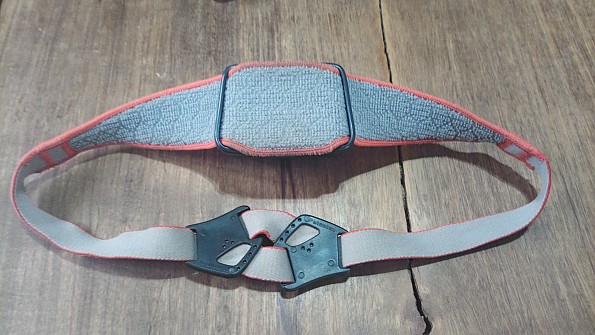 Source: bought it new
Price Paid: $63.96

Expensive but powerful and versatile compact headlamp — a huge leap forward from classic 3xAAA lamps. Not as powerful as various Chinese lights.
Pros
Excellent light beam pattern
Light level customization via PC software
Quite powerful for such a small lamp
Up to 24 hours of operation
Comfortable and stable headband, fits even infants
Replaceable Li-Ion battery with USB charging
Ability to use AAA batteries (adapter purchased separately)
Red LED
Cons
Expensive
A little bit bulky in comparison to classic 3xAAA headlamps
Peak power level and battery capacity may be not enough for some outdoor activities
Occasional flickering in Reactive Lighting mode
Very poor price-to-lumens ratio in comparison to Chinese lights
This lamp was discontinued by the manufacturer in 2016. Its direct replacement is Petzl Reactik, which is slightly more powerful, but lacks the power level customization feature. I'd not recommend it. Consider Reactik Plus which may be customized via phone app.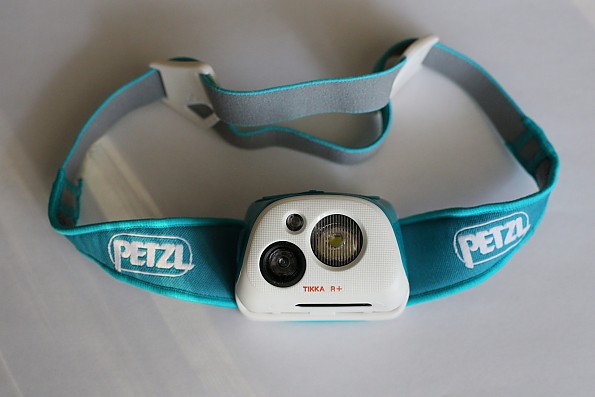 I've been an owner of Tikka R+ headlamp for more than a year. Recently I've purchased one more R+ for my wife, as we decided that this lamp is far superior in comparison to our old Tikka XP (1st generation). We mainly use these lamps for walking around in the camp as well as for various indoor and home applications. Unlike our old Tikka XP, the power and beam shape of R+ are also well suitable for trail walking, kick-biking, and other similar outdoor activities.
First of all, you need to customize the power levels via PC software "Petzl OS". The factory power settings don't have a lowest 24-hour power level, which is more than enough while used indoors, for cooking etc. My lamp always turns on in this mode. In total you set 6 power levels, 3 of them are "Constant lighting" and another 3 are "Reactive lighting", when the lamp automatically adjusts the brightness based on embedded illuminance sensor.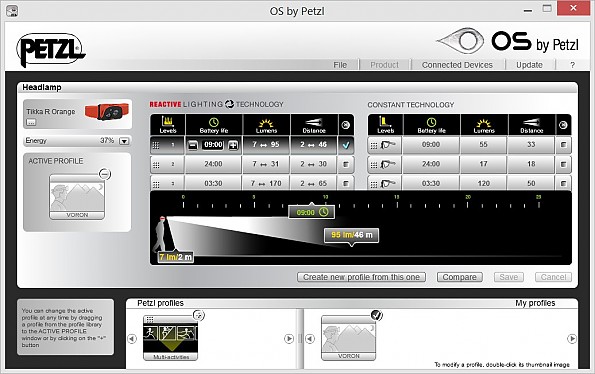 Depending on selected power level, you can get from 3h 30m to 24 hours of running time in both modes. In Reactive mode the light output is slightly higher, while in Constant mode you can reach the peak power by double click on power button. Again, even the lowest power setting is 100% usable for indoors!

I especially like the light beam pattern of this lamp. It is generated by complicated lens, not the cheapo Chinese reflector. Thus it is really wide, bright and without the annoying hot spot. The brightness gradually increases towards the far side of the beam. You can see it on photo at 120 Lm setting in comparison to Chinese flashlight, rated for 350 Lm. Note the much warmer color of Petzl LED.
The Reactive Lighting mode is nice, but not a state of art. The light output is changing too quickly, and sometimes the lamp is flickering when its sensor catches your breath in winter or you're looking at object with too contrasty or reflective surface. Also in this mode the lamp may shut down if you look at very bright light source. So it shall not be used on roads with traffic. But in general the reactive lighting is nice and [sometimes] useful feature.
Due to increased body size in comparison to classic 3xAAA headlamps, a new headband was designed for this lamp series. It is very stable and comfortable. Interestingly, even my son could wear this lamp, when he was less than 1 year old. By the way, with the child sleeping at my side, the red LED comes very handy, as even the weakest white light is too bright and may disturb sleeping people. The red light is much safer.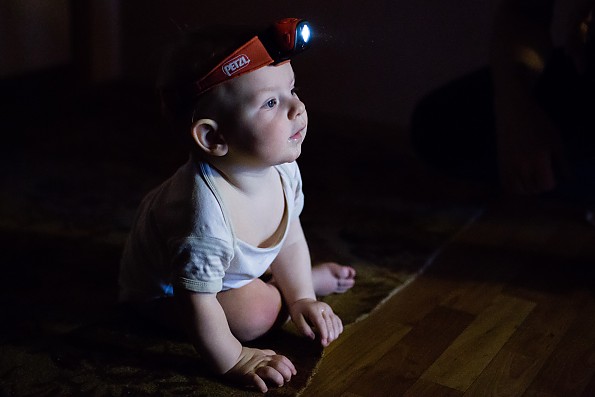 I never ran out of battery with this lamp, because I mainly use it on lower power levels. Charging it via USB is as simple as with any phone. I've purchased the inexpensive 3xAAA adapter with my second lamp, but it wasn't really necessary so far even in our 2-week backcountry trip to Finland. Remember that the stock Li-Ion battery holds 2 times more energy than 3xAAA Ni-MH. So this lamp has 2 times more energy than a classic compact headlamp. It is comparable to much bulkier 3xAA models with external battery pack.

I would recommend this lamp despite its premium price. Do not buy it if you need the most powerful lamp on market, in this case the Chinese 18650 lamps will suit you better. But this is a compact and very versatile model, a huge step forward from classic 3xAAA headlamps. The latter are useful only for camping and indoors, while the Tikka R+ is suitable for many outdoor activities, except the really demanding ones.
Source: bought it new
Price Paid: 75 $

The Petzl Tikka R+ is a high-end yet affordable headlamp option, ideal for the night crawler. It's rechargeable lithium-ion powered, reactive high output LED beam will ensure safe passage on the trail after the sun goes down.

The weight and balance of the R+ is supported by a super comfortable easy adjust elastic band. While not exactly sleek, the headlamp is not cumbersome, and would surely satisfy outdoor enthusiast illumination needs on the trail.
Pros
Rechargeable
Reactive beam
Comfortable
Interchangeable power options
Cons
Bulky
No strobe option
3.5 hour battery duration in reactive mode.
Small buttons
The Tikka R+ is best used for trail use. While not particularly sleek or light, it's 170 lumen beam illuminates the path up to 65 meters making night biking a possibility. While the headlamp does feature a red LED constant or blink mode, the lack of a main strobe makes signaling an annoyance to recreate by using your hand.  
The integrated 1,800 mAh lithium-ion battery recharges via USB making the cost powering up $0. Charging the Tikka R takes 4.5 in exchange for 3.5 hours of constant illumination.  While 3.5 hours may not be ideal for everyone, the lithium-ion battery can be replaced with a 3 AAA batteries for powering up on the go.
The two mode exchange buttons on the top and side of the unit respectively are small and somewhat confusing to operate at first. Using the Tikka R+ with gloves on is non-existent.
During my first adventure with the Tikka R+ I accidentally left it out in a passing 42 degree rainstorm. The Tikka R+ was no worse for the wear.  
What is possibly the most interesting and fun feature of the Tikka R+ is the Petzl operating system software. Therefore it is important to note that the Tikka R+ should be reserved for the tech savvy adventurer if you want to get the most for your money.
The software in the headlamp can be adjusted to create custom activity profiles for whatever activity you are partaking in making power optimization a convenient no brainer. The only oversight to the adaptive software is that there is no mobile app to perform customizations on the go, hardly an inconvenience all things considered. 
In the end, the Tikka R+ is an all around top quality, diverse, durable, high-tech head lamp suitable for most outdoor activities and all levels of outdoor adventure proficiency, just as long as you are tech savvy.  
Source: bought it new
Price Paid: $79.95

Great headlamp that excels in technical use. The reactive lighting is extremely helpful at conserving maximum battery for navigation even after 11 hours of use, and it also works great for down climbing through technical terrain.
Pros
Reactive lighting
Good battery life (11hrs of up to 170 lumens)
Comfortable
Cons
Expensive
A little tricky to figure out the button sequence
I have had this headlamp for six months and used it for climbing, running, and camping. The controls are confusing at first so make sure a staff member shows you how they work.
It's the second of Peztl's Reactive series of lights. Reactive lighting uses a photo sensor that picks up reflected light, and ensures a precise level of light. Never too dim, and never too bright. So if you look at your map you aren't blinded, and then you can immediately look up and see distant terrain features.
Camping it's got no real advantages aside from saving money with the rechargeable batteries. It has red light, and other handy features. Nothing major though. You don't really need or notice the reactive lighting much.
Running and hiking at night this headlamp excels. The reactive lighting works very well, and one thing I began to notice after using it in the lower settings is that because it keeps the light lower, never too bright never too dim it gives your peripheral night vision a chance to adjust. The beam is also well spread out so when you look around you feel like you are getting the whole view rather than just small little circle of light.
Alpine start with headlamps
I also recently climbed with it on an alpine climb that went much later than expected. Down climbing was made much easier by the reactive lighting as I could look at my feet, and then further and get perfect brightness every time. The Core battery was also handy; when I needed full brightness to navigate I could just turn it up, even 10 hours in and get 150m of light. Enough to navigate on the cloudy night. I kept it on the lowest reactive setting though to preserve battery.
However, the promised 3 hour reserve mode of 25 lumens never occurred, and 1 hour before dawn the light just flicked off. Very annoyed by that. I have since bought a second battery to take with me.
Overall it's comfortable to wear, works well, and is useful tool for running and climbing. The reactive lighting is cool, and very handy in those specific applications.
Source: bought via a "pro deal"

Your Review
You May Like
Specs
Price
Historic Range: $47.97-$79.95
Reviewers Paid: $63.96-$79.95

Recently on Trailspace