Petzl Zipka Plus

The Zipka Plus has been discontinued. If you're looking for something new, check out the best headlamps for 2023.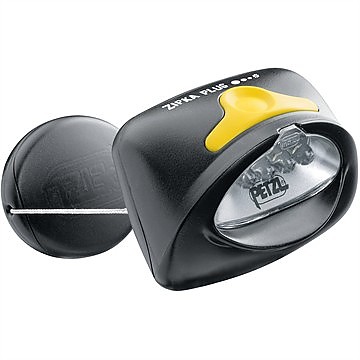 Pros: TINY, Bright, cleverly designed.
Con: light angle does not adjust.
General Impression: The overwhelming virtue of the Zipka Plus is its size. Smaller than 2" in every dimension and mere ounces has allowed me to take it everywhere; I rarely leave home without it. Fits comfortably in (men's) jeans pockets and in the palm for use as a hand light. I've used it on my bike, around the house, on the trail, and to read in a variety of circumstances (bed, buses, parks, and walking on the street). It's only a few times bigger than a keychain LED, and 100 times as useful.
Headband: The pull out headband grips very well, and will only slip during hard running or otherwise high-impact activities. Even then, I've never had it come off. The pad that sits on the forehead helps it stick a bit, and is pretty comfy. After six months of regular use, I see no wear on the string (which one might expect from friction with the reel).
Additionally, the thin string looks slightly less dorky than a full band (although I've still had some funny things yelled at me while biking through Harlem with a flashing light on my head).
Brightness: As advertised. I was surprised to find that in a living-room test the Zipka Plus was brighter than my roommate's Black Diamond NightRay, although certainly less diffuse (no parabolic mirrors on the Zipka). One interesting note is that the different brightness settings are achieved by dimming all bulbs, rather than turning any off. The lowest setting is perfect for reading without disturbing others, while the flasher is useful for biking, running, or impromptu raves.
Zipka Plus vs Zipka: I chose to spend the extra few bucks for the computer controlled settings, extra LED, water resistence, and because the other one just looks cheaply made. The rubber button is intuitive and preferable to pushing plastic back and forth. The case has been dropped plenty, with little to no damage to show for it. The water resistance of mine has (thankfully) yet to be tested. I recommend shelling out for these features.
Conclusion: I think this is the best light on the market for general purpose use. For outdoor use, there are obviously more powerful, more penetrating lamps for serious moonless night hiking, but the Zipka Plus will let you see around camp and keep you from walking into a ditch, and then some.
Price Paid: $30

Compact, light, and reliable.
Pros
Bright light
Multiple modes
Very compact
Lightweight
Looks better than torches with a bulky strap
Waterproof
Cons
Can be hard to navigate through its different modes with just the one button
Have used this nimble, compact head-torch for years now. Not only is it a good and reliable piece of kit to have with you on a camping trip or expedition, but it is also ideal for everyday tasks such as walking the dog.
I have grown to love this little torch over the years and it has proved itself to me on many a darkened occasion — I once dropped it in a river and when I managed to fish it out, it was still in perfect working order. It gives you plenty of notice when the batteries are running low (a red warning light appears) and batteries are easily accessible when you want to change them.
Its range of modes can be useful in a variety of different situations (eg: a flashing light for SOS, and a power saving dimmer mode) but are sometimes annoying to navigate through when in a hurry as the torch only has one button.
Overall, I would say this is an excellent piece of kit and would recommend a Petzl Zipka Plus to anyone in need of a reliable and good quality head-torch.
Source: received it as a personal gift

Pro: very light, small, 4 modes (save, normal, bright, blinking), tiny string which holds tight but does not make you sweat.
con: button to adjust modes and switch on/off is on top, unprotected.
after 2 or 3 months the lamp started to flicker when moving, went out or didn't stay in selected mode
I don't know whether this is a general problem or just my Zipka. When the initial flickering is over (sometimes you have to go through all modes several times till it keeps the selected one) it lights steady and seems to be perfectly fine.
I wouldn't rely on it but due to the size and weight you can always have it as reserve with another brand.
Pros: I have used for years now. I carry one all the time. Camping, cooking outside after dark, looking in an engine compartment, reading at night so as not to annoy the spouse with a light. Hands are always free and because of the string for a headband it is tiny.
Cons: At $30 I can't have one everywhere I want- so I only have 2 :(
Price Paid: $32

I've used this Petzl Zipka Plus on several backpacking trips, including a 10 day trip to Philmont.
I think this is the best light on the market for its size and weight, very small and I was quite surprised at how bright this light is.
Price Paid: $39

Your Review
You May Like
Specs
Price
Historic Range: $23.16-$47.95
Reviewers Paid: $30.00-$39.00