Platypus plusBottle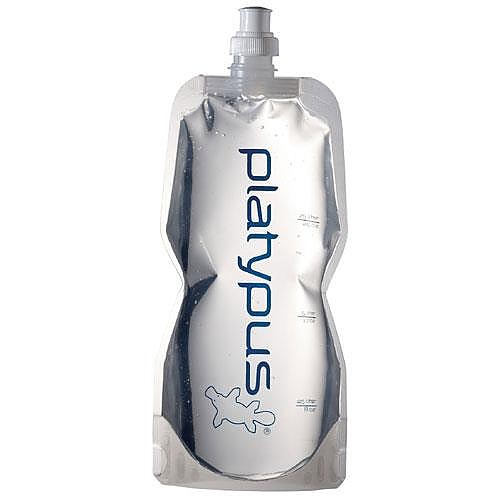 A water bottle that stores flat or rolled up, takes up virtually no space, is durable, and weighs just .8 oz. What's not to love!?
Pros
Lightweight at .8 oz
When empty stores flat, rolled, or folded
Takes up minimal pack space when empty
Durable, yet soft and pliable
Threads onto a Sawyer Squeeze water filter
Reinforced carry loop
1L capacity
Cons
Narrow opening can be hard to fill in some water sources
Potential to be punctured by a sharp object
Graduated markings only every .25L
Hard to clean inside—not ideal for flavored drinks
I decided to take the plunge and pick up a few of these for weight savings, and to replace the less than stellar bags that come with the Sawyer Squeeze water filter. These bottles stand upright when full or partially filled with as little as a few oz, and when empty can be stored flat, rolled, or folded to take up very little space in the pack.
While not as durable as a hard sided Nalgene, they are plenty durable for what they are—A water bottle. Unless you plan on using as a cutting board or to break open a pinata, I doubt this water bottle with fail while performing its intended duties. I have tested droping a full bottle from 6 ft and they seem to take it like it was nothing. I have full confidence that these bottles will give me years of faithful service.
I have elected to carry three of these. 1 for my water filter bag, and 2 to use as water bottles. This will save me nearly a pound and a quarter in weight when compared to the nalgene bottles I am leaving behind.
Construction:
Made of a soft, pliable plastic, but is thick and strong enough to tolerate the abuse of being in pack. You can squeeze it, crush it, drop it, toss it, and this flexible Platypus plusBottle keeps on kicking.
You can get a push/pull cap, or a standard closure cap. A hydration cap/hose hydration system is also available. I prefer the push/pull style, this is a more secure p/p design that your average gas station gatoraide bottle etc. It closes firmly and snaps closed and takes a steady amount of pressure to open. I would be very surprised if one of these caps opened while in a pack(unless your hiking buddy is playing a prank on you). I would recommend buying the push/pull cap, and if you want a regular closure cap then just use a standard soda/water bottle cap(these bottles use the standard thread pattern).
The push/pull spout provides a very good flow, and a very slight squeeze of the bag will give you as much water as you can handle.
1 Liter capacity with graduated markings every .25L/8.5oz. More graduated markings would be my preference, but it is what it is.
Over stuff your backpack and having trouble fitting a regular water bottle in your side pockets? You can make these bottles take on many different shapes and sizes by squeezing, rolling, folding, or simply laying them flat. This versatility can make packing them much easier than a hard sided container.
Use:
Well besides the obvious use of a water bottle, this bottle can be used as a make shift camp shower, or even a make shift heating pad. The company does state that you can put boiling water in it. So using it as a heater in the sleeping bag etc is also possible.
The one major downside is that it can be hard to fill in some water sources because of its narrow opening. This can be circumvented by using a cup to pour water in etc, however you can usually blow a little air into the bottle to open it up some to ease in filling.
No need to carry alot of water between water sources? Then roll these bad boys up and stick em in your pack and be glad they only weight .8oz each vice 6.5oz nalgenes.
Conclusion:
For the backpacker that wants to shed some serious weight by leaving those heavy Nalgene bottles at home, this is an excellent option. I have been very pleased with my Playpus plusBottles and give a 4.5 star rating vice 5 stars because of the lack of more graduated markings, and the rare occasion where it can be more difficult to fill than a wide mouth bottle.
Source: bought it new
Price Paid: $13.99

Handled, collapsible 1L bottle that's great for on-the-go trips. Want to eliminate the bulky Nalgene to use for backcountry trips, day hikes, or even working out in the gym? Then this is it.
Pros
Collapsible
Flat bottom, handle
Lightweight
Cons
Small lid
Not SteriPen friendly
I've borrowed this bottle on a trip last year to Glacier National Park. NOTE: The bottle I used was another variation of this pictured above. Instead of the pop top, it was just a screw top that opened directly into the bladder. I prefer the type I used instead of the one pictured with the review as I feel that the mouth piece can be easily clogged if the water is dirty.  
The plastic felt very durable and I didn't think twice with placing it or tossing it onto my pack. If you have a Nalgene that fits into your pack's side pocket, this will fit as well based on its size.  I liked the fact that the bottle, once filled, is wider at the base and smaller at the top.  
For those packs with smaller pockets, you can easily pack this upside down. When I used it in my daypack, I used this method because my pack was tapered (smaller at the bottom and larger at the top). I have not used the handle as a hook to my pack, but it seems strong enough. Personally I wouldn't want to use it this way unless the rest of the bottle is secure in a pocket. 
I carried one Naglene and one Platypus on this trip.  Using a SteriPen it was plenty for the 5-day trip. The one, small downside to the bottle for me is that it isn't necessarily friendly if you want to use a SteriPen to purify the water. Personally when I used this, I filled up my wide mouth Nalgene, used the SteriPen and poured into the bottle. A little more work (really, what 30 extra seconds?) for this ultralight packer's bottle.
The price of this plusBottle is a few bucks more than the regular, but the plastic feels different (thicker, more durable feeling) than the regular bottle. The regular bottle has that crackling sound if you fold it and the edges are sharper than expected. I found my skin between my thumb and index finger being rubbed/cut slightly; the handle and plastic from the plusBottle remove this possibility. This also has a handle which is easy to clip on to your pack or just hold between your fingers.  
Another good tip for any Platypus is that it can be used as a pillow of sorts. Fill it most of the way full and tuck under the head of your mummy bag. Tried it on two nights, worked for me. Again, don't overfill.
I'd recommend the plusBottle with screw off cap.
-----
UPDATE 11/13/14:
Since the original post of this review, I have switched my bladder preference to Evernew 2.0L bladders.  The reason for this being that the Evernew are compatible with Sawyer filters (both mini and the Squeeze which I own).
Both the Platypus and Evernew are comparable in the material and durability, but the difference in the threading makes the Platypus incompatible with the Sawyer. I have not reduced my rating because of this, as this factor, I feel, is more external from the performance of the plusBottle. 
Source: borrowed it

I sometimes use the Platypus plusBottle as a flask. Great for extra water on day hikes or road trips, very compact, not bulky and has been useful on many overnight camping trips. Bottle did not burst when I hiked into higher elevation, (thank god) but it did expand.
Pros
Lightweight
Not bulky
Versatile
Has a loop for hanging
Will go with (some) other Platypus accessories
A full bottle will stand upright
Cons
The first one I purchased was faulty
Hard to clean
Cap can easily be misplaced
Could be prone to sharp objects.
I currently own other Platypus products (Platypus Big Zip 2L & 3L bladder and I love it), so that's why I was more inclined to by the same brand's products.
I initially bought this bottle for an extra supply of water. It kinda turned into a communal camp flask. At the end of the day, there's nothing better than a little drink by the fire.
I would have rated this bottle higher, but my disappointment was when I first got it home and filled it up with water, there was a hole along the whole bottom seam. From now on I'm checking any kind of bladder / collapsable container at the store to save myself a 30-mile round trip in LA traffic. 
Why didn't I go for something else you may ask? Because, I always think about giving something a second chance. 
So, with a working container it holds 1L, I tend to give myself a little room for elevation pressure in case the bottle expands. Before I close the bottle completely I squeeze any excess air out. 
There are three pieces to this bottle; the bottle itself, push/pull cap, and cover. It's pretty easy to misplace the cover and you have to make sure you push the cap all the way in before storing it in your bag to prevent any leaks.

The bottle has a loop for convenience while drinking, you can easily hang it around camp or on your bag etc...So far it's been on a couple backpacking and camp trips. I would like to see what it would be like as a travel bottle on the plane. I will update my review when I do this.
The bottle itself is made of polyurethane so it has a little give when applied with some pressure. I was thankful a full bottle didn't explode in my bag when I hiked into higher elevation, because of what I had experienced from my first purchase.
I'm a little OCD and clean the bottle after every use. Because it's hard to get into the bottle with a brush I use a little water, soap, and some vinegar. I use a clip to hang the bottle upside down to get rid of excess water and then face up to allow moisture to evaporate. 
This is how I dry out my Platypus bottle.
Source: bought it new
Price Paid: $17

The same volume as any Nalgene without the trouble of a bulky bottle when empty or full.
Pros
Lightweight
Easy to carry
I carried this bottle along with two one-liter Nalgenes for Philmont. I only used for when I needed to carry extra water on the trail or at a dry camp so I only used it about half the 12-day trek. Every time I used it it performed exceptionally and even when I didn't have it filled it did exactly what it was supposed to do.
Unlike a Nalgene that takes up the same amount of space whether full or not, the Platypus plusBottle offers a handle and small drinking nozzle with the ability to fold up and reduce the space it takes up when empty. I never used the drinking nozzle the Platypus comes with at Philmont but it does work well.
I had no issues with the bottle leaking or ever failing me at any time. These bottles do seem to be a little bit pricey than regular bottles but for the space they save it is well worth it.
Source: bought it new
Price Paid: Cabelas

Just get one!
Pros
Collapsible
Room for a whole bottle of Cabernet Sauvignon
Stable base
Sturdy construction
Odor-free, taste-free
Cons
Expensive
Cap and nozzle can be tight
Hard to clean
I love these for backpacking, because they only take up space while they're in use. And I wasn't kidding about the Cabernet Sauvignon — this is a great way to transport a bottle of wine without fear of broken glass or the extra weight of a glass bottle. I mix up G2 in these, too.
Another reviewer mentioned that they're hard to clean, which is true, but for that reason I always store my Platypus bags and bottles in the freezer.
Source: bought it new

I am sensitive to plastic -- I absolutely hate putting a plastic bottle in my mouth. Thus I usually travel with a glass bottle. It is heavy, cumbersome and easily broken.
I am not an outdoors-person, I simply use this excellent bottle since it is light-weight and really has NO taste.
I love it and am seeking to buy a wholesale lot to use as giveaways for our upcoming national conference. I am the founder of The Annie Appleseed Project - natural therapies, lifestyle issues, complementary and alternative cancer therapies from the patient perspective.
Your Review
Where to Buy
Help support this site by making your next gear purchase through one of the links above. Click a link, buy what you need, and the seller will contribute a portion of the purchase price to support Trailspace's independent gear reviews.
You May Like
Specs
Price
MSRP: $12.95
Historic Range: $11.74-$91.95
Reviewers Paid: $13.99-$17.00

Recently on Trailspace