Podsacs Waste Management System L

The Waste Management System L has been discontinued. If you're looking for something new, check out the best waste bags for 2023.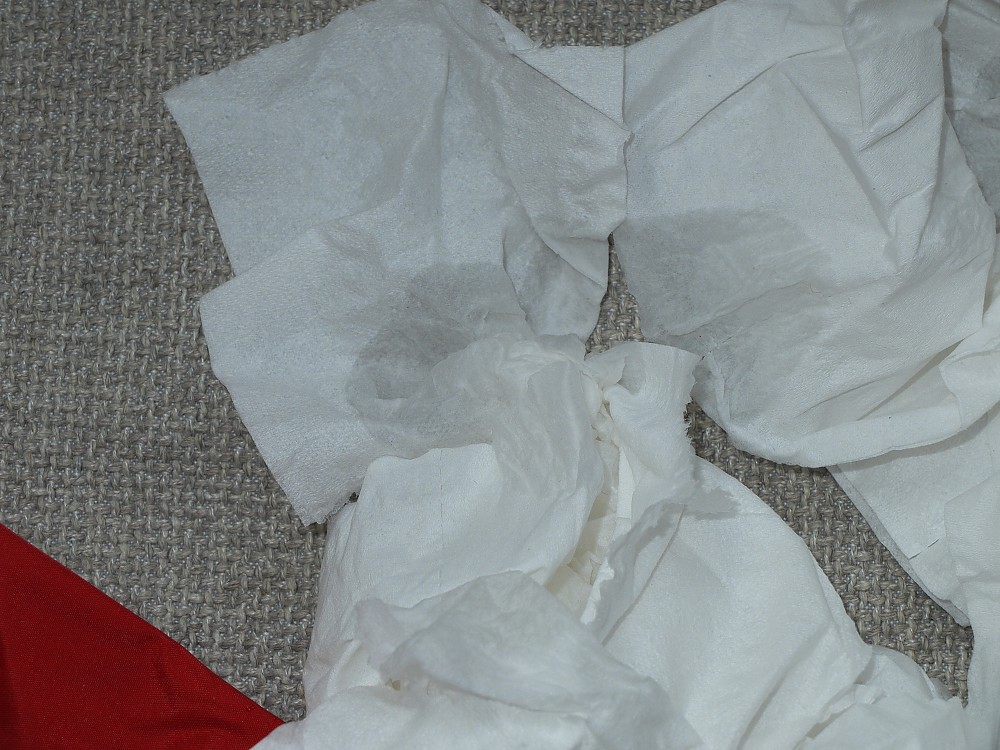 A dry bag with little features that make it ideal for carrying out both synthetic and human waste from the wilderness. Perfect organizational tool for managing waste and practicing the Leave No Trace philosophy. The product is well put together and more than adequate for the task.
Pros
Good build quality
Bright colour and warning make it easy to distinguish
multiple closures to prevent leaks
Attachment points to clip on backpacks
Good value
Cons
Can leak under more extreme conditions
So what are these?
Well basically they are a dry bag that has two enclosures to prevent leaking, and a bright red colour and warning sign not to be mistaken for anything else! They are intended for storing and carrying out waste from the wilderness, whether it be synthetic or human/personal if you are so inclined!
They cost about the same as a regular good quality dry bag but have several features which make it worth purchasing, in my opinion of course. A good solution for those who practice leaving no trace. I personally do not use them for their ultimate use of carrying out human waste (I believe that's sufficient to be buried), but they are excellent for carrying out food wastes and used up tissues which may stink up, leak, or dirty up the contents of your pack, especially if you put them in a plastic bag that can tear.
They come in three sizes, Small (1.5 L, 48g), Medium (4L, 68g), and Large (10L 95g).
I have purchased the small and medium sizes. The small is perfect for a day trip or lightweight overnighter, and the medium is perfect from 1 day to a week, depending on how much waste you make.
The first thing you notice about these bags is that they are indeed bright and easy to notice, and generally look like quite a handsome well put together product.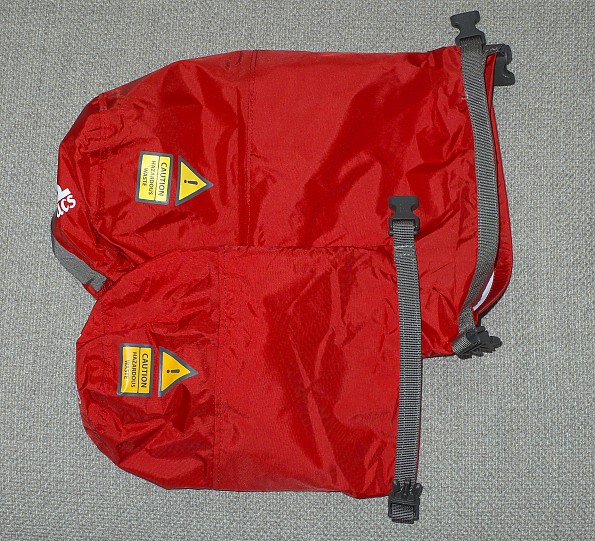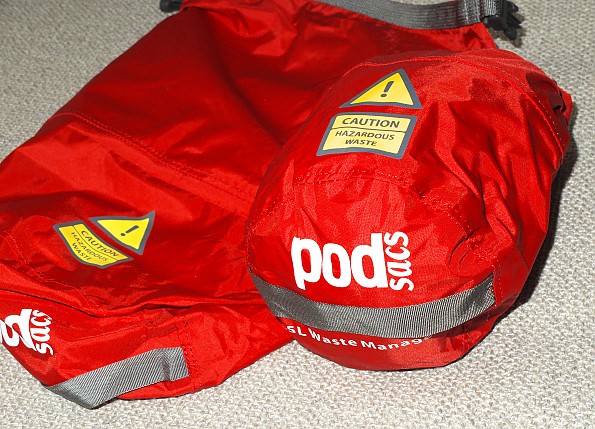 Although the warning is not really necessary, it is a nice, and "cute" touch.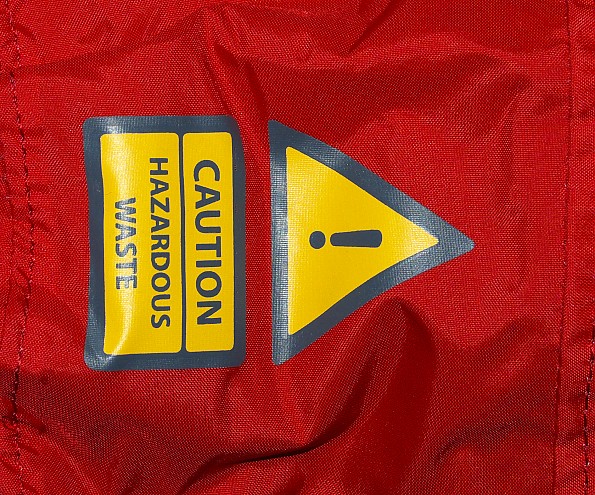 As you can see in the photo below. There are two closures to improve your odds of not having any waste leak out, or moisture getting in and having it run all over your gear!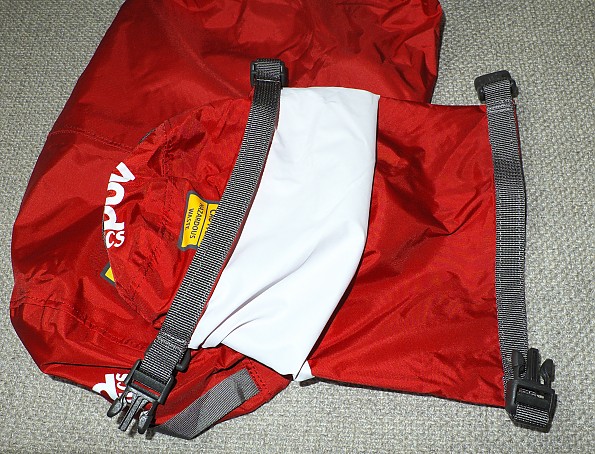 The buckles are substantially robust and they also feature rings which can be used to clip the waste to the outside of your pack.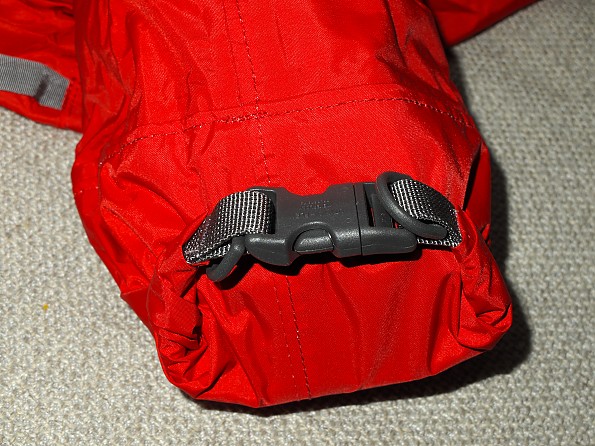 For my needs (and I imagine most everyone else) this is a perfectly adequate dry bag and it has some clever little additions which make it more amenable to carrying out wastes. Still I wanted to see just how far I can push these, so I decided to have some fun!
I used the small sac for this test.
I filled it with about 1L of water.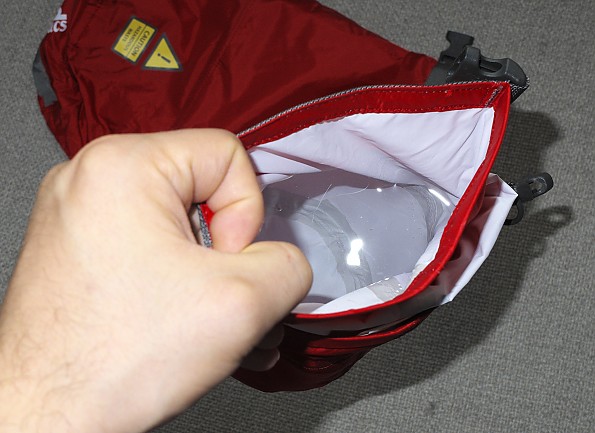 Sealed up the inner flap (only 3 rolls, that's the minimum recommended).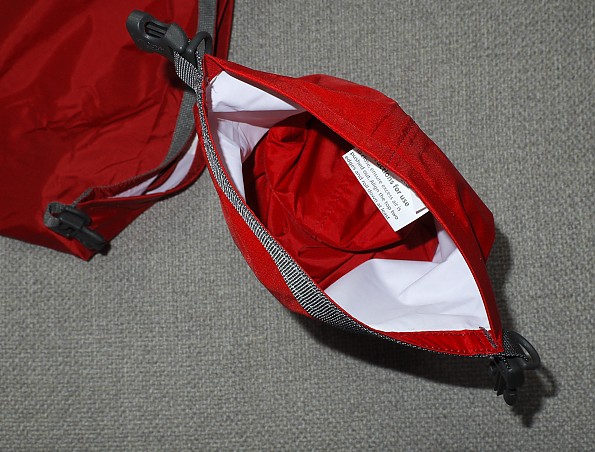 Filled the upper part with dry tissues.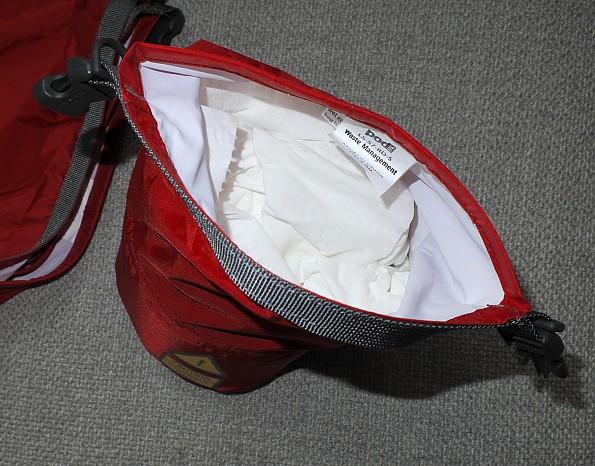 Held it upside down, moved it around with what would be the average amount of motion a backpacker would subject it to.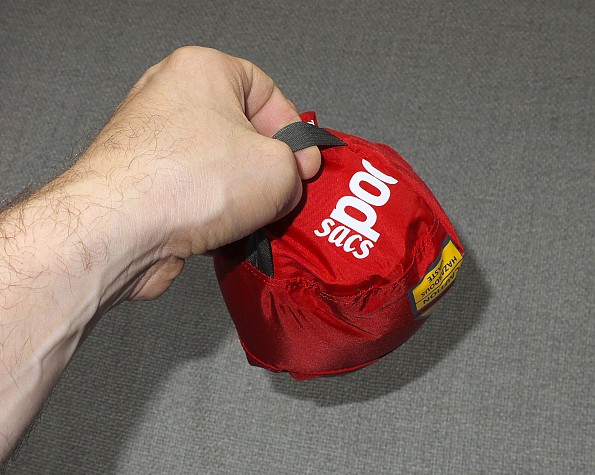 I then checked the tissues and they were dry.

Then I decided to push it. So I tossed it around like a football for about a minute!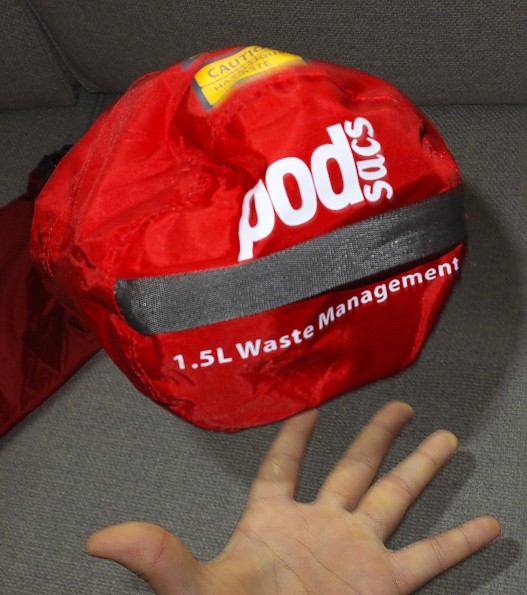 Unfortunately that cause a bit of leaking, as you can see in the tissues below. Again not a lot, but that pressure really tested the inner seam and likely the inner roll-top. Still it's impressive how little water got through even after the unreasonable amount of pressure and misuse I have put it through. Fairly impressed!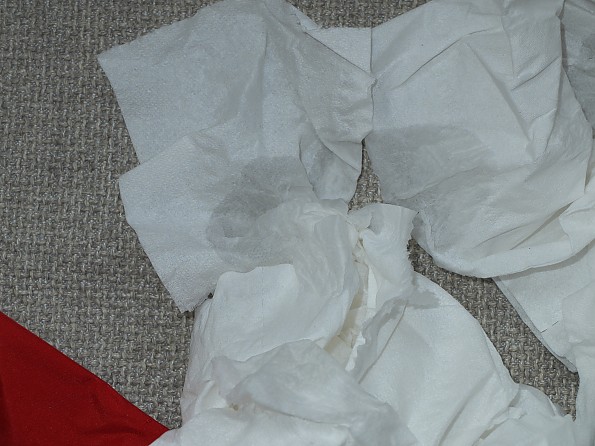 Conclusion: For the price, this is an excellent product, and for my personal use it's just about perfect. However, the reason I only gave it 4 stars is because I could get it to leak (I know a bit unreasonable). I feel, given the nature of the intended use, it would benefit from perhaps a tacky rubber lining on the lip of the roll-top (at least the inner) to ensure a better seal.
Either way, this isn't a glamorous outdoors product, but waste removal is something to think about, and this is certainly a great product and I highly recommend it!
Source: bought it new
Price Paid: $6 for the small, $10 for the medium

Your Review
You May Like
Specs
| | |
| --- | --- |
| Price | Historic Range: $15.95 |