Primus EtaExpress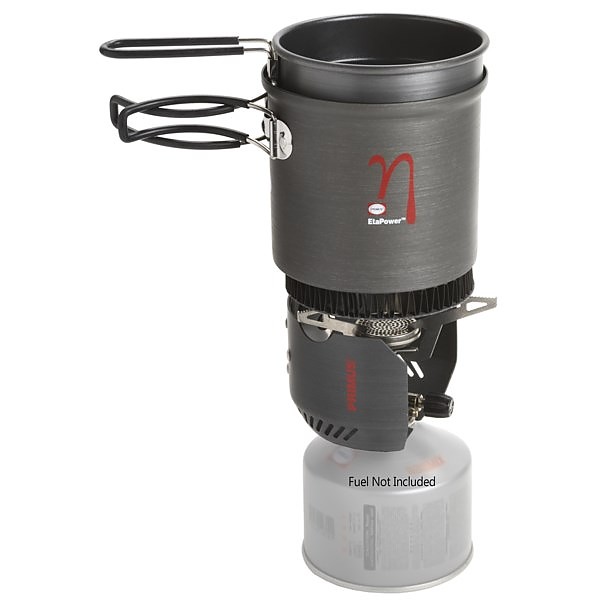 An excellent stove system which achieves a small footprint in your backpack and promotes lightweight backpacking and mobility. Our scout group has adopted this stove system and uses them extensively in all seasons. We have tested them in summer, fall and spring at camps and proven they work well at 4600ft in the Adirondacks in February winter season.

Pros
All items fit into one small carry bag, so light weight and small footprint is essential
Excellent for cooking meals with water content
Piezzo electric start makes this stove so easy to use
Kit comes with plastic utensils
Durability - non stick surface
Cons
Cooking meals without water — such as eggs, bacon — are a challenge due to the small frying pan size
System does not come with a tripod stand, essential for stability when cooking
Our Scout group has adopted the Primus ETA Express system as the mainstay for all of our outdoor activities.
The reasons are:
Everything (stove, utensils, windshield) all fit inside the 1 liter pot, which then fits into a small carry bag. This provides a small lightweight footprint in our backpack.

This system is anodized aluminum - which means that it is non-stick — essential for scout youth as they learn to cook meals for themselves. Gone are the days of scrubbing charred food from stainless steel pots!!
Setup:  Quick - intuitive
Ignition: Piezzo electric start has worked well for two years in all seasons.  Great!!
Cooking: With windshield very quick. Must stir food to avoid burning. Rapid boil time when the lid is placed on the post.
Wind: Love the integrated windshield. Easy to set up and works extremely well
Stability: This stove system would benefit with a wide tripod stand as the stability is totally reliant on the angle of the ground you cook on and the diameter of the gas canister. I use a tripod stand all the time.
Packability: Excellent — small, lightweight. Promotes portability
Construction and durability:  Our scout youth are still using these systems after 2 years and a dozen outdoor and weekend camps - including cooking at altitude in the Adirondacks. That speaks to durability!!
Conditions:  Winter season — Adirondacks - Mt. Marcy/Algonqion - Vermont - Mt. Washington, hiking in the Appalacian mountains.  General weekend camps — winter, fall, summer. 
Extreme conditions: Scout youth group use. Nine stoves shared with 18 youth. 
Conditions: Our scout group has used these stove systems for almost 2 years.
MAIN COMPETITION
Crux HE Weekend system.  We have this system as well.
Advantage of PRIMUS over CRUX SYSTEM:
Primus offer the

TREK Kettle

system.

Primus stove has the Piezzo electric ignition.

Primus pot set is larger.
Source: bought it new
Price Paid: $97 at Mountain Equipment Coop (MEC)

Great little stove! I mean cool!
Cleans like a charm, cooks just as well.
The gas-flow control knob is truly fully adjustable. You can crank it up to the point where it sounds like a rocket taking off, or turn it down to extremely quiet, almost silent, the point at which you may simmer your grub to your heart's content.
I boiled water on it in around 30 seconds but had to crank up the gas to do this. Manufacturer's boil time I would say IS accurate - about 2 minutes 30 seconds with the gas valve opened at a 1/4 turn.
Look, if you're looking for a solo stove, whether for a month or just a weekend, this is the stove! Look no further! Seriously, this thing is awesome!
If you are looking for an entire cooking setup, this is what I have, and would encourage something very similar:
- Primus Mesh Bag (holds)
- Primus 1Liter Pot & 1Cup Frying Pan/Lid (which in turn holds)
- Kitchen Millenium Partial Mesh Microfibre Cleaning Cloth (for Inner Pot Protection from Contents During Travel) (surrounding)
- Primus Express Stove in it's Mini-Mesh Bag (fitted with)
- Kathmandu Mini Packtowel (MSR Nano Lite Packtowl as a slightly larger alternative) (for drying dishes with) and
- Brunton Mi-Titanium Folding Spork (into)
- Primus Express Heat Shield (kept wrapped in its Plastic Bag)
- Jetboil JetFuel 100g Canister fitted with base facing stove, spork and packtowel (surrounded by Heat Shield) and lid facing side of pot
- Silicone Spatula Head rated to 500ºF fitted in next to Canister (for safely scraping the pot & pan without scratching)
- Biodegradable Camp Soap (2 oz bottle) set on top of the rest
Kitchen Concepts Microfibre partial mesh cloth folds over top, and with the lid placed on this assures 2 things:
- The fit is tight, eliminating movement (and thus noise during travel)
- No items in the pot are actually touching it (thus protecting the pot and pan from scratches)
Total Weight - 1.8 lbs
This setup, if you do some digging around for discounted or sale prices on each item, should cost you somewhere between $95-$115. (posted April 2009)
Price Paid: $79.95

After all of the hype over this stove, I'm pretty disappointed. But I'll start with what I liked about it:
It does have a feel of quality to it, as opposed to the more mass-production feel of the Jetboil. Here's the pros:
- Lever action piezo ignitor, that makes it easy to start without tipping it over, like the push-button variety.
- Valve opens up more than the Jetboil, giving you more control over the setting.
- The valve portion seems sturdily built overall. More so than the Jetboil.
- Titanium coating.
- Better sizing than the Jetboil. Same volume, but not so tall and deep. It will hold a 220g fuel canister.
- It has a handle, instead of a neoprene cozy.
- It has a real lid (not plastic), that doubles as a frying pan.
All sounds pretty good, but now for the test:
I didn't carefully record the test conditions, because I was mainly comparing the difference boiling with and without wind. But here's some approximates. The same conditions existed in both instances, except for the wind.
Air temp: ~75 deg
Altitude: 4974 ft.
Water temp: just cold tap water. Constant throughout test.
Wind velocity: 8-10 mph
Water volume: 1 Liter
Valve setting: one ¼ turn
Time to boil with no wind: 6 min.
Time to boil with wind: Don't know. After 25 min I gave up.
I tried to boil again, without wind, with the valve on full-blast, after about six minutes I gave up. Even on the low valve setting, the 100 g fuel canister was almost empty after about 37 minutes of burn time.
Conclusion: The windscreen is nearly useless. This is partly to due to the burner being placed so far below the pot.
I don't know what REI's test conditions were. You might be able to boil 14 liters at low setting, but not at 2:30 per liter. It's either speed or efficiency, but not both.
Other problems:
- Not very stable. Shaky, even in a low wind.
- It doesn't work with any of Primus' larger heat-exchanger pots. The pot support is too small. So if you need to boil larger volumes of water, you'll need to buy a separate stove. The Jetboil is much more versatile.
- The carrying bag is too small, making it hard to get the unit in and out. The Jetboil idea is better. You can fit pretty much everything neatly inside the unit, plus you have a cup.
- Pot support gets very hot, and takes awhile to cool down.
I'm going back to the Jetboil. Not perfect, but it's the best thing out there so far for my needs. For a detailed test of the Jetboil PCS and GCS, see the canister stove comparison on Trailspace.
Price Paid: $90

I picked this up after having fallen in love with the EtaPower EF. Except my backpacking buddy ran off to Scotland so I've been stuck heading out by myself. I purchased the EtaExpress soon after it came out and just took it out for a solo weekend adventure to Point Reyes.
Initially I was surprised by how small it was. The frying pan seemed tiny and I didn't know if it would even be functional. However I was able to make pancakes on my last day out. I was impressed with how much space and weight I saved over the EtaPower. It's definitely not as efficient but it does the trick. A 110 g canister of fuel lasted me three days and two nights with plenty of fuel to spare.
What I don't like: the nylon case (especially the smaller case holding the stove) doesn't seem very durable and the mesh lining the outside seems useless. I had issues with the piezo automatic lighter. Sometimes it didn't work. The little thing that blocks the wind doesn't do a good job of blocking the wind.
I am happy with this product. I'll definitely be using it for 1-2 person outdoor adventures.
Price Paid: $90

I used this stove on a 3 1/2 day hike on the AT in North Ga. It worked perfect! It was the easiest part of the hike. I heated water for my Mountain House meals, and for coffee and oatmeal. The igniter worked, so needed no matches. It's got a powerful flame, and boils water super fast. Fits nicely into almost any pack, and weighs very little. Great stove.
Pros
compact and light/reliable
For me, it was either this or a Jetboil.  I chose the Primus Eta Express, and I'm very happy with how it works on the trail.  Buy one — you'll love it!
Source: bought it new

This stove is the Jetboil on steroids. It boils water at least 3 times faster than my friend's Jetboil. It works great in moderate winter weather too, even though the Primus says otherwise. Overall, the best stove I ever bought.
Price Paid: $79

Your Review
Where to Buy
Help support this site by making your next gear purchase through one of the links above. Click a link, buy what you need, and the seller will contribute a portion of the purchase price to support Trailspace's independent gear reviews.
You May Like
Specs
Price
MSRP: $108.00
Historic Range: $35.95-$107.96
Reviewers Paid: $79.00-$97.00

Weight
418 g / 14.7 oz

Dimensions
115 mm x 140 mm / 4.9 in x 6.2 in

Output
2400 watts / 8500 BTU/h

Boiling time
2.5 min

Ignition
Piezoelectric

Suitable for
1-2 people

Temperature
above + 5° C