Primus EtaPower EF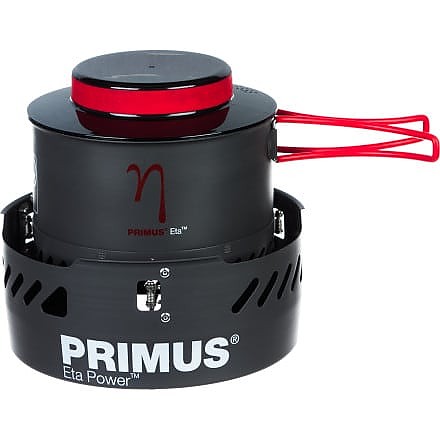 (Editor's note: in our January 2007 comparison of integrated canister stove systems, we mentioned the then-untested Primus EtaPower EF as a possible wild card. Since then we've had the opportunity to put the EtaPower through the same battery of tests we conducted with the other stoves. This review takes an up-close look.)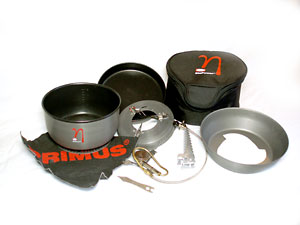 The $110 Etapower EF includes a stove base, burner, windscreen, pot, pan, carrying case/cozy, pack towel, pot gripper, and maintenance tool.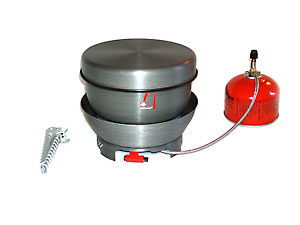 The assembled EtaPower EF base, burner, windscreen, pot and pan/lid.
For those of us accustomed to buying camp stoves and cookware separately, the act of unboxing the Primus EtaPower EF can be a bit overwhelming. The sheer number of parts included is initially overwhelming. Nested inside a zip-closure insulating cozy, the EtaPower kit includes a stove base, burner, windscreen, 2.1-liter pot, frying pan, pot grabber, pack towel, maintenance tool, instruction booklet, and promotional DVD. For $110 that's a fair amount of hardware.
But once assembled, the EtaPower appears neither overwhelming nor all that radical. All the components are recognizable: a burner with remote fuel canister attachment, a 2-liter pot and frying pan, and a circular aluminum windscreen. But put those parts together and they add up to one of the fastest and most fuel-efficient cooking systems on the market.
Building on the concept first introduced by Jetboil, the EtaPower pot features a built-in ring of heat-exchanger fins welded to its base. Those fins capture heat from the burner and channel it into the pot, heating your dinner instead of the surrounding air.
The EtaPower is closest in design and intended usage to the Jetboil GCS. While the GCS was designed as a group-sized addition to the popular Jetboil PCS, the EtaPower was envisioned from the ground up as a communal cook pot.  The 2.1-liter pot and included frying pan are large enough to handle cooking duties for a small group, and both feature non-stick coatings.
Because of its size and weight, the EtaPower is not appropriate for solo travel. However, Primus is planning to introduce a solo-sized stove, the EtaExpress, in 2008, along with a multi-fuel version of the EtaPower.
Boil Time
The heat exchanger on the EtaPower pot is designed to effectively transfer heat from the burner to the pot, while the windscreen keeps the heat where it belongs. Coupled with a hotter burner than those found on the Jetboil stoves, the EtaPower achieves impressive boil times.
Under controlled conditions and using a full canister of isobutene/propane mix, the EtaPower EF boiled its first liter of water in just 3:30.  The EtaPower's average boil time of 3:39 per liter in calm conditions is second only to the MSR Reactor among the integrated canister stoves we've tested.
As with all canister stoves, performance decreases with time, as lower fuel pressure in the canister delivers vaporized fuel more slowly to the burner. But unlike the other integrated canister stoves we've tested, the EtaPower EF features a remote canister mount, which allows you to operate the stove with the canister inverted. This setup delivers liquid fuel to the burner and restores full-canister boil times even when you're running low on gas or operating in cold weather.
The downside is that fuel efficiency will suffer somewhat. Also, the stove takes a long time (30-40 seconds) to stop burning when used with the canister inverted. Even after you close the valve there's liquid fuel in the line that must be vaporized and burned.
Fuel Efficiency
At an average of just 9.5 grams of fuel per liter boiled in calm conditions, the EtaPower is a serious fuel-miser. In ideal conditions, the EtaPower will boil 23 liters of water on a single canister. And as noted above, this efficiency comes without sacrificing boil time.
Primus claims that you'll save weight in fuel carried. This is technically true, but only comes into play on those trips where you'd otherwise be carrying multiple canisters between resupplies. For a typical weekend trip there's likely no weight savings (unless you're doing some very serious cooking). But on expeditions, extended winter camping trips, or other trips that require boiling a lot of water, those saved grams will start to add up.
Real-World Performance
The EtaPower's integral windscreen allows it to perform reasonably well in windy conditions. While the base/windscreen configuration doesn't entirely eliminate the energy-sapping effects of the wind, it provides adequate protection in most conditions.
In our tests in an 8 mph wind, the EtaPower was able to boil a liter in 6:04, using just 14 grams of fuel, comparing very favorably to the Jetboil GCS's 18-minute boil in the same test.
Compatibility
The EtaPower system was designed to be modular. The heat-exchanger pot is available separately and can be used with most other stoves, and other pots can be used with the EtaPower stove. However, the manufacturer warns against using the windscreen with non-EtaPower pots, which sit lower on the pot supports, closer to the burner head, and could cause incomplete combustion. Neither setup is likely to be as efficient as the combination of an EtaPower stove and pot.
Cooking
Despite its impressive boiling performance, the EtaPower is also clearly suited to preparing more complicated meals. It is the only integrated canister stove to come with a frying pan (Jetboil offers a fry pan separately), and the 2.1-liter pot is easy to handle and cook with. Both the pot and pan feature Primus's "Titanium nonstick" coating and are constructed of a fairly heavy gauge anodized aluminum, which helps eliminate hotspots and provides a more even cooking surface. There is enough fine adjustability at the low end of the output range to manage a decent simmer.
Primus advises against using the frying pan with the windscreen, requiring you to either forego the benefits of the windscreen altogether or to turn off the stove, wait for it to cool, and remove the windscreen between using the pot and the frying pan.
Ease of Use
The EtaPower initially appears somewhat complicated to put together, although after you've done it once the setup becomes obvious. Unfortunately for the less mechanically gifted the included instructions are not nearly as clear as they could be. They skip around through safety and usage before getting to actual assembly instructions, completely ignoring the crucial step of connecting the burner to the stove base, but dedicating four steps to attaching the gas cartridge. There are also a number of typos and references to components that are not labeled in the diagrams. (The EtaPower also comes with a DVD labeled "Instructional Films." Unfortunately it contains no instruction — just several short videos promoting Primus's various stove lines.)
The windscreen is held to the stove base by three friction-fit clips and can easily be knocked loose. But this also makes for quick changes when switching between the EtaPower pot and the frying pan or third-party cookware, which Primus recommends not be used with the windscreen in place.
Not surprisingly for a stove with sub-four minute boil times, the EtaPower's burner shoots up a very tall flame when there's no pot on the stove. As with any stove, it's a good idea to only light the burner after placing a pot on the stove, and to turn it off before removing the pot. Part of being fuel-efficient means lighting the stove only when you have a pot cooking/boiling. You'll find yourself using less fuel if you only leave the stove on where you're actively cooking or boiling.
A simple ring around the bottom of the heat exchanger makes it easy and secure to put the pot on the stove (or on any other stove). This design avoids a problem we've had with the similarly-design Jetboil GCS, where the heat exchanger fins can easily catch on the stove's pot supports, creating some awkward moments when moving the pot on or off the burner.
The EtaPower's features go beyond the GCS in several areas: the windscreen provides protection and heat retention that the Jetboil lacks. The remote canister and low-slung base make the EtaPower very stable and easy to adjust.
Conclusion
Primus appears to have found the sweet spot between boil time and fuel efficiency. The EtaPower EF is nearly as efficient as the Jetboil GCS, while boiling in about half the time. The EtaPower's windscreen, while not perfect, allows it to work commendably in conditions that stymied the GCS.
For extended trips that involve cooking for a group, the EtaPower EF's combination of size and efficiency make it a very attractive option.
****
EtaPower EF Vital Statistics
Weight (not including fuel)
Total weight: 1104 g / 2 lbs 6.9 oz
Minimum weight (burner, base, and pot): 520 g / 1 lb 2.3 oz
Typical trail weight (burner, base, windscreen, pot, pan, and pot grip): 824 g / 1 lb 13.1 oz

Packed Dimensions
Height: 5" tall
Diameter: 9" diameter 

Capacity
Pot size: 2.1 liters
Boiling capacity: 1.8 liters

MSRP: $110

Components
The EtaPower EF stove system includes:
pot cozy / carrying case (244 g)

2.1 liter anodized aluminum pot (261 g)

windscreen (115 g)

stove base w/ piezo lighter (108 g)

burner and fuel line (151 g)

pack towel (17 g)

anodized aluminum frying pan / pot cover (143 g)

aluminum pot grip (46 g)

steel wrench / maintenance tool (19 g)

instruction booklet (16 g)

instructional DVD (18 g)
A 220-gram or smaller fuel canister can be carried inside the pot, along with the rest of the components, although the fit is awkward and can leave some pieces rattling around in the pot.
Source: received for testing via the Trailspace Review Corps (Sample provided by Primus for testing and review)

This is hands down the most efficient stove I've ever owned. Proof? 5 weeks on the trail with one big can of gas. Used for coffee in the morning, hot lunch, dinner and more coffee. I even heated water for a few showers!!!
There are some downsides to the stove. It weighs a bit more than a lot of others stoves out there, but for a longer hike it evens out since you can carry a lot less fuel. The frying pan/lid/plate is a bit too thin, and frying anything in it can be a bit of a challenge. Luckily you can turn the heat waaaay down so if you have the time it is not a big problem. The last problem is the size of it. I takes up quite a bit of space in your pack.
But I found a way to make it all worthwhile! If you bring a smaller pan, that fits into the EtaPower, but is still big enough for the burner to fit into it, you've got yourself an oven. I've used for making chocolate cake, bread and even pizza. Just put a few small pebbles at the bottom of the main pan, put the smaller pan on top of them, put whatever you're cooking in the smaller pan, put the lid on, and fire up the burner. Turn the burner way down, and let things cook. If you add a small amount of water in the bottom of the main pot things cook a bit faster. No crust on the top of what you're cooking though.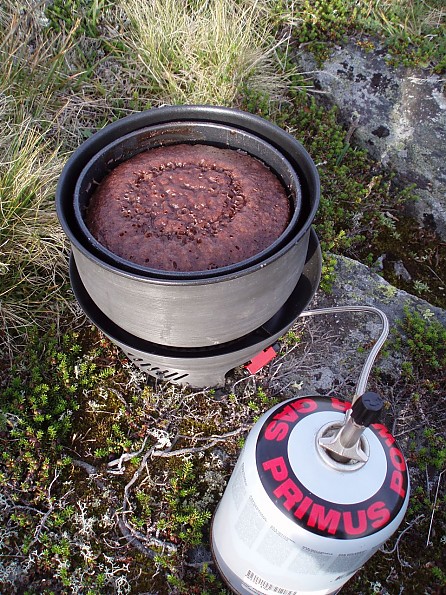 Price Paid: a lot!!! I live in Norway...

Just purchased this stove and spent 5 days in Yellowstone.
Overall I loved the stove. Boils water as fast as my buddy's new Jetboil and is much more versatile.
The insulated pouch is a great addition. We were able to get rice dishes half done on the stove, drop them into the pouch and they finished off perfectly - a big fuel and time savings.
This allowed us to get started on other dishes while the one in the pouch finished cooking. A great addition...I would recommend this as an addition to the trail version of this stove...I saw it on Amazon for about $12.
Also, I loved not having the fuel source away from under the stove - it allows the stove and pots to set very close to the ground - a great attribute on even slightly uneven ground. My buddy succeeded in knocking over his Jetboil full of hot water...what a mess.
Now for the downside...I used my Outback Oven with the stove and it worked perfectly (cobbler, cornbread, pizza, brownies, etc)...EXCEPT, it melted the plastic parts of Peizo switch located along the base of the stove.
I removed the windscreen to use the Oven and there was just too much heat for the plastic parts of this switch. I looked at using the Oven with the Primus windscreen in place, but it looked like it might direct too much heat to the edges of the Outback Oven pan and, since the damage was done, I didn't want to take a chance on burning my brownies!!
Now that I am home, I will give it a try to see if it will work with the windscreen in place. If not, I will figure out some sort of shield to protect the switch - an idea I have also forwarded onto Primus.
Another minor complaint - we caught trout to eat and tried frying them...the lid/frying pan that came with the set is so small that it was not really workable. I used the bottom of my Outback oven and worked fine except the heat is so intense at the middle of the pan.
I tried to use the head deflector from the Oven without the wire metal risers, but the deflector worked too well and the pan would not heat up. However, the central source of high heat probably a criticism of just about any backpack stove. Maybe I just need to catch smaller fish!!
Overall, the stove performed great and Primus has already sent me a new ignitor (great service!!).
I would recommend this stove to anyone that wants something more than a water boiler...the additional weight was a welcome trade-off to the versatility of this stove. A KEEPER!!
Price Paid: $100

This stove burns so hot and boils incredibly fast. The heat exchanger design on this baby is second to none. It is not small, however, and its designation as a stove for 1-2 only applies if you have the appetite of an offensive lineman in the NFL.
But if you are camping with anyone else, tell them to leave their solo setup at home and your ETA will take care of the rest. I've only tried this stove in sub-freezing temps, at 8k plus, and was surprised at its efficiency. I boiled snow in minutes (so fast, even at elevation) and was amazed at how low I could adjust the flame to keep a pasta sauce simmering low. The included case kept the cooked pasta plenty warm until the sauce was done.
As the temperature dropped to about 20 degrees at said elevation, the efficiency waned a little. I've since developed a neoprene sleeve for the fuel cannister and I have a thermal wrap for the hose. I'll be interested to see if that keeps the fuel temp up and maintains efficiency.
Despite its size, I was able to store a 250g isobutane can inside, along with some packets of instant oatmeal and all of the parts (including handle clamp). The included cloth designed to protect the pans from one another also doubles duty as a hot pad. I cooked two large meals for 4 (including coffee, tea, and hot-cocoa) and used very little fuel overall.
I could not be more pleased with the whole setup and I'm planning now to buy the ETA express (true solo unit with all of the excellent design features of the ETA Power). If you can afford it, buy the new Multi-fuel version of this stove. It's supposedly even more efficient and can handle even colder temperatures with its fuel flexibility.
Fantastic Overall!
Update: March 23, 2010
As a follow up, my last review commented on the efficiency waning a bit below 20 degrees. It may have a little, but the pasta that I thought should only take a 6-7 minutes to cook (Barrilla protein pasta-bow tie) takes 15 minutes plus to soften to ideal texture...so it was not the cooking system after further investigation (buying the pasta for a home-cooked meal).
Neoprene sleeves for the canister and fuel line neutralize the effects of freezing weather on efficiency, even down to single digits.
Price Paid: $54

I love this stove, I've been shopping for a new stove for a while and considered a Jet Boil, and I do a lot of cooking so I was going to get the pot also. It made more sense to get the Primus with a pot and a frying pan. It ended up being a lot cheaper than a Jet Boil, pot and frying pan. One of the things I like is being so squat I don't worry about it being top heavy and tipping over. The carrying case helps keep things nice and hot. Fuel lasts for a good long time.
This is a great stove but not perfect. Yes it does boil water fast but took a bit longer than the advertised time, but still faster than anything else I have used. Putting all the parts into the pot have scratched a bit of the inside, nothing bad. Now I put a cloth in it to protect the non stick coating.
One thing the Jet Boil has over this is weight, but I guess if I added in the pot and frying pan it'd weight the same. That is a trade-off that I feel was worth it. (FYI I was talking to worker at Wilderness Exchange in Berkeley and he told me that Primus actually makes the stoves for Jet Boil I just thought that was an interesting bit of info.)
BOTTOM LINE: It's a great stove highly recommended a bit heavy but worth it if you do a lot of cooking.
I have just used the stove around the house, so this is a preliminary review. It comes in a case, but I'll likely leave that behind - it's a little heavy and I don't really see an advantage in using it.
This stove is fast. I heated .5 liters of water in it and went inside to get the food laying on the counter in the kitchen. The water was boiling by the time I came back maybe 30 seconds later. It's somewhat noisy at full blast, but it heats water and food so fast, you won't have it on long.
I purchased this stove over the Jetboil because I wanted something that could simmer food and cook for more than just 1 or 2 persons.
The stove, pans, and fuel all fit inside its case and strike me as a little heavy, but the rapid cooking action is supposed to reduce weight for a trip due to fuel savings.
I purchased mine at REI. My first stove had dents in the pans. Check before you leave the store...
Price Paid: $110

Piezo-electric lighter broke immediately, but still a perfect group stove.
Pros
Pack bag is large enough to hold all cooking gear
Uses very little fuel
Pot is large enough to cook 1lb of pasta
Cons
Electric lighter
Fry pan is useless but not included anymore
Too many parts for boy scouts
This is a great group stove. With creative packing all of our utensils, dishes and clean up gear for a family of four fit in the bag with the stove. We do carry the fuel canister separately. We've flown to Yellowstone for a 16-day backpacking trip and used only one canister of fuel while boiling pots of water at breakfast and dinner.  
The only con is that it's too many parts for the rough and tumble Boy Scouts.
Source: bought it new

Wow! This is only preliminary, as I bought this for an upcoming week long backpacking trip on which there will be three of us. I've only yet used it on a winter day hike where I took along enough soup for several servings for two and some tortillas; not typical trail food.
This stove did wonders. The soup was warmed in no time and as we began to eat it I took off the windshield (which cooled quickly once the stove was off) to use the frying pan/pot lid. Warm tortillas were a welcome addition to the meal. To finish, hot water was made for tea and hot chocolate. The water boiled very fast (though the elevation was 8,000+ ft).
Quick and efficient though it may be, the drawback for some may be the bulk, but for my situation it is ideal.
Price Paid: $79.97

Great stove, but with its size and weight, I only use it for groups. Perfect for 4-5 people. Don't count on warming your hands on it though, it's so efficient, you can put your hands next to the pot, and not feel any heat coming up around it. Very fuel efficient, and I've never seen anything boil water faster.
Price Paid: $50

We just used our stove in the Grand Canyon. It boils water quickly and efficiently, however the ignition starter did not work at all. We practiced at home with the stove 4 times, and it worked like a champ...but when we needed it to work in the Grand Canyon, it did not. Luckily, as any camper would, we had a lighter and matches. It was a little disappointing in that regard.
Price Paid: don't remember

Your Review
Where to Buy
Help support this site by making your next gear purchase through one of the links above. Click a link, buy what you need, and the seller will contribute a portion of the purchase price to support Trailspace's independent gear reviews.
You May Like
Specs
Price
MSRP: $144.00
Historic Range: $67.96-$289.00
Reviewers Paid: $50.00-$110.00

Weight
830 g / 29 oz

Dimensions
210 mm x 210 mm x 135 mm / 8.3 in x 8.3 in x 5.3 in

Output
2000 W - 7150 BTU/h

Boiling time
2.5 min

Ignition
Piezoelectric

Suitable for
1-4 people

Temperature
generally down to +/- 0°C, temporarily -15°C

Recently on Trailspace