Primus ExpressSpider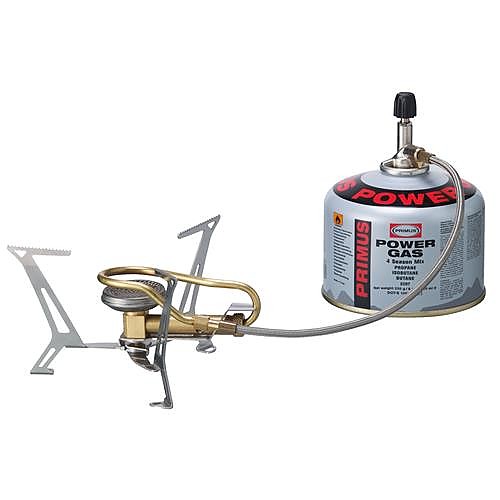 Primus's ExpressSpider is a small, lightweight (6.9 oz), affordable remote canister stove with manual ignition. It makes an excellent option for budget backpacking.
The ExpressSpider is easy and quick to set up and works well for simmering, boiling, and cooking meals like jambalaya and stir-fry.
The stove boils 1 liter of water in 4:30 minutes indoors (with a pot lid) and in 4:46 minutes outdoors (with windscreen and pot lid). It is easy to adjust to a simmer simply by turning the fuel valve knob.
The stove has one minor fault. The supplied aluminum ground protection disc/heat reflector that the stove sits on and folds for packing, is stiff and difficult to unfold flat, slowing down setup time and reducing stability.
Aside from the ground disc, the ExpressSpider is a great stove choice for backpackers on a budget who want a lightweight and efficient stove at an affordable price ($60 MSRP).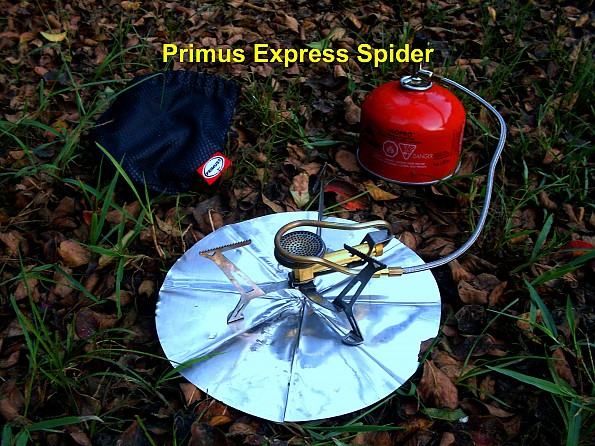 Pros:
Lightweight at 6.9 ounces (8.0 ounces with ground disc and stuff sack).
Packs small in the supplied stuff sack.
Fuel control knob is easy to operate and access.
Unfolding the legs and attaching the canister is quick and easy.
Affordable at $60 retail.
Cons:
No piezo ignitor.
The ground protection disc/heat reflector is stiff and if not unfolded completely flat does not allow the stove to sit flat and level.
After several uses the disc began to split along the fold lines.
Setup
Setup of the ExpressSpider was very easy, fast, and intuitive. You simply rotate the legs of the stove around until each leg stops on one of the three built-in tabs.
In almost three decades of backpacking and camping, I have used numerous white gas, multi-fuel, canister, and alcohol stoves, and the ExpressSpider is one of the easiest I've used. Setup can be done with gloves on.
The ExpressSpider has the same basic valve design as most remote canister stoves. Attaching the gas canister is simply a matter of first making sure the fuel valve is fully closed, then threading the canister onto the valve assembly. The stove is then placed on top of the supplied aluminum ground protection disc, which acts as a heat reflector.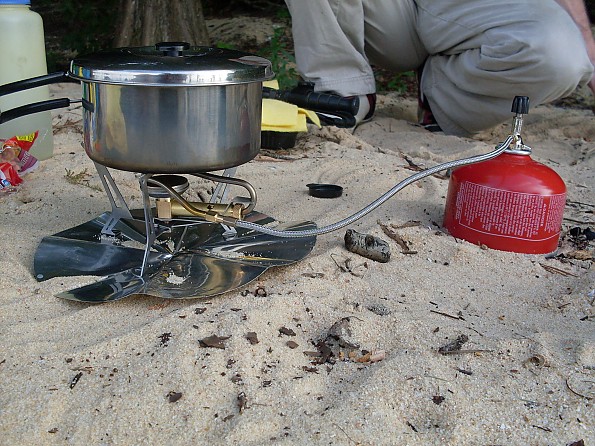 The remote canister design, which positions the burner assembly directly on the ground, instead of on top of a fuel canister, makes the stove stable, especially for large pots. However, using the supplied ground disc hampers this stability (see Ground Disc).
(Primus also makes the ExpressStove, a sit-on-top version in which the burner attaches directly to the canister, and that comes with, or without, a piezo ignitor.)
Flame Control
Lighting the ExpressSpider is a manual process that requires a lighter or match, since the stove does not come with a piezo ignitor.
The ExpressSpider is easy to light and adjusts smoothly from full flame to a steady simmer by simply turning the fuel control knob located on top of the canister and away from the stove. The fuel control valve is responsive and flame control is immediate.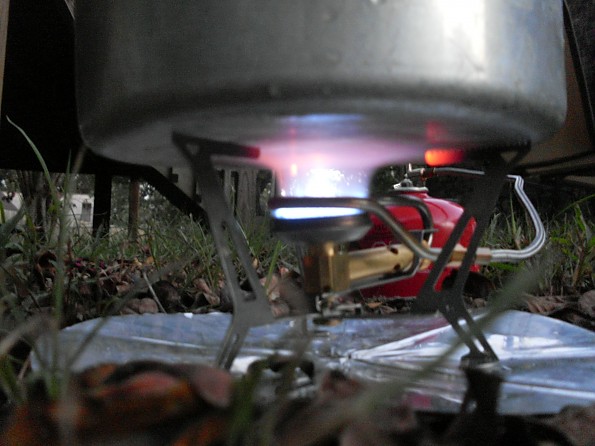 Boil Time
Primus claims a boil time of 4:30 minutes for one liter of water for the ExpressSpider and my indoor testing matched that exactly.
Outdoor times were more variable, as one might expect, but comparable.
Indoor Boil Time*: I found that the ExpressSpider met Primus's boil time of 4:30 minutes indoors for one liter of water, when using a pot lid, and just 17 seconds longer (4:47) without a lid.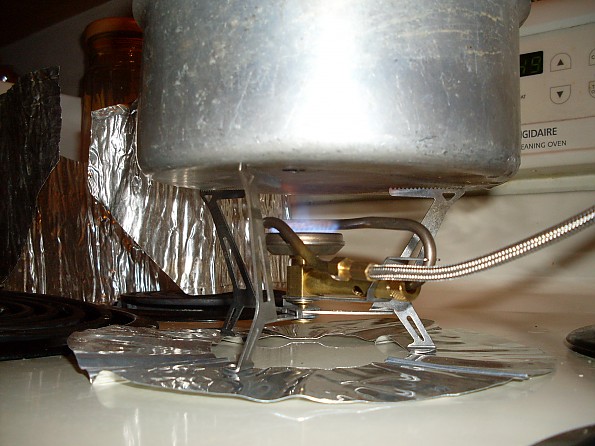 Outdoor Boil Time: In the field, I used the ExpressSpider on three separate day hikes and three separate camping trips in the warm and high humidity, low elevation summer conditions of South Carolina. Locations included forested areas and on the windy banks of a local lake.
I found the stove performed very well outdoors and close to, or under, Primus's claims during summer use. Field-testing with a lid resulted in boil times from 4:11 during an 84°F day, to 4:46 on a 65°F night.
Fuel Efficiency*
Not only does the ExpressSpider have an affordable purchase price, but it takes it easy on the fuel as well. I had good fuel efficiency with this stove by using a windscreen to block the wind and concentrate heat on the pot. (The version I tested did not include a windscreen, though Primus makes an ExpressSpider with windscreen.)
The ExpressSpider averaged 13.25g of fuel per 1-liter boil. That's 15 liters boiled per 200g fuel canister.
While I was unable to test the ExpressSpider in cold weather conditions, one potential advantage of this remote-canister design is that the canister can be inverted for better fuel efficiency in cold weather.
Cooking
The ExpressSpider performed very well both for boiling water and for preparing meals that required simmering. I cooked three lunches on day hikes, boiled several liters of water while in the field, and cooked several meals for two on camping trips.
The stove performed well with a variety of pots I cooked with, from my stainless steel mug up to 2-liter aluminum and stainless pots.
I did need to turn the heat down when using the small mug, and turn the stove off to avoid getting burned before reaching to grab the mug, but that would be typical of most stoves.
Aside from boiling water for tea, coffee, or freeze-dried meals I successfully cooked several meals including:
Salmon patties and jasmine rice
Fried Spam, eggs, and potatoes
Shrimp jambalaya
Pancakes and eggs with mushrooms
Stir-fry with brown rice
The stove was easy to adjust to a simmer by just turning the fuel control knob, which is located away from the burner.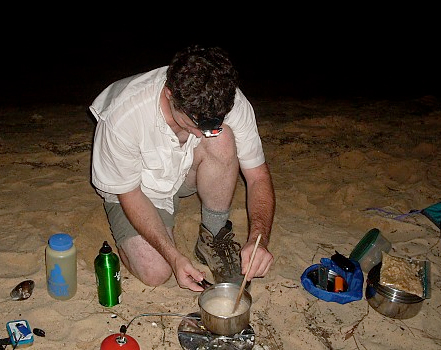 Packability
The stove fits in the palm of your hand and packs easily into its supplied drawstring bag. The stove also will pack into a Snow Peak 900 or similar size pot with room to spare. That's how I carried the stove securely in my backpack on hikes and backpacking trips.
Ground Disc
The only part of the stove that gave me any trouble was the aluminum ground disc mentioned above. The disc, which is stored folded in eighths, is difficult to unfold flat.
If not unfolded completely flat the disc remained wavy and did not allow the stove legs to sit flat and level, greatly reducing stability.
Placing a pot of water on the stove did not flatten out the disc. This caused the stove to move around or slip on the disc as a pot was placed on it, or as I started to stir the pot. This made the stove unstable and potentially dangerous.
I resorted to flattening the disc by gently stepping on it while it was on top of a solid surface. After doing so the stove would sit level and stable. However, after 20 uses the disc began to crack along the fold lines (see photo below).
Compared to a similar disc from my MSR WhisperLite, the ExpressSpider's ground disc is thicker (.09 mm versus .11 mm), heavier (19 g versus 15 g), and felt stiffer and less pliable.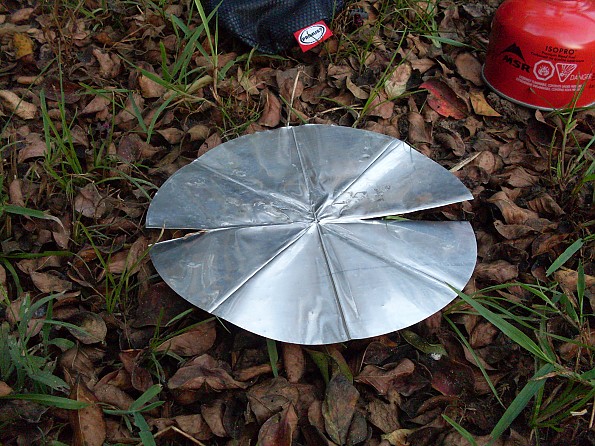 The ground disc is not necessary for the operation of what is otherwise a great little stove. In fact the ExpressSpider felt much more stable without the disc. Personally, I would just leave the disc at home or replace it with another model or a more flexible option, such as the aluminum from a turkey roasting pan.
Durability
With the exception of the non-essential ground disc, the ExpressSpider is well designed and sturdy enough for its intended backcountry use, especially for its light weight.
A redesign of the ground disc would make this an all-around excellent stove, especially for those concerned with weight and bulk.
I would recommend the ExpressSpider as a small, reliable, lightweight stove that won't break the bank for solo trekkers and small groups that want to boil water and cook meals.
* Testing Notes
Boil Times: To establish indoor boil times I performed several controlled indoor tests (68-70°F / 20-21°C), boiling one liter of 68-70°F (20-21°C) water in a 1.5-liter aluminum pot. I conducted three tests without the pot lid, and three with the lid, allowed the stove and pot to cool between tests, and averaged each set of tests.
Fuel Efficiency: To determine how much fuel the stove consumed per boil I performed 10 indoor boil tests with one liter of water, allowing the stove and pot to cool between tests. I started with a new fuel canister, and used a 1.5-liter pot and lid along with a windscreen.
Starting canister weight: 355g
Ending canister weight: 222.5g
Fuel consumed: 132.5g
Average fuel per boil: 13.25g
[Editor's Note: Primus provided a sample of the ExpressSpider for testing and review.] 
Source: received for testing via the Trailspace Review Corps
Price Paid: Sample provided by Primus for testing and review

Good all-around stove for three-season use.
Pros
Light and compact
Swedish quality :)
Cons
Can stop burning if snow gets into the burner
This compact white gas stove is the smallest stove that I own. It weighs 10 oz with the pump, which is 4 oz lighter than the MSR WhisperLite (14 oz with pump). It's also a bit smaller and all together perfect for one-person cooking.
The pump uses a leather gasket instead of a rubber gasket as in the MSR pumps. Either way, if you maintain them they will last for years.
I was drawn to the Primus brand partly because of the metal pump. I got my first WhisperLite for more than two decades ago and during this time I have only have had one or two accidents with the MSR pumps, which I think is acceptable.
The Primus pump does feel more solid, but the stove legs and general construction of the stove is a bit more fragile than the WhisperLite. Also, when I've used the Primus for melting snow I've notice that the burner will stop if the head get in contact with snow while the WhisperLite will just continue.
All in all a very good stove.
Source: bought it new
Price Paid: $65

This is seriously lightweight for a remote-canister stove. I measured it at 6.94 oz. Typical of Primus, it is well-built and finely crafted. It is a minimalist design for a isobutane stove, but is very stable and highly functional. 
First, this stove's ultra stable, tri-pod base design folds flat against the burner itself, making it impressively compact for packing. I disconnect the fuel line from the brass fuel tube that passes over the burner to compress packability even more. I can then run it (the hose) along the inside bottom perimeter of my 1300 ml Titanium pot (5.8" interior diameter and 3" deep) and place a 250g canister in the middle of it.
The stuff sack is nice and thick to prevent poke through and damage to my pack. If you packed a 125g or so cannister in a pot of this size, then you could nestle the stove inside the canister's bottom and close the whole thing up tight (4.3" interior height of cookset w/ pan as lid)
For the ultimate review of this stove, go here to Trouthunter's award-winning review:
https://www.trailspace.com/gear/primus/expressspider/#review21171
There is no piezo ignition so you need a flame source. I used a match for my cold-weather test conducted last night. It was calm, breezes less than 2mph, and 42 Deg F. Using the heat shield, I was able to bring 1 liter of cold water (40 Deg F) to a rolling boil in 6:30 using my aforementioned pot and lid. I did not turn the canister over, which was about half-full. While that time to boil is 2 minutes longer than claimed (and substantiated) by Primus, their tests were not in cold, moist weather.
The Express Burner design and precision crafting make for fantastic simmer control. I experienced no sputter or variations in output. The express burner is well know as being efficient, and I would be comfortable using this down into the twenties temperature wise.
The 6" pot was held firmly in place by the great spider, and in fact could have held a pot much larger. The total span of the spider is about 6.5" in diameter.
Others have mentioned (including Trouthunter, and very astutely) that the heat shield is not stable and splits apart at the fold seams with continued use. I counteract those problems in two ways:
First, I have ironed the shield flat so that it does not ripple and effect the stove's stability, and I store and pack it in between my Orikaso Fold-Flat Solo dinner set, thereby protecting its flat character. I will say that using the heat shield on stiff, wide blade grasses and ground cover will make it terribly difficult to stabilize the stove due to the product's low weight.
Secondly, I made a heat shield that has a center cut-out and slit so that it can be mounted off the ground but below the burner, allowing the excellent tri-pod legs to adapt to an uneven surface.
Overall, the Express Spider is a great stove for even the list price of $60. My only wishes are for an optional Piezo ignition. I may order one from Primus and install it somehow.
Price Paid: gift prize from Trailspace

The ground disk is a joke and avoid the windshield as if it is the same as the Primus Gravity it will very quickly crack into pieces.  Primus have acknowledged that the metal used is of poor standard but as yet have not replaced mine despite two follow ups. Years of excellent service with MSR so very surprised by Primus' lack of quality.
The legs do not lock into place and without a pot the unit can tip over due to the weight of the gas pipe. It uses the same burner as the Primus Eta system but unless you have the ETA pots with diffuser ring the flame is very small and upward so near impossible to fry and will burn food quickly using light gauge pots.
In all not a bad solution for a remote from cylinder burner for boil type meals but a major disappointment for frying or sticky type meals such as baked beans. Think carefully before buying as limited use.
Cheers Brett
Price Paid: $60

The Primus ExpressSpider is the next generation of backpacking stoves. At seven ounces, it is lightweight and compact to fit easily in a backpack, but cranks out 7150 BTU/h to bring water to a rapid boil in around four minutes.
Apropos of Primus stoves, efficiency is a big deal. The ExpressSpider is designed as a hose-mounted stove, with the gas tube circling the burner for more efficient combustion in cold weather while using fuel cartridges. This serves to heat up your food or water faster with using less gas.
As far as cooking dinner and boiling water for coffee or tea, I was pleased with its performance. I used a mid-sized Primus Power Pot and had a large can of baked beans heated before my stomach growled. I'm also pleased by its size, which is small enough for backpacking. It folds down to the size of a small hand and comes in its own little stuff sack. I fed two people with this stove (myself and my husband) but you can feed more, depending on the size of the pot you pair with it.
If you're a backpacker and ultra-light is your religion, the Primus ExpressSpider is a neat, compact, and stowable stove that is highly efficient. With the ExpressSpider, you'll carry less fuel and carrying less fuel means less weight.
But you will have to carry a lighter or matches because the stove has a manual starter. That's my only complaint. Those electric starters have made me lazy.
Price Paid: Pro deal from Primus

Your Review
Where to Buy
Help support this site by making your next gear purchase through one of the links above. Click a link, buy what you need, and the seller will contribute a portion of the purchase price to support Trailspace's independent gear reviews.
You May Like
Specs
Price
Historic Range: $33.73-$106.95
Reviewers Paid: $60.00-$65.00

Weight
198 g / 7 oz

Dimensions
105 x 85 x 55 mm / 4.1 x 3.3 x 2.2 in

Output
2000 watts / 7150 BTU/h

Boiling time
4.5 min

Ignition
Manual

Suitable for
1-4 People

Recently on Trailspace