Primus Firestick Ti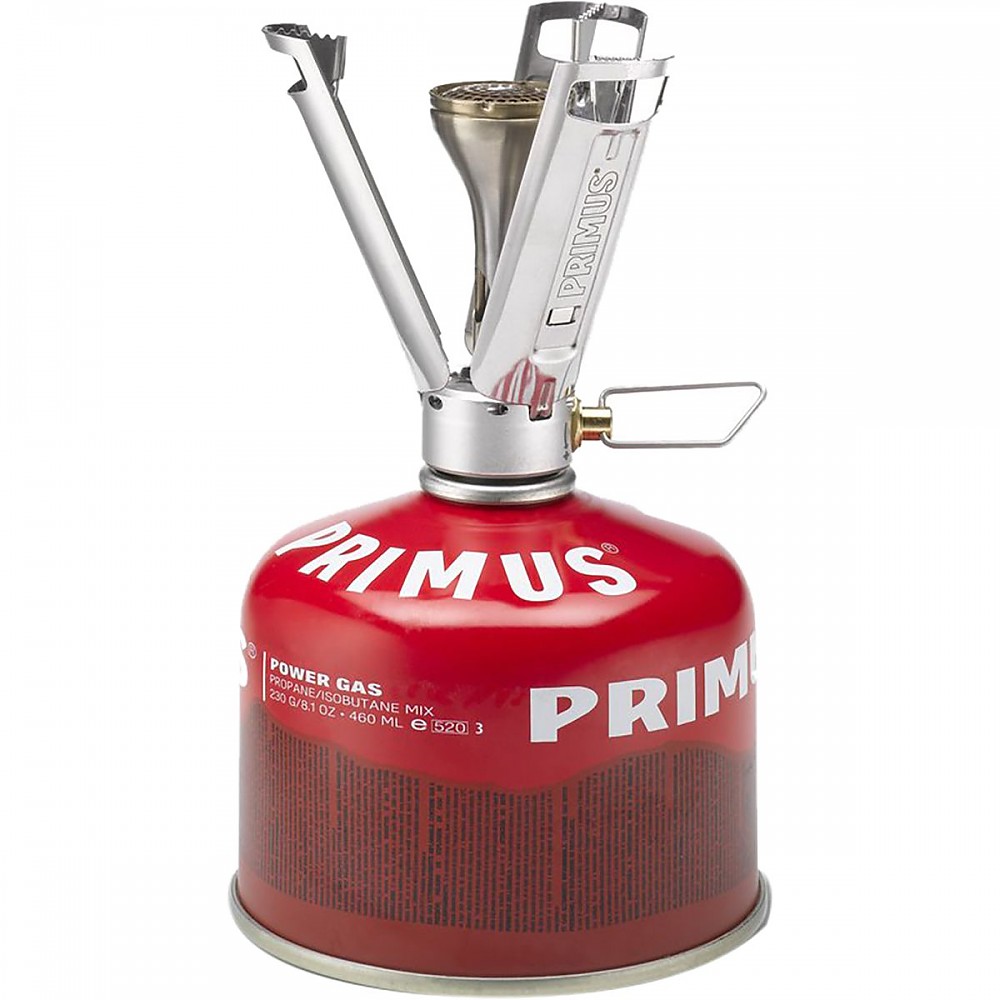 Primus started with a blank slate when designing the Firestick and Firestick Ti stoves. The goal was to create a packable stove that was easy to carry and delivered features like built-in wind protection and a pressure regulator to maximize performance. The result was a stove that looks a little different and makes a great water boiler that has some simmer capability as well.
Pros
Instant setup
Pressure regulated valve
Moderately self wind protected
Fast boiler
Some simmer ability
Wool stuff sack can be used as pot holder
Cons
Pressure regulator adds weight
Stove often comes unpacked inside sack on trail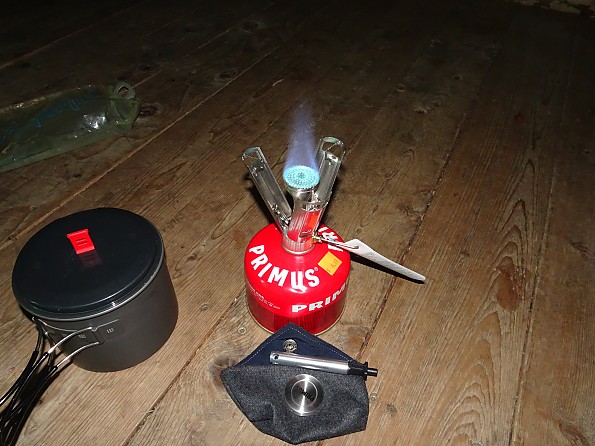 I had the chance to test the new Primus Firestick and Firestick Ti stoves over the last few months. Other than the material (stainless steel versus titanium) and corresponding weight difference (about .6 ounces or 16 grams) they are identical and performed exactly the same, so this is going to be a combined review for the most part.
Setup:
As you can see, setup is as simple as taking the cap off one end and attaching the other end to a canister. No fiddling with flipping or twisting pot supports required. Putting the Firestick stoves away is almost as simple, though getting the cap back on to hold the stove together takes a little attention.
Ignition:
The remote matchstick-style Piezo igniter Primus included adds 15 grams of weight, but eliminates the need for a lighter. The plastic grip and button were easy to hold and use in all conditions including cold and wet. It delivered a good spark and lit the stove with just a click or two each time.
Flame Control: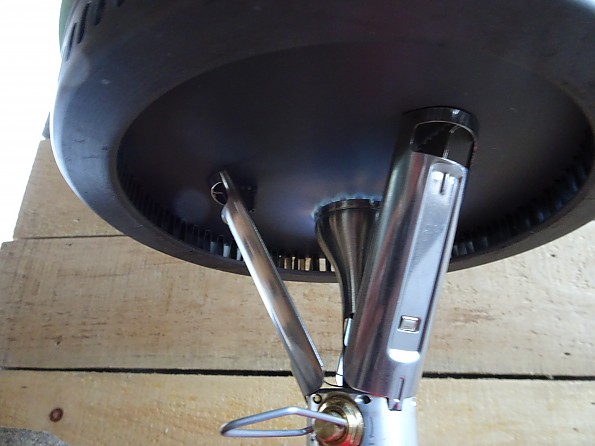 Most of my use was as a water boiler so I set the Firestick to blowtorch mode and went to town. I did do some simmer testing on a family trip using the GSI Escape 3L Pot and found it worked pretty well. I did have trouble finding the sweet spot between blowtorch and actually turning off the stove. The stove is definitely capable of simmering, but it may require some attention. A pan that distributes heat well is a bonus for this application because the flame head is narrow with the pressure turned down. Smaller pots of course would do better for small scale simmering.

Boil Time & Fuel Efficiency:

Normally I'd fill this section with some of my fun unscientific science experiments and their results. Due to supply issues I have had very limited access to canister fuel for over a year. For that reason I limited my testing to field use and a couple of timed boils in the back yard.

During normal use I thought the Firestick stoves got my water bubbling expeditiously enough even when starting with ice water. Backyard testing, using admittedly questionable fuel from a partial canister from who knows how many years ago, had an average 2 cup boil time of right about 3:20, burning about 5g of whatever was in that can.

OK, so I have no science for you, but on trail I felt I was getting fast boils and wasn't running out of fuel on long trips. Primus labels the stoves as running for 75 minutes on a 230g canister. Using their tested boil time of 4:30 that nets you about 16 boils or by my test time about 22.

Wind & Stability: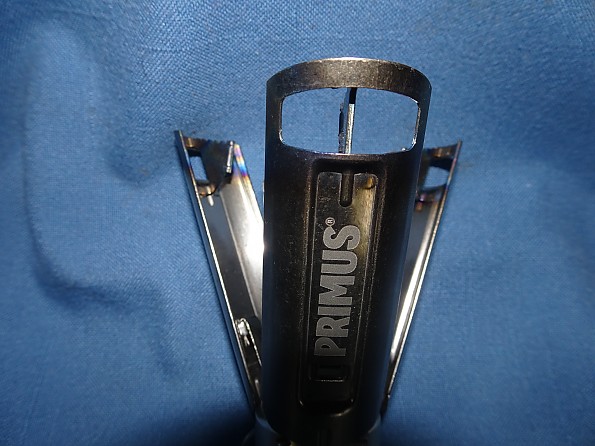 Primus designed the pot supports to provide some wind protection. The wide, curved exterior surface shields to just above the burner, then there is a vent to prevent scorching when using a cup or small pot. This created a moderate amount of wind shielding, especially if the stove was rotated so a support was facing the wind. In stronger winds more substantial shelter was needed, but for lighter winds this lessened the flickering effect most canister stoves exhibit in such conditions.
The pot supports have a little flex to them which I listed as both a Pro and a Con. My initial reaction was that the way they moved a little under pressure was a bad thing. Then, after continued use, I started to see how in some situations that flex helped keep the stove from wobbling or tipping when I moved the pot around. If the pot was bumped with the stove sitting on an uneven surface that movement of the support seemed to amplify the  instability. Not a major issue, just something to be aware of as a user.

Packability: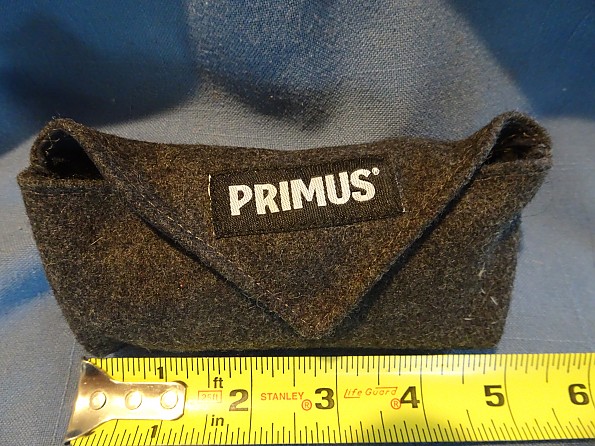 Making a stove that was easy to carry was one of the targets Primus was aiming for with their Firestick stoves. As seen earlier in the video demo, they are very easy to tear down and pack into the provided wool pouch. Even before being swaddled in wool there are no sharp pointy bits sticking out. The stoves pack down into a tube shape, rounded sides with flat ends. This makes them perfect for stuffing into a pack, pocket or inside your food bag.

Features:

The packability along with easy setup and takedown are the big features we've already looked at. Something we can't see is the pressure regulator Primus used to make the Firestick a four-season stove with the right fuel.
Even if you aren't pushing into the deep cold it helps keep the stove efficient as temps drop. I wasn't able to get my hands on one of Primus' Winter Gas canisters to do full winter testing, but I did push a can of their regular blend to its limits last fall and winter. As temps dropped below freezing and into the upper 20s the Firestick produced the same steady blowtorch flame and rapid boils. Pushing beyond the 20°f mark was too far for the three-season fuel blend. Even with the regulator the canister was soon "skunked", producing only a weak, wavering blue flame. To be clear, that is because of the fuel, not the stove's fault.
If I am able to continue testing the Firestick I intend on trying to get my hands on some of the cold weather canisters for next winter. As much as I appreciate my Whisperlite after many years of snow melting service I have to admit  using this stove would be a lot easier.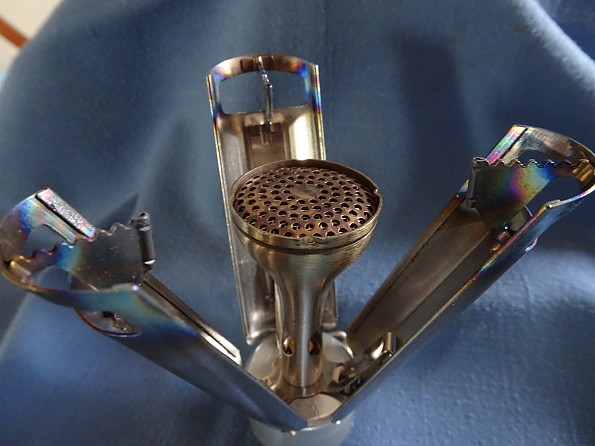 One other feature we need to take a closer look at is the burner head. Primus redesigned the burner to have a recessed head to stabilized the narrow flame in windy conditions. You've heard me use the word blowtorch to describe it several times because of this steady flame effect.

Conditions:

I primarily used the Firestick and Firestick Ti stoves on solo backpacking trips last fall, early winter, and this spring. I also used it to do some cooking on a family winter backpacking trip to a cabin on a nearby preserve. Some timed testing was done in the backyard as well.

Conclusions:

Primus had some goals when they started to design the Firestick stoves and for the most part I think they achieved them. The design definitely didn't rely on what others had done. The shape when packed into its pouch is easy to cram without catching on anything. Being able to set up and take down the stove without completing a complex puzzle is a major design win. Oh, and being Primus, they did this while making an efficient stove with a pressure regulator to handle a wide range of conditions.

The Firestick stoves seem to be designed for folks who judge gear on more than gram weight because the features and function are what they are about, not UL. While the titanium model does shave off 16 grams/.6 ounces, it still weighs 119 grams/4.19 ounces with piezo and pouch. The standard model weighs 135 grams/4.75 ounces. I did notice that even with questionable fuel I was getting 5g boils while the current popular 25g UL stove tends to use 7-8g based on their claims and user tests I've looked at.

As a boiler I really liked the Primus Firestick stoves. Very fast up and down with a fast boil in between works for me whether I'm having morning coffee or making a bag of dinner. The built-in wind protection seemed very functional in lighter winds, keeping the blowtorch flame steady. When hiding from stronger winds in a shelter or behind a rock the added protection from the pot struts continued to add benefit.

The only real issue I've had goes back to their blank drawing board design. It has a lot of advantages as we've discussed already, but it has one small weakness that some may find annoying. The cap that holds the folded pot struts together when storing the stove is rarely still in place when I take the stove out of my pack. The spring loaded struts pressing out against the inside of the camp are all that is holding it together. When the struts are compressed in the pack the cap comes loose. I am not sure it makes any difference in terms of function, but I am also not sure how someone didn't discover this when testing the design leading to an improvement.
There is one other possible issue with the cap; losing it. It is very light and small. Just the sort of thing that can get knocked into the weeds without noticing. I wondered if a tether might have been a good idea to keep it from getting lost.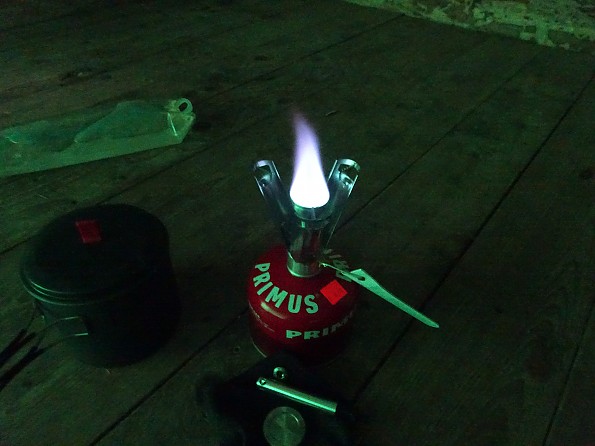 OK, so I think you can tell that I had to reach pretty far to find something to complain about heh. Primus has been making stoves a long time with a focus on function and reliability. I think they have done exactly that with the Firestick stoves. Folks who are only interested gram counting have stopped reading long ago, but for folks who care about function and performance these stoves are definitely worth a look.

On the stability issue I mentioned, I'm moving more towards seeing the flex in the supports as a benefit than a problem. I think I was surprised at first, but now that I am expecting it, there's no real issue. I still wanted to mention it though so that folks keep it in mind.

From my simmer testing I would say that these stoves can be used for that purpose, but doing it on a small scale is probably going to work better. A small pot or cup could be kept at a simmer well I'd think, but my attempts using a larger pot didn't produce great results. The flame head at simmer level is quite small so spreading that heat was a challenge, even when using the GSI pot with a heat exchanger. I found myself going back and forth from too little heat to too much heat as I attempted to adjust the flame.

As a boiling stove I found the Firesticks to do a great job of making hot water fast. The pressure regulator seemed to maintain efficiency even at the end of a can of fuel and definitely helped in lower temps. While neither model is exactly an ultra-light stove because of the hardware involved, the resulting fuel savings are noticeable.
Four-season use with the right fuel could see these stoves being powerful snow melters. That is where the pressure regulator would combine with recent advances in canister tech to keep pumping out fire. Folks who are gram conscious will want to consider investing in the titanium model, while those using the stove for car camping or other less weight sensitive pursuits will be happy with the standard model.

Overall I really was sort of surprised at how well the Firestick and Firestick Ti stoves worked for me. Seeing the initial design I was tempted to think of it as something to catch the eye. On using it the function of the design made sense for the most part. The cap coming off in my pack bothers me from a design perspective, but didn't cause any problems.
The actual fiery burning part of the testing experience showed that the important parts did their job very well. I admit that when testing stoves I carry a backup just in case, but I soon stopped bothering. I think I'll leave it at that thought; the Primus Firestick and Firestick Ti are solid stoves to be relied on to keep working and give a fuel efficient burn.
Background
I have been using canister stoves for many years and own at least 8 I can think of off the top of my head, maybe more.
Source: received for testing via the Trailspace Review Corps (Samples for testing and review provided by Primus)

Your Review
Where to Buy
Help support this site by making your next gear purchase through one of the links above. Click a link, buy what you need, and the seller will contribute a portion of the purchase price to support Trailspace's independent gear reviews.
You May Like
Primus Designs Packable Firestick Ti to Fit in any Pocket
Ever wanted a canister stove to be more packable? Or wonder why they all look the same?
Primus set out to challenge the format and packability of all other sit-on-top stoves, including its own, with the innovative and unique Firestick and Firestick Ti.
Primus kicked-off its design process with an in-depth market analysis. "Just by visiting well-stocked outdoor shops and examining the selection of stoves, we could see that all competitors—including us—look almost the same," says Primus. "Our takeaway, to change the way of how to use components to make a new stove that works as well, if not better, as the current market assortment."
One of the main issues Primus discovered was how to pack and unpack stoves while hiking. "When comparing traditional compact canister stoves, they almost all look the same—small but not easily packable," says Primus. "They have pointy parts sticking out and most are fragile, or at least they look fragile. We wanted to challenge the standard sit-on-top format by developing as compact of a unit as possible."
Each detail was designed to make the stove as compact and light as possible for when space and packing is top-of-mind. Folded, the Firestick is shaped like a cylinder so it can be easily slipped into any pocket or backpack for easy access.
The Firestick Ti (titanium) and Firestick (stainless steel) feature a built-in pressure regulator that adjusts the flow of gas and ensures optimum heat output at varying temperatures. A new recessed burner allows for a narrow flame to excel in windy conditions. Wide pot supports form an integrated windscreen when folded out to further help them excel in a variety of conditions.
A standalone Piezo igniter is included with the stove, to make it easy to light regardless of the weather, and a custom-designed wool storage pouch doubles as a potholder.
Backpacking, bike-packing, boating, whenever space is a concern the streamlined Firestick is intended to be Primus's top model for those looking for form and function at its peak.
"We are proud of being able to challenge the traditional format of sit-on-top stoves," says Primus of its Firestick and Firestick Ti. "We were able to think of an innovative way to combine the pot supports and wind shield into a single streamline unit."
The Primus Firestick is also available in a stainless steel version, the Firestick.
Specs
Price
MSRP: $119.95
Current Retail: $119.95
Historic Range: $74.69-$119.99

Weight
3.1 oz

Dimensions
1.4 x 4.1 in

Output
8530 BTU / 2500W

Feeds
1-2

Included with stove
Piezo ignitor, wool case

Recently on Trailspace