GSI Outdoors Escape HS 3L Pot + Frypan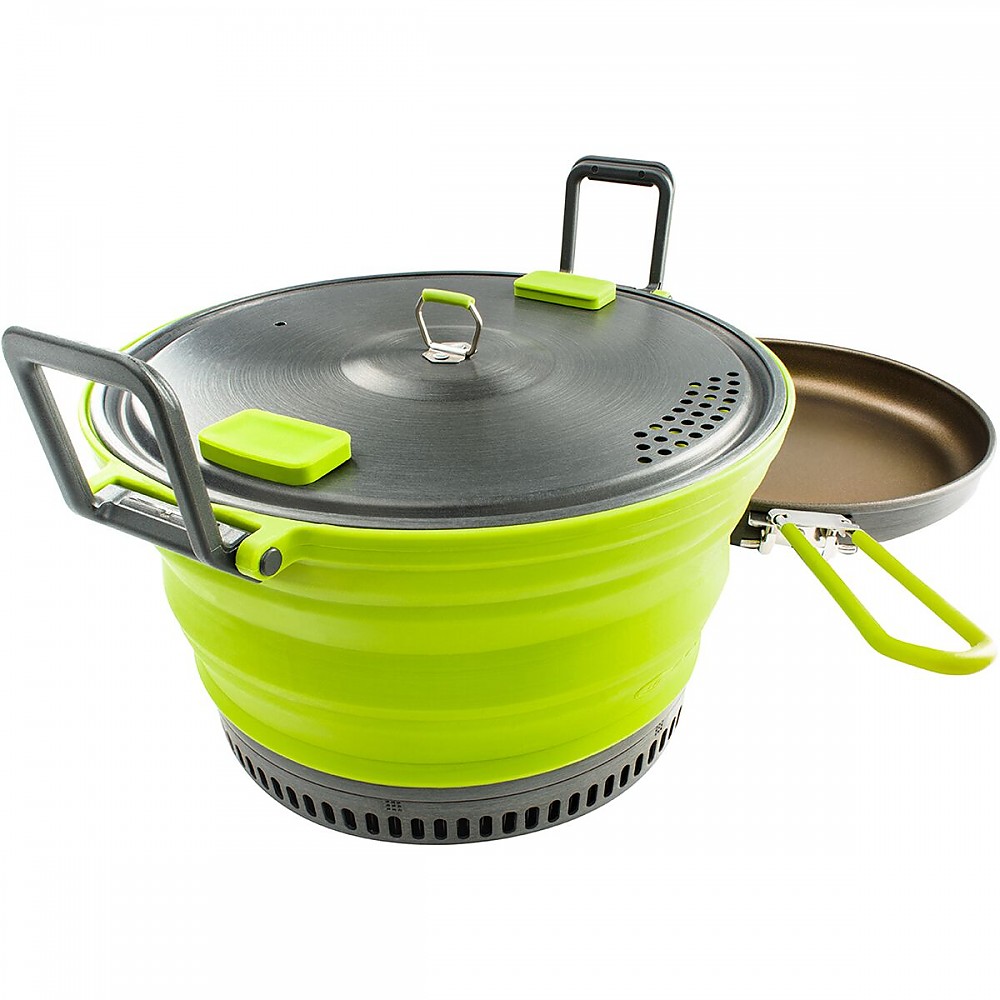 GSI paired a 3L collapsible nylon pot with a 9-inch frying pan to create a compact combo for folks who like to do some actual cooking in the outdoors. Hard anodized aluminum pot base and fry pan with a durable Teflon non-stick coating, plus the pot has a built in heatsink that really gets things boiling faster. Great for front country use. Those willing to carry a little weight will enjoy the benefits in the back country too, especially families or groups cooking together.
Pros
Large pot and pan but packs much smaller
Heat sink reduces boil time
Lid fits both pot and pan
Measuring marks on pot
Fry Pan folding handle with lock
Cons
Heavy
Fry Pan handle lock can be annoying
Potential odor retention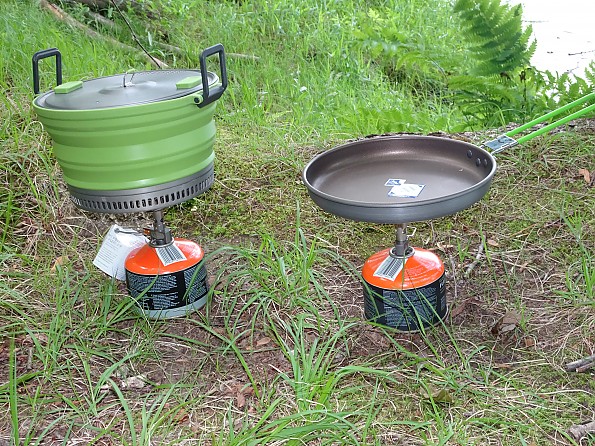 The Escape HS 3L + Fry Pan is part of GSI Outdoor's Escape line that also includes the 3L pot alone, a 2L version of the pot, folding bowl, folding cup, and a one-person tableset that includes bowl, cup and folding foon.
Family dinners this year included several different types of rice-based dinners with sausage or salmon, a huge pot of mashed potatoes with tuna, and on one trip we steamed an entire package of 10 hot dogs at once. Later there will be talk of pancakes and bacon too, because this kit wasn't just for dinners.
Specs:
3L Pot
9" diameter
1.75" tall collapsed (including heat sink)
5.25 tall expanded (including heat sink)
5.75" internal diameter of heat sink
15.8oz/447g
Fry Pan
9" diameter
1" internal depth
8.7oz/247g
Lid
Features: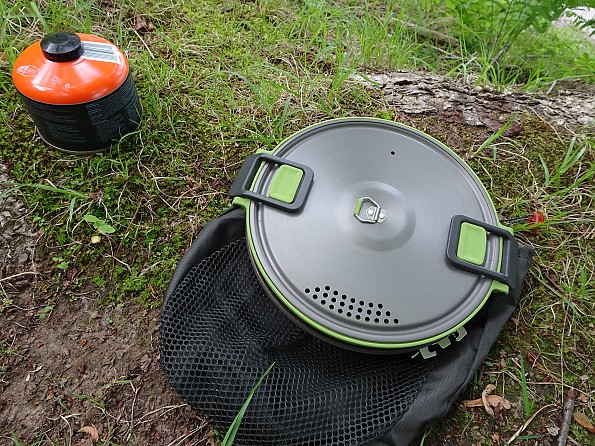 The most obvious feature of this pot and pan combo is that GSI has squeezed a 3L pot, lid, and fry pan into a lot less than 3L of space. They say 53 percent less space, but whatever the numbers it was possible to carry in my backpack. The collapsible nylon walls of the pot compress down into the anodized aluminum base accordion style, reducing the height by 3.5 inches. With the pan wrapped around the bottom the entire stack, including the pans folded handle, is only 2 inches tall.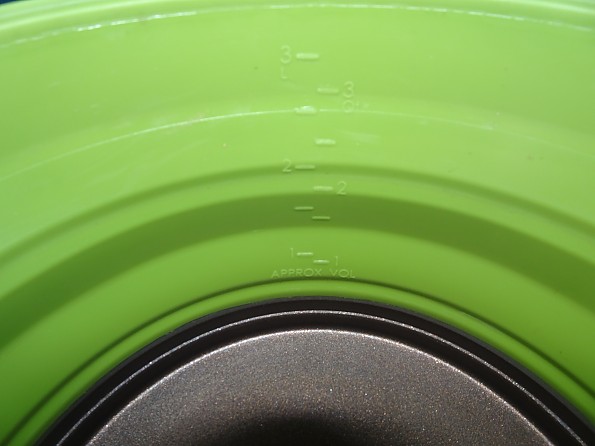 GSI put measuring marks on the nylon that were pretty easy to see. Not being used to such a big pot I was a bit surprised at where the marks were. It was nice not to guess about the water amount because I would have been way off by eyeballing it.
In the pic above you can also see how the nylon side walls are fused to the anodized aluminum base. The connection is smooth to the touch leaving no gaps for food to collect in.
The heat sink on the bottom of the pot isn't complicated, but it is effective. Burners larger than the 5.75-inch internal diameter of heat sink would be more stable, but I used backpacking stoves as small as 3.8-inch with good results.
The outer shell blocks some wind, but has open vents to prevent scorching. Inside that shell are small aluminum blades similar to those found on a car's radiator. Heat that normally would curl from under the pot is retained and applied to the edges of the pot's base. This heat distribution not only seemed to speed up water boils, but spread the heat more evenly when cooking food.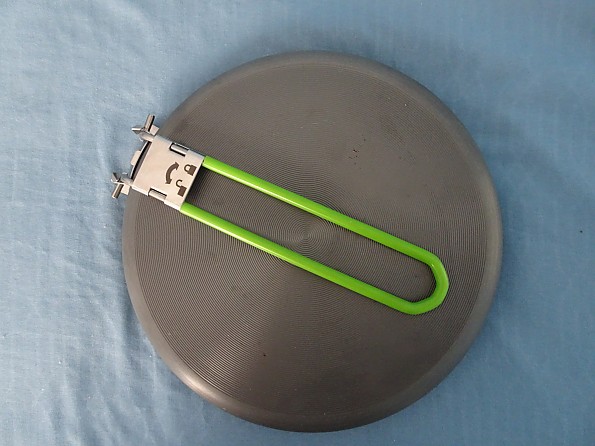 The folding handle on the Fry Pan tucks under when packing up to save space. The lock holds it in place securely in both positions, though it could be finicky to use at times. More on that later, but this lock really prevents accidentally releasing the handle while cooking which is the most important thing. No one wants to lose their bacon!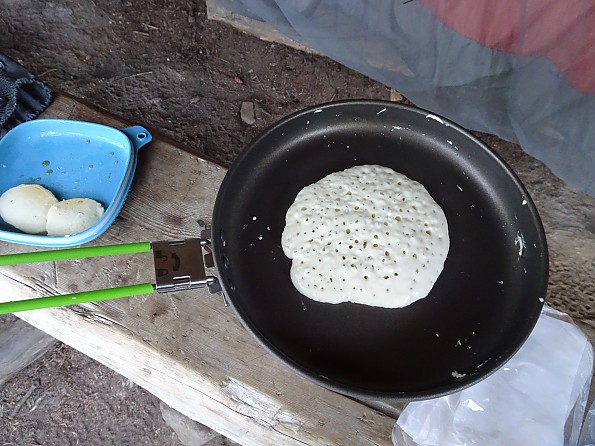 Both pot and pan are hard anodized aluminum with "Teflon® with Radiance Technology" touted as heating meals faster while being non-stick, even heating and resistant to abrasion. Non-stick coatings and backpacking stoves have been enemies for a long time, but this coating just might be the start of a beautiful friendship.
Ease of Use:
The video above provides a demonstration of unpacking the kit, as well as a fast overview of the features.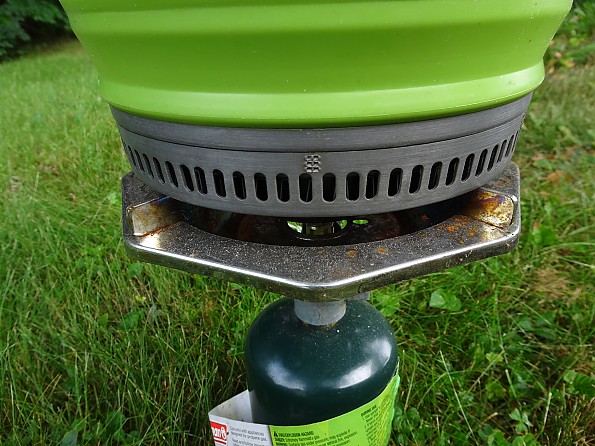 I tried a variety of canister stoves to see how stable the pot and pan would be on them. This kit would be happier resting on something like an old school Coleman double burner stove or the type that screw on to the top of 1lb propane bottles. A burner wider than the 5.75-inch internal diameter of heat sink could support the pot via the heat sink giving a lot more stability.
GSI does caution about damaging the nylon pot walls if flames are licking them, so no open fires or oversized burners. That being said, a focused camp chef could manage pretty well using small backpacking stoves.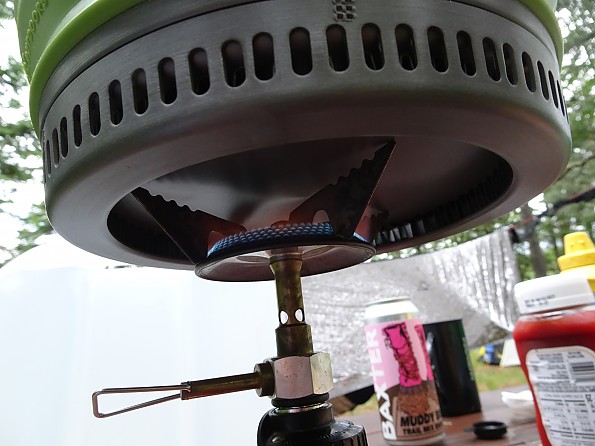 In the pic above I used my old MSR Superfly on a family trip to Baxter State Park. The four support fins with a 4.75-inch wingspan provided a pretty stable base. As I grew more confident in my skill at hanging on to the pot and pan I began using them with a Soto Amicus that sports a much smaller wingspan of about 3.8 inches. In any case, when using a backpacking stove it is very important to use one hand to hang on to the pot or pan when stirring, flipping, etc with the other hand. Both pot and pan are fine to sit there while you are in the watching phase of cooking. They just need support for the active parts.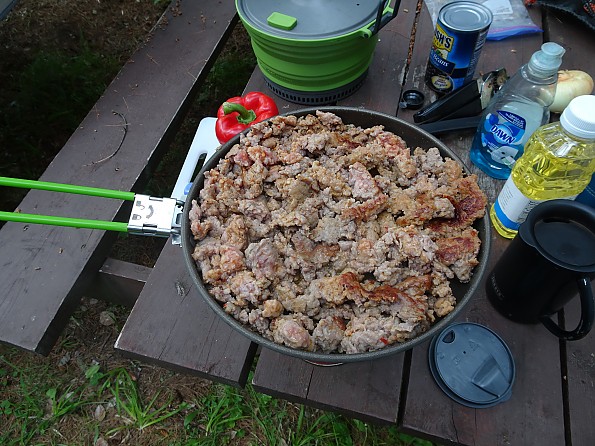 While the 9-inch pan is a bit confining for frying up over a pound of sausage, the 1-inch depth and careful stirring allowed me to pull off the feat. The heat distributing nature of the anodized aluminum with the advanced tech Teflon coating really was evident when frying. I wasn't doing all the cooking in the center while racing to keep food moving around so it's neither burned nor raw. It felt much more like frying at home where you let things cook and then flip them.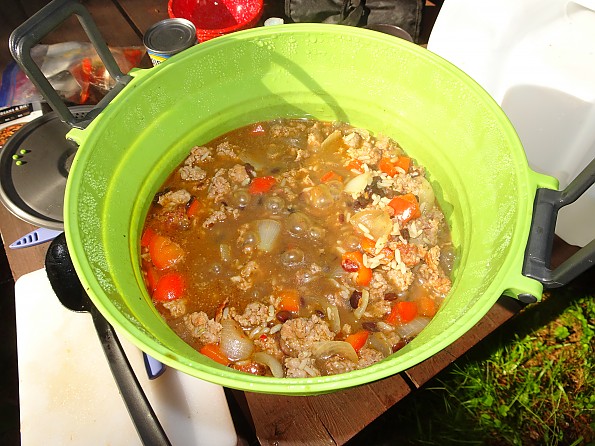 Since we were car camping we had access to fresh meat and produce, so I cooked up a favorite from our road tripping days. Italian sausage with peppers, onions, black beans and rice; spicy, greasy and satisfying! Trying to do this meal on a backpacking stove doesn't sound like a good idea, but the GSI Pot + Fry Pan helped me pull it off without burning food or kit.
Of course after every delicious, greasy dinner comes cleanup. In terms of ease of use this may not be everyone's first thought, but when it comes time to do the job it really matters. Frau Stranger handled the cleaning with a dab of dish soap and a limited amount of water. This meal proved to be the most difficult to clean up for our entire series of tests. The sausage coated the nylon with a layer of grease that was challenging to completely remove in the field. Other meals, using less greasy meats like tuna and salmon, seemed to clean up much easier. The good news is that there was no issue with food burned on and stuck to either metal or nylon surfaces.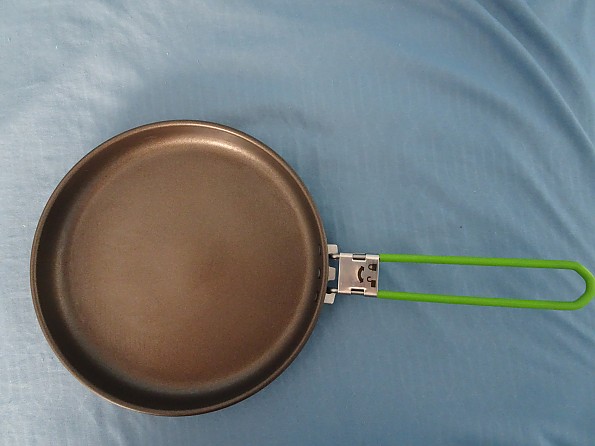 One feature that was both good and bad was the folding handle mechanism on the Fry Pan. I really liked how long the handle was and the heat resistant coating. Since I never trust my pan not to fall off the stove I want something I can hold comfortably. The length gave good leverage for controlling the pan, even when more fully loaded.
The issue I had was mostly with the locking tab. The handle uses a "squeeze to move" mechanism commonly found on camp cookware. In order to prevent squeezing, the locking tab which is connected to one arm of the handle flips over and latches on to the other arm. Well in theory anyway. There were a few times when it just didn't seem to want to catch as things weren't lined up perfectly. It wasn't enough to ruin a trip, but having to keep fiddling with it before I could safely cook was annoying. I like the feature and think it is important. I just wish it worked more smoothly.
Construction & Durability:
I think I've already pretty much told you all I can about the construction of the GSI HS 3L Pot + Fry Pan in the Features section. It is, as usual for GSI Outdoors, well designed and put together. The materials used perform their jobs well.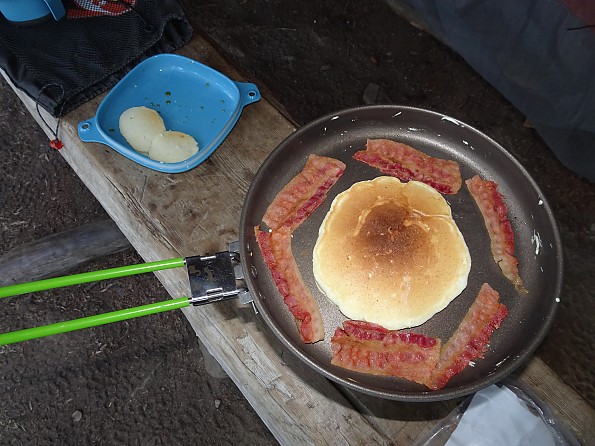 On a recent Baxter trip I pushed the limits of the Fry Pan a bit by making a pancake and bacon breakfast in our back country, Martin Ponds site. The Teflon coating is meant to be covered in food or there is risk of damage. I mitigated that by maintaining a very low flame on the Amicus and floating the pan off the stove at times when I didn't have much in there. I was happy to see that the non-stick coating appeared fine afterwards, but not as happy as I was to hear the girls were done and this pan was all for me!
Testing Conditions: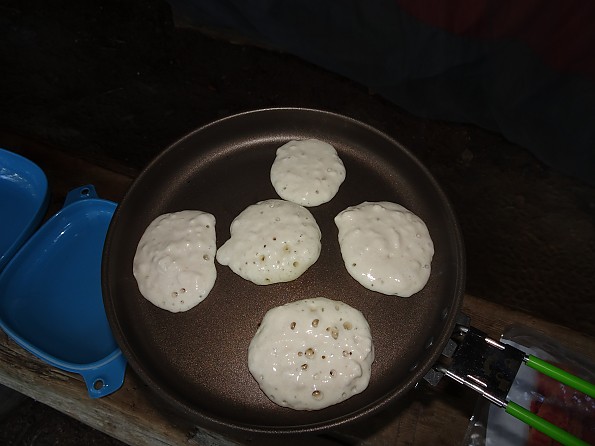 I put the GSI 3L Pot + Fry Pan through their paces on a series of family trips over the last two months. We used  the kit while car camping and on back country backpack excursions ranging from one to five nights.
Conclusions: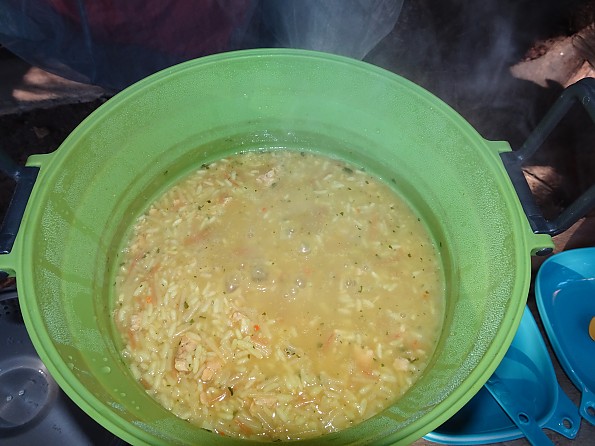 As a backpacker I'll start with the obvious; this kit weighs almost two pounds. For car campers that doesn't matter, but if you are lugging this thing up and down mountains in your pack, it is probably because you like to eat well. For people who want to cook and eat real food in the back country a 1L titanium pot is light, but not the right tool for the job. With the 3L Pot + Fry Pan outdoor chefs have the tools to whip up meals if they are willing to carry the weight.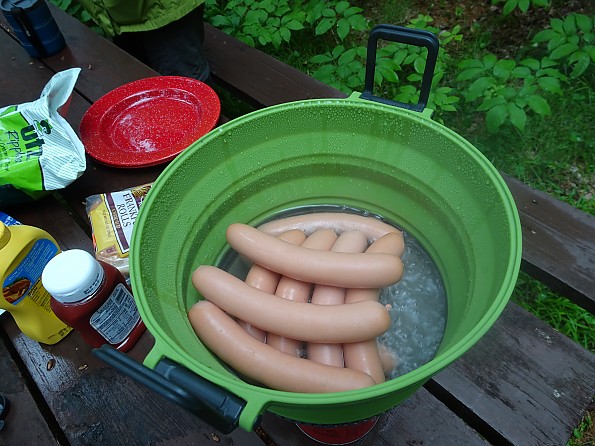 It had its moments when car camping too. Packing so small was nice, especially the lack of big handles sticking out. On the other end of the spectrum we used it to boil water to rehydrate freezer bagged dinners on back country trips where the wind block/heat sink/heat distributing coating seemed to really speed up the process. Since I solo a lot, when I have to boil water for three it really seems to take a long time. Using the  Escape HS 3L pot I had to be careful not to daydream because it was always done sooner than expected.
GSI claims as much as a 30 percent faster cook time, but I don't have any way to science the heat distribution or benefits of the heat sink. This pot is very different than any of my other pots so comparison wouldn't be apt. Normally I prefer to quantify things objectively rather than rely on subjective "feeling", but in this case I'm going to say I think it works. I didn't scorch food to the bottom of the pot. The pancakes came out pretty well though the ones in the center cooked a bit faster than the ones at the edges. As I mentioned already, water boiling seemed to be faster than I'd expect for the amounts involved.
Other than the weight which I think can be justified, there were a few minor issues. The Fry Pan folding handle could pose challenges at times and since those were times when I was hungry and wanted to cook they are perhaps amplified heh. The safety latch is a great idea, it keeps you from collapsing the handle when in use. It was just hard to latch when it wasn't lined up perfectly.
Another issue we found was that the nylon of the pot retained some odors. In the morning I could sniff it and get a hint of the previous night's dinner despite washing with soap and water. Some meals left stronger odors than others, but in all cases, boiling water for morning coffee seemed to alleviate the problem without affecting coffee flavor.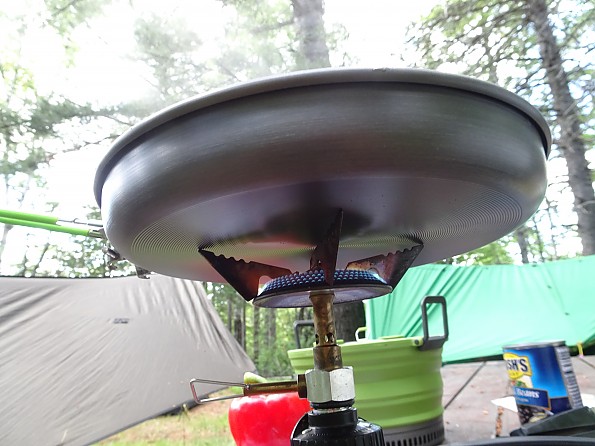 I also need to clearly point out again that using this kit on a backpacking stove requires focus. Balancing on a tiny backpacking stove is doable, but not to be trusted. One hand holding the pot or pan while the other works is the only way to go. With the long handle on the Fry Pan, its center of gravity shifts as it goes from empty to full and back again. I almost lost a pan full of pancakes when it shifted balance after I removed one from the edge of the pan.
Over all I feel pretty good about recommending the GSI Outdoors Escape HS 3L + Fry Pan to folks who would benefit from what it can do. In the front country, be that car camping, RVing, or upta camp, this kit is a great place to start putting a camp kitchen together. The 9-inch Fry Pan poses some size limitations, you can only cook so many burgers or pancakes at once, but the 3L pot has plenty of room for pasta or stews.
Back country chefs who enjoy cooking real food out there in the wilderness would also benefit from what this kit can do. The non-stick surfaces combined with the heat distributing qualities let me do some great cooking despite the limitations of backpacking stoves. Most produce either blowtorch heat or a low heat sputter if turned down which makes cooking real food a challenge. I was always surprised that there wasn't scorched food stuck to the bottom because that has usually been the case with other cookware.
For families and groups, even if you are living mostly on rehydrated bag meals, sharing this kit may justify its weight. I know that boiling water for three of us was fast. If you needed to boil for a larger group the 3L pot has plenty of room.
If weight is all that matters you probably won't be interested in this kit. If you aren't lugging your stuff through the wilderness or if you are the sort who values the joy of real food out there the GSI Outdoors Escape HS 3L Pot + Fry Pan is definitely worth a look.
Experience
We've tested this kit for the last two months, using it on car camping and backpacking trips. I've used a lot of outdoor cooking gear over the years, but never a collapsible pot like this.
Source: received for testing via the Trailspace Review Corps (Sample for testing and review provided by GSI)

Your Review
Where to Buy
Help support this site by making your next gear purchase through one of the links above. Click a link, buy what you need, and the seller will contribute a portion of the purchase price to support Trailspace's independent gear reviews.
You May Like
Specs
Price
MSRP: $79.95
Current Retail: $79.95-$89.95
Historic Range: $79.95-$89.95

Weight
1.84 lb

Materials
Non-Stick Coated, Hard Anodized Aluminum, Nylon, Silicone

Includes
3 L Collapsible Pot, Folding Handles, Strainer Lid, 9" fry pan, Folding, Locking Handle, Stuff Sack

Recently on Trailspace