Princeton Tec Sync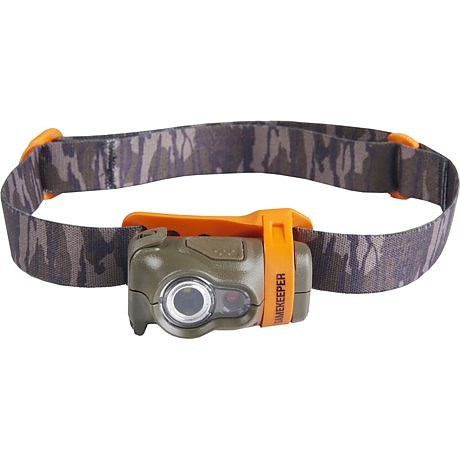 An average headlamp that runs well, is easy to operate, and features a good range of motion. A few flaws, but for the price, it's a serviceable option for campsite or tent usage.
Pros
Inexpensive
Good run time
One-hand operation
Glove operable
Range of motion
Cons
Difficult to open battery house
No lock-out mechanism
Loose feeling dial turn
Conditions:
I purchased this headlamp nearly one year ago, based on its low price and a friend's recommendation. Nearly all of its use has been in cool to warm temperatures (40-85°F), with minimal exposure to freezing temperatures (which tends to exhaust batteries quicker) and it has handled moderately rainy conditions. Most of its use has been around the campsite, in the tent, and to a lesser extent, around the house.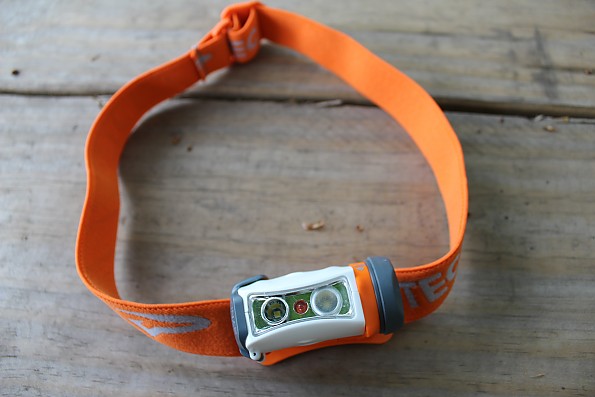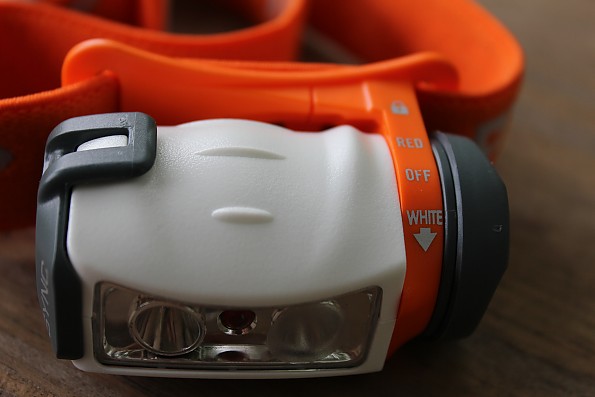 Construction, Durability, & Usability: 
The turn dial is easy to operate, including one-handed and with gloves on. The turn dial is much easier to operate and locate by feel than many light sources I've owned in the past. 
However, the power dial itself is somewhat loose, and on occasion acts jittery when shutting off (jittery meaning the light kinda flickers until I wiggle the turn dial again and then it turns off). This doesn't happen on every occasion, but it has happened more than once. Better fitting components would likely solve this issue.
Also on the power dial, there is an icon that looks like a lock, which to me, would indicate that in that position (which is one of the two off positions) that the dial is locked from accidentally turning on. This isn't the case. The icon is just there for some strange reason and the headlamp has no true lockout mechanism. Also on the confusing front is the name "Sync" which I originally thought meant it electronically synced to something, like a flash syncs to a camera or a phone syncs to a computer, but there is nothing to sync here. Just an odd name. 
The light easily pivots up and down for a good range of motion, but is somewhat bulky compared to many headlamps on the market. I've come to expect this size from a 3-AAA headlamp though.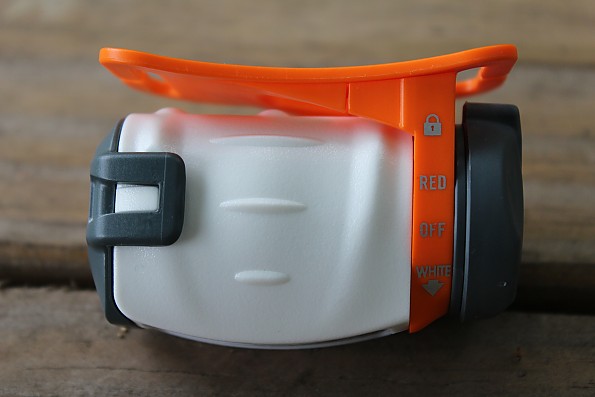 The adjustable elastic strap is easy to adjust, comfortably fitting most head sizes, and can be removed with ease if it needed to be washed. I have a fairly large head size (24" or 61cm or 7 3/4 US-hat size) and it fits fine and adjusts quickly when someone else with a much smaller head (i.e. my wife) needs to use it. 
As with most elastic bands on headlamps, this is the kind of band that will likely wear out within 5-10 years, due to my larger head size, but I have come to expect that with headlamps at this price.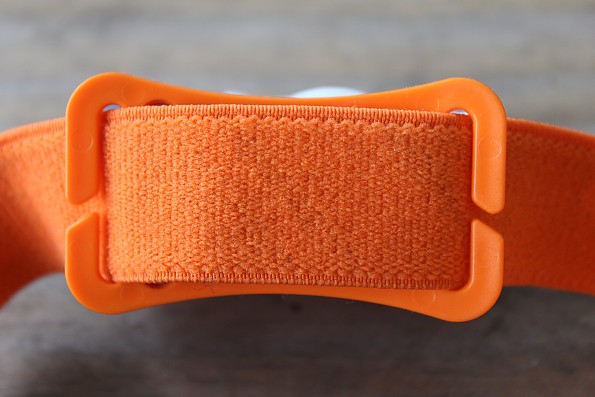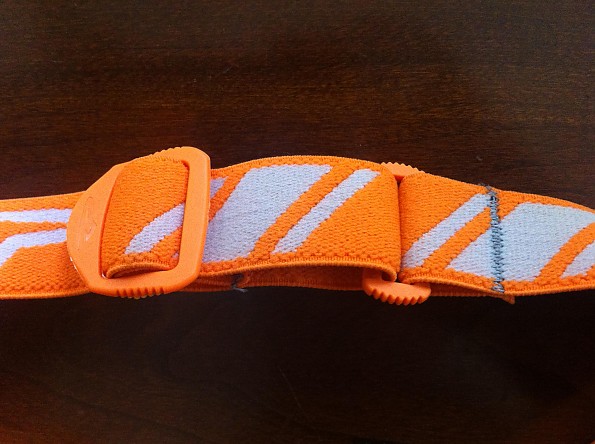 The battery house is the most frustrating aspect of this headlamp. It is very difficult to open and requires some serious finger strength, dexterity, finger nails, and patience. Using such force on a small plastic tab scares me each time I have to open it because it feels like it is going to snap off any second. Fortunately, it hasn't yet.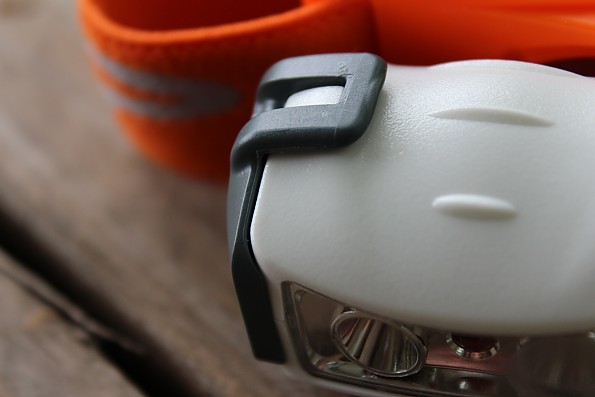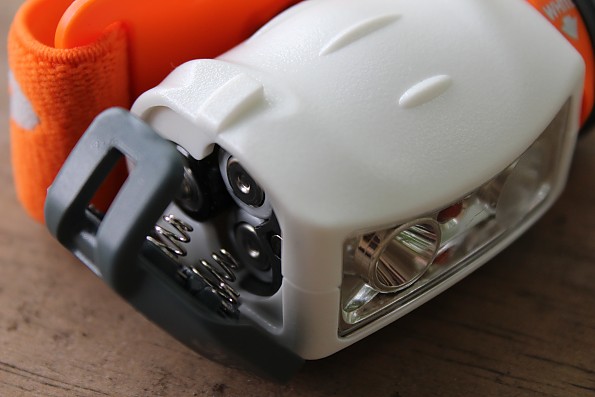 Range:
Manufacturer claims the maximum beam distance is 190 feet (58 meters), but I think in reality it is much less. Most beam distances are measured in how far the beam shines before the light output is equivalent to a full moon's brightness, which is difficult for the average tester to accurately test.
Based on my testing of what was a reasonable amount of light traveled, I think the maximum beam distance is somewhere closer to half of what the manufacturer states, and even then, I may be being generous. That is why I believe this is best suited for the campsite or tent, and not necessarily on the trail, where beam range is more important.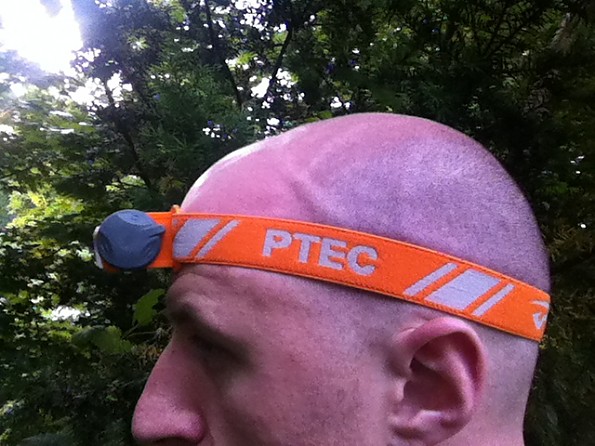 Power Source and Burn Time:
This headlamp requires 3 AAA batteries and as in most cases, the better batteries you use, the longer life you'll get from them and the longer you leave them in the product, the quicker they will fade. 
On the lowest power output setting (red mode) the manufacturer claims 200 hours of burn time and at the highest output setting (dual beam) the manufacturer claims 75 hours of burn time. 
From my testing, these are fairly accurate claims, with my tests being slightly less time, but not egregiously so. I did some turn-it-on-and-walk-away type testing and the red mode died somewhere in the 180-194 hour range and the dual beam died somewhere in the 66-71 hour range. The difference between my tests and the manufacturer's claims are close enough for me to chalk up the differences to a variety of potential factors including battery brand and temperature.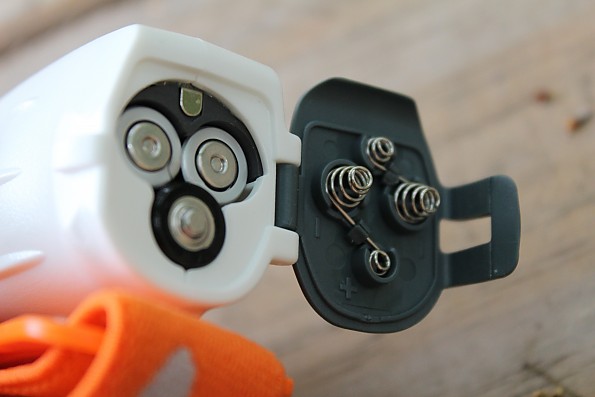 Modes:
5 modes are (in order as they appear on the dial and in order of their distance and burn time)
Red

Low Flood

High Flood

Spot

Dual Beam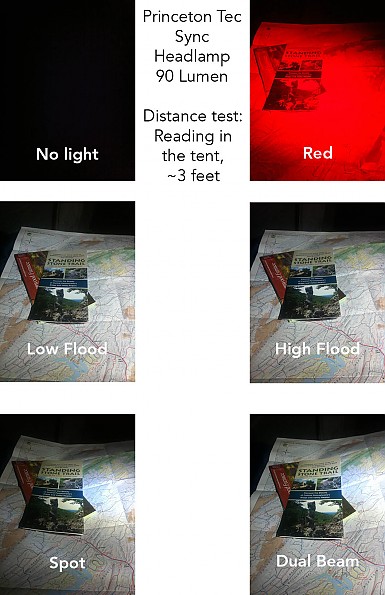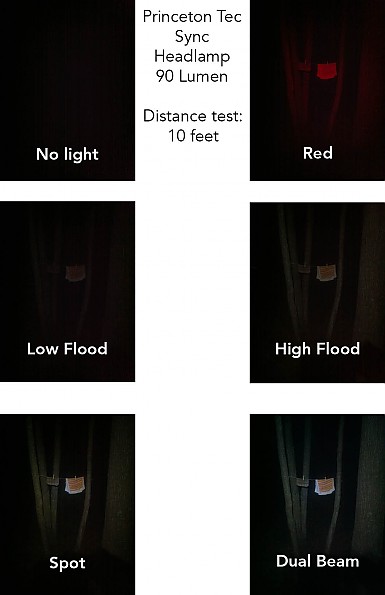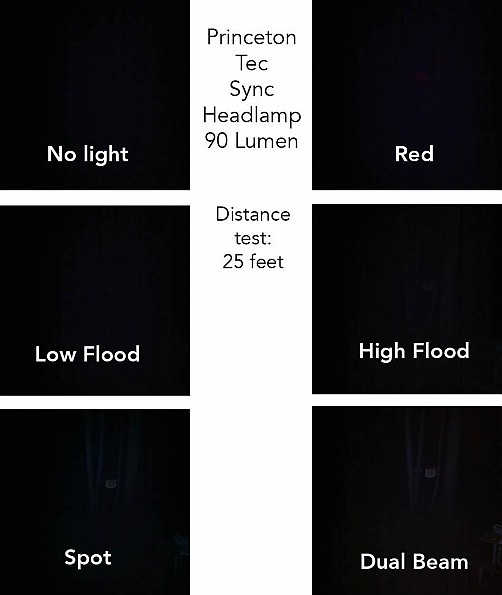 Weather:
Not marketed as highly water-resistant, it is rated at IPX4, which means it can withstand light mist or splashes. I've used it in moderately rainy conditions, handling them to no ill effect. I have not used this in freezing temps for any extended period of time. 
Recommendation:
90 lumens is more than sufficient for most tent usage needs, nighttime bathroom runs, and meal preparation around the campsite. For nighttime trail navigation, it is not a user's best bet, due to lack of range that the manufacturer claims. Battery life and ease of use are the two major positives of this headlamp.   
Source: bought it new
Price Paid: $20 USD

For the low price, this is an excellent basic headlamp, with several lighting options including red. Not as powerful as some other options, but fits the bill for normal use around camp.
Pros
Comfort
Lighting options including red
Ease of use
Price
Cons
More expensive headlamps are stronger
Longevity questionable with the rotating switch
After years of dabbling with headlamps by borrowing from friends or trying them out in the store I finally decided to "switch" from a flashlight/headband combo to a headlamp. Bought the Sync for $30 but really paid nothing as it was just the leftover on my dividend from a large outdoor supplier.
The lamp is a basic design with a comfortable headband, and a rotating switch on one side that yields several lighting options. It has multiple angles that cover almost a 180 degree range...or at least as much as my eyes can range.
I really like having the red light option to retain some night vision, especially now that I am older and needing to, ahem, get up during the night most days. It also has four different levels of white light from flood to spot that satisfy my needs around camp. I am generally not a night hiker, so cannot attest to its suitability for seeing the trail in that situation.
There are brighter options...the Sync has a max lumen of 90, with a low of 20. However, with a spec beam length of nearly 60 meters, it has satisfied all of my uses through four trips over about 12 nights.  I haven't specifically measured how far I can see, but the spot option allowed me to easily see my food bag at least a hundred feet from the tent one night in high winds to check it hadn't fallen. I tend to use the low flood light option when cooking in the evening or doing camp chores, and have never thought I needed better light.
The three AAA batteries are the originals I put in there and have lasted all the trips, plus regular use when travelling for work (hotel lights always wake me up), and reading at night without waking the better half. Specs say 125 hours of battery life and I believe it. I have not had battery or performance issues in a range of weather conditions, but have not taken it below freezing yet. Lowest temperature I have operated at is high 30s and it was fine.
The build quality is relatively good. The battery access (see picture below) seems sturdy and waterproof based on a couple of trips with rain, sleet, and mist, as well as my sweat. The rotating switch may be the only long term issue, as occasionally you can rotate too easily past the setting you want, so I am not sure if that will wear down or not.
Some reviews have stated that you need two hands to operate the switch, but I have not found that to be true. I can easily turn it on and off, as well as switch modes, with one hand.
There is no strobe option, but I don't miss that as I don't feel it is appropriate for the backcountry anyway, but I am not sure I would use it for road running etc. There is no emergency beacon function, but I did not buy it for that purpose so don't miss it. The strap is comfortable to wear for long periods of time, and shows no sign of wear yet. It adjusts pretty easily and quickly and I have not needed to readjust between trips yet.
The weight is listed as 2.9 ounces, but mine comes in at just over 3.1...a minor difference that may be attributed to differences in battery weight, but still worth mentioning as I prefer accurate weights.
Overall, I am pleased with this lamp for the price. I really get satisfaction from finding good equipment without having to go to the top of the line items. I may look for a more expensive one in the future if this lamp begins to wear out, but until then it will travel with me everywhere and I am confident I will get my money's worth out of it.
Source: bought it new
Price Paid: $30 using dividend so really $0

Your Review
Where to Buy
Help support this site by making your next gear purchase through one of the links above. Click a link, buy what you need, and the seller will contribute a portion of the purchase price to support Trailspace's independent gear reviews.
You May Like
Specs
Price
Historic Range: $15.00-$39.99
Reviewers Paid: $20.00-$30.00

Recently on Trailspace