ProBar Bolt Energy Chews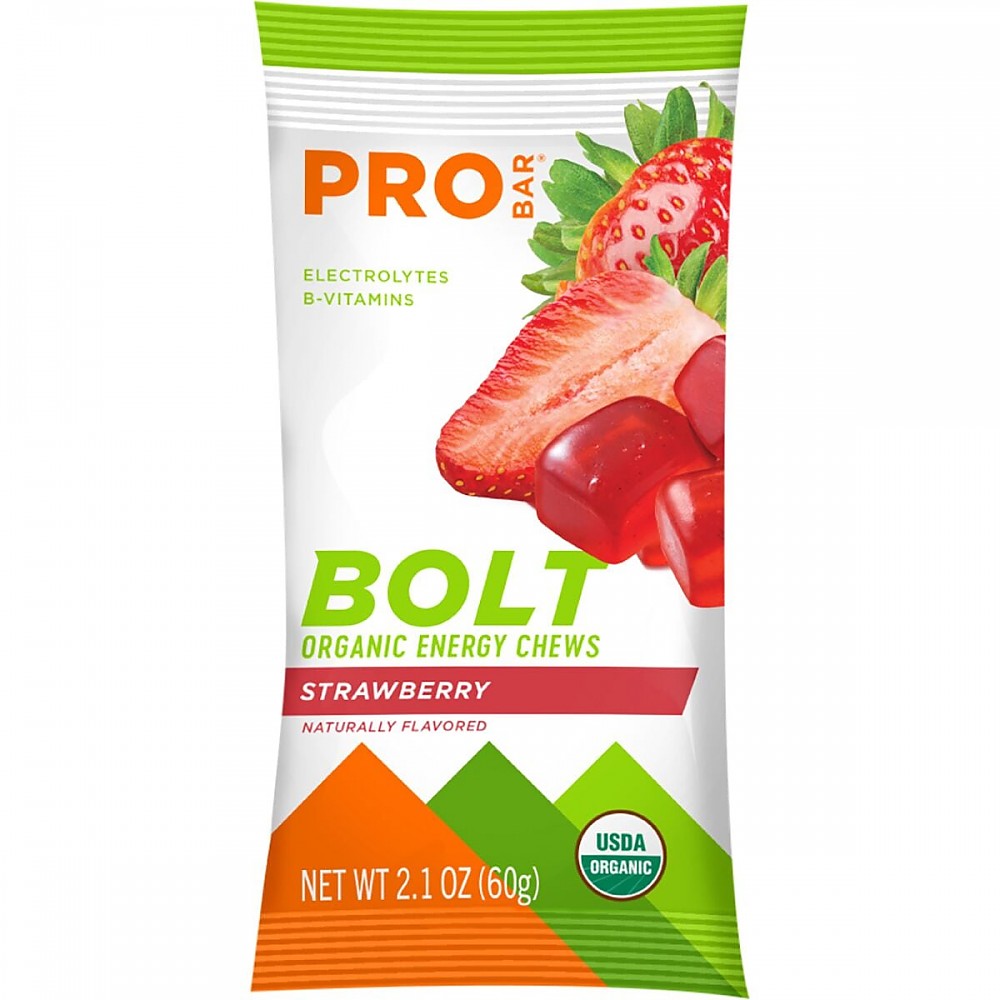 Natural tasting chews filled with B vitamins and electrolytes, which are quite filling compared to other chews. I'd recommend these energy chews for trail runs, training days, or workouts, but there are better options for long trips in the backcountry.
Pros
More filling than other chews (pack contains 8-10 chews)
Provides energy, as claimed
Holds up well in heat, no melting
Cons
Expensive ($29.88 for pack of 12, $2.49 for one)
Leaves slight residue on fingers
I enjoy trail running and have been trying several different trail snacks over the years. Most times I make my own, but decided to get a box of the ProBar Bolt Organic Energy Chews. There are four different flavors (as of July 2015) and like other ProBar products, the chews are made with natural ingredients.
I tested these chews before or during several different activities including my morning strength training, trail runs, and as a supplement on a weekend of disc golf.
I purchased the variety pack, consisting of 12 packs total of (1) Raspberry, (2) Orange, (3) Berry Blast, and (4) Strawberry.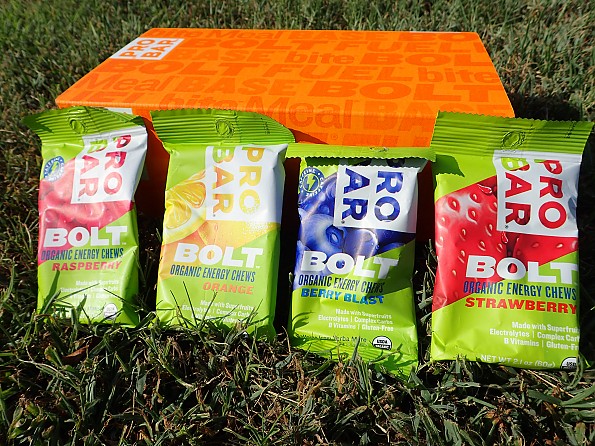 Each of my packs had 9 or 10 generous sized chews, which agrees to the nutrition label of two servings of 4-5 chews. The nutrition label for all four flavors are the same, see below.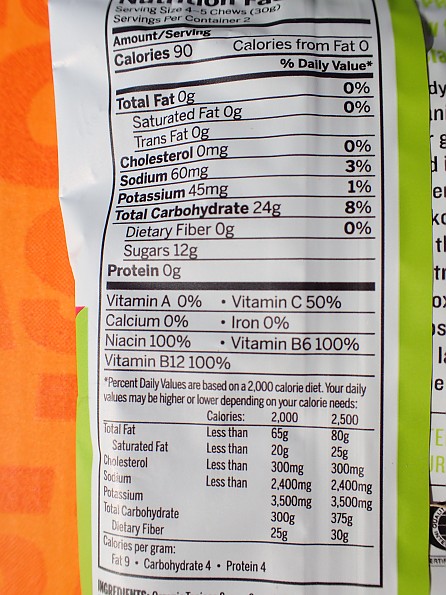 A total package weighs 2.1 ounces and is 180 calories. On my multi-day backpacking trips I like to pack food that has at least 100 calories per ounce (not considering other factors such as whether the food provides energy or is a luxury item). If I wanted energy chews or gel for a backpacking trip, I'd choose another product, but this works well for single day outings or workouts.
Taste
Offered in four different flavors, I have thoroughly enjoyed the flavor of each of the Bolt packs. Unlike classic children's gummy bears, these taste very natural. They are also bigger than little gummies. The flavor is subtle and reminds me of a Fruit-by-the-Foot snack. I preferred the Berry Blast and Orange flavors more than the Strawberry and Raspberry. The Strawberry and Raspberry were similar tasting. The Berry Blast had a blueberry flavor.
I've enjoyed these with my friend on our 100 hole disc golf weekend and my wife on our trail runs.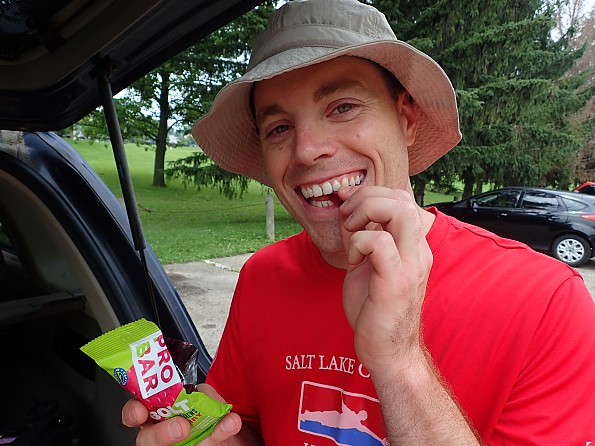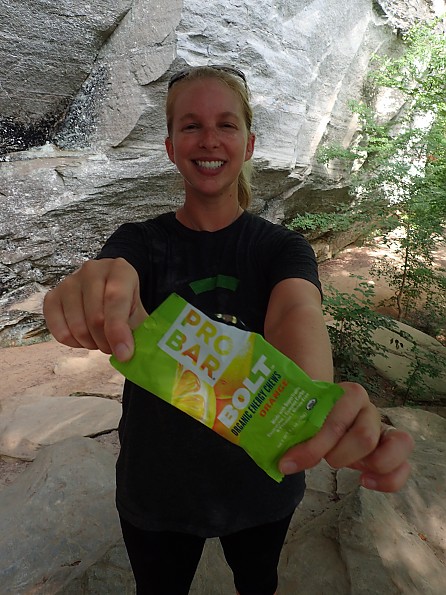 None of the flavors left any type of aftertaste, so it was easy to eat it and then get on with the day.
Energy
The Bolts are packed with B vitamins and two packs (Berry Blast and Raspberry) include caffeine. According to ProBar's site, it is Yerba Mate Caffeine. With a new morning strength training workout, I compared my mornings of having a normal granola bar against 4-5 (half a pack) of chews. I did notice a difference in a morning energy boost, though I didn't notice any difference between the caffeine vs. non-caffeine flavors; I ate about 15-20 min before I started. Even only eating half a pack for those mornings, it was quite filling. I feel like my recovery after my workouts was better too, or at least that I didn't hit a wall as much. With B vitamins and electrolytes I figured it'd be hard to not feel even a little difference. 
The packs seen above and below (ones with a hand in the pic) are completely filled with the chews, there's no empty packing, so it is pretty generous.
Orange and Strawberry are non-caffeine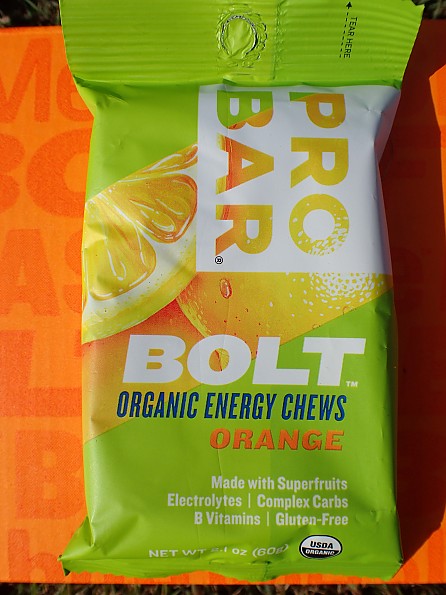 Berry Blast and Raspberry include caffeine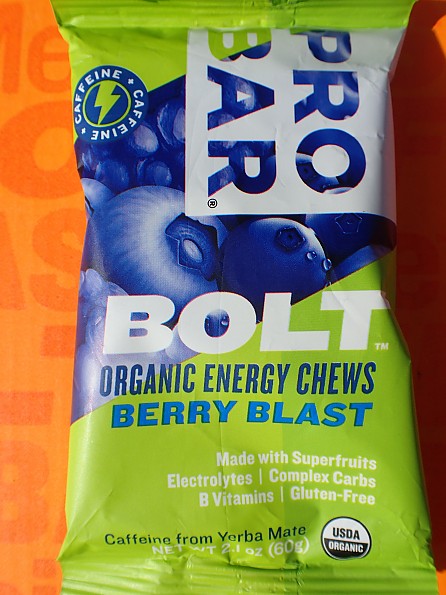 Other Chew Characteristics

After eating the chews, I'd have a little stickiness on my fingers. Nothing worth needing to wash my hands, but noticeable. I also received these in the mail and used about half of the packs out on the trail or at the disc golf park. All of these outings were during our heat wave in N.C. when temps were in the high 90s (heat index in the low 100s).
With the box in the mail for a few days I was nervous that they'd all be melted together, as I've had that issue with Haribo gummies that ended up turning into...one gummy! There was no melting or additional stickiness, so I was impressed.
Slightly larger than snack aisle chews, and the name "chew" is more accurate than something like "gummy"
Cost

These come in at $29.88 per pack of 12 or $2.49 each. Considering that ProBar Meal Bars are only a buck more and are so much more filling and provide additional nutrients, it makes the Bolt seem even more expensive. Compared to other energy chews and gels, the Bolt is also on the higher side. For example, Honey Stringer Organic Energy Chews for a pack of 12 can be found for $14.99.
Depending on how brand loyal you are or if you have any flavor preferences, purchasing 24 total Honey Stringers vs. 12 ProBar Bolts is something to consider.
Conclusion
A little expensive, but I think ProBar has added another tasty snack to their line up. I'd recommend eating half before your workout and the other half during. There are lighter and cheaper options, especially for backcountry trips, but it'll be hard to beat how filling the Bolt chews are. The flavors are subtle, but tasty and composed of organic ingredients and its energy per calories/weight work best for day workouts or any type of physical activity.
Source: bought it new
Price Paid: $25.98 on Amazon

Your Review
Where to Buy
Help support this site by making your next gear purchase through one of the links above. Click a link, buy what you need, and the seller will contribute a portion of the purchase price to support Trailspace's independent gear reviews.
You May Like
Specs
Price
Current Retail: $2.49-$29.99
Historic Range: $1.73-$29.99
Reviewers Paid: $25.98