REI AirRail 1.5 Self-Inflating Pad


The REI AirRail Self-Inflating pad really does help keep you centered and gives the user a slight edge on keeping out the cold with the concave design.
Pros
Foam core
1lb 11oz
Rails help keep you centered
1/4 turn valve
I picked up this model from the local Co-op garage sale. It was returned because the original owner said that it would not inflate. After examining the valve, I could see nothing wrong with it. I blew on it in the store and it seemed to work fine so I bought it for the $9.85 price tag.
The valve is a quarter turner. To close the valve, you depress it and twist it a quarter turn. To open it you depress and untwist a quarter turn. In order to inflate the pad you must make sure that the valve is not depressed. If it is (even before the quarter turn) the mechanism does not allow air to flow through it. I think that whoever tried the pad before me didn't realize this and accidentally depressed the spring loaded valve with their mouth while trying to inflate it. I can only imagine the poor would-be trekker turning blue in the face while blowing to no avail.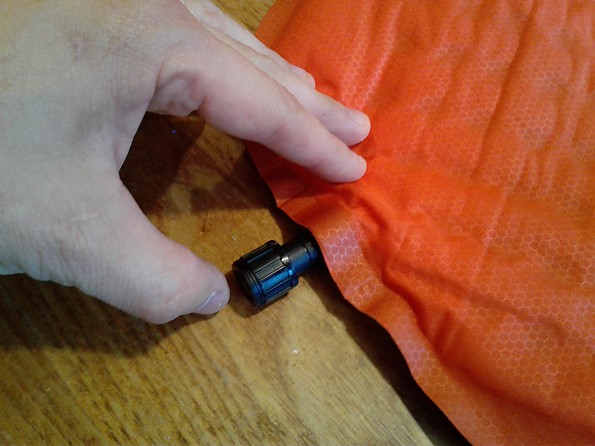 1/4 turn valve not depressed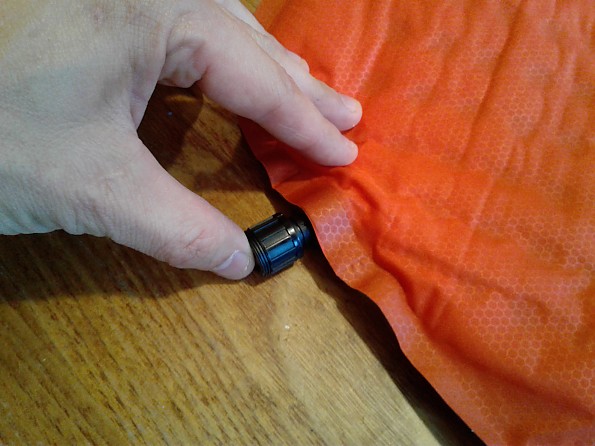 1/4 turn valve depressed before turning

In any case, the valve worked fine. I really appreciate that when you get the pad inflated to the desired amount, you can gently depress the valve to keep the air in while you turn it. This stops any leakage while closing the valve.
The deflation is a little slower than I would like. I have some pads with quick deflation valves and they really allow the user to close up shop in a jiffy. The valve on the AirRail doesn't keep up with my "rolling up the pad" speed. I usually find myself stopping to let the deflating air catch up. It's not a big deal but one that could be mitigated with a slight engineering change in my opinion.
The pad itself is 1.5 inches thick. It is a foam core pad which adds a bit more weight than non-foam core pads. I personally like the foam core pad as opposed to the lighter, insulated air core pads because they keep you warmer. I've tested several air core pads with claims of equivalent R-values to foam core pads. Every time, I find that the foam core pads outperform the equivalent R-value air core pads for warmth. Being a Minnesotan, ¾ of the year is cool or cold weather so I trust the foam more than air.
The foam core has cylindrical holes cut out of it.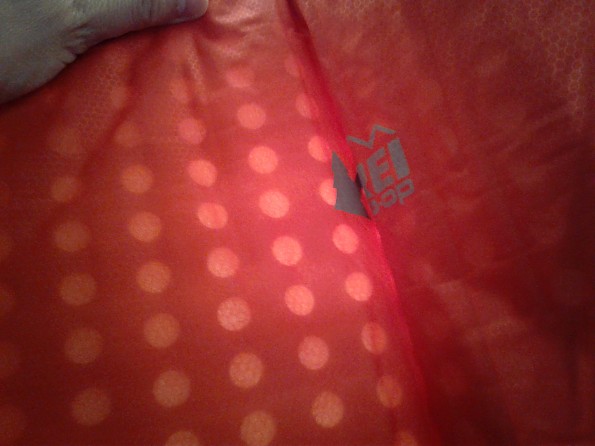 Pad backlit to show the internal foam design

The blank spaces reduce the fill weight but also reduce the R-value. The R-value states that it is 4.2. I personally think the pad measures in the high 3's for R-value. That still leaves it at a decent three-season pad.
The unique selling features of the AirRail are the two rails that flank the pad.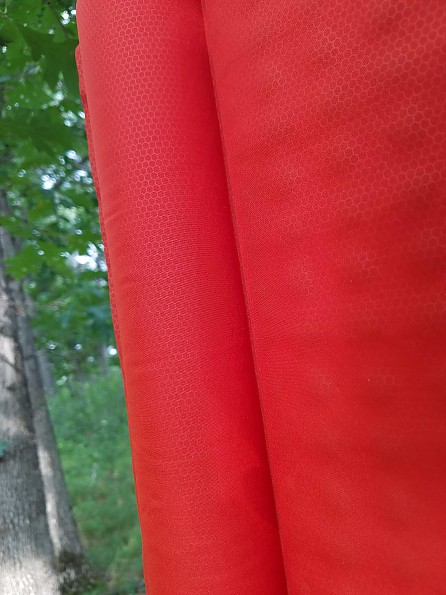 The namesake air rail
The pad itself is self-inflating, but the rails require additional inflation. They don't take much to inflate since they are hollow tubes approximately 3 inches in diameter. (Note that the pad is a single chamber so the rails and main chamber share air.)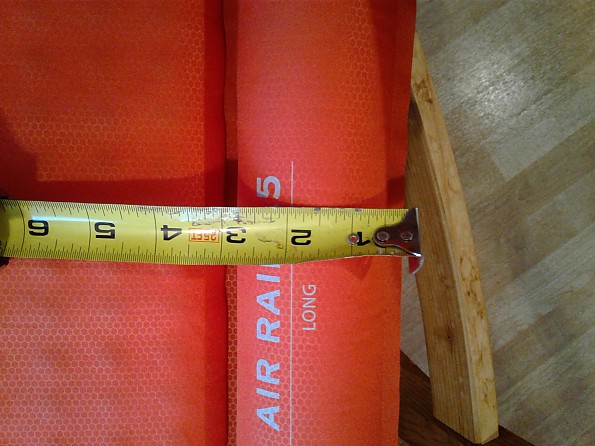 The rails are meant to cradle the user. When laid on the ground, the cylinders are forced nearly 1.5-2 inches above the pad on both sides.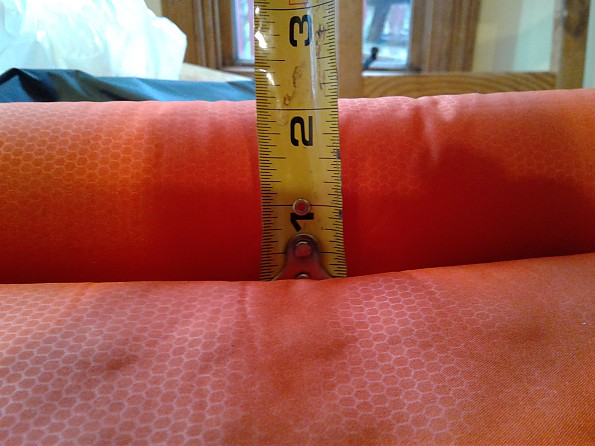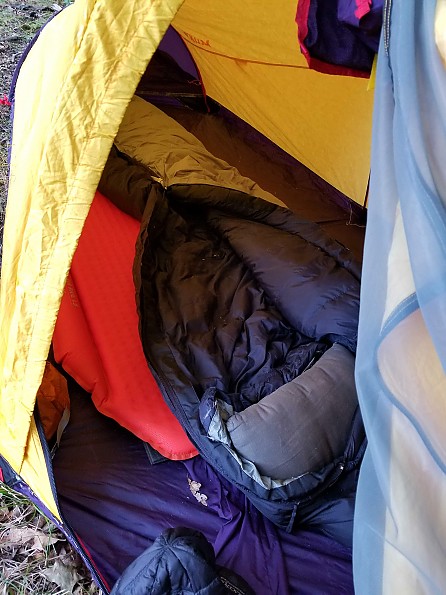 The ground forcing the rail upward
They do tend to keep me centered better than a flat pad. I find that I usually wake up situated over the pad. I can't always say the same for flat pads. The rails are insulated with Primaloft microfibers. I think that the insulation does augment the ability of the rails to slow down thermal transfer. I have noticed that they are a heat protector rather than a heat sink.
I have the long version. It is plenty long for me with room to spare. I am 5'11".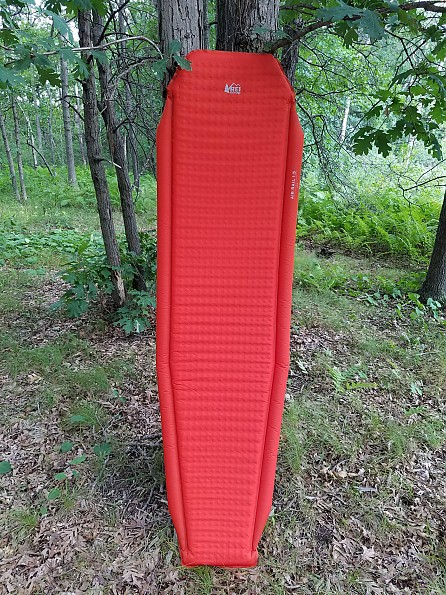 The top exterior of the pad is embossed with a matte fabric surface. It is meant to be a non-slide surface. The bottom is a 75 denier standard bottom also with a matte surface. I don't think that it moves very much at night (I guess I can't really tell since I'm sleeping). The materials and welds lead me to have confidence that the pad will last for quite a while.
Because of the foam core and matte finish, I would place it on the low end of the audible spectrum. It's pretty quiet.
The taper of the pad cuts a little weight but also reduces the ability to stretch out the legs. If you sleep in a mummy or tapered bag, the shape limits you no more than the mummy bag so it is not an issue. Even in summer months, I am not bothered by having a leg hang off the side of the pad.
Lately, I have been using the pad in my hammock. Paired with a closed cell foam pad underneath it, it is a wonderfully comfortable sleep system. I also like how the concave shape of the hammock causes the rails to envelope me with security and comfort. Sounds silly, but feels great.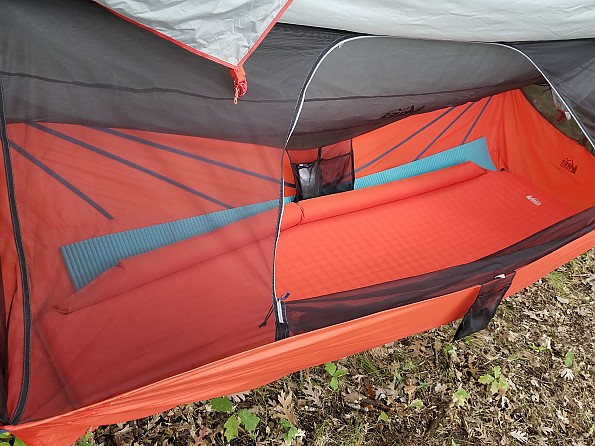 When not in the hammock, 1.5 inches of foam seems to be enough to keep me off the ground even with side sleeping. I don't have issues of hips of shoulders grinding on what's under my tent.
If the material of the pad gets wet, it does take some time to dry out. I left my tent open by accident during rain and the embossed material got wet. I thought it would dry within a few minutes out in the open air. It took somewhat longer than anticipated (approx 20 min). This could have been due to high humidity and no sun. 
The pad rolls up into a 5" x 8" cylinder.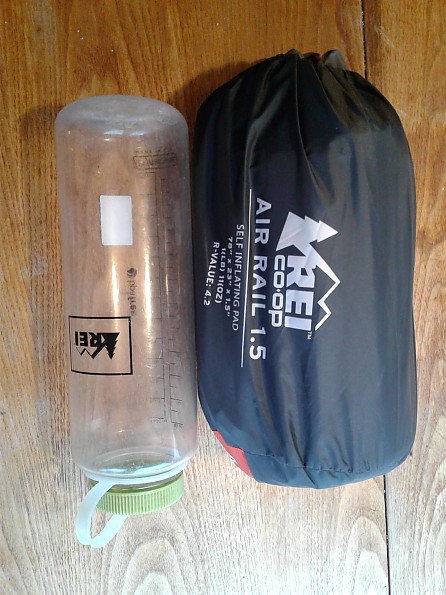 I picked the pad up at the beginning of this past summer and have used it on about a dozen outings (summer/fall). Temps ranged from low 80s at night to mid 30s.
One additional thing that I might have changed on the pad had I been the designer is that I would have considered having the rail encompass the entire pad. This would help keep a pillow in place and add that small additional cradle to keep the foot area a slight bit warmer. Not a big deal but maybe some food for thought on a future design. 
I own 10 inflatable pads from a variety of manufacturers. Some are luxurious and heavy. Some are ultralight, some are rectangular, some mummy, and others are short. Of all of the pads, I've found myself grabbing this one the most this past summer. It's not even my most recently acquired pad. I think that the size and weight are fair for the amount of comfort that I get from the AirRail. I would recommend examining this pad yourself if you are in the market for an inflatable.
Source: bought it from the co-op garage sale

We've owned these for about five years now and would do it all over again.
Pros
Very light for packing area
Fits back into storage sack easily, measurably
Comfortable for all sleeping positions
R factor keeps you warm
Quiet material
Cons
Valves are a bit hard to close/open after five years
With just a few puffs of air, my REI AirRail 1.5 Self-Inflating Pads (tall version to accommodate the 6'4" husband) have been a dream to use when canoeing/portaging in the BWCA, hiking/backpacking, or even in our hunting cabin in WI in November.
These have an insulation factor of R4, so they keep us quite toasty. They self-inflate about 90% before needing a little help to fill the air rails. Love the air rails, they keep me on my pad at night and the raise of the rails vs the sleeping pad gives a cocoon-feel.
I'm 5'8" tall and probably would have been fine with the regular size pad, but we wanted matching ones so it didn't matter which side we get into the tent at night.
The only issue that we have had is the valves have gotten a bit hard to open/close, but there have been no leaks, damage, issues, or regrets with this purchase since day one.
Source: bought it new
Price Paid: $120

Comfortable air pad.
Cons
Little bulky
Didn't fully self inflate
Comfortable pad. I like the air rails, when I woke up I was still on the pad! I did leave the valve open for a while, while I set up a few other things to come back and see it maybe half inflated. Took a few minutes to full blow it up myself...not a huge deal to me.
Source: received it as a personal gift

Purchased at one of REI's "garage sales" for $35 for my 90-lb daughter to use on backpacking trips. She loves it and says it is really comfortable. Packs down to a size that's easy to put inside the backpack alongside her sleeping bag in the bottom pocket.
Pros
Packs small and is lightweight
Durability seems good
Our local REI had one of its members only "garage sales" earlier this summer so I was able to replace my daughter's older big green Therm-a-Rest with this more pack friendly sleeping pad.
She's used it a couple of times on multi-night backpacking trips and really likes it. It seems to be well made and she had no leaks.
I recommend this pad.
Source: bought it new
Price Paid: $35

A decent idea that in practice didn't work for me. The Air Rails only help to keep you on the mat if you have it at close to full inflation, which I never do for comfort.
Pros
Mostly self inflating
Relatively comfortable
Cons
Air Rails don't work that well
Still need to inflate
Better and lighter alternatives are out there
A short review of this item as I didn't keep it for long...
I bought this on an unexpected trip out of town to help my 80-year-old parents move. The new place didn't have a lot of room so I ran by REI with the intention of using the pad for a couple of nights and evaluating it as a replacement for my aging REI Lite Core pad, and reducing some weight in my pack while increasing comfort.
In short, the Air Rail is not really any better than my Lite Core so was not worth the money when I have a functional similar pad already.
The self inflating function of this pad is lessened by the rails, which need inflating. I had to blow at least 5 or 6 full breaths into it. Therefore, one of the bonuses of a self inflator is reduced from the outset. 
The air rails seem like a great idea, and may work for someone who fully inflates their sleeping pad. I tend to fully inflate then allow some air to leak out until the pad reaches its maximum comfort. Doing this, the air rails were too soft to make any difference to me and did not prevent me from shifting off the pad. In fact I couldn't even feel them easily when I rolled over. They did feel odd when my arms were on them, but that may change as you get used to it.
I cannot attest to the durability...I returned the pad after two days. It is made of similar material to my Lite Core pad, which has served me well for 10 years and is still in good shape. Plus being self inflating with the foam provides some cushion backup if there is an unrepairable leak. The valve construction is similar to older versions and seems reliable.
I also cannot attest to the insulation this pad provides, as I returned it before any trips. It was easy to get it back into the stuff sack prvoided for it, along with the repair kit.
For a 1.5 inch pad, it is relatively comfortable, but no better than my old one. There are more comfortable lightweight options out there now, which I am evaluating and discussing with experts in the forums, and I will review my eventual replacement pad in the future.
Source: bought it new
Price Paid: $89

Your Review
Where to Buy
Help support this site by making your next gear purchase through one of the links above. Click a link, buy what you need, and the seller will contribute a portion of the purchase price to support Trailspace's independent gear reviews.
You May Like
Specs
Unisex
Price
Historic Range: $75.93
Reviewers Paid: $35.00-$120.00

Women's
Price
Historic Range: $62.93

Recently on Trailspace