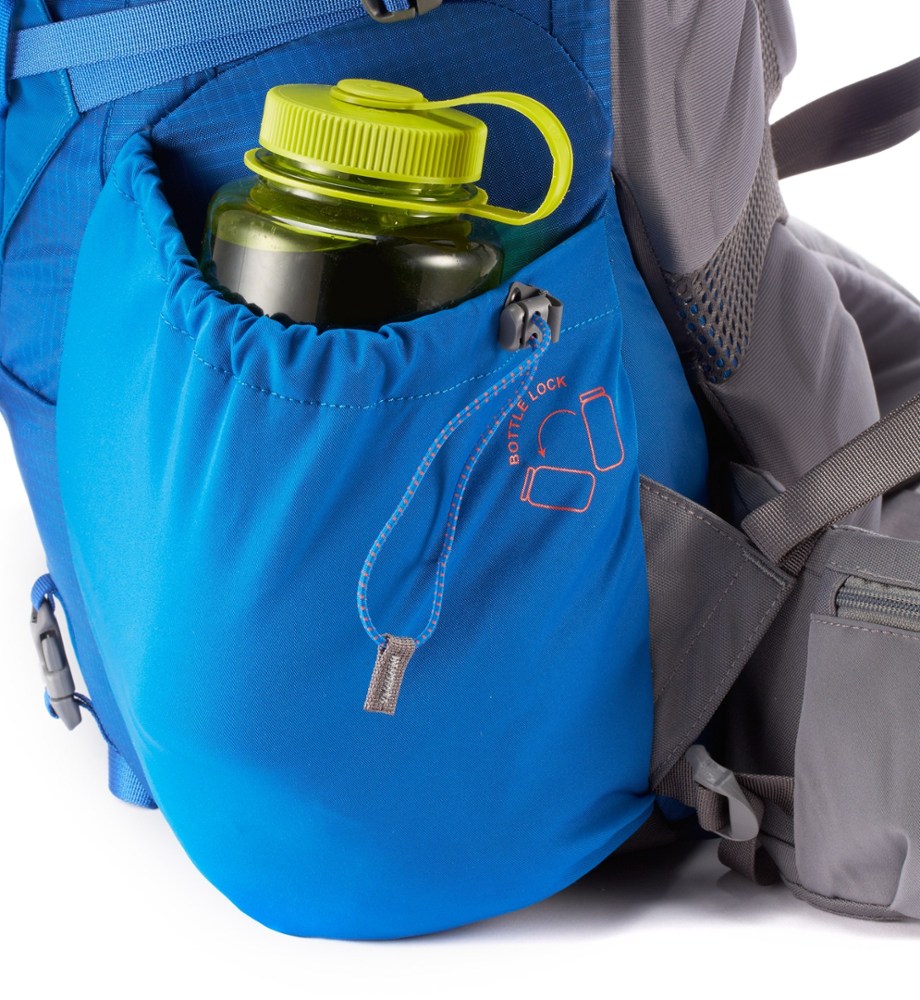 Specs
Men's
Price
Historic Range: $83.93-$118.93
Reviewers Paid: $116.73

Women's
Price
Historic Range: $78.83-$118.73

Reviews
1

review

5-star:

0

4-star:

1

3-star:

0

2-star:

0

1-star:

0
This is a good little pack that is perfect for filling the gap between your small overnight pack, and your week + pack. It is lightweight, and has well thought out, usable features, without the clutter of too many.

I recommend this pack to anyone that needs an inexpensive mid sized pack, or wants a lightweight pack that isn't stripped of features.
Pros
Price
Weight
Well designed
Good feature set, without clutter
Cons
Discontinued :-(
Plain, cheap shoulder straps
Hard, stiff lumbar pad
I'm not sure what the picture on this page is, but...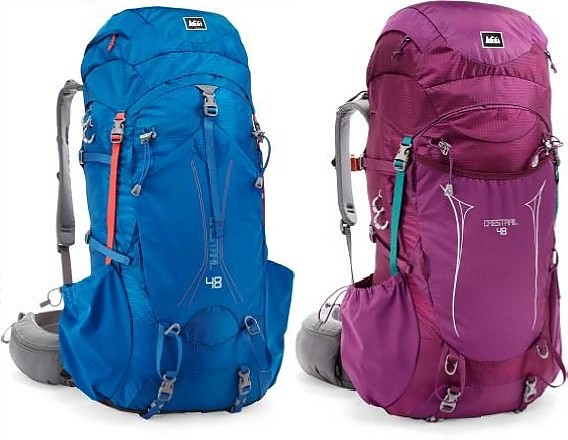 ... this is what my Crestrail 48 packs look like.
The Crestrail 48 is the little brother of the Crestrail 70, and is apparently REI's attempt to make a lightweight "weekend" backpack that still has plenty of features. Lightweight seems to be the key here, as the overall theme on this pack is 'smaller & lighter'. Take the straps, for example: most are 3/4" or 9/16" wide. Only the main hipbelt is wider, measuring 1 and 1/2 ". Even with the obvious lean towards "lightweight", REI has still managed to include quite a list of useful features on this pack.
I own the men's and women's versions of this pack, although the women's version is still sitting in the gear pile untouched. I got it for a hiking partner/friend, but it just didn't fit her quite right. So we ended up replacing it with a Deuter ACT Lite 45 women's version. [sigh]
Anyway...
--First, let's take a look at REI's "official" specs;
Pivoting hipbelt helps keep your load balanced over uneven terrain
Tubular aluminum frame cuts weight, transfers load to hips
Generously padded back has airflow channels
Adjustable torso length lets you fine-tune the fit
Over-the-top and side compression straps
Hydration pocket is accessible from outside; fits a 3-liter reservoir (sold separately)
2 pockets in top lid have soft tricot linings for phones or sunglasses
Side zip offers access to deep-down gear
Stretch-mesh front pocket is handy for bulky items
Secure side pockets hold 32-oz. bottles; hipbelt pockets
Tip grips and speed hooks securely hold trekking poles; lash loops for extra gear
Bottom compression straps can hold a sleeping pad
Frame type Internal
Gear capacity (M/L) 48 / 51 liters
Gear capacity (cu. in.) (M/L) 2,929 / 3,112 cubic inches
Weight (M/L) 3 lbs. 13 oz. / 4 lbs.
Adjustable torso Yes
Fits torso (M/L) 18 - 20 / 19 - 21 inches
Fits waist/hips (M/L) 28 - 44 / 30 - 46 inches
Material(s) Nylon
Frame material Aluminum
Number of stays 1
Suspended mesh back panel No
Pack loading Top
Pack access Top / side
Number of exterior pockets 4 + main compartment
--Now let's get on with my review;
Weight:
Weighing the pack while empty, my scale repeatedly showed 63.1 oz/3.94 lbs. This comes out to 3 lbs 15.1 oz, which is slightly above the stated weight of 3 lbs 13 oz for the Medium size. A difference of 2.1 oz on a 4 lb item is negligible, in my opinion.
While this may not be the lightest pack in this capacity range, it is not the heaviest, either. And considering the many features, I have to say that the weight is probably about average.
Construction/Materials:
The materials look and feel solid, with the possible exception of the straps. I'm not saying the straps are NOT solid and durable, I'm just expressing my doubts as to whether they will last. They seem to me to be very narrow and very thin—again, the overall theme on this pack is obviously towards "lightweight". In the end, they may turn out to be fine. I'm just not used to seeing straps this thin and narrow. They have done their job when I've used the pack, and they have held up for now. Only time will tell.
Construction appears to be good- nothing obvious like frays, loose threads, bad stitches, etc.
One thing I HAVE noticed is a lack of "double stitching". While typically common on backpacks (at least the ones I have/have had), I only see it on this pack in very specific key places such as strap attachment locations. This immediately makes me question the strength and durability. Again, it may just be me. I haven't overstuffed the pack, and so far have only had 20 to 25 lb loads in it, so... Again, only time will tell.
Use/Features: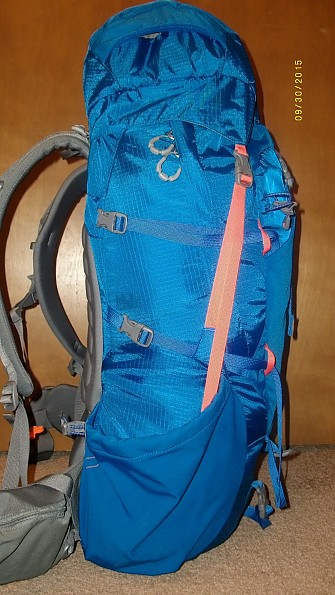 The left side (as worn).
See the two (2) big zipper pulls on this side? That is the side (or "panel") access to the inside of the pack. More about that later.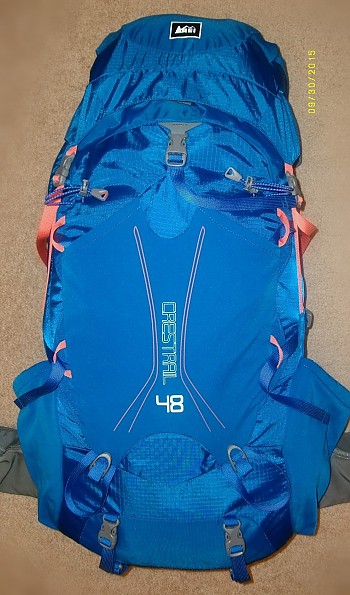 The front.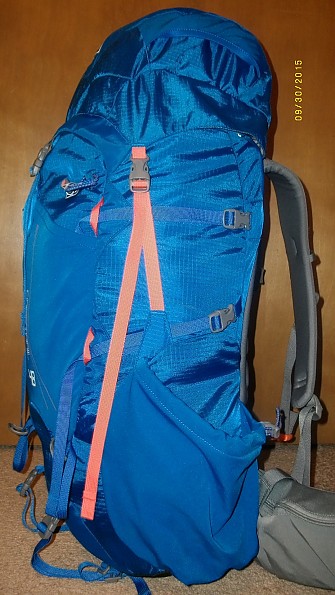 The right side (as worn).
It's a good looking, "clean" looking pack. It has plenty of straps, pockets, and attachment points, but not so many as to look busy, or be confusing.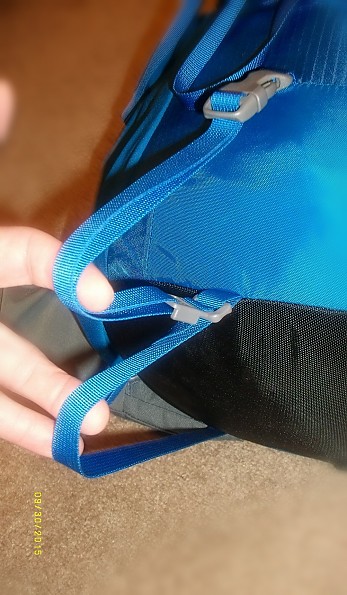 This is an interesting strap arrangement. I haven't actually used this, because I rarely strap things to the outside of my pack. But I have played around with it, testing it, and I do like the design. Rather than having one (1) set of straps for the bottom of the pack, and another set for the lower front (the area where a "sleeping bag compartment" would typically be), REI used one (1) set of straps for both areas with a little plastic slider/separator in between the two (2) areas.
It's actually a pretty neat system. It still allows you to have two (2) separate items attached at the same time, but just uses one (1) strap for both. Of course, in addition to using both, you can also use one (1) or the other, or neither.
Also notice the very small (narrow) straps. Again, small and lightweight is the obvious theme.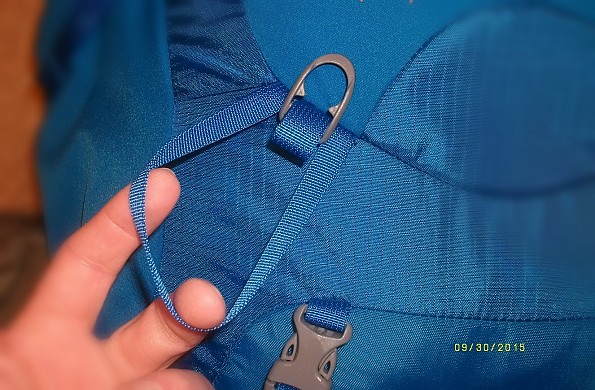 Here you have the usual tool attachment loops—typically called "ice axe loops".
Again notice the very small strap size. I have doubts about the ability of these little things to hold a full sized ice axe. And I seriously question why they were even included... ?
More interesting, though, is the little plastic piece (in the upper center of photo) with the half-moon shape at one end. That is one of the two (2) pole tip holders (for trekking poles). REI calls them "tip grips". I really like these! But more about those in a minute.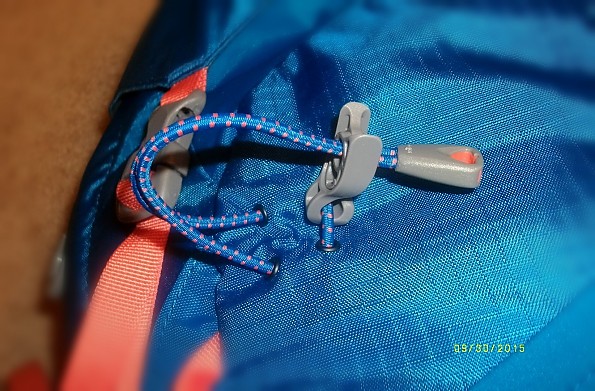 Here are the upper tool/pole attachment points. REI calls them "speed hooks".
At first, they look very cheesy and wimpy. One (1) little piece of plastic and some elastic cord. The design is so uncomplicated, that you just dismiss them as useless- until you use them. On the contrary, they are surprisingly well thought out, and work great! Deceptively simple.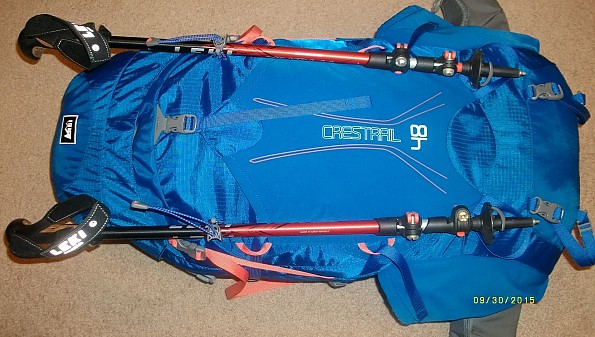 And this is what it looks like with trekking poles attached.
I really like having this option, because when I'm hiking or backpacking, I am constantly switching between using, and carrying, my poles. And I like the simple yet secure way REI has done it on this pack. This pole carry design is actually one of the reasons I picked this pack over the other choices.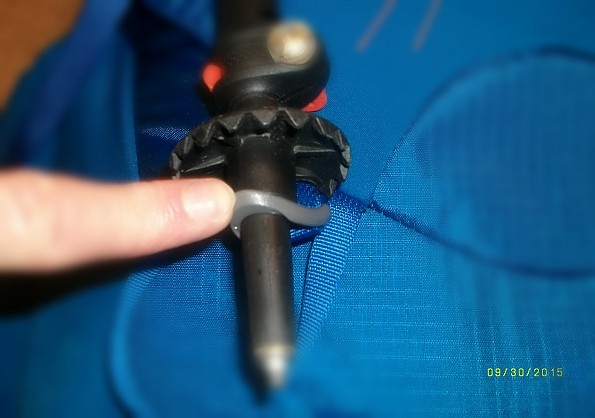 Again, the pole tip holders. These are awesome.
For such a "low-key", and unassuming little item, they are one of my favorite features on this pack. They securely hold the tips of the poles, won't slip, and actually push the pole tips out away from the material slightly.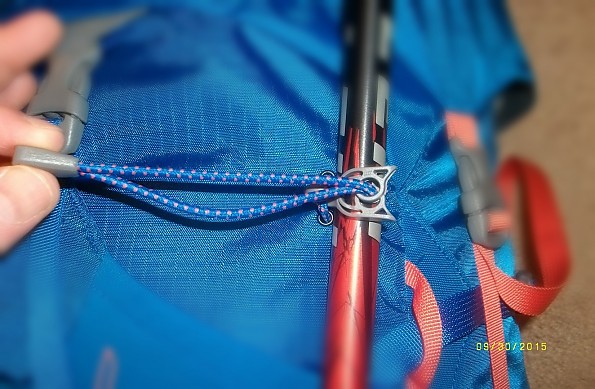 Again, just one (1) little piece of plastic and some elastic cord!
SO deceptively simple. And yet, so effective...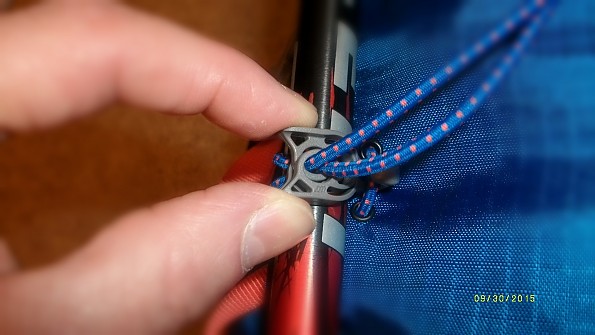 ... that you operate with a simple pinch of two (2) fingers! How cool is that?!?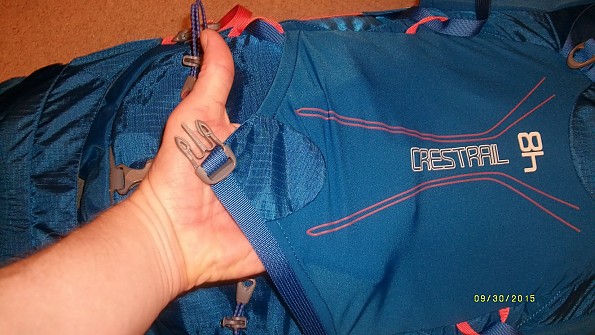 Here you have the "stretch-mesh front pocket", typically referred to as a "front stash pocket".
Very cool—I like these. It's big enough for just about anything. I typically use it for a mid or outer layer, so I always have it at hand when I stop. It is also great for wet items that you really do not want inside your pack.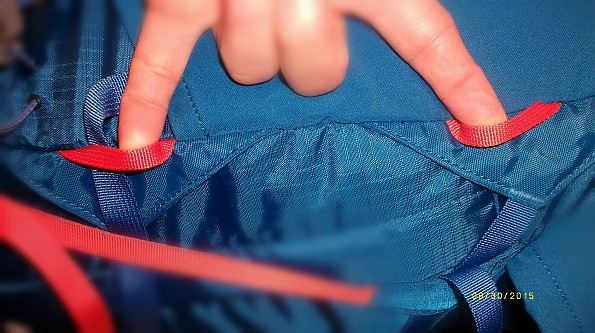 Gone are the days of "daisy-chain" loops all over your pack.
Now you just get a couple of sets of "lash loops". Nice to have if you need to strap a little extra something on the outside, but so small that they don't get in the way.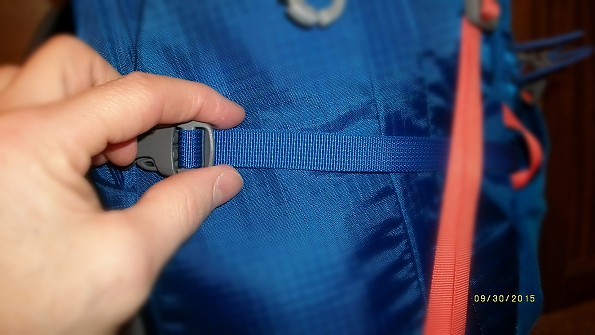 One of the side compression straps. And this is one of the larger straps on the pack.
The pack is actually laying down in the photo, which is a bit confusing. The top of the bag would be to the left, in the photo.
Notice the large zippers—REI didn't skimp here. And that shows that they were thinking- this is going to be the weakest point of the pack when stuffing it full, or when jostling around on a rough trail with with a heavy load. Big, heavy duty zippers are a must. 
Also, as on most of the zippers on this pack, notice the almost comically large zipper pulls. Of course, this winter when I am grasping at them with cold, gloved fingers, I won't think they are so funny!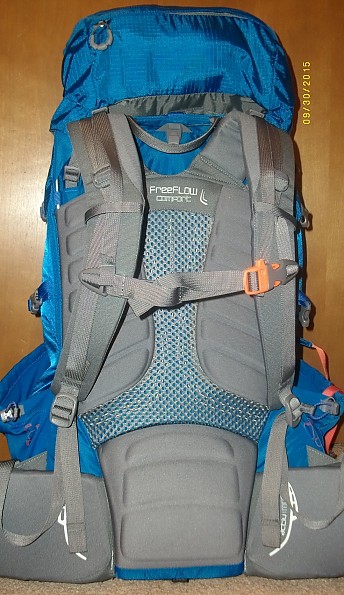 A view of the suspension and back panel.
There is absolutely nothing spectacular about the shoulder harness. They are some of the thinnest, most plain shoulder straps I have seen on any backpack. As a matter of fact, I would almost go so far as to say they are... Skimpy? Meager? Paltry? Deficient? At the very least "Plain Jane".
They are not "bad"... they just aren't good.
I have better shoulder harnesses on my "off-brand" backpacks that cost less than $70.
Yes, I understand that this pack was intended to be lightweight.
And I understand that it was probably not intended to carry much weight.
And I understand that the idea is to get most of the weight on your hips, not your shoulders.
I get all that.
But still.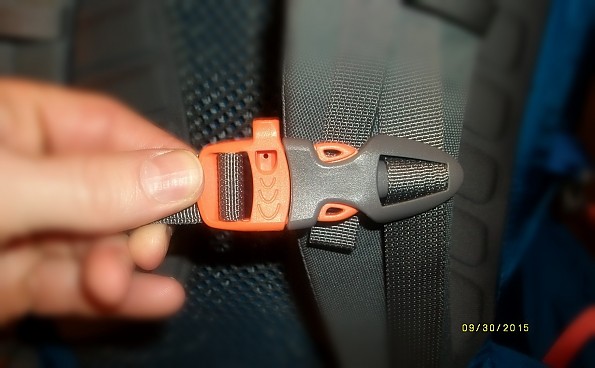 Sadly, this is the only noteworthy thing about the harness/shoulder straps.
Woohoo- scratch that one off your "10 essentials" list. Lol.
(I may jest, but the truth is that this is a good safety feature to have on any pack.)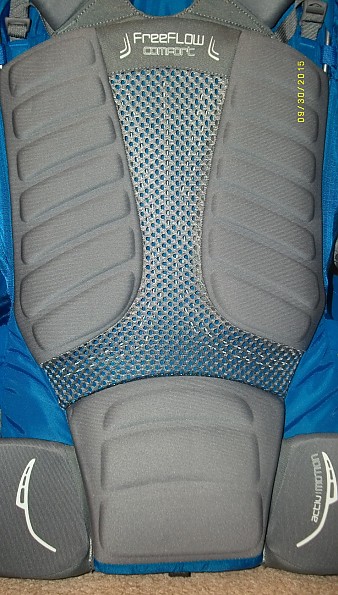 The back panel- padded areas and suspended mesh.
REI claims that it is a "generously padded back". Um, okay. It is actually a little hard/stiff, but yet somehow still comfortable (the upper part, anyway).
Obviously the airflow channel and suspended mesh actually work, because although my back does still sweat when using this pack, the sweat pattern closely matches the shapes of the padding you see in the photo.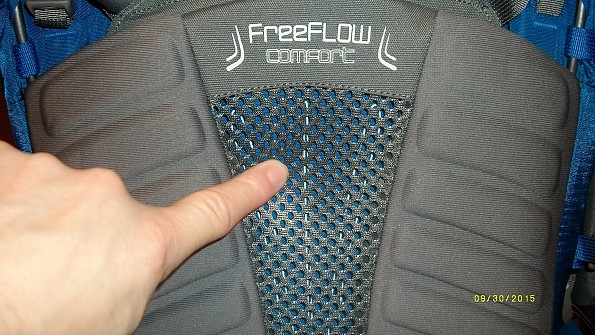 A better view of the suspended mesh, and back padding.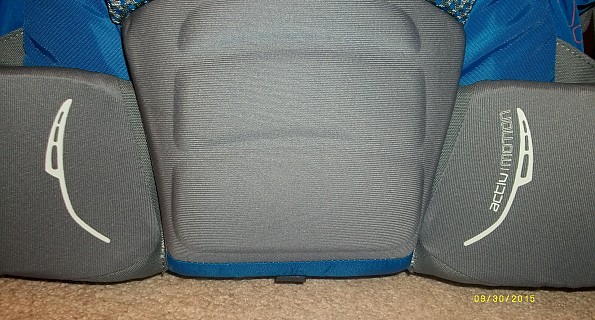 First, notice the "activ motion" pivoting hip belt system. This isn't new, but it IS new to me.
I haven't noticed any benefits from it yet, but then I haven't had this pack on any really challenging terrain yet, either. We shall see.
And now for the make or break point of this pack for me. See that big lumbar area pad in the middle? This will be the deciding factor of whether or not I keep this pack. 
Looking at the photo, from the top, as you go down, those pads get increasingly closer to you. In other words, closer to your back, when you are wearing the pack.
The "pad" is actually quite hard. And because it sticks out, it presses quite uncomfortably- almost painfully- into my lower spine/tailbone area. It is the first thing I feel—immediately—when I put the pack on. Even when the pack is empty!
Oddly, it seems to get better with weight and motion (walking). I said "better". I didn't say it went away.
**- Now to be fair, and honest, I have to tell you that I have 3 compressed discs, 2 of which are "protruding", in my lower back (yeah, I know—I shouldn't even be backpacking. Blah blah blah. Lol)
So this issue I have with the lumbar pad area could very well be specific to ME and my injury.
But I still needed to at least point it out.
If I didn't like the pack, I would have already gotten rid of it specifically because of this issue. But I really do like the pack—enough that I am willing to try using it a few more times to see if the padding will "soften up" with more wear, miles, and sweat. It is a possibility. I've seen it happen on a couple of my other packs.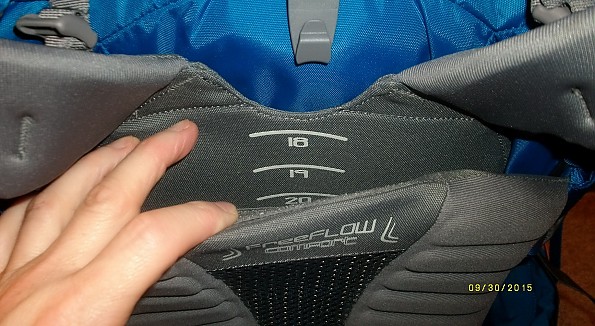 Here you see the "rip & stick" hook and loop closure (AKA "Velcro") system for adjusting the torso length.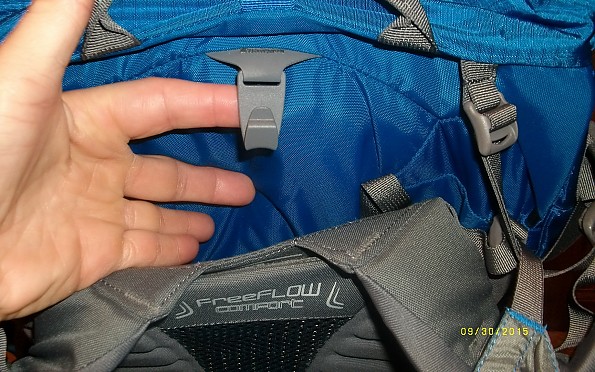 For those who use hydration bladders, this is where it hangs- in between the bag and the back panel/suspension.
If I ever decide to use one, this is where I would want it, rather than in a "sleeve" inside the pack.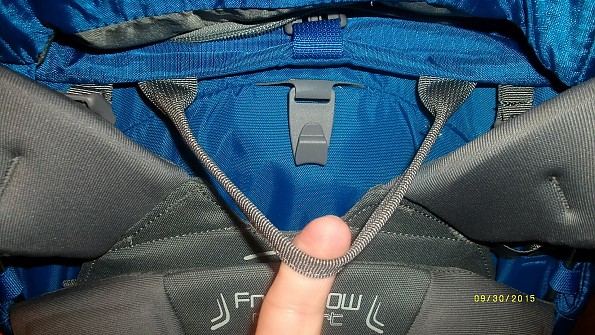 You all know what this is.
It goes by many names- "carry handle", "lift loop", "haul strap", etc., etc. Notice, again, a very small piece of webbing- especially considering that this is intended to support the entire weight of the pack.
So far it has seemed solid to me every time I have used it, but, again, so far I have only had light, warm weather loads in the pack. This winter will be a better test for it.
Moving up to the top lid, there are four (4) pockets. Of the four (4), two (2) are large, and the other two (2) are small.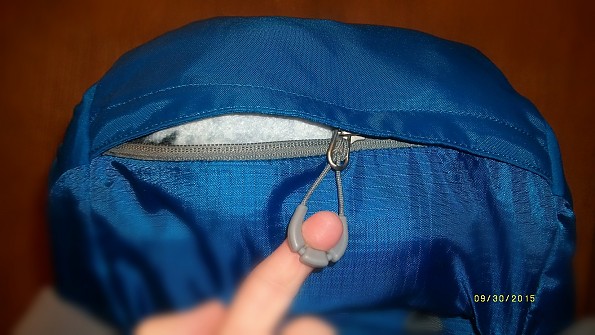 Here you see one (1) of the larger of the four (4) pockets, with it's oversized, glove compatible zipper pull. This is the backside of the top lid (closest to your head). There is plenty of room in it.
I typically keep a toiletry kit, first aid kit, and water filter kit in it. That's pushing it, but there is enough space left to stuff small, loose items in as well.

On each side of the top lid, there is a small, almost hidden, pocket. They have a small "awning" type cover, made of the same stretch mesh material as the large front stash pocket.
Contrary to REI's literature/advertising, only ONE (1) of these pockets is lined with soft tricot (for phones or sunglasses).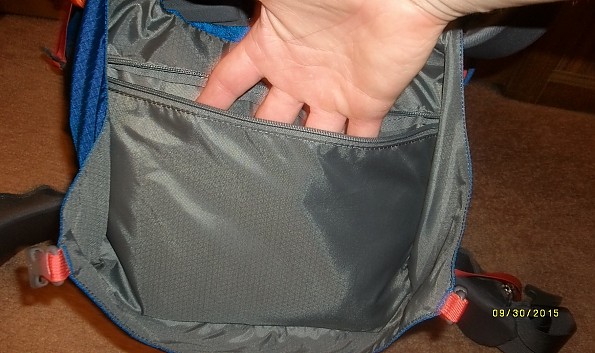 Unfastening the top lid, you come to the under-lid pocket. This is the last large pocket.
Since both large pockets share the top lid, there is only so much space- you can stuff one or the other to it's max, but not both. The more you put in one, the less room there is in the other.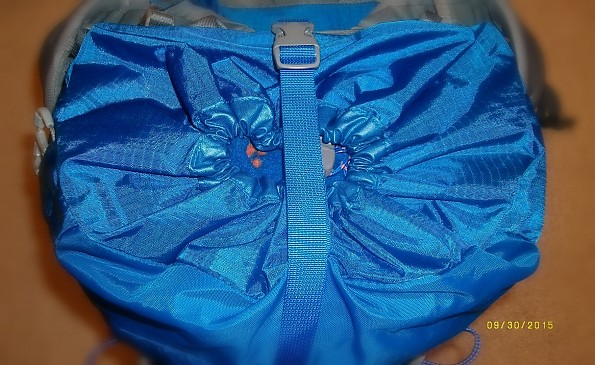 Looking down at the top of the pack with the top lid unfastened, you see the top compression strap.
This is great if you overfill it and want to cinch it all down—although I don't recommend overfilling this pack. I'm not convinced that it was designed for, or will handle, a large or heavy load.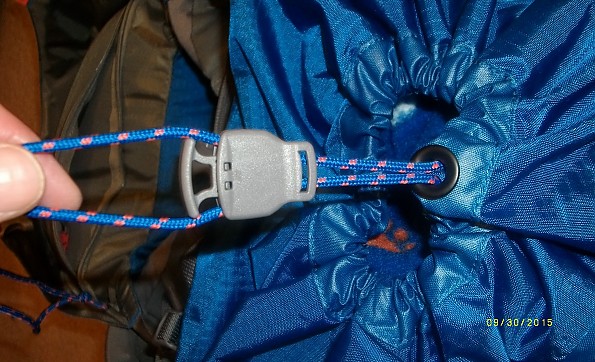 The cinch cord for the pack bag top.
Look familiar? That's right, borrowed from Osprey.
There is nothing mentionable on the inside of the pack- no pockets, sleeves, panels, dividers, etc. On the inside, it's just a simple pack bag.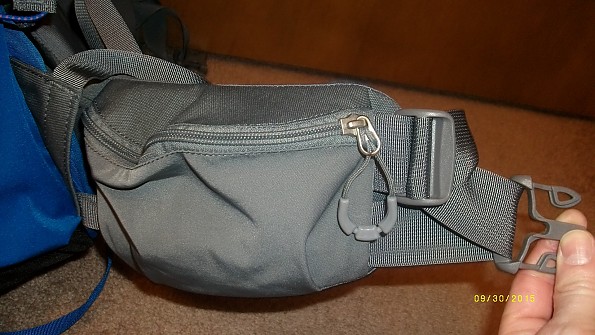 Here you see one side of the now standard (thank GOD!) forward pull (or "ergo-pull") hipbelt, with hipbelt pocket (again with the oversized zipper pull). The hipbelt pockets are on both sides, and are made of that stretch mesh material- meaning you can really cram a lot of stuff in them! I love hipbelt pockets! I love having things within reach while I'm walking, without stuffing my pants' pockets full.
Perhaps you have noticed the zippers throughout the photos? For a pack that is obviously leaning toward "lightweight", REI did not skimp on the zippers. Every exterior zipper is a standard size or larger. That, to me, is a good thing!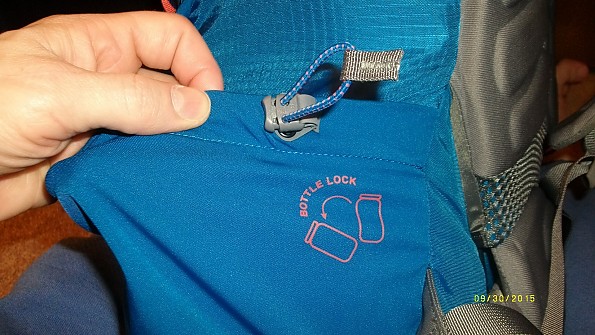 Detail view of one of the side pockets and its closure mechanism.
These side pockets (usually referred to as "water bottle pockets") are made of that same stretch mesh material found elsewhere on this pack. The closure system is a doubled elastic cord with double barrel lock and an added "pull tab" of webbing material. A very nice design, that is also very functional!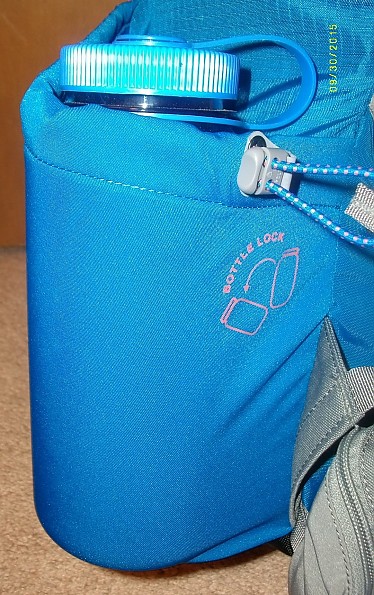 The pocket will hold a 1L Nalgene in the upright position...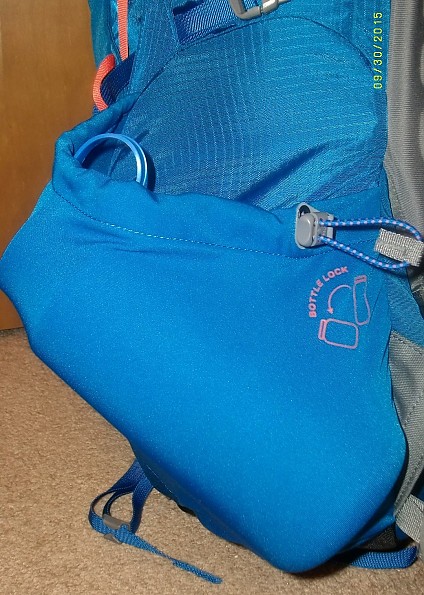 ... or laying over at an angle, utilizing the "bottle lock" feature.
I've used both, and find that the "bottle lock" method holds the bottle much more securely, with less sway (slosh?) while walking. Either way, there is still more room left in the pocket for other things—like tent poles, a rolled up sit pad, baseball bat... Lol, just checking to see if you are paying attention!
Accessories:
None.
This pack does not include a rain cover. REI recommends the REI Duck's Back 60 L rain cover (imagine that) for this pack. I purchased said rain cover, but have not had a need to use it yet, so I can't tell you anything about it.
Conclusion;
I rated this pack at 4 stars for the following reasons: 1) because of the lumbar pad issue I have with it; 2) because of the very plain, cheap shoulder straps; and 3) I am not convinced of its strength and/or durability due to construction. (I hope to be proven wrong!)
BUT... All in all, this is a pretty good little pack. I like it. I got it specifically for overnight cold weather trips and solo warm weather trips up to three (3) days. It has served me well—so far. Based on the single stitching and tiny straps, I doubt you will be able to carry any big or heavy loads with this pack.
Excepting the lumbar pad issue previously mentioned, the pack rides fairly well and I haven't noticed any pinch points, pressure points, or rub spots.
Again, as mentioned, there is nothing special about the shoulder harness- it is just as plain and simple as you can imagine.
While certainly not the most comfortable pack I own, it is far from being the worst. 
As I already stated, I plan to give this pack a few more tries, to see if the lumbar pad issue gets any better. If it doesn't, then I will most likely replace this pack with a different brand for that reason alone.
I certainly hope that my review doesn't make you shy away from this pack. It really is a decent little pack with many fine features. As I stated, the lumbar pad issue may very well be specific to me and my back injury.
Since this pack has been discontinued, if you want one, you will likely have to find a used one somewhere.
OR... if you really want one that badly, who knows- I may just sell you mine if it doesn't work out for me!
:-)
Good luck and get out there!
As I have stated in one of my other reviews, I rarely ever intentionally take pictures of my gear while using it, and therefore I rarely ever have a picture of my gear "in action".
BUT... On a short "quick getaway" trip in KY, I was playing around with a new camera, and managed to snap this photo of my REI Crestrail 48 hanging out with a friend at the White Oak Trail campsite.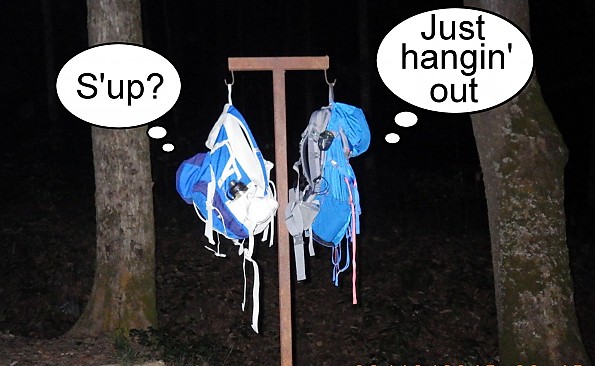 ;-)
Source: bought it new
Price Paid: $116.73

You May Like
Recently on Trailspace