REI Folding Utensil Set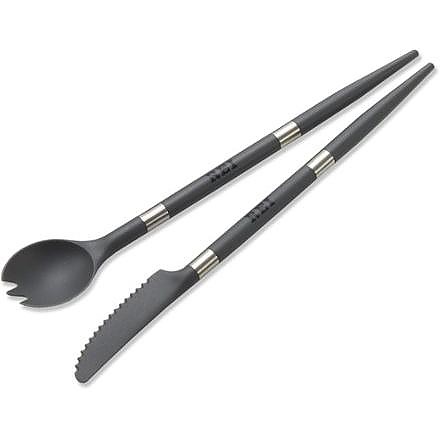 I originally bought these out of curiosity, but I have learned to respect these utensils.
Pros
Pack small
Great length
Lightweight
Cons
Small spoon bowl
Bulky for chop sticks
I bought these utensils as a curiosity, but I have found a good home for them.  Every time I have used them, I have found them more than adequate for utensils.
The bowl is small for a spoon, and the thickness of the chopsticks are very thick.  The thickness of the chopsticks are throwing off my chopstick use, but with practice they will work fine.  
The place were these shine is in packability. You can't find a longer set of utensils that will pack smaller.  
I have a small Esbit cook pot that I like to carry as an all in one kit, but was not able to pack utensils in it due to the short size.  This kit is the only one that fits in this cook pot.  I can get everything in this photo inside of that cook pot and cook pot bag.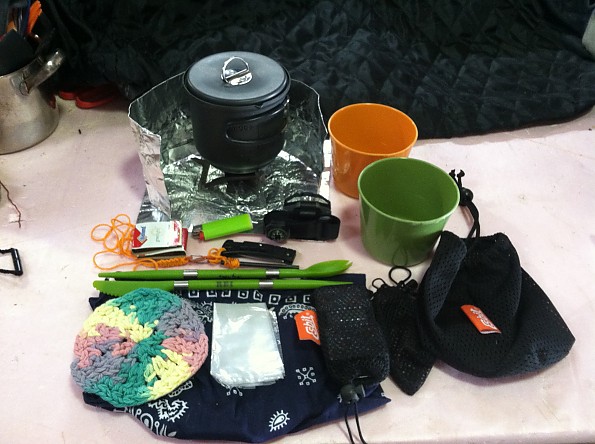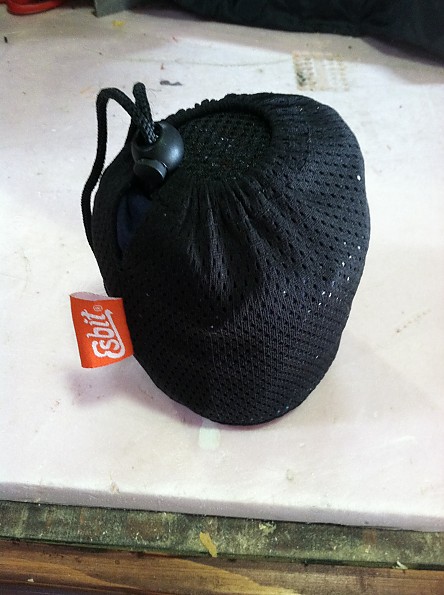 I don't need the excess length of this spork and knife for this pot, but it is the only thing I have that will fit in that pot.  You can see that when extended, they are longer than a long Sea to Summit alloy spoon.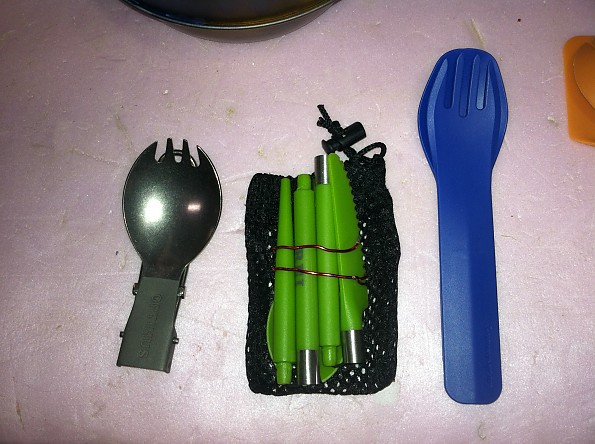 I am left handed and I thought the threads would unscrew when I was scraping with the fork or spreading with the knife, but they hold firm. (Yes, that is a left-handed LMF spork). The Human Gear Go Bite Duo is running in the lead for best all around set (darker blue).

Source: bought it new

Pros
Compact
Lightweight
Long handles
Cons
Small spoon bowl
Plastic threading
I go back and forth on these each time I take them out. On the one hand, this set is the most compact utensil set I own. On the other, I hate plastic. Really — it's to the point where I will replace things for no other reason than the new item contains less plastic. And that's probably why I own a titanium spork, an aluminum spork, an Eat-N-Tool (how could I not have one of those?), and this set.
No matter how much I hate plastic, I have to admit that this is a great little utensil set. Rather, this is a great little spork. The first thing I did when I bought this set was to throw away the knife. In all my years hiking, I don't think I have ever said to myself, "My normal knife just won't do. If only I had a small, plastic butter-knife with me, then I could really enjoy this meal."
I also found, like the previous review stated, that these make really awkward chopsticks. With that in mind, the knife did nothing but take up space in my cookset. The spork, on the other hand, weighs in at 0.4oz (0.1oz less than my Snow Peak titanium spork). It also has a handle that is noticeably longer than my Snow Peak titanium spork. And to top it all off, it fits completely inside my Snow Peak Ti Solo cookset (along with a stove and fuel canister) — something no other spork (not even the Eat-n-Tool) will do.
Being able to fit inside of a small cookset may not sound like a big deal, but bear this in mind — silnylon and mesh are lightweight and delicate fabrics. The more pointy edges I can keep away from them, the longer they are likely to survive. To this end, I try to keep all of my hiking gear well stowed.
CONSTRUCTION: This set is made from three pieces of plastic (per utensil) with metal cuffs in between each piece. The plastic is threaded to allow you to screw the segments together when its time to eat. They are held together by a small elastic cord when not in use.
The bowl of the spork is a little small for my liking, but it does the job just fine. The longer handle isn't really a necessity, but if you like cook-in-bag meals, it will keep your hands cleaner.
FEATURES:  
Folding construction allows you to stow it inside your cook set or in the included mesh sack.
Elastic cord keeps pieces together when folded.
If you use both utensils, they can be used as (rather clumsy) chopsticks.
Source: bought it new

Your Review
You May Like
Specs
| | |
| --- | --- |
| Price | Historic Range: $7.93 |
Recently on Trailspace