REI Hobitat 4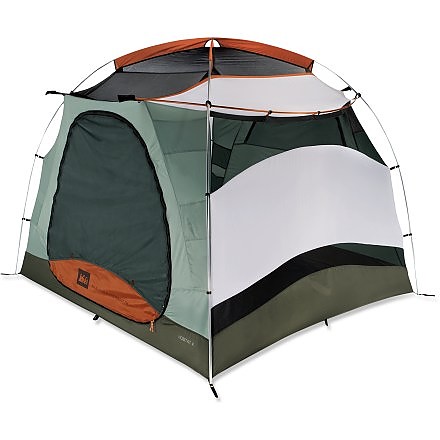 This large (base camp / car camping) tent has lots of headroom and is a very stable and comfortable 3-season tent.
Pros
Very stable in high winds
Nearly vertical walls and tall peak means lots of headroom
Aluminum poles are tough
Cons
Not easy for one person to set up
Reasonably heavy
Original version can collect rain on top
Aluminum poles can get bent
I have the original version - "improvements" have been made.
This is not a tent you would want to carry farther than the distance from your car to your base camp. For what it is, it packs reasonably small and light for a tent it's size - but it is luggable. not packable. Like most "4-person" tents, three full-sized people could spend a week in here comfortably - and if forced to, six could sleep without laying on each other, but there would not be room for gear.
The footprint (sold separately) and fly clip into the corner straps using color coded webbing. This tent uses 4 very long aluminum poles that cross at angles forming a square at the top. This makes it very stable, even in a stiff wind (which you wouldn't expect from such a big boxy tent) - and I rarely use the guys lines. While  it is not difficult for two, the construction makes it challenging for one person to set up.
The upper corners and entire top of the tent are mesh, and the fly just covers them. so there is plenty of ventilation. I have used it in four seasons, and can say this is a good three season tent. There are tabs for a gear loft in the center, and pockets in the corners. The head room is phenomenal. I really like to stand up getting dressed, and can do so even at the sides (not just at the peak).
After about 3 years of fairly constant use (about 75 or 80 nights), it is holding up very well. This is my first modern tent with aluminum poles (not counting tents from my mis-spent youth), and, while I liked their light weight, I was concerned about them get bent. This has not happened.
In the version I have, the square section of the fly between the poles at the top of the tent can sag in a rain storm and collect water. This is the greatest defect in the design. The fiberglass pole that holds the "brow" out above the door broke, as hollow glass poles are wont to do. And one of the grommets it sits in came out and had to be replaced.
If you're looking for a tall tent for car camping / family camping / base camp, this is good choice.
Source: bought it new
Price Paid: a few hundred

A great car camping tent. Perfect size for what I was looking for. Good ventilation, kept out the rain, nice to be able to stand up.
Pros
Perfect size for what I was looking for.
Seems well constructed.
Great car camp tent
Cons
Heavy
Some odd zipper arrangements
I currently had 3 tents, a very large one, a small backpacking one, and a (very) old one. I considered a few tents for what I wanted/needed - a long weekend type car camping tent. I was sold on either this or a (now) dis-continued Big Agnes. I went to a local REI and was surprised as they had in the BA - it was still in the truck and the salesgal went and got it for me to set up.
I was fully expecting to like it and purchase as it was at a discontinued price. I had both the Hobitat and BA set up side-to-side - and to me, it was no contest. As much as I wanted to like the BA, it paled in comparison - construction, taugtness, and just the general design. The BA came with the 'garage' as its rain fly/garage - cool. But, I like the option of either/or (although you pay for it with the REI). The BA topped out at 5'6", so that was the big draw to the Hobitat as I can stand up in it.
I went with the REI footprint, garage, and garage poles as well. The garage is great and a nice add-on. I have used it once in the 3 x's I've stayed in it. It poured rain on/off for 2 days and it was nice (and almost 'fun') to hang there and watch the rain drip off. The garage 'poles' are kinda hokey and expensive (for what they are), but, hey.....they work and complete the package.
Tent was functional, had all the pockets and needed/expected tie-off loops for clothes lines, hanging stuff from (why does the garage NOT have any??). I did find the front door zipper(s) odd in that the 'door' zips up or down, but the no-seeum netting only zips closed by going 'up' .....uh...........
The tent is definately a wind catcher, so I think all stakes should be used pretty much all the time - and as usual, I had to purchase additional stakes, cord, line tighteners, etc. To be expected...but it's a good deal of additional stakes, cord, etc.
Easy to set up with two people, a bit of a chore with only one (it pays to be 6 foot ot taller). Good product and very happy with the purchase.
Source: bought it new

Really great tent! Love it.
Pros
Easy to set up
Plenty of room
Large front door and lots of ventilation
Cons
Really hard to set up alone
I bought this tent at REI. I believe it is a newer model compared to the one some of these reviews are about. Mine is the 3-pole model as a posed to the older 4-pole model.
I used this tent for my girlfriend and I. We set up our tent in about 5 min. It has plenty of room for two full sized cots. For the two of us this tent is perfect. 4 people could squeeze on the ground but might be tight. The ceiling space is great because you can stand up and move around. I love that the big front door and skylight on the roof make it feel like you are sleeping outside.
I can't comment on the rainfly because I did not use it. My only complaint is that I would like to use this tent by myself but it's almost impossible, for me Atleast, to get up on my own. Maybe someone knows a trick I do not.
Also the little hooks on the sides and ceiling seem a little cheap. I could see them breaking in the future after prolonged use. I hung a lantern from the center and it looked like there was a lot of strain on the hooks and that they might rip.
All in all a great tent! I recommend it for anyone looking for a nice tent to take to the campground.
Source: bought it new
Price Paid: $299

I've spent a total of seven nights using this tent. Ventilation is good and usable space in the tent is essentially 100% as the walls are vertical and there is a tremendous amount of headroom. On my third day of camping thunderstorms started passing over at about 2 in the afternoon and did not let up till about 9 the next morning.
The tent stayed entirely dry except for two tiny pin holes located in opposite corners near the very bottom of the tent. Total amount of leakage was maybe a teaspoon or so at each site. REI has an excellent return policy but I applied a spot of seam sealer to each hole the next day and the "problem" was solved.
Overall I am extremely satisfied with this tent and look forward to getting many more years of use out of it.
Design: three-season freestanding dome
Sleeps: 4
Ease of Setup: instructions say 2 people but 1 person can manage
Price Paid: $200

Very easy to set up. Ot takes up a small ground space for so much usable room on the inside.

NOT FOR USE IN COLD WEATHER!!! The vent/rainfly setup is very drafty. Get a warmer tent for when lows dip down to the 30s and below.
Perfect size for just me, my air mattress and a lawn chair and a few miscellaneous items.
Because it is well vented, it does not cook as soon as the sun hits it in the early morning.
Either make this your summer tent or buy a warmer tent. If you camp in Lousianna or Florida -> this is for you
Overall my REI Hobitat 4 Man tent review is a good one. After reading other reviews, I decided to put the tent to the test myself.
Most 4 man tents only fit 2 people comfortably, but I was impressed with the floor space of the Hobitat. It can easily sleep 3 people with no problem, but 4 people is pushing it.
All corners of the tent were usable, and even had little pockets to put supplies in.
This is a great tent for around $250, however I wasn't impressed with the fly. It didn't seem to cover the back of the tent enough. Also, I wish the windows had ties on them.
In the end, I am happy with my purchase of this tent. The ease of set up and breakdown was excellent.

Design: 4 man tent
Sleeps: 4
Ease of Setup: easy
Weight: 14 - 15 pounds
Price Paid: $250

A tent big enough to stand in, or lounge inside with several friends during stormy weather. Great for most types of weather, even light snow.
Pros
Can walk inside
Fairly easy to set up
Lots of interior pockets and loops for hanging
Cons
Somewhat difficult for one person to set up
Easily blown by the wind
A bit heavy, but OK for car camping
Great all around, car camping tent.
Source: bought it new
Price Paid: $240

This is my first "larger" size tent and I've really come to appreciate it. In the past I've used 3-4 person sized backpacking tents but now that the kids are getting older and we're doing more car camping, this tent really works.
I'm 6'3" and love the standing room. With its vertical design you get plenty of space to handle 3-4 people yet when packed, it doesn't take up a lot of room in the car (as compared to other family sized tents). The aluminum pole design holds up well to the CO afternoon thunderstorms and the big windows and doors provide excellent ventilation.
Design: Three-season freestanding dome
Sleeps: 4
Ease of Setup: requires two people due to height of the tent
Weight: not sure but seems to be about 25 lbs.
Price Paid: $250

My dad, two brothers, and I took this 4-man tent to Alaska last year for two weeks and it's coming along again this year. We played cards in it for a couple hours each night and it easily held 4-chairs and a small table. It has plenty of headroom and sets up easily and quickly, looks great too. The cool night wind slipped through the mesh corner panels so it didn't get warm at all but there was no condensation in the morning either. It held off the rain too. Best car camping tent I've ever seen.
Design: 3-season freestanding cube
Sleeps: 4
Ease of Setup: easy with two persons although one can manage
Weight: 28 lbs.
Price Paid: $300

My Hobitat has been OK, but it's not the easiest thing it put up. The deceptive thing about these reviews is the Hobitat was completely redesigned last year, so several of these reviews are for the old 4 pole model, not the new 2 pole model. Trailspace should mention that.
Price Paid: $85

Your Review
Where to Buy
Help support this site by making your next gear purchase through one of the links above. Click a link, buy what you need, and the seller will contribute a portion of the purchase price to support Trailspace's independent gear reviews.
You May Like
Specs
Price
MSRP: $269.00
Historic Range: $159.93-$219.93
Reviewers Paid: $85.00-$300.00

Recently on Trailspace