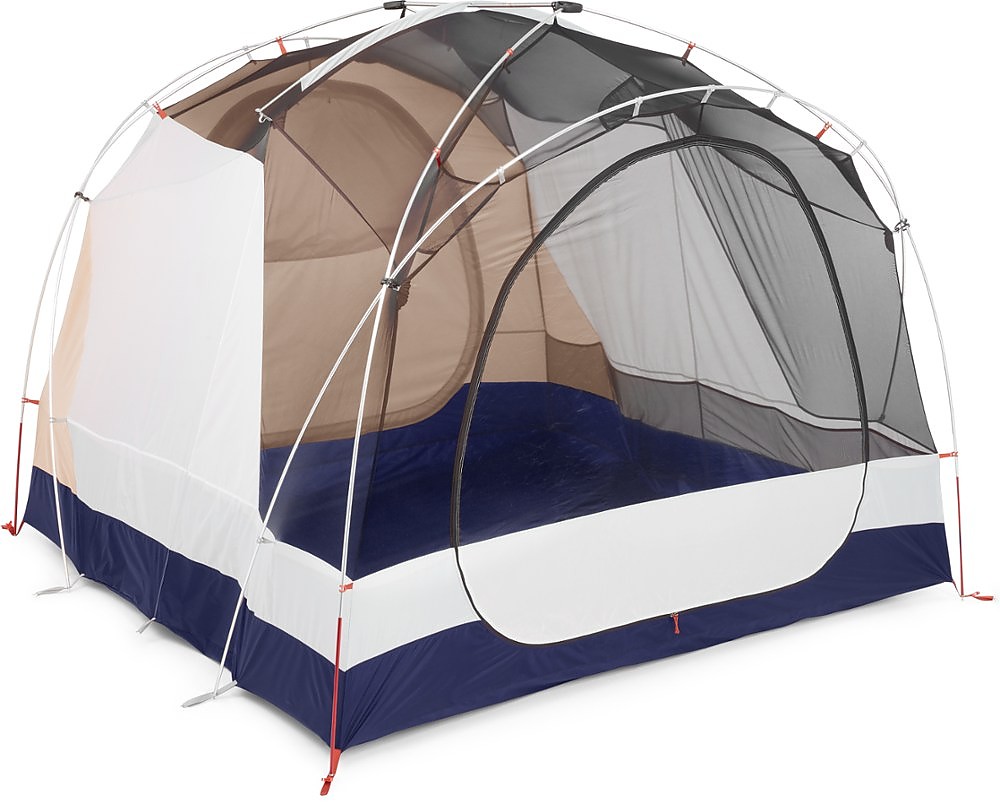 Specs
Price
MSRP: $429.00
Historic Range: $219.93-$399.00
Reviewers Paid: $220.00-$389.00

Best Use
Camping

Seasons
3-season

Sleeping Capacity
4-person

Packaged Weight
18 lbs 8 oz.

Packed Size
25.5 x 8.5 x 15 in

Floor Dimensions
100 x 100 in / 8 ft 4 in x 8 ft 4 in

Floor Area
69.4 sq ft

Vestibule Area
29 sq ft

Peak Height
75 in

Number of Doors
2

Number of Poles
1 hubbed poleset + 2 doorway poles

Pole Material
Aluminum

Floor Fabric
150-denier coated polyester Oxford

Rainfly Fabric
75-denier coated polyester taffeta

Design Type
Freestanding

Reviews
3

reviews

5-star:

0

4-star:

2

3-star:

0

2-star:

0

1-star:

1
Loved the tent. I've had it for 8 years. Just be sure to stake it in high winds. If it blows over, you're going to bend poles! That being said, this thing is about as much room for the footprint as I've seen. I love the backpack it comes in.
Pros
Roomy
Easy to set up, after you learn the technique
Excellent ventilation
Cons
You can bend poles easily
There is a learning curve to setting it up
Oh! Turns out you can't get replacement poles from REI. That sucks!
I've had the tent for 8 years and it's solid. Throw the tent on a kid, as it has a backpack for the tent, and you're off. This is obviously a car camping tent, but I love the feature. 
We have a large air mattress that we throw in, but I usually inflated outside. That's how large the tent opening is. You unzip the circle, roll it out, and then stuff it in the upper pocket. You can do the same with both doors and air it out.
If it gets hot during the day and the rainfly is on I will often unstake half of it and fold it over the ridge line to stop us from baking. 
I haven't used the tech garage, but if I find a good deal I may purchase it, just for the versatility. 
As mentioned, STAKE the tent, ALWAYS!  I set it up at home to dry out and the wind took it. It rolled and bent half the poles. If I didn't love it so much, I would throw it away. Sadly, REI doesn't sell replacement poles. I'm in the process of getting them fixed through a third party. Hope it goes well. 


Experience
Many camp outs in Utah, my home, and a few road trips, the last one along the Oregon coast.
Source: bought it new
Price Paid: $350

I chose this three-season, car-camping tent for my wife and I with the hopes of one day having kids and them being able sleep in it with us. No kids yet, but the tent has got lots of use anyways.
Pros
Spacious
Easy to set up
Metal poles are sturdy
Sturdy carrying case
Cons
Room divider doesn't roll up well
Although steel, stakes bend easily
Conditions: Bought this in November 2011. I've had it car-camping from Yellowstone NP to Pennsylvania, as well as in a parking lot for tailgating purposes. It's remained in good condition and all my friends who I've loaned it to seem to rave about it compared to whatever tent they have (they typically borrow it because their tent is either too small, in bad shape, or is non-existent). 
Setup: Tent sets up very easily with two people. My wife had never set up a tent before, and she figured it out on her own in no time. Setup can be done with a little practice by just one person, although I assume my 6'3" height helps with this. I didn't buy the footprint. Stakes are flimsy, so unless it's windy, don't bother. Staking will take much longer than you anticipate. 
Weather Resistance/Stability/Ventilation: The three big tests this tent has seen are 1) snowy/slushy conditions in February on the east coast 2) wet windy conditions in Montana (although not a downpour) and 3) sweltering humidity of the August on the East Coast. The tent has passed each tent with flying colors. The poles are strong, the fabric remains taut and the vents do their job well. I've never had condensation problems, nor has it leaked in any wet conditions..
Room: I'm 6'3" and can just stand. However, the head room is pretty much the same throughout the tent, not just a highpoint in the very middle. Typically it's just my wife and I and our gear (she's almost 6'). I have also slept comfortably in it with two friends (myself, one 5'7" guy and one 6'5" guy). I can spread all the way length or width-wise across the floor without my head or feet touching the side. I suspect the 6'5" guy may have been brushing up against the side if sleeping width-wise.
Packability: There nothing minimalist about this, but it is does come with a nice carrying case that has straps to carry it as a pseudo-backpack and it has divided section so the poles won't snag the tent material. Just because the carrying case looks like a backpack I would not suggest thinking it is a tent you'd want to go serious backpacking with though.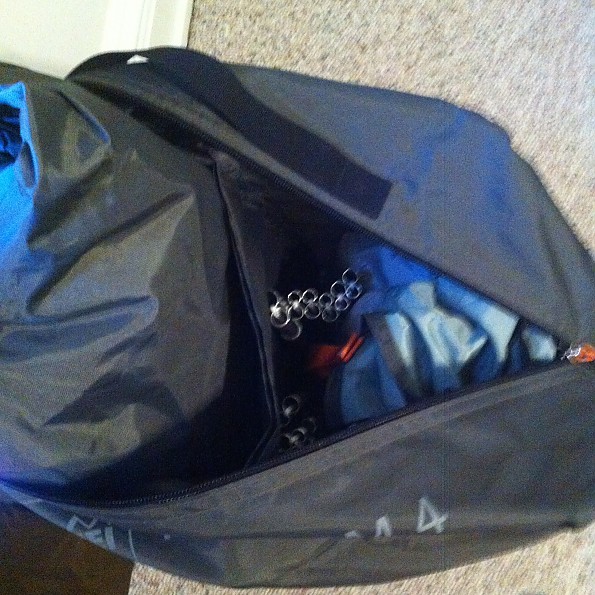 Notice the divider in the carrying case. This is especially nice so that the tent poles don't snag on the tent material. There is also a separate pocket for stakes and guy lines on the front of the case.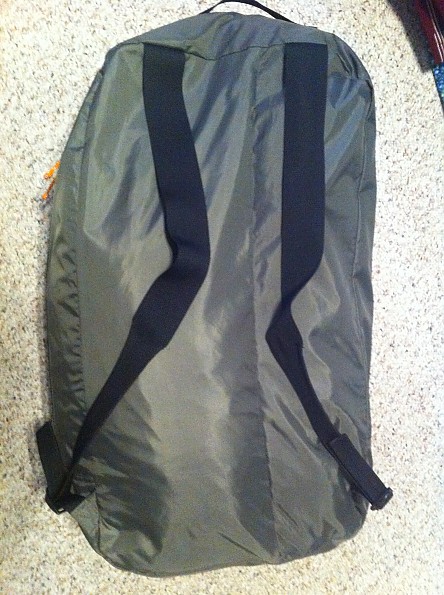 These adjustable straps on the carrying case can be used to carry the tent like a backpack. Although it shouldn't be considered a serious backpacking tent, this feature is handy when carrying a bunch of stuff from the car to the campsite. This frees up a hand to carry other things.
Ease of Use: The two design flaws I notice are 1) how the room divider rolls up and 2) the weak stakes.
First the room divider: There are small clasps on the sidewall to pull back the room divider. However, the bottom of the divider always comes unrolled and if you're sleeping perpendicular to the doors, this divider inevitably ends up in someone's face. The easy fix is simply tying it up and out of the way with a piece of string or bungy cord. 
Weak stakes: Although steel, these things bend under force. If you're staking in soft soil with no rocks or roots, these go in easily, but then again, when is that the case? With rocks or roots, these are tough to get in the ground and have bent on occasion. I haven't purchased new stakes yet, but will likely now that many of the originals are bent and I'm tired of bending them back in my table vise. Any replacement stake suggestions would be appreciated.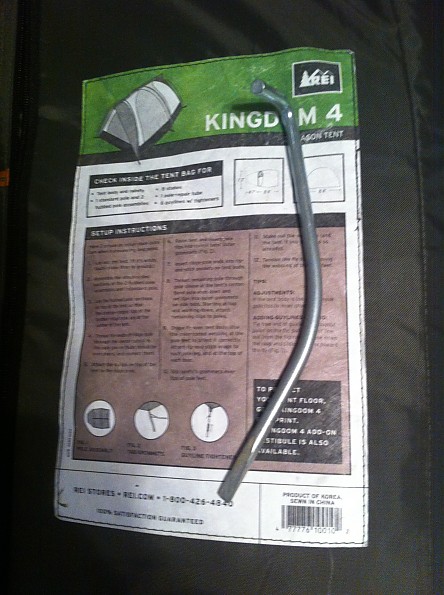 These 8.25" steel stakes that come with the tent bend upon contact with rock or root. 


This is REI's largest 3-season, 4-person tent in terms of both floorspace and height. The others being REI BaseCamp 4, CampDome 4, and Hobitat 4, and InCamp 4. This means it is also the heaviest, by far, at roughly 18 lbs. Some of the others come in at 10-12 lbs. Because we weren't concerned with weight, we felt the Kingdom 4 had the best features for us: 2 doors, only 2 poles, and a smaller crossover pole and generous vestibule for boots, bags, etc.
Before I was looking into a tent, I had a former REI employee tell me upon inquiring about REI gear in general , that he (and the company) know full well that a lot of their products don't meet the quality of other top-of-the-line brands. However, they consider their tents to be one of the few lines of products that they consider being up their with the best. Maybe others on Trailspace could weigh in on this, but I'm no expert. 
Overall a very good tent for a small family or a couple that is looking for something with lots of room. If my house was robbed and all my stuff was stolen, this would be one of the first outdoor gear-related things I'd consider replacing. 
UPDATE 07/22/2014:
I realized I never posted a photo of the full tent. In the photos below the blue tarp underneath is only unrolled during the day hours to be used as a shoe mat. Before going to bed at night, it gets rolled under the tent. In these photos the rainfly is on and staked out but the guylines are not tied on.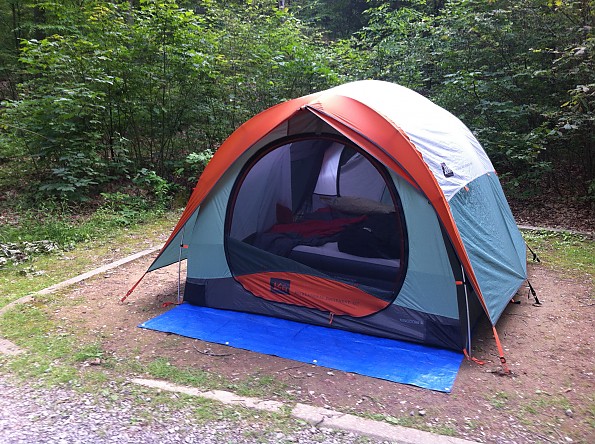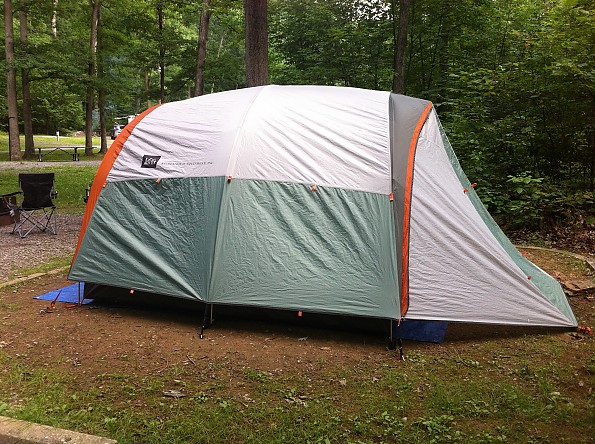 Source: bought it new
Price Paid: $220 USD

WORST TENT EVER purchased. Winds were only 30kms which flattened the Kingdom 4 and bent the poles. Not only that, the rooms are a joke, small and pokey. STAY AWAY from this tent. Look elsewhere.
Source: bought it new
Price Paid: 389 USD

You May Like
Recently on Trailspace