REI Mountain 3

The Mountain 3 has been discontinued. If you're looking for something new, check out the best four-season tents for 2023.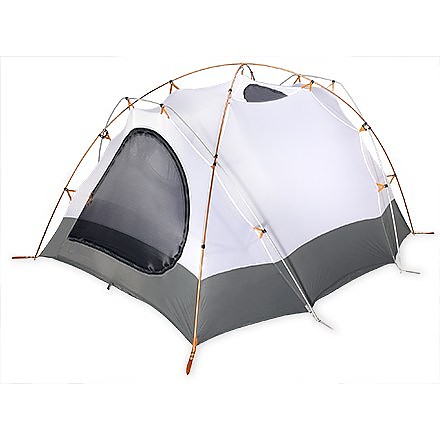 I bought this tent in 2010 and used it every single weekend 51 weeks a year for three years. It gets the job done.
Pros
Well made
When properly set up it's bomb proof
Reasonable price
Gear loft standard
Plenty of guy outs
Easy set up
Great poles
Weather resistant to the max
Cons
Needs a lot of stakes for open ground when windy
Extra storage stuff costs more
Footprint sold separately.
Short interior height.
I've owned a few four-season tents and at MSRP price point this one is the best. It's shame it was discontinued.
I've camped this tent in every season here in Colorado. For a few years there it was out 51 weekends a year. From that I can tell you that it's really durable. I can also tell you that from 50+mph winds to 12" of wet snow to driving rain it will come through like nothing happened if you've set it up right.
Let's start with the basics:
The Mountain 3 has 42.4 square feet of interior space and 13.5 square feet of vestibule space. X and Y dimensions it's pretty large. It will easily sleep three people and two large (80-100 pound) dogs. However, this is a budget mountaineering tent, so the profile is low. Crawling to enter and exit is the norm. I'm not huge (5'10") so it's not a big deal to me but for people over 6' tall it might be. As with many things, your mileage may vary.
This tent weighs in, all told for packing weight, at 8lbs, 13 oz. It's not an ultralight backpacking tent. This thing is serious business for bad weather. If you want something rugged and bomb-proof for less than optimal weather conditions this is a tent for you. If nearly 9 pounds is too much for you or you only camp/hike in the sunshine then this isn't your tent. 
This tent has two vestibules and two doors. The doors are located on the short sides of the tent. The tent itself is reversible for direction since its ends are a mirror image of each other and the fly will fit on the tent in either direction. Which way you orient the fly will determine which is the "front" door. The "front" door vestibule is much larger than the back vestibule—four to fives times larger. The back vestibule, quite frankly, is rather small. 
The large vestibule will hold a bunch of stuff. A few backpacks plus camp stools can stand in there easily but the tent is short to deal with high winds so the only people who are going to sit on those stools and say, put shoes/boots on, are children or midgets. 
The back vestibule doesn't have a large footprint and the angle of the fly makes it smaller. It will however keep the rain off three medium sized packs or one large pack and a medium pack plus a few odds and ends. 
The tent doors are double walled. One bug net and one windproof door. Zippers are high quality and the tent includes pegs to tie the doors open should you choose to do so. The same bug mesh is used for two medium sized vents at the top of the tent which correspond to zipper openings on the fly. Those openings on the fly are under a "top" which is held up by an aluminum pole that is integral to the fly so that they are shielded from rain that's coming straight down or up to maybe a 20 degree angle to the side of the tent. This is great for snow and rain however if you close the fly zips the tent doesn't breath anywhere near as well as it does with them open.
This tent also has four guy-outs on each side of the fly and a few more on each end of the tent. Properly deployed they make the fly tight like a drum. Guy-out cord is, as usual, reflective so you can see it at night. 
Setup:
Setup on this tent is easy. The tent itself takes an X pattern of poles which is actually one set with a cross member at the center. This part has an eyelet on it to which a hook at the center of the tent attaches. The ends of the poles stick into grommeted tabs at the corners of the tent which. Each one has three grommets which allows you to adjust how taught the tent is to ground conditions. The rest of the tent clips to this X frame with large, durable U shaped clips. 
The fly drapes over the tent and takes two exterior poles to hold it up plus another poll that holds up the "front" door. All these poles work with the grommetted tabs on the tent so that they are adjustable as well. It takes a bit to get used to, but it really does let you adjust the tent to ground conditions once you figure it out. The footprint works with this system too (read on).
Storage and Extras:
The footprint for this tent was sold separately but was not expensive. I recommend it. It is held in place by the tips of the tent poles the same way the rest of the floor of the tent is. In my experience the footprint is extremely durable. I bought one when I got the tent in 2010 and it still doesn't have a hole or rip in it. 
This tent comes with a gear loft which is nice. However it only has four small pockets in the corners which are built into the tent. If you want more storage (you will) you have to buy these hanging basket things that clip to loops in the corners. They work very, very well and are as durable as the rest of the tent but the extra $20 or so per pair is a bit of a drag. That said, each one will hold a knife, flashlight, multitool, headlamp, gloves, hat, lighter, pack of smokes, cellphone/radio, your wallet, spare pistol mag and some more odds and ends like chapstick and a pair of sunglasses without a problem. With four of them plus the loft you'd have to be trying to max out your pockets, and using something like BDU pants, to come close to filling up half of the space. 
How it holds up:
I got this thing in 2010 and used the heck out of it. It has acquired no holes, no rips, and nothing has broken at all. From plastic clips to zippers to poles it's been a dream. The only maintenance she's had was the occasional setup and vacuuming out with a hand vac and a hosing off of the fly. 
The rainfly has had its colors lightened some in the sun but that's to be expected when she's getting an average of two days of sun a week at 9000+ feet for years on end. This has also caused some yellowing of the clear panels ("windows") in the vestibule doors. Nothing major but, after nearly seven years it's starting to become somewhat noticeable.
Visibility out of the tent is unaffected and quite frankly if you didn't know it was there you might miss it when you looked out of the tent. Honestly the yellowing of the door windows has been impressively slow. The fly itself shows no other signs of wear. It's not cracking or dried out anywhere. The material, other than being a shade or two lighter than it was, is the same as the day it came out of the store. 
The tent itself looks like it just came out of the packaging (when it's freshly cleaned which it nearly never is).
Bottom Line:
This is a great tent. If you can find one that's completely set up in terms of footprint and "bags" and in good condition it's a steal at $300. Quality is comparable to tents twice (or more) the price in the four-season category. While this tent is shaped differently it's easily on par with the Mountain Hardwear Trango 3 or North Face VE-25. (IIRC it's actually basically a knock-off of a $800+ Black Diamond tent.) Realistically the best modern comparison is the Mountain Hardwear EV-3 which, while 2.5lbs lighter, is also $850 MSRP, and generally $700 when it's on sale.
Source: bought it new
Price Paid: $350

I wouldn't want to take it mountaineering, but it's a heck of a good tent for bad weather camping in rain and windy conditions.
Pros
5-pole design can withstand heavy winds
Entries on each end allow for assembled cots to be inserted
Footprint of fly is no wider than the tent
Front vestibule allows entry in rain without getting tent wet
Tent openings can be zipped shut to keep blowing dust out
Cons
Ventilation is not the greatest
Heavier than I'd want to carry backpacking
Rear vestibule is too small to be of any real use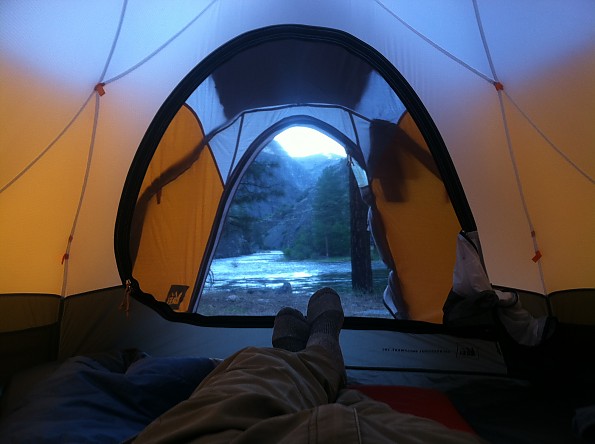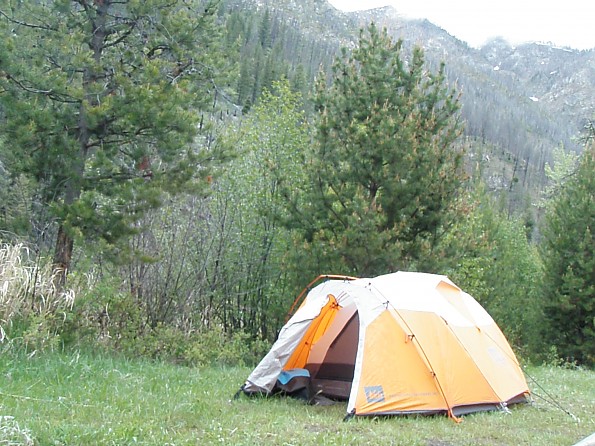 After suffering through some windy (but dry) camp trips in Death Valley and various rivers that resulted in a tent full of dust, I went looking for something I could zip completely closed when conditions warranted. I also wanted something with a more robust pole setup that could stand up to the wind without folding or breaking poles. This led me to 4-season tents, which were overkill and way too expensive for what I was after.
I happened to stumble across a used but like-new Mountain 3 on CL, and my research revealed that it zipped fully closed and had a 5-pole design to withstand high winds. The primary knock of online reviewers was that it really wasn't a suitable 4-season mountaineering tent, but since I wasn't planning on doing any mountaineering, it suited my needs.
I have been very happy with the size and shape of the tent, and I really appreciate the pole-supported vestibule porch, which allows for storage of wet gear, dry-entry when it's raining, and for the tent door to remain open even when it's raining. The footprint is relatively narrow (but long), and thus will fit into more spaces than our other tents with flies that are very wide when guyed out. The three-person is very comfortable for two, but would be kind of snug for three "comfort" campers.
The tent is easy enough to pitch, given that it uses clips and no sleeves to feed through. It does take a while to set up, however, given that there are five poles. The design does result in walls that are pretty vertical and good head space for sitting up or kneeling. The tent pitches very tautly and is very stable in winds. There are multiple pockets and a gear loft as well as multiple webbing loops for hanging lights or other gear.  The tent has held up admirably for three seasons of use now with no obvious signs of wear or damage.
Overall, the Mountain 3 is not very good at ventilation, is kind of heavy for backpacking, and due to all the poles it doesn't pack very small. However, for a rock-solid shoulder season tent that will keep you dry (and dust free) in rain and wind storms, it works very well.
Source: bought it used
Price Paid: $150

My fiance and I bought this tent for two particular hiking trips (but there will be more in the future). The first to Big Bend and the second to Colorado. We just got back from Big Bend and it did fantastic! It takes a bit to set up the first time, but once you figure everything out it's easy. Thought it would be hot for the desert, but it breathed very nicely. We also got hit with wind and rain, no problem. We even set it up in a poor drainage area with water pooling under the tent and not a drop came in. (However, we did move it to a better drainage area once the rain stopped. Why take the chance when you don't have to?)
I personally would not use this for a car-camping tent, but that's because we usually car-camp with two dogs and a queen air-mattress. This tent would fit my need better as a backpacking tent, but it isn't the lightest tent out there so we have to split up the weight a little bit more between two people. Once set up, no worries, sleeps two easily with both backpacks in the tent. I LOVE THIS TENT!
REI also offers an incredible return/exchange program.
http://www.rei.com/product/739349
Design: Four-season dome
Sleeps: 3
Ease of Setup: Challenging the first, but extremely easy after
Weight: 8 lbs. 13 oz.
Price Paid: $349

First off this tent is roomy but the smaller vestibule is small. You might fit boots in there but that is about it. It fits 2 people with ease and three comfortably.
The window is a nice feature but zips up kind of sticky part way. The tent vented reasonably for 0 degrees and held up to 80 mile an hour gusts with all the tieouts. You will need different stakes for snow and more to use all the tieouts. It is very waterproof and little condensation with the top vent open.
It is a little heavy and hard to split among 2 people because of the top vent design (needed to separate pole from fly otherwise would have gave five stars. All in all a very good tent!
Design: 4 season freestanding
Sleeps: 3
Ease of Setup: once or twice at home and good to go
Weight: 9 lbs 13 oz w/o footprint

Your Review
You May Like
Specs
Price
MSRP: $399.00
Historic Range: $344.93
Reviewers Paid: $150.00-$350.00