REI Quarter Dome 2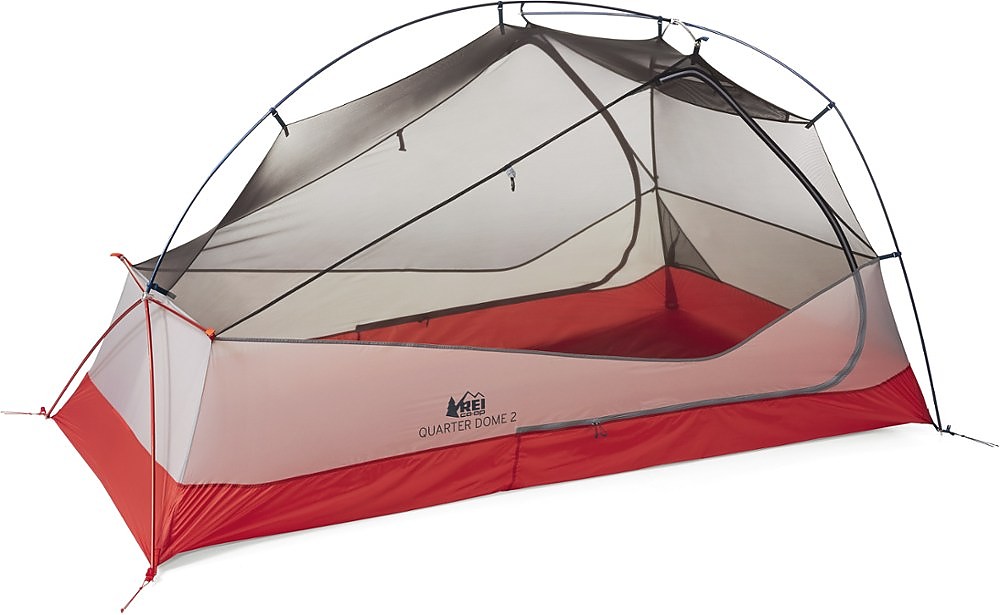 Room enough for two! Lightweight!
Pros
Ease of use
Lightweight
No condensation
Room
Setup: Okay, well I pretty much am almost done with eating dinner before my hammock friends pull their pots out. I have owned several tents previously and I am always so blown away how fast it takes me. Even in the rain, I can fly through it with no problem.
Stability: I have not used this in the snow, but rain and wind for sure. It was stable enough that I was able to peacefully sleep, where some of my other tents I was slightly disturbed, or stressed that it wouldn't hold. I have been in stronger wind and rain with my other tents, so at some level to be determined. 
Weather Resistance: It holds well with the rain that I have handled.
Ventilation: No condensation, this tent's ventilation is one of my favorite aspects.
Room & Storage: So headroom is sufficient to change and do what needs to be done. I have also used this tent for two grown men and was great, both around 5'10" 190 lbs. I think this is a big deal! The vestibules are great for the gear and sufficient as well.
Packability: The individual items of the tent are easy to separate, which makes it easy to split up with someone you are packing with, but it's also so light that why bother. I separate the poles and put them on the outside, and I can really pack the rest and it just disappears.  
Ease of Use: So I already mentioned easy to use. The only issue I had with the tent as mentioned in the cons, is the stake situation. I quickly bought better lighter stakes and it dropped me sub 3 lbs total tent weight.I spent a lot of time researching this tent versus the Big Agnes, and I'm so glad I didn't spend the extra money because I'm now only a few ounces heavier for a bigger tent. And saved $150 or more.
Features: Vestibules, lightweight, speed of setup, ventilation are all really great! So far it's held up to the conditions that I've faced without out any complaints.
Conditions: Over a year with 6 trips, about 12 total nights used.
Source: bought it new
Price Paid: $299

A nice, lightweight tent for backpacking with ample space for two. Packs smaller than most other tents we have tried.
Pros
Lightweight
Pack-ability
Good interior space
Cons
Pole setup take a little getting used to
The fabric may feel flimsy, but so far this tent has held up to 50 mph+ winds without bending a pole!
We recently took this backpacking in Zion, Bryce, Arches, and the Grand Canyon. Pole setup took a little bit to get the hang of, but once you've done it a couple of times it gets easier.
We were impressed that during a severe wind/sand storm at Arches, this tent held up better than other more expensive tents nearby that were flattened by the gusts. The poles were flexible enough to withstand the battering, and while sand was forced through the fabric of the tent and the screens, I wouldn't say that had anything to do with the manufacture of this model - any tent would have let sand in under those conditions!
We do a lot off backpacking in the White Mountains as well, and the small footprint makes it easy to find a spot to set up on platforms and off-trail sites. 
The only point I can't comment on is its rain resistance, since so far we haven't hit any downpours. It dealt well with light rain, and we didn't notice any condensation—even in colder night temperatures.
Love how small the tent packs down in my backpack, and how lightweight it is!
Source: bought it new
Price Paid: $329

I've only used it twice so far, so think of this as an initial review. I purchased this tent from my local REI store with the extra ground sheet. My decision was heavily based on the salesperson's recommendation and what I read in a magazine.
My requirements were fairly simple. A roomy 1-person tent that was light, easy to pitch in any condition (especially at night when it's windy), had a vestibule and good air cross flow. I own several different tents and pick the tent based on the conditions I'm going to use it in. While really needing a 1-person tent, I did want the option of the tent being just big enough to hold a second person in a jam.
Since this is a standard 3-season tent, it comes in two pieces. The main, self standing dome, with mainly mesh walls, and the second piece which is the rainfly. The shape of the floor is not perfectly rectangular. With one end being a few inches narrower. The rainfly also has one top vent which faces the wider side.
The setup is very easy compared to some of my other tents. Two poles of equal length cross on top to create the space. With one end having dead end pole sleeves. There are two fairly large sized doors on both sides. Kinda cool if you have two people in the tent. One doesn't have to disturb the other in order to get in or out. The rain fly has guy out loops that are also reflective at night. The mesh dome and rainfly snap together using buckles (so no need for additional stakes).
The rainfly color is a white opaque with certain sides being a light opaque green. The entire tent with stakes seems very light (under 4 lbs) and packs small. The only thing I didn't love was the amount of space the rainfly left open underneath when staked out. The issue wasn't the stake out point, but the cut of the rainfly itself. Not a huge deal because this was for the vestibule and it was far away enough from the dome to prevent rain from hitting the mesh dome. So not really a issue, but I would have preferred a more complete coverage. Maybe REI did this on purpose for the increased airflow.
Overall a great tent. I do recommend it!
Design: three season freestanding
Sleeps: 2
Ease of Setup: VERY easy
Weight: under 4 lbs
Price Paid: $229

I purchased this tent for a summer trip to Yellowstone and Zion. I planned on most of the time using the tent by myself, and occasionally sharing it with a guy similar in size to me (about 5'8").
I was very impressed with the amount of room in this tent considering my pack weight for the tent was less than 4 pounds (I use titanium stakes). The vestibules held my 3700ci pack with no problem. The amount of overhang also allowed me to sit with the vestibule open during light rain. This was nice because it allowed a really nice breeze to flow thru the tent when I would normally would have been closed up under the fly.
The other feature that I really liked was the fact that I could attach the fly to the tent and never take the two apart saving time.
My only complaints about the tent was that some condensation did build up on the points where the velcro held open the vents and it dripped onto the mesh and then on me. Also that to get the fly really tight you had to cinch the buckles down so much that it bent the tent poles in about 1 1/2 inches. Really no big deal for sleeping but did limit the amount of headroom.
Sleeps: 2
Ease of Setup: The easiest tent I've ever set up
Weight: My packed weight 3lbs 14oz
Price Paid: $239

Bought the tent recently, and have done a single three-day backpack with it. I bought the tent because it works both as a large one-person, and a tight two-person tent.
I shared the tent with my son, who is 13-years-old, and only 5' tall. The only other person I would share it with is my wife, who is 5'4". It is a narrow tent for two people, and would be desperation time for two large guys.
The vestibule area only has room for small items, such as boots, but not a full size backpack, which is fine with me. The vestibule serves as kind of a scoop for diverting wind into the tent.
Nice feature: rain fly attaches to tent with velcro, so that you can leave it attached to the tent, which we did - speeds set up time. Tent sets up in a few minutes - 1 person or 2. Tent packs small. Tent has lots of headroom, due to bent poles at head of tent. Two large side doors is a key feature, allowing each person to go in or out on their own side.
Lighter than just about any two-man tent I could find, at about 4 pounds.
Price Paid: $200

Version reviewed: 2016
I have the 2016 version of this tent. I think it is fantastic. It is easy to set up and everything goes together nicely. I would recommend it for backpacking.
Cons
Not much room under the veranda for gear
I have only been in nice weather with the tent, but it seems like it would hold up nicely.
It does vent, but I had some condensation issues around my feet where I was touching the side of the tent. (I'm 6'3".)
I have only used this tent for one season. So far so good.
I am 6'3" and I use it by myself. I think it would be very tight to put two people in it. I would like to see more space in the veranda area. I think they fixed this in the 2017 model.
EDIT - 6/20/19 UPDATE — I am still using this tent periodically. It has held up well. I have had it in some overnight storms without a problem. I am 6'3" so I get a little bit of condensation on my feet is I slide too low overnight and rub against the bottom of the tent. More of an annoyance than a problem.
Source: REI Garage sale, got it for $120
Price Paid: $120

I am extremely pleased with this tent. Two doors, top vent that is adjustable, good material, siliconized nylon, and light. With ground cloth, pegs, bag, poles, etc. at 4.5 lbs.
Lighter than Hubba Hubba and most two-person tents. Two vestibules, both big enough to tuck a pack under. No leaks in heavy rain, and very stable in wind.
I found no flaws; this is a very good tent for the money.
Design: Three season freestanding dome
Sleeps: 2
Ease of Setup: Very easy
Weight: 4.5 lb w/ground cloth, pegs, ropes, bag
Price Paid: $229

It's a tent.
Light to pack. Two people fit, but tight. Use with a footprint unless you want holes in the floor.
Source: bought it new
Price Paid: $239.20

Your Review
Where to Buy
Help support this site by making your next gear purchase through one of the links above. Click a link, buy what you need, and the seller will contribute a portion of the purchase price to support Trailspace's independent gear reviews.
You May Like
Specs
Price
MSRP: $299.00
Historic Range: $148.93-$349.00
Reviewers Paid: $120.00-$329.00

Recently on Trailspace