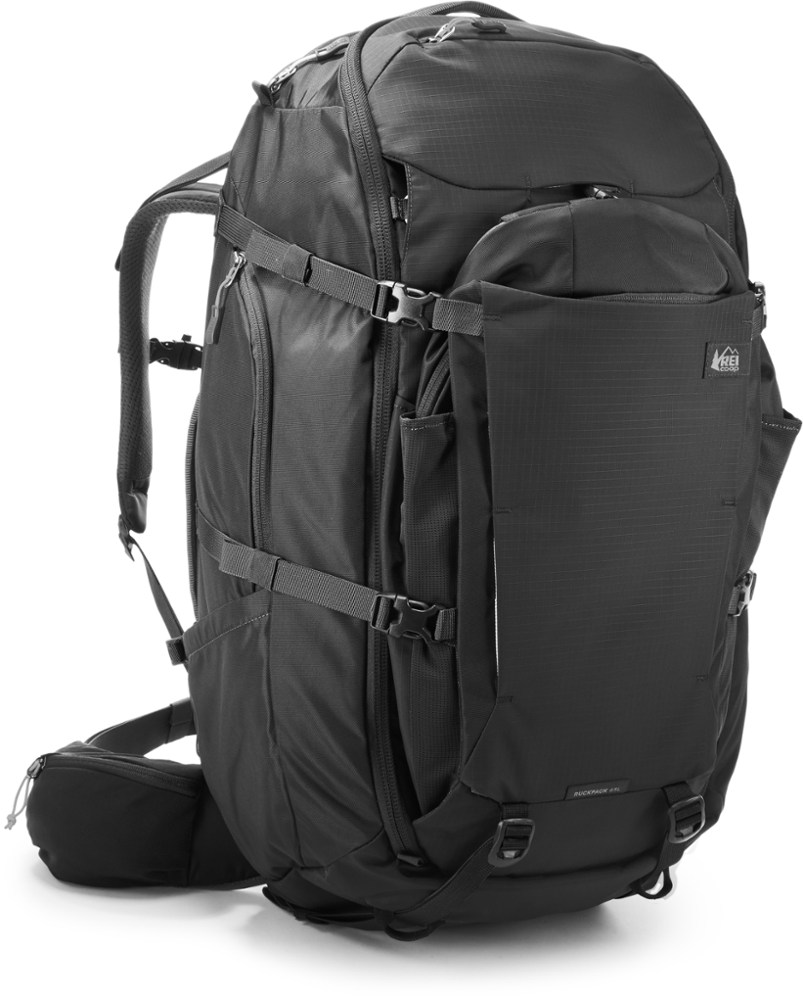 Specs
Men's
Price
Historic Range: $74.93-$189.00

Women's
Price
Historic Range: $74.93-$189.00

Reviews
1

review

5-star:

0

4-star:

0

3-star:

1

2-star:

0

1-star:

0
A good travel/weekend hiking pack with the details you come to expect from a REI product. While relatively heavy at nearly 6 lbs for both the primary pack and daypack, there are enough pockets and comfortable straps to make this a weekend pack for the outdoorsy types.
Pros
Durable (heavy duty nylon ripstop)
Convertible (straps can be hidden away)
Deep outer pocket for jacket
Compression straps and excellent harness. Wide waist belt (comfortable) and conforming back panel
Vented Mesh back panel—similar to the Osprey
Lash points that are tucked away when not needed
Hydration pocket
Built-in rain cover!
Cons
Heavy compared with Osprey Farpoint
When straps are tucked away, it feels like there is less room in the main compartment (pushing into the interior?)
With the daypack in the exterior compartment, only a lightweight wind breaker can fit comfortably
Not enough lash points
Top "accessory" pocket isn't deep enough
Not really a duffle bag and not really a travel bag (as compared to the Eagle Creek Load Hauler Expandable)
No mounting points for a shoulder strap as best I can tell
Zippers are hard to work when fully opened
As an Active Cub Scout Cubmaster and ASM for a troop, I camp a lot. I also travel periodically for work and enjoy the occasional vacation with the family and spouse. This probably feeds my bag fetish.*
I'm always in the market for a new bag. I'm always thinking, "Self, you need a bag that does EVERYTHING." I saw a used Rucksack 65L online and purchased it sight-unseen. Turns out I bought the woman's green color version. Tried it out and tried to pawn it on my daughter leaving for college (she said, ugly color) and now with my wife. After the color fiasco, I dropped by the local REI store to take a look at the men's green color (ahhh, a more manly Olive Green).
When I first saw the pack, I liked the the idea of the integrated mini-daypack. Fell in love with the shoulder straps and very comfortable waist strap. Really appreciated REI's effort to develop a mesh back similar to the Osprey system. Thought, wow, I can use this for camping AND traveling. It even has Scouting colors (see above for that mistake).
I think the biggest downside to the pack is its weight. With the mini-daypack, it is heavy and nearly tipping 6 lbs. It is well balanced and the straps are very comfortable. I like the way the pack hugs my back. When loaded, I don't feel off balance at all. The compression straps keep the weight balanced and I don't get that off-kilter feeling with a rapid turn.
I used the bag a couple of times now on a business trip. Nope, a little too campy for business and I can't really put my business attire in it. It has to go on as check-in luggage but it was not possible to LOCK all of the pockets with a TSA approved lock. This means you have to empty the small top pocket and take the mini-pack or uncomfortably stuff it in the strap compartment.
The zipper is a big issue with me. Perhaps it is just my bag (and I will go to REI to check out others) but when you fully extend the main compartment zipper, there is a crimp at the end that concerns me. I'm thinking that the section will break eventually and now I have a useless bag.
On this last camping trip with the Cub Scouts, I used it in lieu of my multitude of duffle bags to try it out. It works. Still heavy though. I noticed that the heavy ripstop nylon didn't provide any "give" when I tried to over-stuff it. My other bags will allow a measure of overstuffing a jacket or an extra blanket. This one was tough. I guess it is a trade-off: bomb-proof fabric vs. extra stuffing. Will I use it again vs. my Osprey Aether vs. Transporter vs. Load Hauler vs. Timbuk2 Aviator? Possibly.
The Osprey is more comfortable and it feels like I can carry more. However, it isn't bomb-proof like the Rucksack. I really never worried about durability with the Rucksack but this issue is always on my mind with the Osprey. Compared to the Osprey Transporter or the Load Hauler, I actually prefer the Load Hauler if I'm going to fly. At least I can comfortably lock the pockets.
If it is a weekend trip with the guys, I'll use it again. It bears repeating that the mini-pack is really useful if you properly factor for its limitations. I carried my iPad and documents. I'm not sure I want to fit my 15 inch laptop because there is NO padding on the bottom of the mini-pack. If I use my neoprene sleeve, I don't think it will fit. Loved the integrated rain cover. The little pocket can also be used a little storage pocket (just don't over-stuff).
Should you buy it? If you want to have a hybrid solution to the age-old problem of carrying a heavy load but not wanting to look like you are going backpacking, this is a good solution. It is very comfortable and I believe this outweighs the weight issue.
Style points: 9/10
Weight: 5/10
Durability 8/10 (zipper might knock it 2 points though)
Bomb-proof: 8/10
Comfort: 9/10
Happy Travels!
*I own a lot of bags (and tents). My wife tells everyone that I have a bag fetish. From multiple leather briefcases (Coach, Kenneth Cole, etc.) to Timbuk2 Command Bag, Timbuk2 backpacks (3x), Kelty external frame backpacks, REI 85L Traverse, 25+ year old bombproof Kelty 85L backpack, multiple Osprey bags (from 25L all the way up to Aether 85L plus the Osprey Transporter 65L, 95L), an insane Kelty 110L Redcloud backpack, Eagle Creek travel bags (most recently Load Hauler Expandable and the Gear Warrior 29 for that camping trip to Hawaii). Did I mention the camera bags (!?!)
Source: bought it new (Bought 1 used and 1 New)

You May Like