REI Taj 3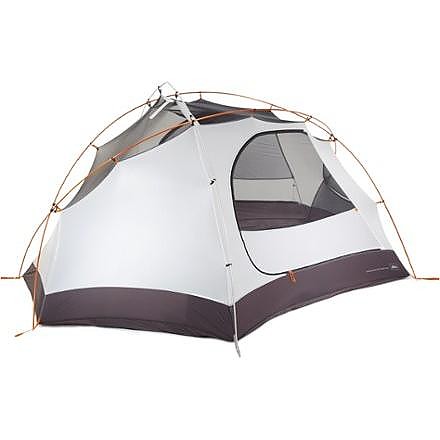 This tent has been the best piece of camping gear that we've ever owned. Period.
Pros
Huge room inside
Excellent weather protection
Tough over the long haul
Stable and strong in heavy winds
Cons
A little fiddly to set up the first couple of times
I bought this tent in October, 2006 as a birthday present to myself. Up until that time our family had owned only Coleman and other lower-priced tents. We were always on a budget, and those did the job very respectably, but the time had come for a lighter, more sophisticated way to spend our nights outdoors. 
Our primary purpose for this tent has been motorcycle camping. We average 20-30 nights a year out on the bikes, and the Taj III gets about 80% of those. It's been through 4 or 5 nasty rain storms, sustained 50-MPH winds in Death Valley, mid-20s in Yellowstone, and it's taken all of those with ease. 
I'm a big guy (6'2" and 270 lbs.) and take up a lot of room. The Taj gives my wife and I the space to sleep comfortably with all of our riding gear inside the tent if need be. There are two smallish vestibules that allow for excess stuff to go outside, but they're really not the greatest in foul weather.
Setup is a snap, once you do it a few times. The tent pitches very taut, and has remained that way all the time we've owned it. We start by staking down the footprint, then using the color-coded straps on the body of the tent to pitch it. We've got it down to about 3 minutes for the whole deal, which isn't too shabby for a shelter this size. 
Ventilation with the fly removed is outstanding, and condensation with the fly on is minimal.  Rain does not get in. One of my favorite things in all the world is waking up to the pelting sound of the water and knowing that we'll sleep dry and safe inside this thing.  I can sit up easily, and have tons of room all around to get dressed or pack up gear in bad weather. There's a large mesh gear loft for stashing headlamps and doodads. 
We experienced a wind and sand storm in Death Valley that had sustained speeds of 50 mph with gusts as high as 60, and tent never even hinted at collapsing. There was sand and silt inside when all was said and done, but that was the case for every single shelter (hard or soft in the campground that night. 
The included stuff sack has plenty of space for everything, but we've taken to using a 25-liter waterproof dry bag in it's place.  The tent stuffs easily in both, wet or dry. 
I've only managed to put a single small rip in one outer door due to a ham-fisted incident with the zipper.  The best I can figure, we've spent between 200-300 nights in this tent since we bought it. Other than the owner-induced tear, the REI Taj III has been absolutely and completely bomb-proof! 
There's a bit of visible fading from sunlight, but that's it. The structural integrity has been perfect, and I expect that we'll get many more years of use from this tent, then pass it down to our kids when they have families of their own.  
My only concern is that my next tent will not be able to live up to the incredibly high standards set by the Taj.
Source: bought it new
Price Paid: $169

Incredible tent.
If you are having problems setting it up, it's operator error. If you think its too small for three, you don't buy a three-person tent for three people — you buy a four-person tent.  Come on.  
It's got great ceiling height. It's long for tall people (as I am). It's got more than adequate vestibule space. It allows good air circulation. And it's bullet proof in rain and wind. It's hard to beat for the price. Too bad it was discontinued.
Source: bought it new

I have had the Taj 3 for six years. It is tough, great stitching and sealed, never a problem in storms, except for lack of ventilation in a storm, too much condensation on rain fly.
Cons
Elastic strings for aluminum poles is of poor quality and had to be replaced after one season.
One complaint, the elastic strings holding aluminum support structure together lost elasticity after one year, no stretch to it. 
This is a good sturdy tent. Lightweight and quick to set up once you get the hang the of it. The large nets for the doors and ceiling make it very breathable.
Pros
Lightweight
Well ventilated
Very open interior
Shape makes it easy to store some gear inside.
Cons
Odd footprint can make it hard to find a good groundcloth.
Difficult to set up in windy conditions
I absolutely love this tent. It packs up easy, and is easy to set up. Though, the odd shape made it tough to set up the first time. This is definitely a tent that you should set up and become familiar with before going out. The shape also makes it extraordinarily difficult to put up in windy conditions. Of course, anything is tough to do in a really windy conditions, but I found this tent to be particularly tricky.
The last small complaint I have is that the vestibules, if you chose to put the rain fly on, are really small. This disadvantage is mitigated thanks again to its trapezoidal footprint, which allows you to fit a lot of gear inside.
My Taj 3 is a couple of years old now and it has held up great. It did well through some nasty storms without breaking a pole or having any other kind of problem. The stakes are easy to put in and the tent holds well. Through all the wind the tent staid taut. While bragging about its strength I must confess that I have never had in the snow, and I would have some worry if it was stuck in an unseasonable snow fall. Other than that it handles moisture well. It is easy to keep sleeping bags away from the edge to help keep ventilation out, again those vents really help.
The large vents on either side and on top make it quick to dry out. The rain fly also has a couple of vents that provide a decent cross breeze; though, there could be more.  All things considered, it is a great tent. The head room and internal storage capacity are terrific, but I would make sure to keep it away from snow. 
Source: bought it new
Price Paid: $250-300

Pros
Spacious enough
Great ventilation
Ceiling views
Dual doors
Sets up easily
Cons
Doors are mesh-only option; no privacy zip
Definitely worth the $169 I paid.
Source: bought it used
Price Paid: $169

Hello,
I purchased this tent after all my camping gear was stolen while camping in Ohio's Wayne National Forest over the Easter weekend. I'd seen this particular tent on REI-outlet's online webstore and after considering the price and features this tent offered I decided to purchase the same.
Glad I did. Pitched it last-night under my pine tree in Mazomanie, Wisconsin. Needless to say a cold front pushed through the area, bringing strong gusty winds, thunder and lightening and rains. The tent held up quite well, I'm most happy :) to report. I like the fact this tent has a third pole. It makes this particular tent very stable in hard winds. Something I really do appreciate after battling those 70 mph winds in my (now former) ALPS Mountaineering Taurus Outfitter. The third pole adds general strength to the entire structure.
I also like the fact this tent is very spacious inside. Plenty of room for at least two adults plus some gear. Plenty of mesh built into the body of the tent assures of comfort during those warmer months of the year. Overall great tent. Very water-proof and well constructed judging from my observations.
Cons: A little heavy if using it for backpacking. Plus I found it a little confusing pitching it for the first time. I trust however the second and third time it will be much easier. The two stake-out vestibules are little on the small side. Can be larger in my opinion. Needed four more stakes for the guy-lines, which it lacked for some odd reason.
Design: three-season freestanding dome
Sleeps: 3
Ease of Setup: somewhat differcult the first time around
Weight: 7lbs 13ozs
Price Paid: $169.93

I've had this tent for 6 years! It is still going strong. My wife and I have spend about 2 months total in the tent in the time we owned it. Been through storms, strong winds, snow and high temps, tent held up without any problems. Our primary use of the tent is for car and bike camping so the extra weight is not much of an issue.
The space is great for 2 people. 3 would be tight. Set up is pretty simple if you read the instructions and practice at home. Overall very happy with the tent and would totally consider buying another one.
*Right now REI has it on sale for $159 on the outlet website. If you buy before 8/14/08 there is an extra 20% off! Which makes it $128! You can't get another tent of this quality for that price.
Design: 3 season free standing
Sleeps: 2
Ease of Setup: Pretty easy if you read the directions! I can set this up by myself
Weight: 8 lbs
Price Paid: $180

An amazing tent! I have owned the Taj 3 for two seasons now and now that spring is here again I am itching to get back out there and in it again. Primary use is extended trips into the BWCA (canoeing) for a week to two weeks. It has worked very well and has held up to the beating of BWCA travel and still looks new.
This tent sets up very easily...with practice. This is not a tent that you can set up quickly if you have never set it up before. The pole placement is kind of counterintuitive. Most tents that I have used place the poles in opposite corners and cross once. Here they are set on the same side and overlap themselves. Once you have set the tent up a few times it will become second nature and one person can set it up in under two minutes if you are in a rush.
Despite what REI says, this is a 2.5 person tent. It will hold 3 adults but everyone's feet will be touching because of the floor design. It is perfect for 2 and will accomodate a child in the middle easily.
Design: 3 season tapered floor freestanding
Sleeps: 2
Ease of Setup: Easy set up with practice
Price Paid: $169 (on sale)

This is a spacious and lightweight tent (for the size) that has served me well on family outings. We had no trouble fitting three Thermarests inside (one is 2/3 length and one is narrower on the bottom) and there was still plenty of room inside for storage of small items.
The drawback is that the tent is very drafty. In order to make it lightweight, and possibly to avoid accumulation of moisture, the ceiling is made of mesh. This combined with the large volume, makes it much colder than my smaller mountain tents. I end up using warmer sleeping bags and since our toddler doesn't like a mummy bag, we avoid camping when is much cooler than freezing.
A fine 2-3 person tent for warmer temperatures. The space is invaluable under rainy weather and for general cavorting ;-)
Sleeps: 3
Ease of Setup: Not the easiest to setup
Price Paid: $230

This tent is the best buy for the money I have found in tents. The set up is "OK". Our previous main use tent was a Kelty Windfoil 2 which sets up in about 2 minutes. This one is best with 2 people and about 5, but it CAN be done in less with 1 if you are in a hurry (Typical "clip" set up). The 3 pole design gives it rigidity to stand up to heavy winds and snow (although one heavy snow in Escalante did sag the tent a little). It's light as all get out.
It DOES fit 3 people albeit a little tight (what can you expect for the weight?). My wife and I use it with our 80 lb lab and it's a palace. After a long long long day on the trail I feel like a king and every time I can't believe I have so much space. Splurge the 10 bucks and buy the footprint and you'll be happy (plus you can make a minimalist shelter with just footprint fly and poles if you are feeling tough.) We hike without the sacks and bags and bring only a few stakes (rocks tend to never be far away) and the weight can't be beat. (Did I mention how light it is?)
Design: 3-season
Sleeps: 3
Ease of Setup: better than most, not the best
Weight: 7 lbs w/o bags or stakes
Price Paid: $150??

Just spent the weekend in this tent under 50 mph winds and rain. Two other couples we were with had their tents fail and actually collapse while my girlfriend and I had a wonderful night's sleep. I did not guy the fly out or even secure the fly tightening straps properly. I can only imagine how well this tent would have stood up to the weather had I done so. All of our gear under the vestibules remained dry as a bone as well.
I was a bit frustrated with the directions when I first set up the tent, but once you figure them out it is very simple. The tent was plenty big enough for us two (I'm 6'2" and she's 5'2") and my 75 lb Lab mix. The tent is a little big and heavy for you ultralighters out there, but I don't mind carrying it a bit. Especially after seeing my friends' tents absolutely destroyed by the weather I was glad I was inside the Taj. It didn't even flinch under the weather, and left us dry as a bone. It breathes well, too. We woke up with no condensation on the walls and I left every zipper closed. Overall, this tent was absolutely great!
Design: Three-season dome
Sleeps: 3
Ease of Setup: Easy after the first time. I'd recommend practicing at home.
Weight: 5-6 lbs
Price Paid: $225

I love this tent! I use it on my son's Boy Scout outings and when I camp with my wife. I am a big guy and this tent is a palace for me. When my wife is with me, there is still enough room for all of our gear to be kept inside the tent. Last weekend was spent in rain and 40 degrees. Not a drop came inside and the tent stayed cozy warm. The top vent allows moisture to easily vent without allowing rain in.
Set up is easy (as long as you read the instructions the first time). My 12-year-old son set up the tent by himself in under 5 minutes. When the fly is staked, the vestibules are adequate for some additional storage. The poles are light weight high quality DAC aluminum. The clear triangular window allows me to take a peak at the weather. The plastic window also folds easily when I take the tent down.
This tent is a little heavy to pack long distances. But the weight can be divided among two people. The space and design more than make up for the tent weighing more than 7 pounds.
Overall, this is a great tent and I strongly recommend it at its normal price of $229. I got the Taj for a steal at $80 when REI was closing out the 2005 model.
REI makes and sells good gear. They have even better customer service. I took back a different tent that I purchased from REI after I had used it for a week at Boy Scout Camp and a couple of other events. REI took back the used tent, went to the shelf and got a new tent and handed it to me. No questions asked. I think that is great customer service!
Design: three season free standing dome
Sleeps: 3
Ease of Setup: Easy
Weight: 7 pounds 12 ounces
Price Paid: $80

Great tent. Two friends and I shared a Taj 3 on a three-week trip that took us to the Badlands, Yellowstone, Tetons, and Flaming Gorge. Stood up to 50+mph winds with no problem. It was a bit cozy with three people, each with a sleeping bag and pad, but not too bad. Two doors are nice so you don't have to crawl over everyone. Two vestibules for your boots and little accessories. Very well made.
AWESOME TENT! Didn't give it 5 because we just got it...quick set up, light (for a 3 person tent!)and rugged construction! My husband is 6'5 and he fit in with room to spare! It can sleep two w/gear or dog with room to spare, or three "normal" sized people. We would highly recommend this tent, as we looked at what seemed like 100 different tents before making our purchase. It rained, no poured, all weekend and we stayed dry. It's worth the investment...which considering the size, weight, and make, isn't that much!
Design: 3 season freestanding
Sleeps: 3
Ease of Setup: EASY!!!
Weight: 7-8lbs
Price Paid: $229

Great price for a great tent! The caveat of course is that it really is NOT a 3-person tent, but an excellent 2-person plus your child or dog tent. REI did a good job with paying attention to the details with this one.
Price Paid: $165

I've used this tent as an outing leader with the volunteer group Inner City Outings. It is so roomy that I bought one because my claustrophobic wife felt okay in it. With the kids we can easily put three or four in the tent and they have a ball. It has never failed me even in high wind and rain. If you can deal with the weight of this tent, you'll find out it is aptly named the Taj.
Design: Three-season freestanding dome
Sleeps: 3
Ease of Setup: fairly easy to set up
Weight: 7 lb 12 oz

A perfect two-person plus gear tent. Comes with an attic to stay organized. The best feature is the fact that it has two doors/two vestibules...no climbing over the sleeping buddy. Divide the weight with a friend and experience the luxury of this five star tent.
Design: 2-door , three season x-pole freestanding rectangular tent
Sleeps: 2
Ease of Setup: very easily set up by clipping to poles
Weight: 7lb 12 oz
Price Paid: $229

This tent rocks!!! At 7lbs. 12oz. it can be a bit heavy to pack in but it's worth it. Took it into the backcountry at Glacier Nat'l Park (Two Medicine) and was not sorry. Stood up to rain and wind without a drop of moisture inside. Sleeps two people with all your gear (minus food, of course!) VERY comfortably.
I recommend getting the footprint.
Design: Three Season Freestanding Dome
Sleeps: 3
Ease of Setup: Very
Weight: 7 lbs. 12oz.

I have used this tent twice. The second time it blew 50 m.p.h. and rained/hailed all night. The tent was outstanding! We stayed dry and the tent stayed upright. The fly was tied to brush and held but some of the corner stakes came out, but that was only a minor problem.
There is a lot of space for two but croweded for three if they are over 6 feet. Construction seems light but that can be a plus if you are the one to carry it. Weight/space ratio is excellent.
I seam sealed places where velcro was sewn to the rainfly.
Design: 3 season, free standing
Sleeps: 3
Ease of Setup: tent easy- fly velco difficult
Weight: 6.5lb
Price Paid: $169

While there's nothing wrong with this tent, REI advertises it as a 3-person tent. Unfortunately, it won't fit three Therm-A-Rests. But good to their word, REI took it back, even after a week in the Southwest. I bought a Base Camp 4 that does everything it should, and fits everything we need.
Design: three -season freestanding
Sleeps: 2
Ease of Setup: not bad

Your Review
Where to Buy
Help support this site by making your next gear purchase through one of the links above. Click a link, buy what you need, and the seller will contribute a portion of the purchase price to support Trailspace's independent gear reviews.
You May Like
Specs
Price
MSRP: $274.00
Historic Range: $190.73-$239.73
Reviewers Paid: $80.00-$250.00

Recently on Trailspace