REI Trail Chair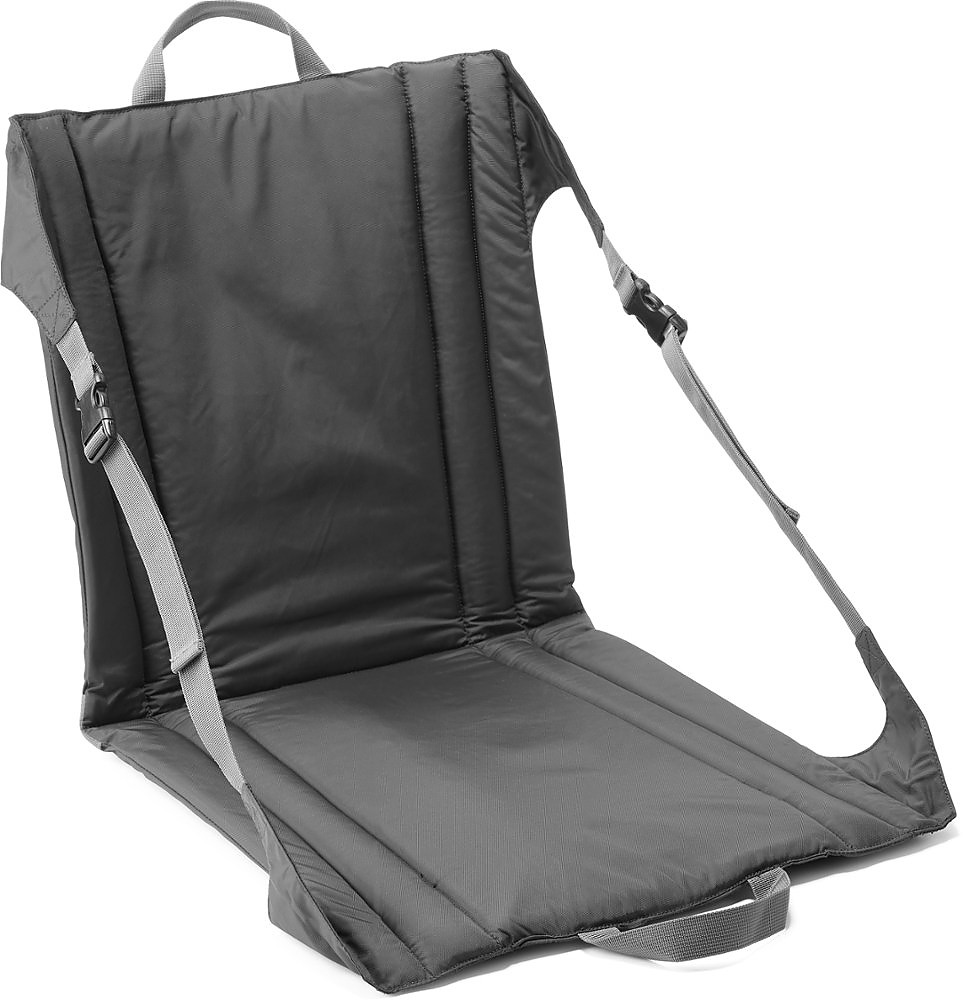 An REI version of the Crazy Creek original chair, the Trail Chair is relatively lightweight and rugged. It supports my aging lower back, fits well in or on my packs, and has become a "comfort" item that rarely stays behind.
Pros
Durability
Comfort
Weight (for a chair)
Packability
Price
Cons
Limited padding
Sits on the ground
Not as comfortable as inflatable seats
I bought the REI Trail Chair almost three years ago for short "comfort" backpacking trips as my lower back started to cause more issues and sitting around camp became a chore at times. The price of this chair is about half most others and I felt it was worth it to see if I wanted to carry that extra weight before investing in something better (which I haven't done yet). I have almost never left it behind since, and every time I do I regret it.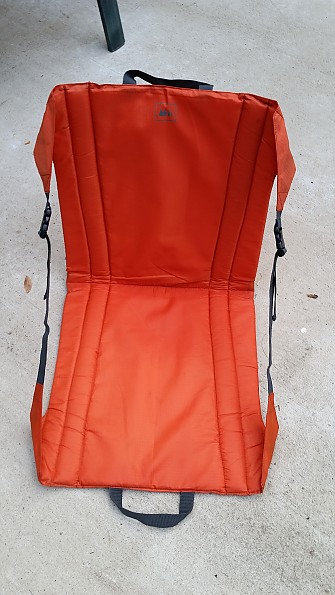 Conditions Used:
I have taken the REI Trail Chair on between 6 and 10 backpacking trips of 2 to 5 nights in the fall, winter, and spring of the Southern Appalachians over more than two and a half years. Other minor uses include use as a backrest for lazy canoeing on rivers and lakes near the house, and once or twice for lounging around when all our other chairs were full (primarily when new to test it out).
Most of the use was in dry weather with occasional thunderstorms, but I have not been able to test it over longer rainy periods to see how quickly it dries out.
Description & Operation
This is a pretty simple chair — basically a rectangular ripstop polyester fabric with two fiberglass supports running lengthwise through the chair (with a gap at the "hinge"). Two buckled side straps make easy adjustments from sitting up straight to leaning back or reclining. The chair supports you well unless you curl up your legs while leaning back, which shifts the center of gravity further back and ends up in a slow backward roll.  This would be similar with any trail chair with this design. The buckles can be unhooked and the chair used as a half-length pad either under another pad or just to lie back and rest during the day.
Comfort
The REI Trail Chair is as comfortable as I would expect a non-inflated almost frame-less chair to be. At first it seemed to lack a little on the lower back support, but once I made sure I was scooted back in it each time the support has been good. It has limited padding but is comfortable enough sitting on rocks and roots that I don't really notice. There is enough padding to protect from protruding rocks, thorns, etc. but you can feel the roll of the ground under you.
I tend to use it mostly in a slight reclining position as keeping it absolutely tight doesn't fit as well for me.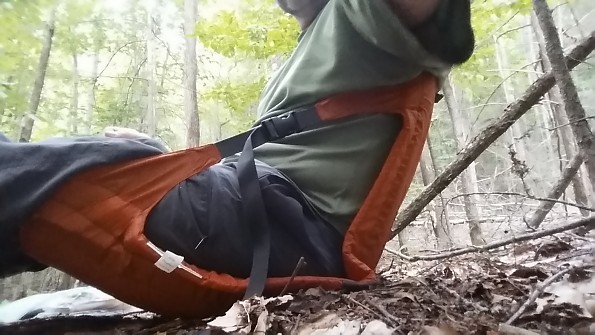 Being a "ground-dwelling" chair with no legs, folks who don't like to get up and down from the ground will probably want a different chair like the Helinox. But for me, the extra cost was not worth that for an initial investment and trial period (although it is now on my list to purchase in the future). I use the Trail Chair at every camp, rest stop, and lunch to relax my lower back and often unstrap it in the middle of the day and lay down for a nap without unpacking the sleeping pad until camp.
I have tried it on top of a bear canister to give me a back rest and stool — it is serviceable but not ideal as the chair is much wider. My priority lies in the lower back support, rather than the seat, and therefore the value of sitting up higher is not as great for me.
I can also use it in the tent to sit up either completely inside or with my head out the angled door as shown below. A taller chair would not allow me to do that (and I use it like this every morning for in-the-tent coffee and often to sit and read for a while).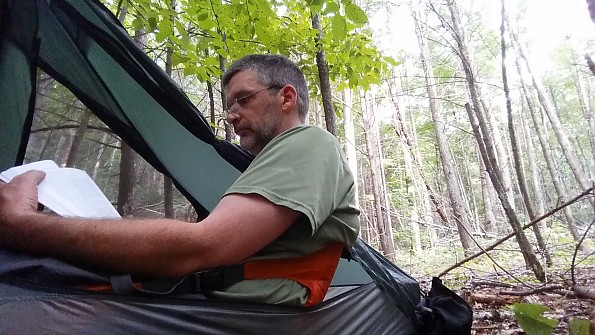 Durability & Construction
The REI Trail Chair seems to be well constructed. The ripstop polyester fabric seems tough and has resisted abrasion for almost three years, including occasionally being carried outside my pack on bushwhacking adventures through scrub areas. There is sturdy reinforcement at the hinge point which except for some scuffing is still as good as new. 
As can be seen, there are a few scuffs and scrapes on the ripstop fabric from it sitting on the ground, but nothing that reduces the function of the chair or causes concern for failure. Along the supports, you can see some wear but nothing threadbare or poking through. The stitching seems to be holding up well, and even if it gives somewhere there is the dependable REI return policy to back it up.
Packability & Weight
The REI Trail Chair rolls up into an approximately 4-5 inch tube about 17 inches long. 
While this might fit in a pack, I prefer to leave it flat and curve it around the inside wall of the pack. It then serves as a second cushion between me and any point items I might throw in the pack. I have packed it this way regularly in a Gregory Z-55 and recently in a ULA Ohm 2.0. Even the Ohm, which is smaller and a bit thinner, can handle the chair and a Bear Vault canister at the same time.
REI lists the Trail Chair at 23 oz.  I don't know if there has been a manufacturing change in the last two years, but my scale has it at 20 oz. I don't consider this "light" by any means, but also not heavy for a chair and the relief at the end of the day for me is significant.
Other Thoughts (Price, Insulation, etc.)
This is a great entry into the trail chair market as it is relatively cheap at around $25, which enables you to try the whole theory of carrying a chair out on a short trip with minimal investment. It is half the price, roughly, of the Crazy Creek Original Chair, to which I can't compare the quality having never bought one.
It is serviceable for other uses including some padding and extra insulation under your sleeping pad, but I have not tested this below the teens to see if it holds up to real winter weather (REI makes no claims about R values). I am sure in a pinch (air mattress failure) that it would do as an emergency half-length sleeping pad, but luckily have never had to use it like that. You might be able to use this to extend a half or three quarter length sleeping pad in good weather. 
There is a longer version, which weighs and costs more. I personally can't see the need for the extra length.
Summary
At first I was hesitant about the increased weight of carrying a chair, but my lower back had other ideas. The REI Trail Chair has moved from a "comfort" item to a "constant" item on my gear list as I dropped weight in other areas (pack, tent, and sleeping bag) which allowed room for this luxury. If you have knee issues or just want to stay off the ground to reduce the up and down, I would suggest looking at one with legs like the Helinox. If you need more comfort then look at an inflatable version of the Crazy Creek or others. 
However, if you simply need some heavenly relief for your back at rest breaks and the end of the day, I recommend you try this out. If you don't have lower back problems, it might not make your gear list but for the price it may be worth testing out to help decide if you want to bring one regularly (and if not you will still have a sturdy stadium or canoe seat).
Source: bought it new
Price Paid: $24.50

Your Review
Where to Buy
Help support this site by making your next gear purchase through one of the links above. Click a link, buy what you need, and the seller will contribute a portion of the purchase price to support Trailspace's independent gear reviews.
You May Like
Specs
unfolded
folded
Price
MSRP: $24.50
Historic Range: $23.93-$34.95
Reviewers Paid: $24.50

Weight
1 lb 7 oz

Dimensions
17.3 x 17.1 x 17.3 in
17.3 x 17.1 x 1.2 in
Recently on Trailspace