Gregory Z 55

The Z 55 has been discontinued. It was replaced by the Gregory Zulu 55.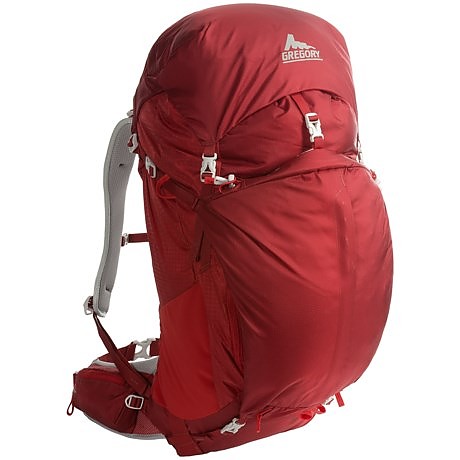 I have used this pack for the last four years in the Southeast primarily. Great comfort, load carrying, and ventilation at a relatively low weight. A little heavier than I would buy today, but it makes up for it in comfort.

9/6/15 update: Starting to see some wear at stress points.
Pros
Comfort
Ventilation
Capacity
Cons
Slightly heavy
Side pocket access
Some wear after 5 years
This is my primary pack for weekend to week long trips. It has the capacity, if you have the right gear, for a winter week trip, at least here in the mid Atlantic and South.
At just over 3 lbs, it is on the heavy side for a lightweight pack, but every time I consider going lighter or ultralight the comfort and back ventilation bring me back. I have lower back issues, and the z55 does not bother me at all in that area. I am starting to look around for a lighter version with the same comfort but this pack fits me so well I am willing to wait until I find the perfect fit to replace it.
The side zipper that some have not found useful, I like as access to my tent for a quick setup in the rain without opening up the pack. I keep my tent at the top of the pack above the inner compactor bag liner. Main compartment expands and is capable of handling big loads...I have carried a week of gear and food at over 30 lbs and it handled well. Due to the shape and ventilation at your back, I don't think it would handle anything past the mid 30 lb range well. The ventilation and pack shape is different, and you may have to adjust how you pack slightly but it is worth it. I sweat a lot and this is the only pack I have found that significantly reduces that issue. 
Overall a comfortable and durable pack worth the weight over the ultralight packs (that were available in 2010) in my opinion. My only minor complaint is the side pockets are a little high to easily access gear while on your back. However, with the belt pockets and a water bottle clip on the shoulder harness I avoid that need.
9/6/15 Update: I noticed the last couple of trips that the outer expandable mesh pockets are showing some wear at the bottom. I am concerned that a little more wear may open a hole big enough for something small to slip through.
I try to take good care of my equipment in the field and at home, but can be a bit rough on the outer pack as I spend a lot of time off trail and sometimes going through heavy brush. The wear is occuring at the stress point where the bottom compression strap buckle attaches to the solid portion of the mesh pocket. Luckily I don't put anything small in there.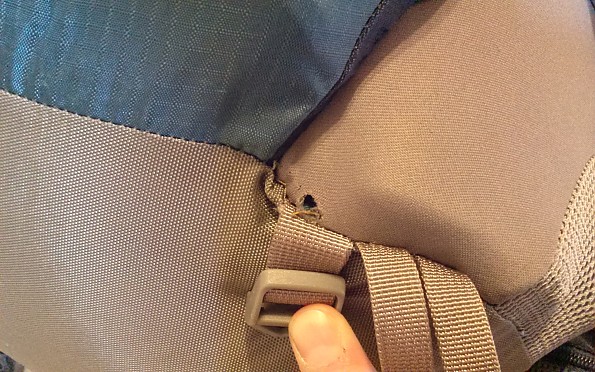 Source: bought it new
Price Paid: $150

Pack is amazingly rugged, well constructed and most importantly very comfortable right off the shelf. I wasn't really interested in a Gregory pack but was shopping for a new one. Had my eyes set on models that were 3 to 4 times this price. Stumbled across "last years color" that was on sale for less than $100 and picked one up.

Figured I would have nothing to lose and with the pack's ability to "cinch up" so tightly, I would always be able to use it as a day pack if it didn't work out as the weekender pack. However, it is now my primary pack for everything. Back ventilation is good and the pack is very comfortable.

Only words of wisdom I can share is be aware that there is limited sizing "customability" of these packs. If you know your torso lengths, you'll be in good shape. Don't confuse sizing with adjusting fit. Explained below
Pros
Very affordable
Well designed
Comfortable
Rugged,
Nice weight distribution of load
Light
Great cinch straps
Cons
Back plate extends a little into bag space
No sizing customizations "on the trail"
No longer shopping for a backpack and this one looks like it will outlast me. If you're in the market, don't assume this is a cheap pack due to the affordability. It is well constructed, uses quality material and provides everything other than sizing customization.  
Example/Explanation: If you swap packs with a fellow hiker on the trail and you bought a small frame Z55 pack as your torso length was only 18", don't expect the recipient with a medium or long torso to be able to adjust this pack for a comfortable fit. Shoulder straps, hip belt are all static and do NOT move.  
This is not really a bad thing as I doubt many of you are swapping packs often. For Gregory, it helped them shave off unnecessary weight and cost, resulting in a premium spec'd pack within the reach of the common man or weekend adventurer.  Brilliant if you ask me. For you, if you buy the right size pack off the shelf you'll be in for years of comfort and enjoyment. 
Why not 5 stars then? All very minor stuff, but would of liked bigger hip belt pockets and maybe a pocket or two on the shoulder straps.
That and the back arch extends a little into the bag space. There is a minor price to pay for that air pocket of coolness between the pack and your back. A price I willingly pay without regret.
Source: bought it new
Price Paid: $80

I used this pack for my 2012 Appalachian Trail hike, and found it to be a good size, good durability, and comfortable. It lasted me all 2,184 miles so I can't complain too much! There were some features I wish it had, like being able to take the lid off to use as a daypack, but it worked well and I'd recommend it.
Pros
Durable
Good size for Appalachian Trail
Simple design
Good all-around
Cons
Medium weight, could be lighter
Lacks cool special features
This was the first item that I researched and purchased when I decided I was going to hike the AT. I spent several hours and multiple trips going into my local REI to try on different packs, talk to different staff members and walk around the store with sandbags in the packs to see how they felt.
It was really between this pack and the Osprey Atmos for me, but in the end I purchased the last year's model (2010) for only $150 as opposed to spending a little bit more for a pack that felt very similar to me. Plus, I felt like the Gregory had much better lower back support, which was something I was concerned about.
It really lasted pretty well for being thrown around in the woods for six months. The "water-resistant" lining on the inside of the main storage was deteriorating by the end, but…really. There's no such thing as waterproof. It doesn't matter.
I met maybe only 2 other hikers with the same pack, which surprised me, but I'd go with this one again any day of the week. There were maybe some features that I would've enjoyed that this one didn't have, such as being able to take off the lid and use as a daypack, but in the end it's a great all-around pack. I found 55 liters to be the perfect size for me as well.
Source: bought it new
Price Paid: $150

Just finished 7 days in the Oregon Cascades with this pack. I generally like it. The pockets, including the shove-it, are reasonably well designed. The fabric is sturdy--much better than the nylsilk used in the comparable REI UL90. We were scrambling cross country through sharp volcanic rock. The only damage to the pack is a tear in the web of a hip strap pocket. The pack easily held all my gear and food for 7 days, with nothing strapped on the outside. I go light, but not ultralight.
I found the side zip cumbersome. You have to unclip the compression straps to access it, which sorta defeats the purpose. I seldom used it.
My one complaint is the lack of adjustability in the suspension. At 5'10, I fell between a large and a medium. I would have preferred the large, but the waist strap was too large even when cinched all the way down. I ended up with a medium, but the shoulder straps should be an inch higher for me. Nothing is adjustable even the upper load control straps are sewn to the shoulder straps. I also note that Gregory appears to be designing for a fattening US market even on the medium, I have to cinch the waist strap all the way to get the right fit after 30 minutes on the trail.
I don't understand Jordan's comment above about lots of straps for adjustment. The pack is equipped only with the typical hip belt, shoulder straps, and load straps on both (which are not movable as on most quality packs). The hip strap is sewn in; so it can't be swapped for a different size. The shoulder straps are sewn on; so they can be adjusted up or down for different torso lengths.
The concave back panel is a bit of an enigma. I like the ventilation for my back, but the cavity is right where you should be packing the heaviest items. The resul is to shift the center of gravity away from your body. With heavier loads, I always felt like the back was pulling me backwards. I absolutely would not climb class IV or V with this pack.
So in summary, I rate this pack fairly high, but it just does not deserve the 5 that Backpacking gave it.
Size: medium
Max. Load Carried: 35 lbs
Height of Owner: 5'10"

I've loved this pack from the first outing I took it on. I've used it for 5 day trips and overnight backpacking trips as well. It's never performed less than stellar. I've had it for several years now, and I've never had an issue. I used a Medium sized Men's model. When I bought the pack, I was 5'7", 140 lbs and it fit well at that time. Now I am 5'9", 155 lbs and it still fits perfectly.
Previous to this pack, I used a Kelty Coyote 3750, which was a good enough pack, but it was too bulky. My father, who I generally backpack with, uses an Osprey Atmos 50. While I still used my Kelty, I took his pack on several trips while I was investigating lightweight packs to buy. I really liked it, but had a few issues. For one, the frame rubbed against my shoulder blade/upper-back region, causing discomfort. The other main issue was it wasn't quite large enough.
So, when I set out to look for a pack, the Gregory Z55 was actually the top of my list. My dad and I subscribe to Backpacker magazine. Backpacker consistently lists the Gregory Z55 as the best overall choice for a lightweight backpack. So, I was naturally a little predisposed to favor this pack. Then, trying the pack and several others on at REI, I decided that it was without a doubt the pack for me. I haven't regretted this decision.
I highly recommend this pack for the casual or serious backpacker. The only issue I could see a person having with it is if they don't have good gear. If you use a large sleeping bag, and a large sleeping pad, it will eat up a lot of precious room in the Z55. However, if you have either good gear or great gear, it won't even be a problem. In fact, I often I have so much extra room, I bring the bulky down feather pillow from my bed at home with me.
Great choice. I'll probably never buy a different model ever again. Gregory has made a lifelong customer out of me.
Price Paid: $120

This pack is light and comfy with great back ventilation, and it looks awesome. I bought the large because there are so many straps to adjust the pack for a perfect fit. This pack feels great. There is slightly more padding than the Osprey Atmos 50, which is one reason I went with this pack over the Atmos 50. The pack is loaded from the top with a zipper on the left side for accessing main compartment. The hip belt has two mesh zipped pockets. There are top and rear zippered pockets that appear to be sealed for rain protection. I purchased the blue (awesome).
I didn't give it 5 stars because there was nothing for my hydration bladder to hook on to although there is an internal sleeve. I would've also liked to see some external side pouches for a water bottle or two but at 3 and a half pounds I guess I can't complain, overall I'm a believer in the lightweight revolution.
Design: top loading internal
Size: large
Number of Pockets: 2
Max. Load Carried: 35 lbs.
Height of Owner: 5'8"
Price Paid: $189

I have put this pack through more than 20 miles of Smoky Mountain hiking, even in a light rain. This pack is awesome. I originally had the Osprey Atmos 50, but the lower frame bars poked my kidneys bad. No issues with the Z55, with the "jet stream" air gap design the frame comes nowhere near discomfort. At first I thought the lower lumbar pad was going to be uncomfortable....until I got on the trail about 8 miles in, it is great.
The pack is very light and has a top and side entry into the main compartment which is definitely a plus. The material is lightweight, yet feels very durable and rugged. It has a somewhat stretchy shove-it pocket which is also very nice.
I do however wish that it had the two outer pockets like the Atmos 50....those were perfect stowage of sorts. Instead it has one fairly small sealed-zipper pocket good for maps and other small carry items. It has a hydration sleeve which is nice, but the slot where the mouth-piece comes through makes a very tight fit.
The hip-belt is well padded and has the benefit of two storage pockets on each side. The shoulder straps are very comfortable and don't dig in even after 10 miles with no resting. I am 5'7" and the medium size fits like a glove. This pack has a lot of adjustability and is easy to adjust on the go.
All-in-all, this is a very nice pack, again my only complaint (very minor) is the outer pocket. Other than that I would most definitely recommend this pack to a friend or anyone for that matter!

Design: Top loading main(with side entry) Internal
Size: 55L/3300 CU IN
Number of Pockets: 1 main, 2 outer/lid, 1 shove-it, 2 hip-belt, w/hydration sleeve
Max. Load Carried: 26lbs
Height of Owner: 5'7"
Price Paid: $190

I purchased this pack for some quick getaways into the Boundary Waters in Northern Minnesota. It performed great. The 200 rod portages felt like nothing!
After using this pack in the Boundary Waters for a summer I was presented with opportunities to hike in England, Ireland and Peru. I didn't have to think too long to know if I had the right pack. Due to my previous experiences with the Z-55 I knew that I did.
I have learned a few things hiking lord knows how many miles in this pack (and in a plethora of weather conditions and climates).
The first thing is that it can handle whatever you throw at it. Whether it's just the baggage handlers at the airport or thorns, it can take it!
Second, it fits like a dream. If you are hiking long distances on level terrain it has great weight distribution, or if you are hiking rocky up and down trails it has practically no shifting.
The third and final thing I have learned is that it has ventilation like no other pack I have used. While in Peru I was hiking in 90 degree temps with crazy high humidity on top of that. Granted I did sweat quite a bit, however it was not because of my pack, it would actually help direct breezes over my back, helping to keep it relatively cooler.
The bottom line is if you are looking for a pack that you can love for a long time and tell other people to buy without hesitation because it has everything you need buy this pack.
Size: 55L
Max. Load Carried: 35lbs
Height of Owner: 5'11''
Price Paid: $165

Switched to this pack from a Gregory Shasta on my 730 mile section hike of the AT in 08.
Fit was great, and put a few hundred miles on it with no issues. Easily good for a week, and maybe even a little oversized for summer hiking on the AT.
So far the pack has held up great for me.
Price Paid: $150

I have had this pack for about 2 years. It is a perfect 3 season bag for 1 or 2 nights (even longer in the late spring, summer and early fall). When you start going out for longer trips or as the weather gets colder and you need more gear, it can get a little small. I love the weight. It is not the lightest bag out there, but I like the extra support.
I would not try to carry more than 30lbs in it. It does tend to pull a little when it gets overloaded. Also, you can not put anything large in the outside zipper pocket, the large outside pocket will catch rain water in heavy rain if not covered by the top flap, and side zip is almost useless on such a small bag. None of these effect my overall satisfaction.
I tried out a lot of packs before I purchased this model. Osprey made a similar model, but it just did not fit right. It's all about the fit.
One other note on customer service form Gregory. Last trip, the waist buckle split. I call customer service and they mailed me a new buckle for free :) Great service.
Size: Medium
Max. Load Carried: 30 lbs

I have a long torso, so I got the Large size. It fit okay, but could have been an inch or two longer at the hip. It officially 61 liters, if you go with a large. It's light for a multi-day pack, but not as light as say, ULA or the Osprey Exos 58. My guess is the Gregory is a bit more "durable/tougher".
Cons
Not quite large enough, or long enough
I like the meshed pockets on the hip belt - where my peanut M&M's go.  I'm happy with this pack.  If you were doing more than 3 days, and having to pack your tent, bag, stove, filter, food, etc., I'd probably choose a 65 liter bag or 68 even better.
Source: bought it new
Price Paid: $200

I've put over 50 miles on this pack and love it. This is one pack I found that had all of the features I wanted: side entry to the main compartment, waistbelt pockets, adequate pockets and straps etc.
I'm 5'7", 160lbs, have the medium and it fits like a dream. I didn't know that a backpack could be so comfortable. My brother, 5'11" also bought a med. and had an issue with the lower pad, but after having the aluminum support in the base of the bag adjusted hasn't had a problem since.
My girlfriend has also bought the female version of the bag, the Jade, and after one trip had no complaints.
Overall this is a very well designed bag with the right amount of features: everything I need and nothing I don't. My one complaint is that I broke a plastic snap connector, but that can easily be replaced. I would recommend this bag to my friends and strangers.
Size: Med.
Height of Owner: 5'7"
Price Paid: $190

I poked around with different packs in this class for about a year before I settled on the Z55. I don't know why I was fighting the urge to get it by I just wasted my time. In prep for trip I had my Dru (not petite- I swear it seems that even Gregory doesn't remember the men's Dru from about 1993) anyway, I had the Dru packed- ready to camp in the snow (winter gear) when the Z came in the mail. I put ALL of the stuff in the Z with room to spare. I weighed it and went from 33lbs. dry to 27! -5lbs just by switching packs. Comfortable, and that Gregory suspension that makes them so good. Gregory is bomber and I know that it won't tear unless I fall down a cliff (or a cliff falls down on me).
Design: internal
Size: med (I'm 6', 190lbs) 3350cubes
Number of Pockets: 3
Max. Load Carried: 27
Height of Owner: 6 foots (really 5' 11" and a toe)
Price Paid: $180

I wanted a pack for weekend trips and lightweight week long trips. This pack fit the bill perfectly. I was also shopping for a lightweight pack that holds a lot of weight if I ever want to cram in an extra treat. This pack filled that void as well.
I was debating between this, the Arc'teryx mid size range packs and the Black Diamond packs. I went with the Z55 for its weight to max load ratio as well as storage space. The waist and shoulder straps fit comfortably and the easy access made this a no brainer.
For those looking for a pack for long day hikes, I use this for 10 hour day hikes with 3 meals and my DSLR camera and I still have space. Winter gear may change my opinion but I would recommend this product.
Design: Top Loading
Size: 5400
Height of Owner: 6'1"
Price Paid: $199

Great backpack. Lightweight and comfortable.
Pros
Lightweight and rugged
Waterproof is good, my stuff was still dry even in hard rain and didn't use rain cover.
Comfort
Still has a good shape when not fully packed
Cons
Lack of access to grab some stuff inside the main compartment. (only 1 zipper in the right side)
Great backpack, I use the size S and amber orange color. Live in Indonesia that has a lot of humid and wet tropical mountain. Feels comfortable if your torso is matched with the size of the backpack.
Used this pack at Indonesia's mountain (Mt. Sindoro) when in rainy season and this pack performed well. Hard rain came when I walked down the mountain and I forgot to bring rain cover, but my stuff inside was still dry. 
Source: bought it new

There's a reason this pack is such a big seller, it's everything a weekend (or week-long with the right gear) backpacker needs in a pack. The first impressions of this pack are fairly light and well ventilated, but in my opinion it's also important to note that it has only the right bells and whistles.
The side entrance, angled water bottle holder, hip belt pockets, rear bucket pouch and "lifting" side compression straps (helps to keep the center of gravity higher so the weight is set on your hips more) are all features I use and appreciate every time I take this pack out. After a year and a half of use it still shows no sign of wear.
I wouldn't hesitate to recommend this pack to anyone.
Design: Internal Frame Pack
Size: 55L
Max. Load Carried: 45
Height of Owner: 6' 0"
Price Paid: employee price

Just got this pack for a three day mountain winter hike on the Ouachita Trail. The pack performed without a problem. It felt great on the scrambles of rock on the trail and has lots of storage.
The hipbelt pockets sold me. I needed them for the small things and a camera at hand. The suspension is what I expected, having owned a Gregory Shasta. This pack is all I'll need for quick trips or weeklong trips. I walked around the store for an hour with 40 lbs in it (max. weight I would think) before buying just to see how it would feel...no problems.
Design: top/side loading internal frame
Size: Medium
Number of Pockets: 4
Max. Load Carried: 40 lbs.
Height of Owner: 5'9"
Price Paid: $189

A perfect design. I have owned several packs in the past 25+ years and this is by far the best of its class. I just returned from a 3 day "fastpack" trip and was amazed at how the pack performed. I read somewhere that the Z55 was not hydration compatible - well it is. Your bladder stows in the shovit and there are slits on both sides for the hose. Suspension and ventilation system are fantastic and the pack hugs the body perfectly. I was amazed at how much it holds for its size! Look no further - this is the one!!
Size: M
Max. Load Carried: 30
Height of Owner: 5'7"
Price Paid: $159

This bag is near perfect. The only issue I had, not have because I am used to it now, was the stuff pouch on the front doesn't hold much of anything if you have a full load in the large compartment and the small front pocket.
Other than that the bag is perfection. The most comfortable, sturdy, well thought out, designed, useful, best all around pack I have ever had the pleasure of lashing to my back. It blows me away how I ever got along without it.
Design: top loading
Size: top loading
Price Paid: $189

After 20 some years of use it was time to retire my Lowe Expedition pack. I wanted something lighter and that had new technology incorporated in it.
Why did I wait so long! This pack is a dream to use. I just got back from a 3 day trip, including one 18 mile day that was from hell, and all I can say is my expectations were GREATLY exceeded. So comfortable and easy to carry, smart use of pockets and straps, did I mention comfortable?
I bought this pack on sale at Steep and Cheap, had been looking at it for a while. I have backpacked with it approx. 40 miles and love it. It handles all my gear and then some!
The quality is great and the fit is perfect. The stretch  pocket in the front is great for holding all sorts of things.
The hip belt does not dig in like some others and the pockets are good for snacks and other goodies.
Wonderful product!
Price Paid: $89

Great backpack especially if you want a small light pack. I sold mine because I needed just a little more room. I don't like having my sleeping pad on the outside. Otherwise good pack.
Pro: Light, Forms to back, lots of space for Air.
Con: Small hip belt pads, Not big enough.
Height of Owner: 6'2''
Price Paid: $199.99

Your Review
Where to Buy
Help support this site by making your next gear purchase through one of the links above. Click a link, buy what you need, and the seller will contribute a portion of the purchase price to support Trailspace's independent gear reviews.
You May Like
Specs
small
medium
large
Price
Historic Range: $94.94-$229.00
Reviewers Paid: $80.00-$200.00

Weight
3 lb 13 oz / 1.75 kg
3 lb 15 oz / 1.80 kg
4 lb 3 oz / 1.90 kg
Capacity
3112 cu in / 51 L
3417 cu in / 56 L
3722 cu in / 61 L
Torso length
16 in - 18 in
18 in - 20 in
20 in - 22 in
Recently on Trailspace