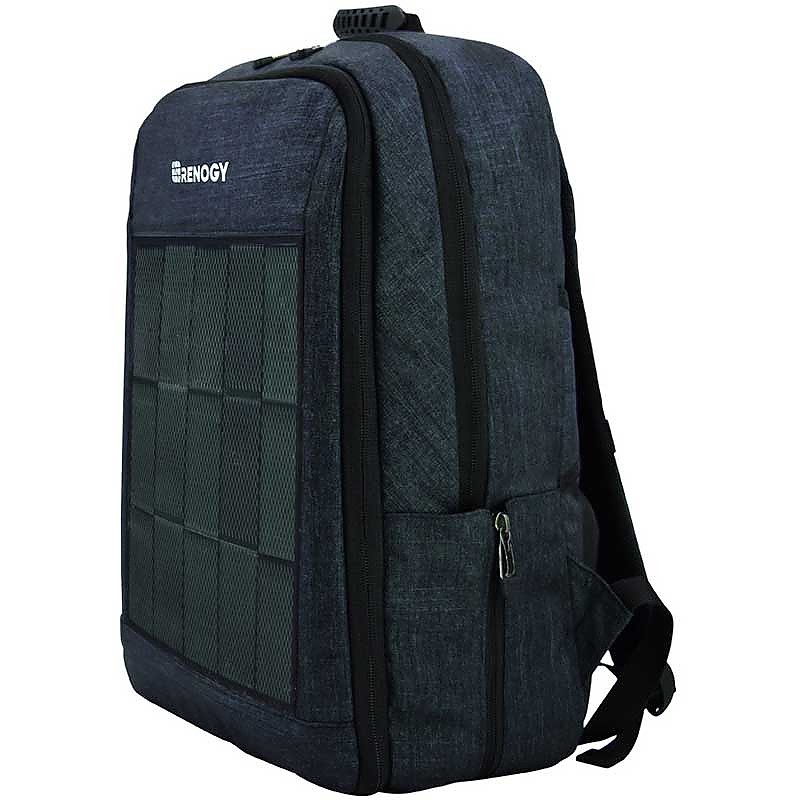 As a backpack it is great, and the solar panels are an added bonus.

Overall I'm very happy with the backpack and will definitely make use of it, though if I were to need a solar charging kit, I'd probably buy it separately from the backpack itself. I don't see the practicality of hiking with the solar panel charging…the pack would only be a daypack, but if you only need a daypack, your phone should be fine for just a day. You'd get better performance from a stationary panel, which is how I used this one anyway.
Pros
Great backpack
Solar panels charge your stuff
Cons
The solar panel part zips off and can be reversible on the backpack itself, but to access the inner pockets of this part while it is still attached to the backpack is somewhat difficult/awkward.
The solar panel is slower to charge than I thought it would be. It charged a little less than a quarter of my 13k mAh battery in about 3 hours with mostly sunny conditions. This was about 70% of my phone. I don't have much experience with this small solar kits, so maybe this is normal, but I was expecting faster.
Mine was stepped on and it got some cracks in it. I would have expected it to be a bit more durable on a backpack. It does still charge, but looks all cracked. I'm not sure if the performance is affected by this.
Source: tested or reviewed it for the manufacturer (I kept the product after testing.)

The author of this review received the product from the brand or its representatives in exchange for a review.
Urban jungle ready backpack for college or job site. Plenty of room and solar recharging of your gadgets.
Pros
Solar charger!
Pockets
Lightweight
Detachable sleeve
Concealable panel
Cons
Durability
Square
Actual direct sunlight ratio to charge
I received this innovative backpack to review while I went camping/backpacking.
Out of the box it is a nice subdued gray/black. There are a lot of pockets including one on the side. There is plenty of room for your laptop, paperwork and afternoon snack. It has zippered side pockets for beverages and a zippered pocket behind the back pad at the bottom.
One of the cool parts of this bag is the solar panel "sleeve". The entire front piece is double zippered so you can unzip/flip/rezip and expose the attached solar panel.
Also in that front "sleeve" you will find a zippered compartment with the cord from the solar panel and plenty of pockets for your electronic gadgets (phone, pad, etc, etc) PLUS, you can leave the bag and just carry/place the sleeve.
For urban travel this backpack is ideal, even standard. However for tromping through the woods, not so much. 
There is no hydration pack option, though you could probably rig something up. It's very square in shape. Good for laptop and paperwork, not so much for "low profile" backpacking. Technically there is no reason you couldn't use it backpacking, it's just not the standard, time tested, and improved modern backpack. 
As far as my understanding of solar panels the more direct the sunlight the better/stronger the charge. Depending on where you are backpacking, say the Mohave desert vs the Brazilian jungle, will depend on how well/efficient the solar panel works. So in my opinion using a power pack to collect the solar rays/converted into energy would be more conducive as well as cheaper over time—versus plugging your phone directly into the panel and getting intermittent charging which could ultimately damage your phone other device. But I'm not expert on that stuff. 
So, in closing, as I understand it this is a first run production of a backpack. In future designs more innovation is likely. Fur urban jungle, school, job site, etc this is a very handy backpack to have. For wilderness travel I will stick to my fastpack for now.
Source: tested or reviewed it for the manufacturer (I kept the product after testing.)

The author of this review received the product from the brand or its representatives in exchange for a review.
Great day pack for day adventures or the office.
Pros
Lots of storage
Lots of pockets
Reversible solar panel
Comfortable
Cons
Won't store energy, best to use with power bank
No chest/shoulder straps means best for lighter loads
As a member of another website, I am given products to test from time to time in exchange for a review. This is a 20L backpack with a lot of compartments best suited for those needing a daily activity/commuter bag. If you're looking for a true hiking/backpacking pack with solar panels, I recommend checking out Renogy's stand-alone panels.
Renogy recommends you use the setup to charge to a power-bank, rather than directly to devices and I completely agree. This is because even in the best light, directly connected to my phone I was only able to maintain my power level, not improve it. I found out the panel is pretty sensitive because in partially cloudy conditions I could hear my phone beep when it would go on/off charge. Sometimes it would beep at me a few times a minute. With a power bank, you can still charge devices but also build up reserve power so at night you can recharge your electronics.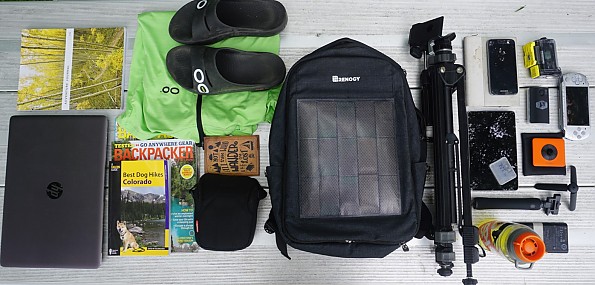 Who should buy this bag?
Anyone who wants a comfortable day pack with lots of storage options and loves the idea you can grab free energy to recharge your devices. I use it for all my media projects as it carries all my cameras, cables, and tripods plus in compartments so they aren't knocking into each other and the weight stays distributed evenly.
Just check out the amount of stuff I put in this thing! It has pockets everywhere, and includes an option to slide this through larger luggage's extendable handles, making it a great carryon bag if you need to travel by a plane. You will need a different bag for long expeditions because you need more than a 20L pack for that, plus this bag lacks chest and hip straps.

Verdict?
If you're in the market for a 15-20L day pack and want something that provides power, buy this. Especially if you're outside a lot. The bag is lasting very well, the panel is going strong even after I spilled beer on it (it's waterproof and obviously it was an accident as I would never waste beer), it's comfortable, and I like how versatile I can configure it for all my stuff.
In some social or business settings the solar panel isn't the greatest thing to be showing off, so it's great you can hide that away. Last I checked electricity isn't coming from a magic bean field, and I love how I'm able to go greener now by getting energy for my devices from the sun.
Source: tested or reviewed it for the manufacturer (I kept the product after testing.)

The author of this review received the product from the brand or its representatives in exchange for a review.
Pros
Water resistance fabric and zippers
Integrated solar panel
Storage pockets galore
Padded computer pocket
Cons
No sternum strap
No waistbelt
As a member of another website, I am given products to test from time to time in exchange for a review. The Renogy Solar Backpack was provided by Renogy for testing and review. 
Dimensions: 18.1" h x 11.8" w x 5.9" d
Capacity:       20 liter
Weight:          2.2 lbs.
Solar Panel Dimensions: 11.3"x9.7"
The integrated solar panel has one USB port.
The solar panel module converts solar power into DC power...utilizing an electrical management system with a stable 5V DC output.
User Guide solar panel specifications place maximum rate of power at 5.6W and maximum current output at 1.2A.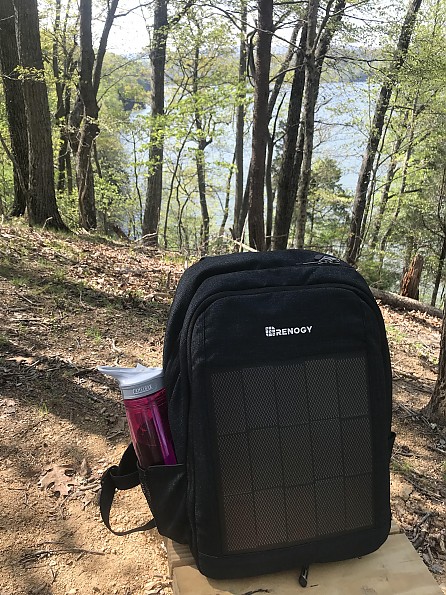 Both materials and construction of the backpack look and feel high quality. Stitching is even and clean. Fabric is a medium weight packcloth with a blue denim-like coloration, giving it a classy urban appearance. Interior seams are banded and sewn, preventing fabric fraying or snagging and increasing durability. Exterior zippers have double-sided closure fabric, minimizing water penetration.
While I would classify this on the lighter side of a daypack, it is loaded with pockets and hidden zippered sleeves. Though it does have dual "zipper-expandable" water bottle pockets on each side...I believe this fits more into an urban backpack style. It's so sharp, I don't want to soil its sophisticated look.
Shoulder straps are 2.5" wide and possess an "anatomical curve." The padding is rather thin. Strap webbing is stout and buckles are bar-tacked for strength. The padded lower lumber region contains a clever "hidden" zippered pocket. A similar padded area like the lumbar pad tops the upper shoulder area but does not have the hidden zippered pocket.
Much to my dismay, no waist-belt or sternum strap are offered. When wearing a nylon rain jacket during downpours, I did get frustrated with shoulder straps that wanted to slide off my shoulders...a problem that a sternum strap would eliminate. To be fair, if the outer rainshell was a different texture or material, shoulder straps may not have been prone to slide.
A cavernous zippered padded computer sleeve is located on the wearer's back-panel right side...the full height and width of the backpack. My 17" Toshiba laptop slid right in.
The outermost pocket zips entirely off and reverses which exposes the integrated 5W solar panel.
A center zipper reveals a myriad of interior pockets, some designed for the charging devices (marked by device icons) and others for writing utensils and smaller personal items in three mesh pockets. The iPad sized pocket is thinly padded. A snap hangs from webbing for your keys.
The main body of the pack has a 3/4 zipper and offers one large pocket to separate from the rest of the main compartment. This area offers roughly 4" of depth to store belongings.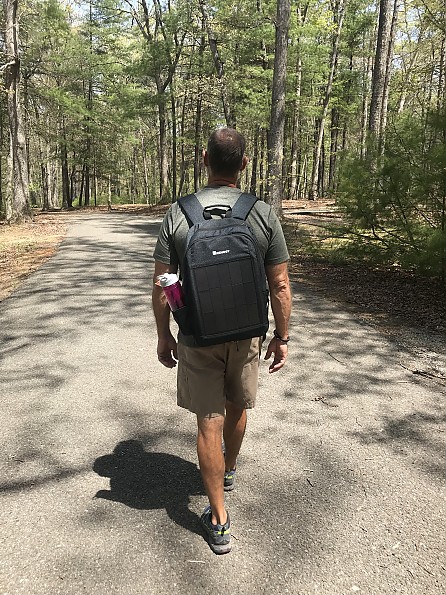 Solar Panel:
Follow directions and remove the thin clear protective sheet on the solar panel grid.
Full exposure to direct sunlight is imperative to assist in charging. I found this Renogy Solar Backpack at 5.6W is obviously a much slower charge than their 10W Portable Folding Solar Panel. 
Through automotive glass I experienced a reading of a charge but the mobile device never gained a percentage. In direct sunlight, while using my iPhone 7, I saw a 1% gain every four minutes. USB ports feel loose or sloppy in their connectivity, which I'm certain affects charging...this is the OEM iPhone7 charging cord, my Verizon work phone's OEM cord, and an aftermarket cord.
If using the Renogy Solar Backpack for light hiking purposes, care must be given not to damage the solar panel screen, from outside abuse if left exposed or from packed items if zipped facing the pack interior. Sharp or pointed objects can perforate the panel. If this were to occur, Renogy claims this will not render the solar panel inoperable but be assured it will reduce charging capabilities.

Initially, I was concerned about the water repellency of the fabric and zippers...but after being caught in several West Virginia downpours, both performed admirably. No water penetrated. However, I would highly recommend picking up a rain cover if you truly want to hike with the Solar Backpack. 
Final Thoughts
Personally, I really like the Solar Backpack. Though it may not see much of the backcountry, it accompanies me, daily, in my work truck and short treks into the woods. Its overall functionality far outweighs any negatives I have mentioned, keeps my job site paperwork nicely organized, and keeps my handheld devices charged and operational. Not to mention its good looks!
Source: tested or reviewed it for the manufacturer (I kept the product after testing.)

The author of this review received the product from the brand or its representatives in exchange for a review.
Your Review
You May Like