Rothco ECWCS Polypropylene Balaclava

#3 in unisex Balaclavas
The ECWCS Polypropylene Balaclava has been discontinued. If you're looking for something new, check out the best balaclavas for 2023.
Base layer, insulator, and above all vapor barrier, this balaclava is a useful tool to have in your cold weather quiver. All but supplanted by the modern polyester version the polypropylene balaclavas can still be found and are worth looking for if you're wanting vapor barrier over a wicking base layer.
Pros
Great vapor barrier
Comfortable flece lining
Holds heat well as base layer
Cons
Easy to overheat if used actively
Difficult to breathe through, especially when sleeping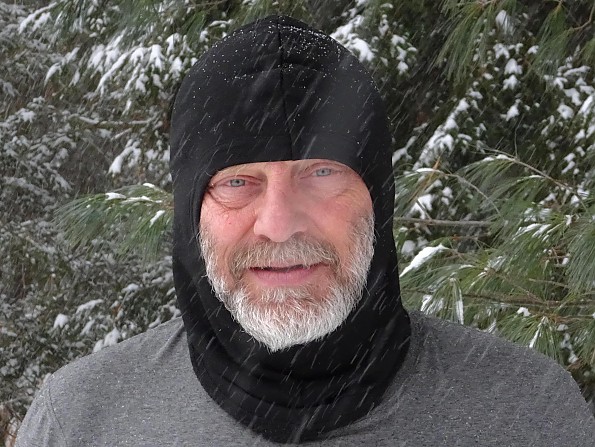 Light, small, and inexpensive, yet such a useful thing to have along when heading out into the cold for a day or a week the Rothco ECWCS (Extended Cold Weather Clothing System) Polypropylene Balaclava weighs just 2.2oz/62g on my scale.
Fit & Comfort:
Designed to be worn as a base layer it wraps smoothly around even overly large heads comfortably, but the face material will be more snug for those with larger heads. There is enough flex to the face opening to pull it down over the chin as seen above.
The back of the head has enough room to accommodate my ponytail, but wraps pretty tightly allowing for adding more layers. Hoods and hats slide easily on top and while I don't wear a climbing helmet I have worn this balaclava under a motorcycle helmet comfortably.
The fleece lining inside feels smooth against the skin and helps prevent feeling clammy, but if you are active enough to get sweaty there is no denying you are wearing a vapor barrier.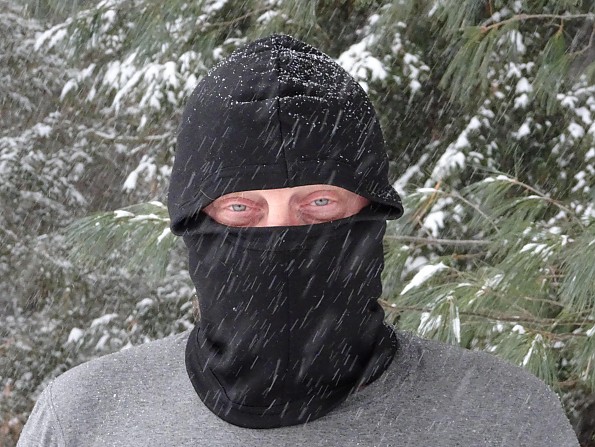 Excess material folds flatly to the side allowing for wearing goggles over the top, but breathing through the polypropylene can be a challenge.


Breathability & Moisture:
These are the qualities that drove the movement towards polyester rather than polypropylene. Built as a vapor barrier this balaclava is not really designed to move moisture, but to hold it in. In hot and sweaty conditions that is a terrible thing of course so using this item for active wear requires correct application. It is meant for times when temperature and activity level won't result in a lot of excess moisture being created. The payoff is preventing moisture from moving into mid and outer layers.

Warmth & Wind Resistance:
These qualities are where the polypropylene excels. That vapor barrier retains heat along with the moisture. It also keeps wind gusts from penetrating to steal that heat. The neck gaiter extends down to the collarbone allowing it to be tucked into other layers as needed.
Testing Conditions: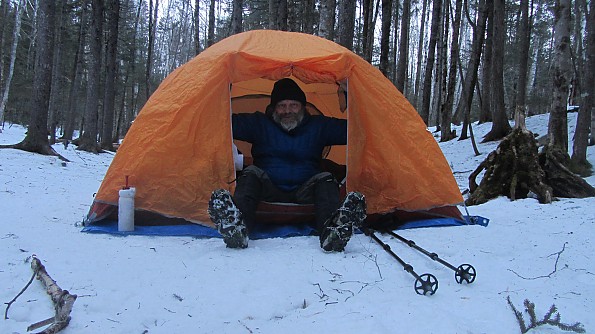 I've used the Rothco ECWCS Polypropylene Balaclava for two full winter seasons. Due to my ability to generate heat while active I only use it on trail when temperatures are really low to avoid sweating. When things get sub zero though it makes a nice protective layer against the wind.
Another primary use for this balaclava has been as vapor barrier sleepwear for temperatures ranging from 20°f to -18°f including multi-night winter trips.

Conclusions:
Room enough for my ponytail, but wrapped closely enough around the head to accommodate hat, hood, or helmet.


This item can be very useful or very annoying depending on how you use it. Like most tools it is all about application. The vapor barrier traps moisture very well which is what makes it such a great item in really cold weather. Passing that moisture on to outer layers leads to frosting and iced up insulation tends to stop working. Keeping that moisture inside means stewing in your own juices, so it is important to avoid sweating.
As someone who generates a lot of heat while active this balaclava is too warm for me unless temperatures are getting down well below zero. What I really bought this item for is for sleeping. As a four-season quilt user my head is sticking out wrapped up in a rabbit fur lined Mad Bomber.
Prior to using this vapor barrier I'd wake in the morning with my hat covered in frost. While I could knock off the surface ice the material itself retained some inside its insulation. On longer trips it was clear the insulation was being compromised. With the polypropylene balaclava the frosting was completely eliminated and the hat remains unfrozen on multi-night trips.
Based on my extensive experience using the Rothco ECWCS Polypropylene Balaclava in real world conditions I can give it the full five-star rating. Used as intended this thing does exactly what it is supposed to. Like many things, use it wrong and you'll regret it because that vapor barrier is powerful and no one wants to be soaking wet in the cold, so I'd advise anyone using it in an active application to be vigilant in monitoring how their body responds. Take some time figuring out the temperature/activity range it works best for you as an individual and I think you'll be happier.
Source: bought it new
Price Paid: $9.99

Your Review
You May Like
Specs
| | |
| --- | --- |
| Price | Reviewers Paid: $9.99 |
Recently on Trailspace