Ruffwear Hi & Light Harness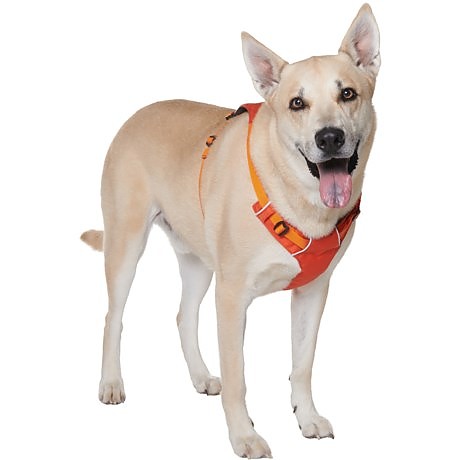 The Ruffwear Hi and Light Harness is a durable, lightweight harness that has been a fantastic fit for our active Vizsla, Roland. It allows for unrestricted movement and after months of regular use shows no obvious signs of wear.
Pros
Lightweight
Reflective for visibility
Minimal chafing
Adjustable
Cons
Some chafing when wet (for shorthair dogs)
Testing Conditions: Our 8-year-old Vizsla, Roland, tested the Ruffwear Hi and Light Harness from late May through September of 2018 in northern New Hampshire. Roland wore the harness trail running, hiking, and running alongside my husband, Jim, and I while we mountain biked. He also took it swimming a few times, and wore it on a boat. Temperatures ranged from 50-90 degrees fahrenheit.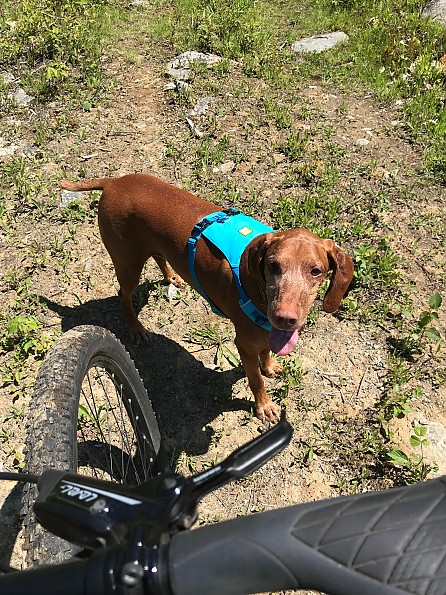 Roland on a bike ride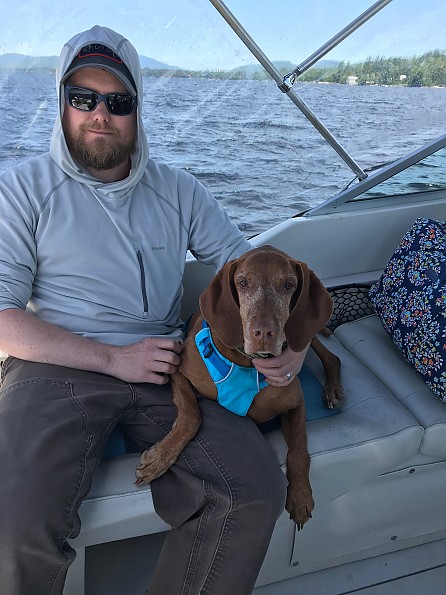 All dressed up for his boat ride...while Jim hides from the sun
Fit: The harness comes in a variety of sizes ranging from extra extra extra small to large/extra large. Roland has about a 30-inch girth (widest part of the rib cage) and the medium fits him well. I appreciate that the four straps are also adjustable, providing the ability to fine-tune the fit within each harness size. This is especially helpful for a dog like Roland, who is fairly small (as far as Vizslas go) and lean, but has a comparatively large barrel chest. The Hi and Light fits him perfectly. There's a lot of adjustability in the straps. Roland is at the larger end of the medium harness but, based on how adjustable it is, I imagine the size large might also fit him.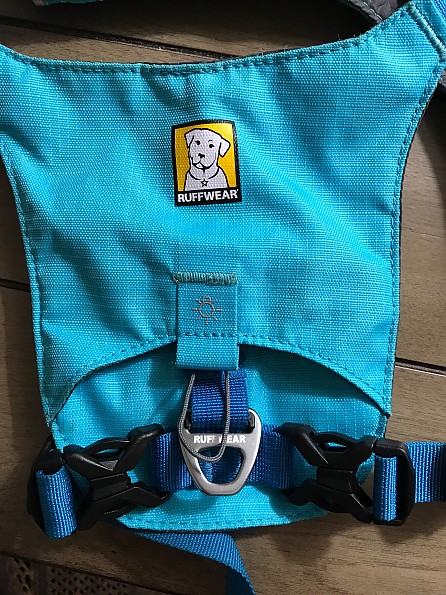 Closeup of the top of the harness—straps clip here as does the leash
Ease of Use: As an owner, I found the harness easy to put on and take off using the two buckles at the top of the harness. Roland is a high energy, wiggly pup and it can be tough to get him to sit still for more than a few seconds. I like having the clips easily accessible...and Roland appreciates not having to stand in one place for too long while he is clipped in or out. 
                                                           Out for a hike
In addition to providing a good fit during exercise, the harness does not restrict movement when Roland bends down to eat or drink.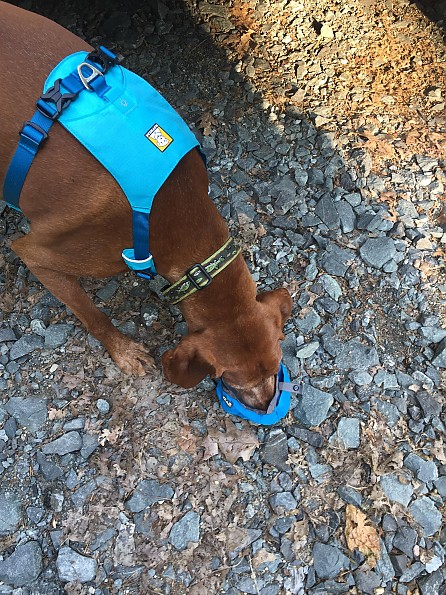 Nothing keeps Roland from his dish!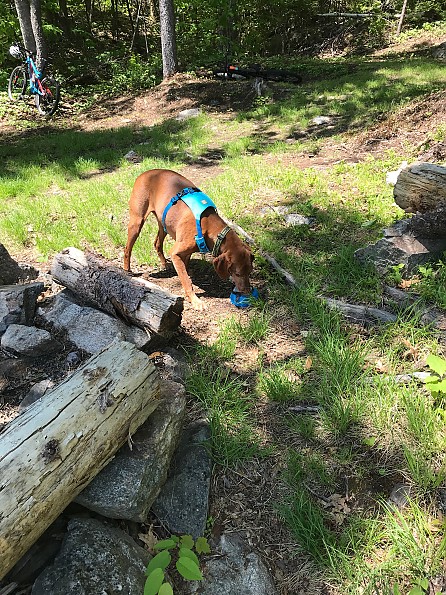 The harness incorporates an aluminum v-ring for attaching a leash. We have a few different styles of leash for Roland and all clip in and out of this attachment ring without issue. Because we live in the woods like a couple of hermits, Roland has really never been leash trained. So, when he is leashed, he pulls. While it was easy to clip his leash to the harness, we usually had to fasten his leash to his collar to prevent pulling. The harness didn't obstruct use of his collar.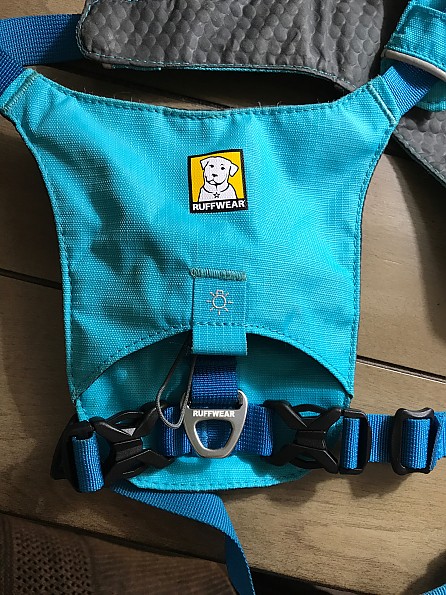 V-ring for leash attachment (above) and closeup of leash attached (below)
Comfort and Durability: Aside from getting a bit dirty, the harness shows no obvious signs of wear after four months of regular use. The straps adjust easily and stay in place with no fraying.
             Video of the Hi and Light Harness in motion—voiceover by our friend Kristina ;)
The harness material is durable yet seemingly comfortable. Thanks to the lightweight, low profile design, Roland can hike, run, jump, and even roll around in the leaves without any signs of restriction of movement.
As a shorthair dog, he's prone to chafing. The inner lining of the harness incorporates a waffle like weave pattern which seems to rest comfortably against Roland's coat. The Hi and Light Harness doesn't seem to cause any major chafing. However, there was one occasion when, while we were out on a bike ride, Roland took himself swimming before we could unclip the harness. That day, we noticed some "hot spots" so to speak around his chest where his coat is especially thin. Since then, we've avoided using the harness when his fur is wet and we haven't had any problems.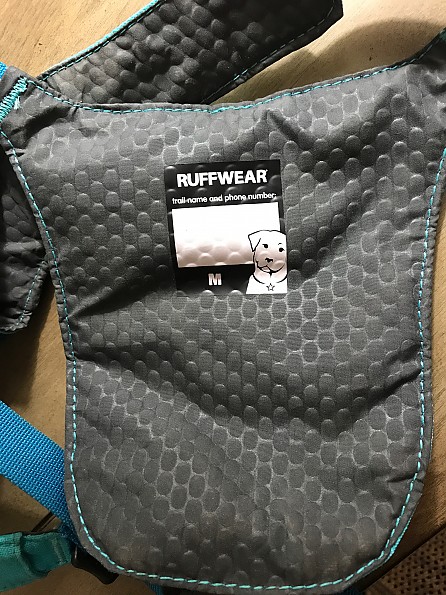 Inner lining (above)
                                           Getting a drink AND going for a swim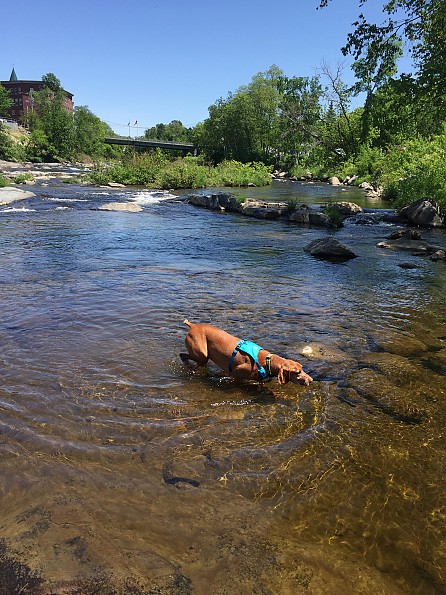 Other Features: One of my favorite features of the harness is the bright color and incorporation of reflective trim. It helps make Roland easy to spot in the woods and ensures others on the trail won't mistake him for a wild animal (he looks a lot like a small deer at first glance). This is especially helpful when mountain biking, as Roland can be off leash without being out of our sight or startling other riders.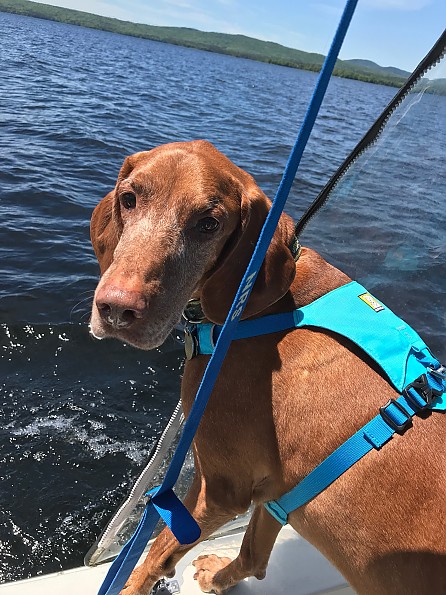 Just a brightly colored dog on a boat...asking when he can jump overboard
The Hi and Light Harness also includes a small velcro pouch that sits on the dog's back. There's a cord inside for attaching small items such as dog tags (if so inclined) or perhaps a very small dog leash (for those trips when you don't feel the need to leash the dog the whole time but want to have one on hand just in case).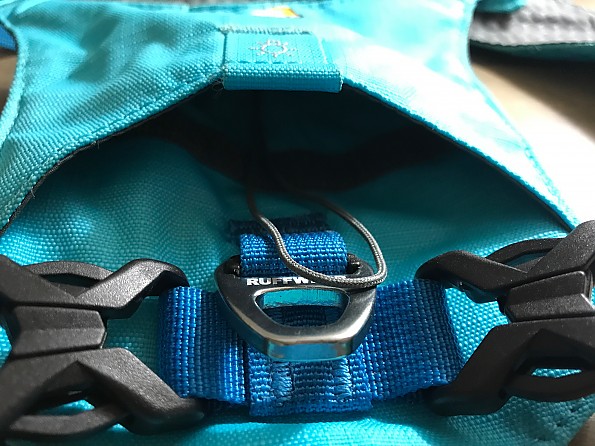 Velcro pouch and cord (gray—right on top of the metal leash clip)
Over the pouch, there's a tab for attaching a light. We find this to be a super helpful way of improving our ability to keep track of Roland when out on the trail at dusk or at night.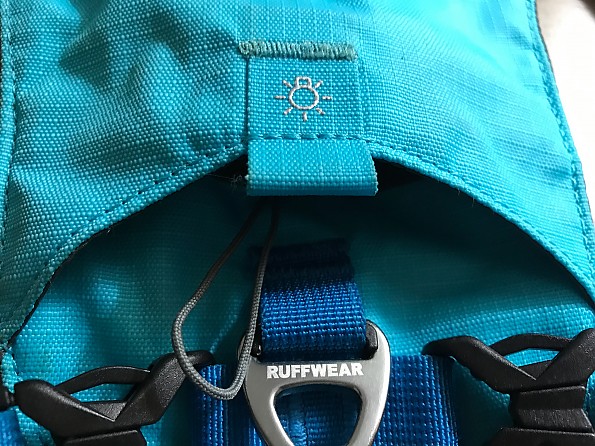 Light attachment tab
Care instructions state the harness should be hand washed. Our favorite way of doing that is letting Roland take it for a swim :) It's held up to washing without issue, and, while we take it off of Roland if he does jump in the water with it (in order to avoid chafing), he seems to enjoy swimming with the harness on without any trouble. 
The Hi and Light Harness pairs well with the Ruffwear Trail Runner System (soon to be reviewed by Jim). It retails at about $40, which I feel is reasonable, especially given the quality of the harness. 
Overall Impressions: If you're on the market for a lightweight harness for your active pup, the Hi and Light is a great option. It's easy to put on our hyperactive pup, pairs well with any leash we've used with it, and helps us keep Roland in our sights. 
Thanks to the folks at Ruffwear and Trailspace for the opportunity to test the Hi and Light Harness!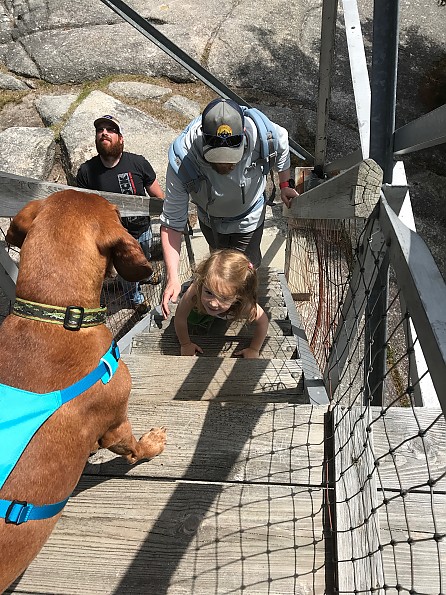 Roland, coaxing my 3-year-old niece up a fire tower
Source: received for testing via the Trailspace Review Corps (Sample for testing and review provided by Ruffwear)

Your Review
Where to Buy
Help support this site by making your next gear purchase through one of the links above. Click a link, buy what you need, and the seller will contribute a portion of the purchase price to support Trailspace's independent gear reviews.
You May Like
Specs
Price
Current Retail: $39.95
Historic Range: $9.93-$49.95