Ruffwear Overcoat Fuse Harness Jacket

The Ruffwear Overcoat Fuse harness jacket is a unique item in the world of dog gear—a single jacket-harness combination, providing thick and warm protection from moderately cold weather, with integrated secure attachments for a leash or trekking line. During our frequent cold weather snowshoeing outings, our dogs are used to wearing jackets beneath their various harnesses, for thermal, wind, and snow protection. They are always on trekking lines that attached us at one end, and to their harnesses at the dog end. This Overcoat Fuse jacket is designed to eliminate the need for an external harness, since a webbing system is an internal part of the jacket.

The jacket has an outer weather resistant shell, with a thick fleece lining, "built on a chassis akin to the best-selling Front Range Harness". For protecting your dog from the elements on gentle hikes or walks about town, this Fuse Overcoat provides a convenient and easy to use alternative to using a jacket with a separate harness. However, I have not found it to be as suitable for more rugged outdoor adventures as using a separate harness over a dog coat.
Pros
Exterior material is tough and abrasion resistant
Soft and durable lining
Zippered side pockets
Easy size adjustments
Three color choices
Cons
No handle to grab as you have on a harness
No neck adjustment
The chest flap will gather snow in chest deep conditions
I have been using the Overcoat Fuse jacket on Edgar, our 55-pound, black lab mutt, known for his strength, high energy, and tendency to pull while hiking or snowshoeing. He has done well learning not to pull when wearing his hiking harnesses, which are a different design and fit than his skijoring/ pulling harnesses. Having used the great Ruffwear Web Master harness for many years, I knew that Ruffwear would produce a solid, well-made product...the only question was, would this jacket adequately secure our Edgar without the use of an external harness?
Our uses indicate that yes, it may, but perhaps it would better serve him merely as a fine cold weather jacket. My rating of 3.5 stars is based on averaging a rating of 4 stars for the jacket component, and 3 stars for the "harness" element. There is obvious convenience of having a dog jacket that includes a harness component, but for us, the combination type jacket sacrifices performance for convenience.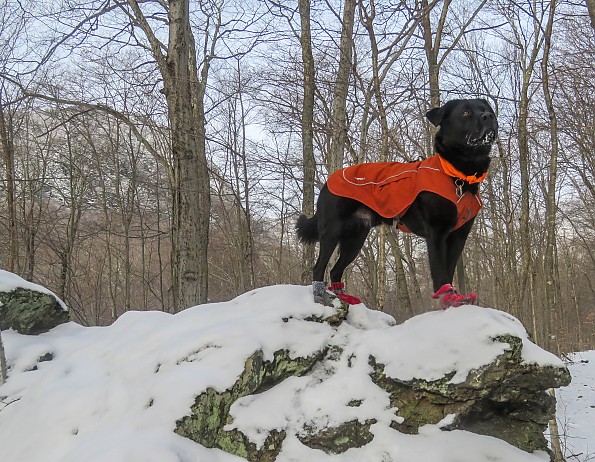 JACKET DESIGN
The Overcoat Fuse is a two-layer, thick and solid jacket, with an exterior shell that is water resistant and resistant to abrasion, and an interior lining of soft, thick, fleece. It is a sleeveless design dog jacket, which does make it very easy to place on a dog. Our dogs will not tolerate a jacket with sleeves, as that design seems to impede their freedom of motion. The Overcoat Fuse is thicker and more hefty than other dog jackets that Edgar has used. This Overcoat Fuse is essentially the same design and material as the Ruffwear Overcoat dog jacket; however, the Fuse has an interior harness system and two side pockets.

Ruffwear describes the jacket as having an "integrated webbing harness system", similar to the Front Range harness. This jacket has a fixed neck opening and is secured to the dog by two straps that are located on the side of a chest flap that goes between the dog's front legs. These two side straps on the fabric jacket are the only fit and adjustment points. To me, this does not equate with the security and fit of a harness. The webbing is only 7/8-inch wide, and the side attachment buckles are small (1"), and I do not feel they are as secure as a harness buckle.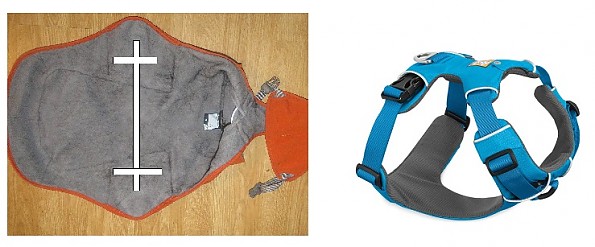 The left photo is a schematic, showing the interior of the Overcoat Fuse, the white lines indicating the approximate placement of the 7/8" webbing straps, between the outer shell and the inner fleece lining. The right photo is the Ruffwear Front Range harness.
The Ruffwear Front Range harness has a standard "H" design and "coverage style"; thick and hefty neck strap and chest strap, a perpendicular padded chest strap/segment secured at the neck and chest, with four-point adjustment.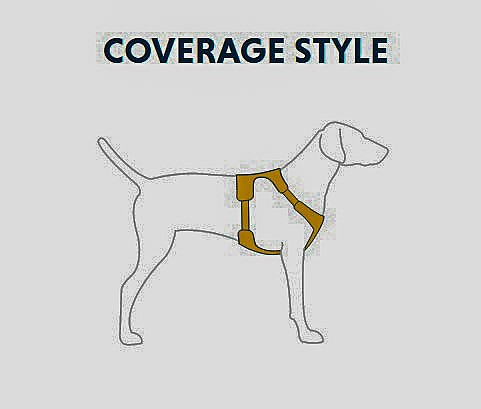 Coverage style of the Ruffwear Front Range Harness (Ruffwear graphic)


For the Overcoat Fuse jacket, the jacket neck opening serves as the neck strap (but is not adjustable as it is on the harness, as the Fuse is adjustable at only two points), the chest strap is adjustable, and the chest segment secures to the chest segment at the back. So though they are similar in style, the harness component of the Fuse is less adjustable, and less "beefy" than the strong and reliable Front Range harness.
We need to keep an eye on the chest flap area in deeper snow; our use of similarly designed jackets in deep snow has resulted in an accumulation of snow between this type flap and the dog's chest. On the few occasions that have used the jacket in deep snow (up to Edgar's chest) we found snow between the jacket's chest flap and Edgar's chest; the largest accumulation was the size of a squished baseball. This is not really a flaw in the Fuse jacket, but rather a characteristic of this design of jacket. It becomes our responsibility to monitor this area, and remove any cold snow.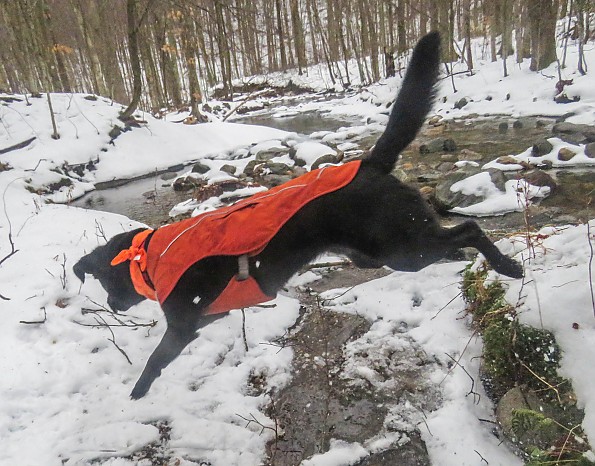 The chest flap area is visible as Edgar jumps a stream.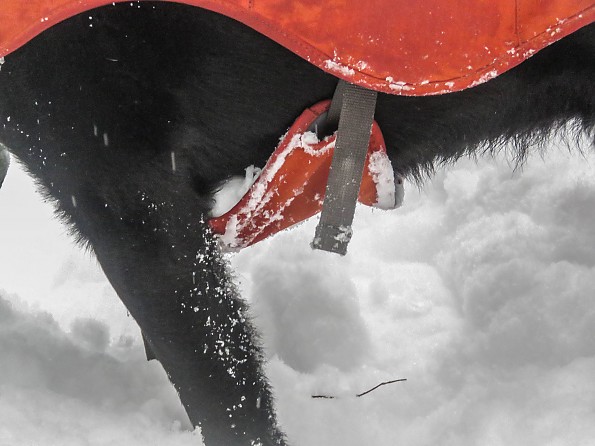 Visible accumulation of snow under the chest flap area


The front attachment ring is thick and strong roped webbing, attached to a segment of webbing material between the outer layer and lining. We do not use a chest leash attachment with our dogs, as they are always secured from attachment on their backs. For testing purposes, I tried attaching the trekking line to this chest attachment; The line then drew Edgar off his normal gait, as it pulled along his front side. However, should someone have a dog who is accustomed to a chest attachment point, this appears to be a durable loop.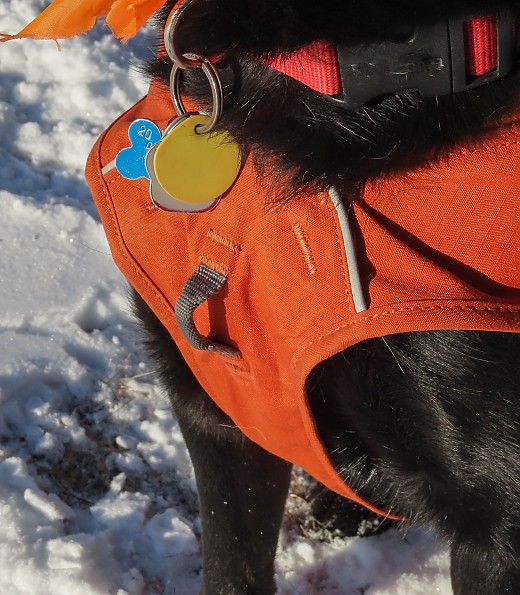 Front attachment loop...if your dog is leading you, the leash will then drag against the side of his front shoulder, impeding his gait, as shown in photo below:
The metal back ring is the same design metal ring as used on other Ruffwear harnesses, attached to the thin webbing between the fabric layers. I did have an incident of the snap link of our trekking line getting snagged/jammed in the triangular Ruffwear ring; however, this is not a regular occurrence, and most leash attachments seem to hook up without issue.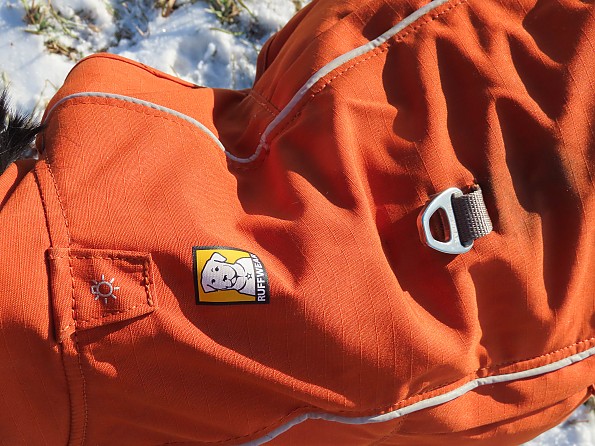 Metal back attachment ring...light loop also visible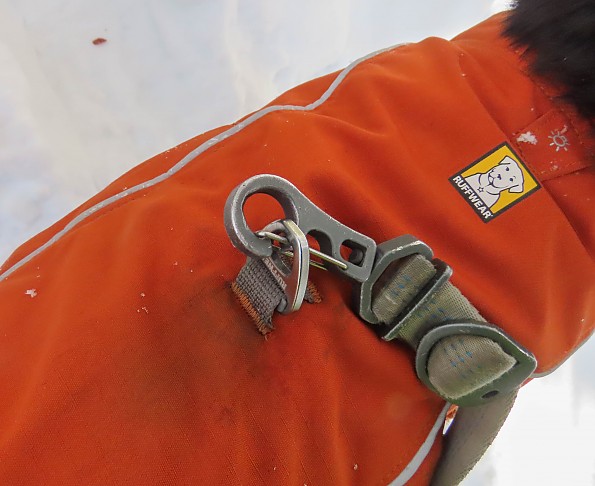 Stuck! It took a few minutes of manipulation to free the snap link (not a Ruffwear product)


The Fuse is available in three colors: canyonland orange, purple sage, and cedar green. We tested the orange version, and though the orange is a more subdued color than safety or hunter orange, it does provide some increased visibility in the woods or on the snow. 
USE AND PERFORMANCE
Edgar has used the jacket on more than 35 hiking and snowshoeing outings, in temperatures ranging from minus 8 to 30 degrees Fahrenheit, in dry, wet, and snowy conditions. Though not identified as a Ruffwear jacket designed for the coldest or snowiest conditions, the Overcoat Fuse certainly would meet Edgar's needs for even colder temperatures than we have experienced so far. However, as with many combination type items, it does not excel at either of the designated uses, and in this case, the Overcoat Fuse definitely serves better as a jacket than a harness. The combination appears to work adequately for some of our winter use, but it lacks some harness features than we have come to depend upon.
The most noticeable area in which this is less functional than a harness is the lack of a back handle or webbing strap. The Overcoat Fuse does not provide a means to lift Edgar over wet stream crossings, assist him up on rocky ledges and scrambles, or grasp him firmly when a renegade squirrel crosses our path.
Using this Overcoat Fuse jacket also means that if we remove the dog's jacket while on a longer outing once the temperatures rises or precipitation stops, we would have to then put on a harness, carried separately.
Edgar has remained comfortable, warm and dry, due to the solid, thick, high quality jacket construction; however, I have noticed small wear spots in the corner stitching of the back leash attachment ring. This wear is similar to that near the attachment rings on the Ruffwear Webmaster harness that he has used for years, so I do not really fear the attachment ring will separate from the jacket. There has been no further deterioration of this area with continued regular use, so we will just keep an eye on this area of wear.
My impression is that yes, it can serve as an alternative to a jacket/harness combination in gentle hikes in snowy and cold temperatures, but we will continue to monitor the strength and integrity of this attachment to ensure he is safely attached to me.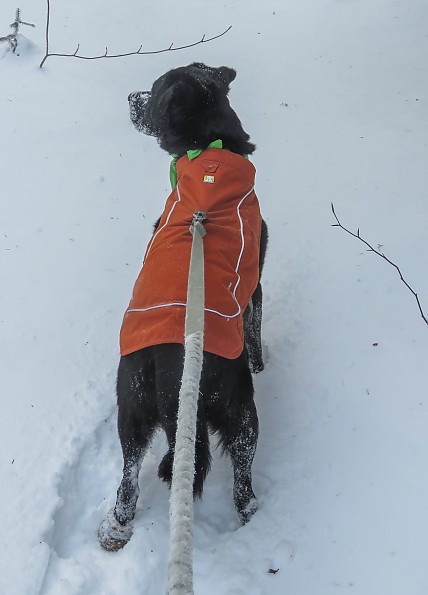 A bit of a tug...on a bungee line


                     The Overcoat Fuse jacket in action on a snowy day in Vermont!

                               The stitching at corner of attachment is showing wear

On one very cold day, I did put one of Edgar's hiking harnesses over the Overcoat Fuse, and found that it fit well, and Edgar seemed to remain warm and comfortable. In cold weather, a dog jacket is normally placed beneath an exterior harness, thereby preventing cold air from accumulating between the dog's fur and the jacket. Also, without an external harness, the rear portion of the jacket is subject to blowing or lifting up away from the dog's fur, reducing thermal protection. I do keep the Overcoat Fuse jacket fitting as snuggly as possible, and Edgar's back fur has felt warm to the touch when checked.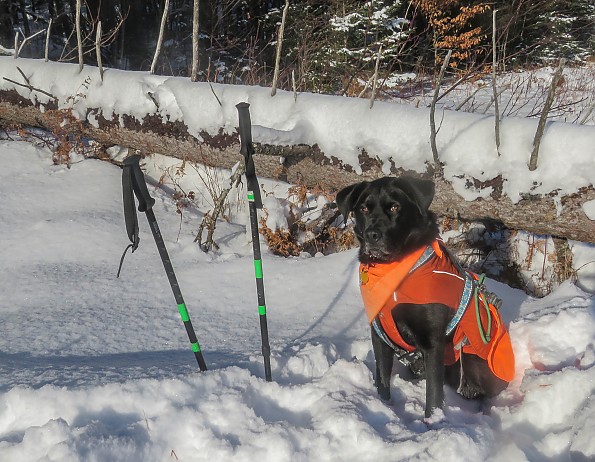 Hiking harness worn over the Overcoat Fuse jacket


The jacket does not impede Edgar's movement in any way, and he is a very active dog! He can run, jump, sit, pee, poop, and climb up rocks and tree stumps without any issues. The jacket has kept him dry in some freezing rain and wet conditions, certainly attaining Ruffwear's stated description of being water repellent. After returning home, I placed the wet jacket on our drying rack, and it was dry within an hour or so.
The laundering instructions are not on the cardboard tag attached to the jacket when it is new, but are on the neck tag, and on the Ruffwear website. We laundered the jacket after 35 uses, as directed: "cold water, gentle detergent, hang to dry. The jacket looks great after washing, and it only took a few hours to dry on a drying rack inside the house.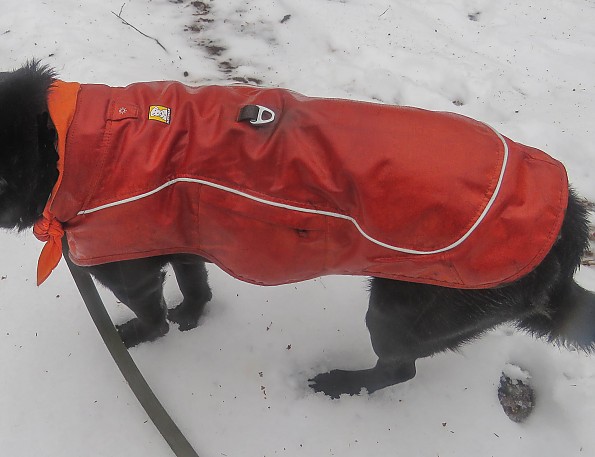 Soaking wet jacket, just prior to removal...but his back fur remained dry
Edgar is a pretty tough winter dog, and generally uses a jacket only in temperatures below 20 degrees (f) or so, unless we are out in wet precipitation. The Overcoat Fuse jacket provides fine thermal protection, and I think I would generally not use it with our thick coated dog in temperatures above 30 degrees, to prevent his overheating. However, a smooth coated dog, without a lot of natural thermal protection, might happily use this coat in the higher temperature ranges.
SIZE AND ADJUSTMENT
The Ruffwear Overcoat Fuse is available in six sizes (XXS to XL), based upon the dog's girth measurement. We have been using the size Medium, for dogs with a girth of 27-32 inches (69-81 cm).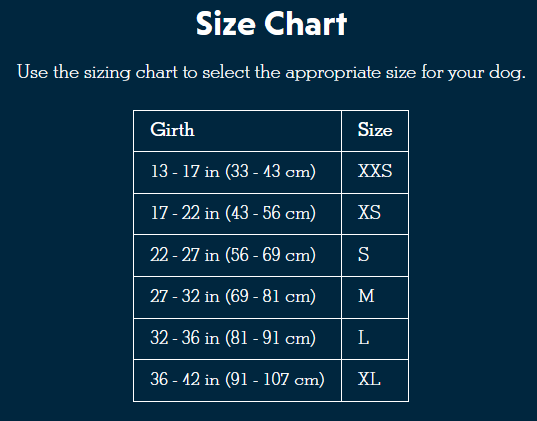 Edgar is a 55-pound, black lab mutt, with a chest girth of 27 inches, a back length (collar to tail) of 25 inches, and a neck size of 17 inches. According to the chart, he falls at the lower end for Medium sizing, and the jacket seems to fit him well.
For fit comparison only (he has not used it in the outdoors), Griff tried the jacket on. Griff is a 72-pound, yellow lab mutt, and has a chest girth of 32 inches, a back length of 27 inches, and a neck size of 22 inches. This places him at the upper end of Medium sizing; however, with his added back length, and larger thick ruffed neck, I would definitely select the Large size for him.
                          The medium size is not quite large enough for Griff's comfort


The neck opening of the Medium sized Fuse Overcoat is 22 inches around; this opening is not adjustable, so a thick necked dog may need a larger size than the chart may indicate, for comfort and ease of putting the jacket on and taking it off.
Some similarly styled dog jackets have a tail loop, designed to keep the jacket in position on the dog's back. The Overcoat Fuse does not have a tail lop, but this is not a negative for our dogs, who do not like having a loop under their tail.
The jacket is adjusted for fit by the two side buckles on the chest flap, secured to receiving buckles located under a flap beneath the side pockets on the jacket. These attachment points allow for easy tightening and loosening of the short side straps, and lock down with a push.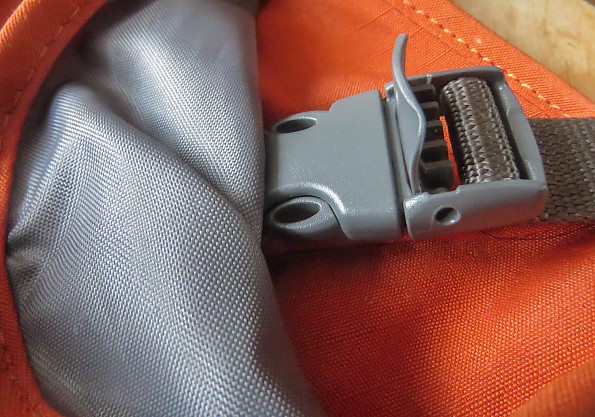 FEATURES
The Overcoat Fuse has some nice features that show an attention to detail and the needs of dog owners. There are two small zippered side pockets, one on each side, suitable for a supply of poop bags or treats. We have put two fleece booties in each pocket, to take along on some of our colder outings.
There is reflective trim and piping along the jacket, especially important during the dark and low-light conditions encountered in the winter.
A name plate/identification tag is provided inside the neck of the jacket.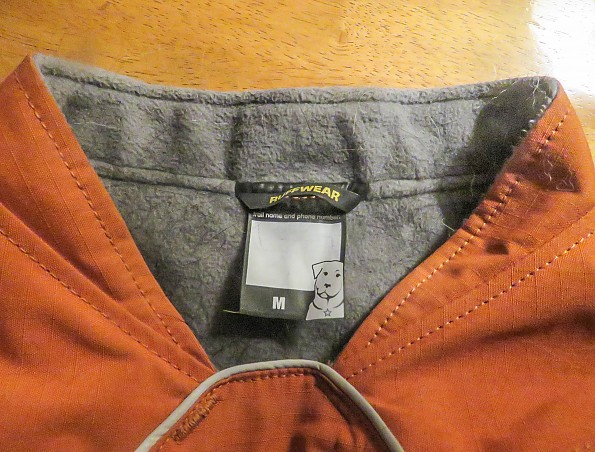 A loop is provided on the back of the jacket for attachment of a light (as seen in a previous photo).
SUMMARY
We have continued to utilize the Overcoat Fuse jacket with Edgar during what is traditionally our snowiest and coldest part of the winter. The chest flap has proven a bit problematic in terms of its ability to protect Edgar's chest from cold snow, so I must periodically check for any accumulating snow against Edgar's chest. This is not a defect in this Ruffwear jacket, but rather a design feature of this style dog jacket. The Overcoat Fuse jacket is beautiful and well-made, but I still have some concerns about the long-term durability of its harness component. As the jacket undergoes additional wear and use, any particular issues may be noted in updated reviews.
The Overcoat Fuse is perhaps best suited for a dog who does not tug or pull, or who is not engaged in a lot of backcountry scrambling and climbing while on a leash. It will continue to get regular use for the duration of this winter and beyond...and as always, we hope for lots of snowy hiking and snowshoeing!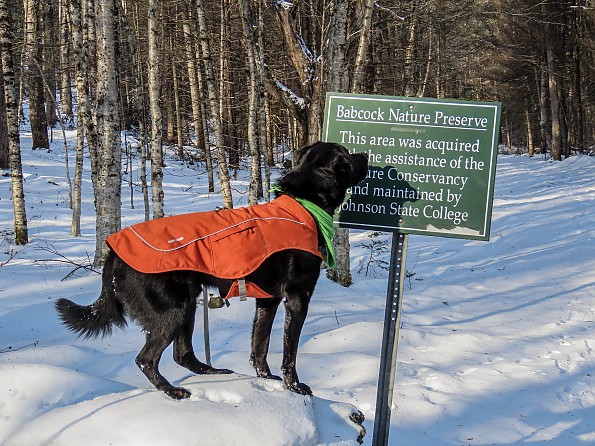 Experience
This review covers my impressions after using the Ruffwear Overcoat Fuse Jacket with our dog Edgar, in various conditions while snowshoeing and hiking in Vermont from early November to mid-February 2020. I'm continuing to use the jacket with Edgar, and will continue to evaluate its function and performance over time.
Source: received for testing via the Trailspace Review Corps (Sample for testing and review provided by Ruffwear)

It's a solid mid-weight coat. It shows durability and good water resistance.
Pros
The coat fit him well, especially since my dog is long.
Chest straps adjusted well.
Two layer design of inner fleece and outer water resistance.
Cons
The sides could come down a little farther to shed water off the jacket and not into the fur.
Nitpick: Maybe a second back strap could be added for bigger dogs
I have a Golden Retriever/Irish Setter mix. He is very tall and very long, while having a pretty deep chest. Finding things to fit him isn't always easy.
I have a Ruffwear backpack for him, so I have experience with Ruffwear products. In fact, when I opened the new jacket, he got SO excited, was patient with my doing the try-one, then spent several minutes nosing and smelling it because he figured out the coat meant adventure!
He is pretty thin coated, and while he has a really nice raincoat, I wanted him to have a burlier winter jacket for our adventures. I had a chance to give this coat a really good initial shakedown. I took him out on a five-mile outing where he ran through scrub brush and sage while it rained pretty hard; it even started turning to snow. We were out in the rain and snow for over two hours, and his jacket did not wet through. Also, I saw no scuffing, tears, abrasions or other signs of wear after he romped and ran through the heavy brush. 
Thus, when I took it off of him, his fur was dry beneath, except for where the jacket dripped on his sides. My daughter's two setters were sans coats, and they were both soaked through, the puppy shivering.
I found the pockets bigger than described. They were large enough that the Iditarod snowshoes (probably the size of two or three large bandanas) fitted fine into one pocket. In reading other reports, the smaller jackets did not have as voluminous pockets, and owners were frustrated by their smaller sizes.  
We also used this jacket over a long weekend of camping. He enjoyed running through the snowy countryside that was thick with brush and shrubs.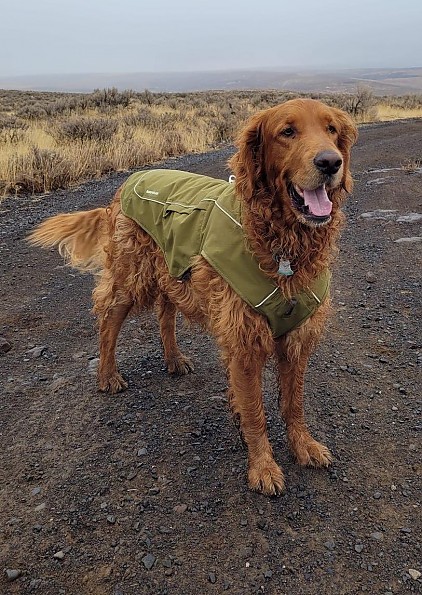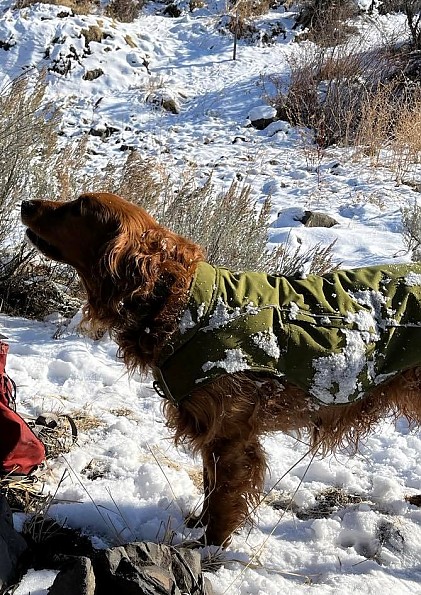 We encountered 10-degree weather one night, plus we had a fair bit of snow on the ground in places. I kept his coat on him for two nights in the camper because of the cold, and he never made a fuss about wearing his coat for hours at a time. Every time I picked the coat up to suit him up to go outside, he got very excited, and didn't mind getting it put on. 
Overall, I am very happy with this coat. He is always so relaxed with it on, and, I could see that he was warm and comfortable in both rainy and snowy conditions. I would buy again.
Experience
I have a custom made rain jacket that I like very much, but it isn't insulated, which I wanted for the colder weather. I also have a Ruffwear pack that he uses very hard during backpack season.
Source: bought it new

Your Review
Where to Buy
Help support this site by making your next gear purchase through one of the links above. Click a link, buy what you need, and the seller will contribute a portion of the purchase price to support Trailspace's independent gear reviews.
You May Like
Specs
Price
MSRP: $89.95
Current Retail: $79.95-$89.95
Historic Range: $31.98-$89.95

Shell
300 denier polyester with WR (Water Repellent) finish (bluesign approved)

Lining
100% polyester (25% recycled) (bluesign approved)

Recently on Trailspace