Voyagers K9 Apparel Custom Dog Rain Coat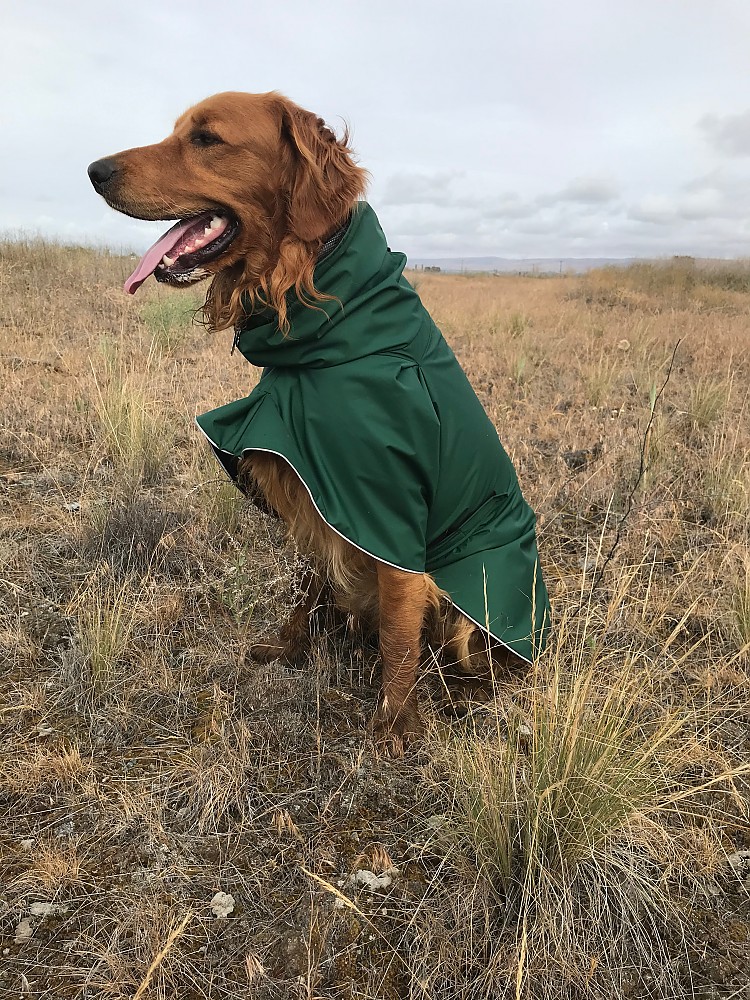 The Voyagers K9 Custom Dog Rain Coat has been a solid choice for our canine companions so far. It is rugged, holds tight as the dogs go off trail, and has been effective at shucking water and keeping Rocket, my Irish Setter mix, dry The rain coat is a good option to keep the elements at bay while hiking with your dog. Voyagers K9 also offers the Dog Rain Coat in 21 breed-specific options.

This is an initial review and I'll continue testing this custom jacket on my dog in the coming months and will update its long-term use as we experience more rain and colder temperatures.
Pros
Good fit
Waterproof
Doesn't slide from side to side
Does not impede the dog's movement
Hook and loop holds firm
Attractive
Allows plenty of room for Rover to answer "nature's call"
Cons
Potential issue of the loose fabric catching on brush
Fabric wants to bunch on the shoulders under a pack.
Let's cut to the chase—we LOVE our fur babies. C'mon, you know we spoil them—and would move mountains to take care of our pets. They are an integral part of our lives, and as outdoorsy people, we have them tag along (and how many of our dogs argue at that?). Voyagers K9 offers products for those of us who want to take care of our pets.
Background
Voyagers K9 Apparel is a cottage company which started in 1993 because its founders couldn't find garments for their greyhounds. It has since expanded beyond greyhounds into a unique business that strives to make high-end, hard-working garments for dogs in 21 breed-specific designs, from beagles to whippets. 
Voyagers K9 offers both "off the rack" breed-specific garments as well as custom sizes. It is obvious they have gone through several permutations to refine and fine tune their dog apparel.
The company's wide variety of offerings includes booties, winter coats, tummy warmers, and raincoats, all in a variety of colors. I picked green for the Custom Dog Rain Coat because I like it against my boy's copper color.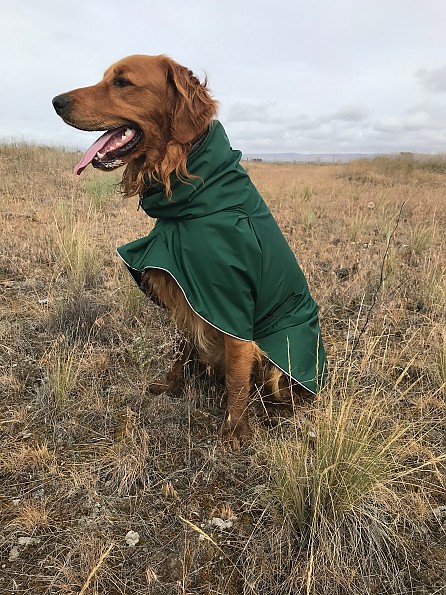 Fit
Voyagers K9's Dog Rain Coat is available in 21 breed-specific options (for example, German Shorthaired Pointer, Rhodesian Ridgeback, Great Dane, Jack Russell Terrier, Vizsla, etc...). Each of those breed-specific jackets come in their own four sizes (S-XL). If your dog isn't one of those purebreds, you can also order the Rain Coat (or Winter Coat or Tummy Warmer) as a custom option, which is what I did for my Irish Setter mix. Custom options start at $115, slightly higher than Voyagers K9's "off the rack" prices. This is a luxury item though, and if it's effective and durable, people will pay for the quality. 
Getting my dog fitted involved entering numerous measurements (neck, length, chest, chest width, waist, underbelly), weight, gender, and a side profile photo of him on the brand's website. The company also offers videos and tips for measuring your dog, and can be contacted if you have questions. As mentioned, I chose green out of the eight color options.
Voyagers K9's garments are then made by hand in Washington state by its own seamstress. According to the brand, for custom garments its seamstress creates a unique coat based on your dog's unique measurements. They request the side profile picture of each dog to help the seamstress understand the curvature of your dog's chest and create a custom fit. I received the Custom Dog Rain Coat two weeks later.
The Design
The Dog Rain Coat is very attractive and has a sleek design. It's a full coverage coat that extends from head to tail and has an integrated, adjustable hood. The skirted material shucks brush and water. The reflective piping around the edges is a nice safety feature and gives the hem an attractive finish.
Voyagers K9's Rain Coat is really well thought out and sits well on our dogs. I even had my daughter fit it on her more slightly built Irish Setter mix, and it fit him fairly well for a custom-made jacket.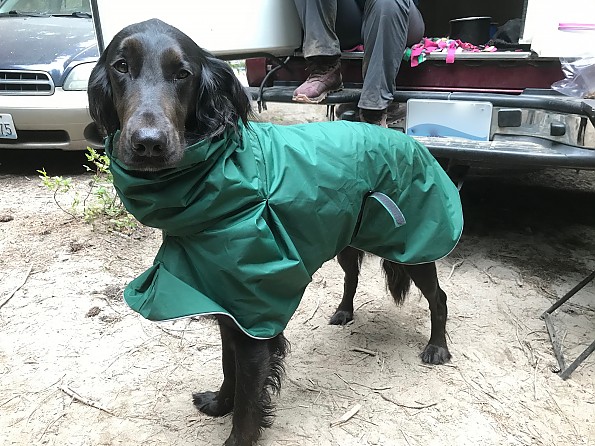 Leash & Harness Openings
The Rain Coat has an opening at the back of the neck for a leash to pass through. I pulled on the leash, had my dog walk around, and generally observed how the leash behaved. The opening is perfectly placed. I will update this post as I see long term if the lead wears on the fabric.
You can also order the Rain Coat with an optional customizable harness opening, if your dog wears a body harness. I did not.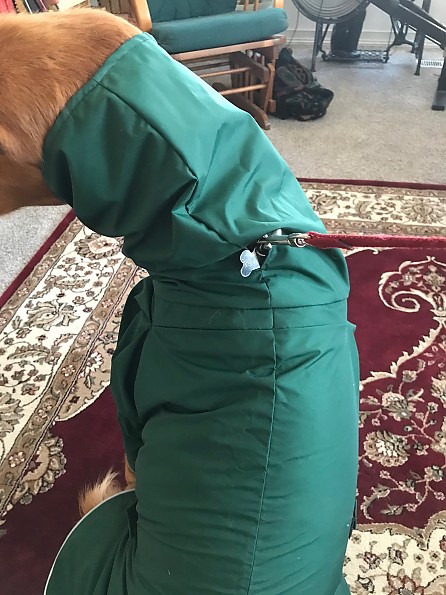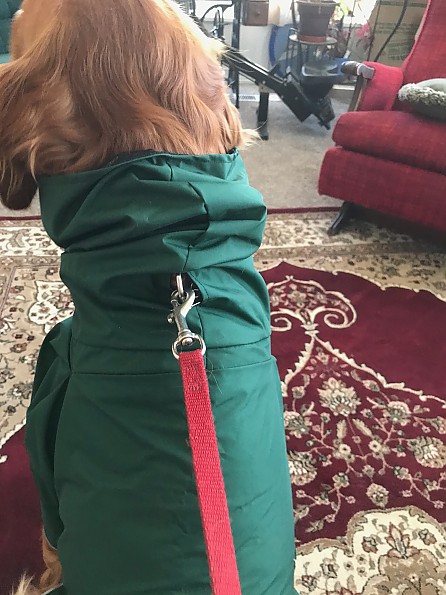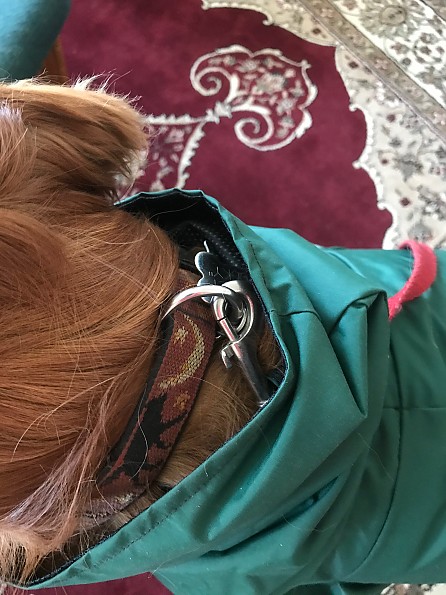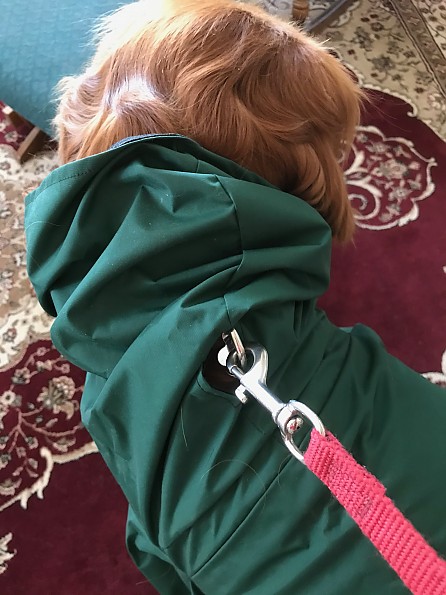 The neck has plenty of room to slip over the head of the dog. My chill pup didn't even flinch having it slid over his face.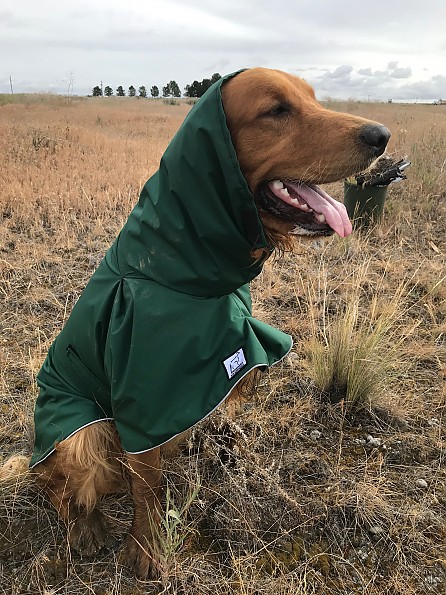 The Integrated hood is fully adjustable and extends up and over the dog's neck and ears for extra protection in the rain.

Wearability & Durability
Setting the coat up was pretty easy. The cape-like style sits very naturally and intuitively on my dog's back. The worst part was getting his curls out of the way of the hook-and-loop straps underneath.
I was able to get this on him quite snuggly. I was worried that he would roll and paw at the coat, but he seemed to not even notice it once it was on. 
The coat did not slide around or shift to one side or the other. A very effective fitting system is the use of counterbalance straps. A hook-and-loop strap system wraps underneath the dog's belly from both sides—the front strap attaches left to right, and the back strap attaches right to left—to prevent shifting.
The strap are also placed out of the way of my dog's legs, yet located at good spots on his body so the coat rides snuggly yet comfortably. The coat also has extra pleated fabric in front to accommodate his stride.
My dog didn't even mind having the hood up. I can see where in really wet and cold weather this is a nice feature that will keep rain or snow from seeping down his neck. 
We have been at a big of a disadvantage for testing in the rain so far with it being the start of summer in the desert. However, I had a window of a cooler morning with showers and took my dog tromping out into the brush on my property. 
I intentionally took him through high grass and sagebrush, because I wanted to see how the coat would do during bushwhacking. As my dog plowed through the brush the coat just slid through the branches of the sagebrush. I watched carefully, as I wanted to see if the straps or garment would get hung up, or if it would tear or abrade.
After we tromped around, I did not see any signs of wear. Granted, the coat was brand new, but the stiff sagebrush would certainly challenge weak material. I was pleased at the performance and will keep an eye on how the jacket holds up in the long-term.
Adding a Dog Pack
The raincoat is also designed to allow your dog to wear a pack on top of it. The website is clear that the pack will not fit correctly if it is worn beneath the coat.
My dog's pack generally did OK on top of the coat. I found that it bunched above his shoulders, and I was little concerned at how it may fit around his front shoulders. Later, I will put a full pack on him with the raincoat. I just wasn't going to ask him to do that yet since it's been 90 degrees out. I will update this review when I do so.
See the pictures below for the initial pack fitting: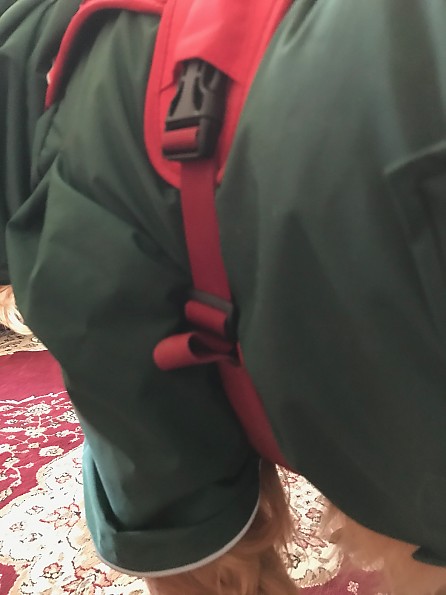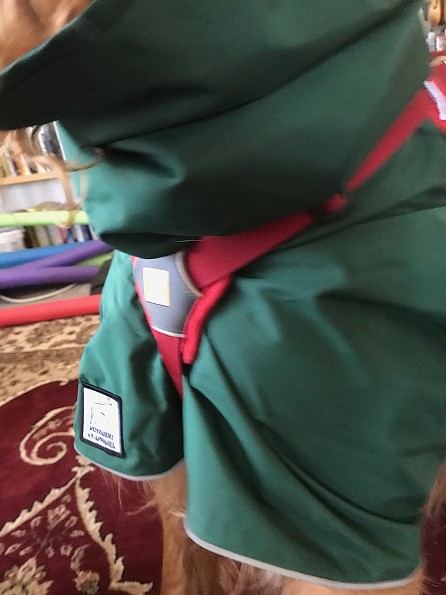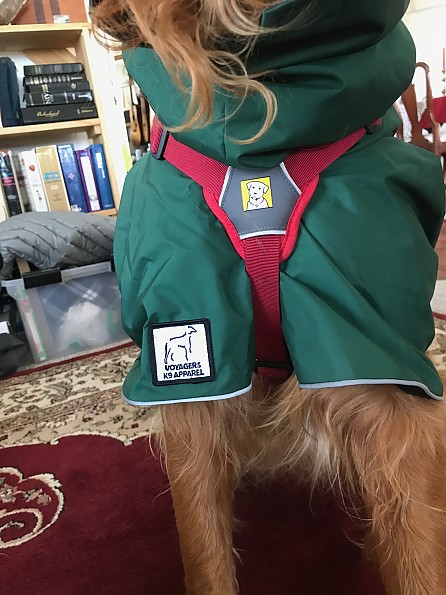 My dog didn't seem to mind the pack on. In fact, he got pretty excited when I got out first the rain coat... and then the leash... and THEN the backpack... He was very disappointed when I took them all off. 

Waterproofing
The Rain Coat is made from a waterproof Taslan nylon with DWR finish and has a mesh lining. Since we didn't get heavy rain during initial testing, I took my dog to the hose, which took a minute for him to let me "rain on him" since he loves the hose.
Here, I really wanted to challenge the water resistance of the coat.
I found that for the most part, the fabric shucked the water. I did see a couple of spots where it seemed wetted out on the outside, but it was not. 
According to the manufacturer: "Water beads up and rolls off DWR (Durable Water Repellent) finish before penetrating Taslan fabric. Even after repeated washing, this material retains its superiority as a waterproof fabric."
The coat can be machine washed and dried. The manufacturer also recommends washing it with a DWR treatment, like Nikwax, when needed, perhaps once a year, to keep the fabric's waterproofing effective.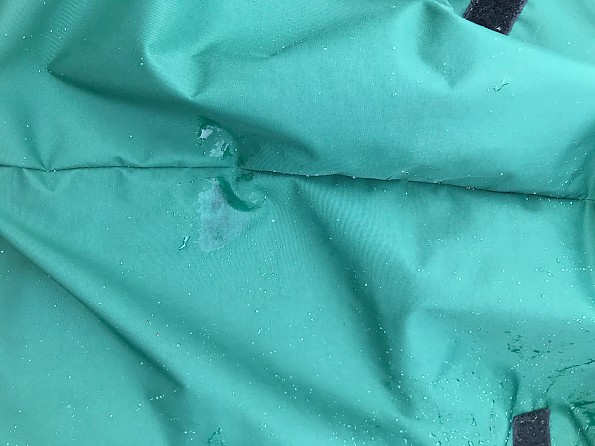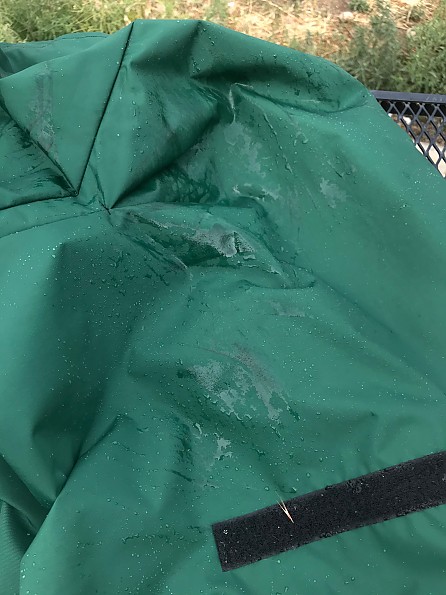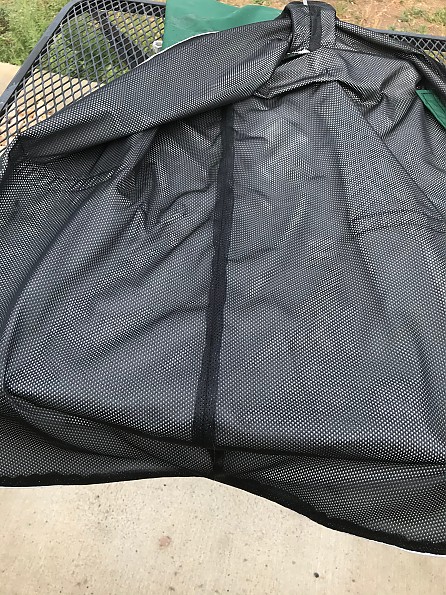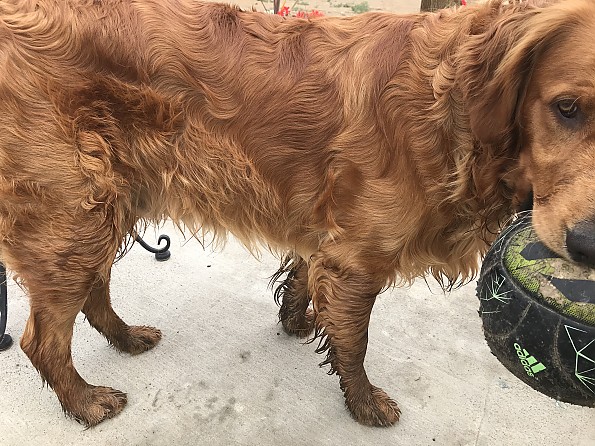 Since he is a thinner coated Irish Setter mix, I look forward to using this jacket on my dog during the cold months ahead. During a weekend last winter I ended up using his backpack as his jacket as he had gotten quite cool the day before. I can see how this jacket would be very effective for thin coated dogs since they wet out pretty quickly, and can get shivery at the end of a wet day.
(Voyager K9 also makes winter coats, plus tummy warmers that can be layered under a coat.)
Personal Reactions
This company loves dogs. Voyagers K9 originated in initially taking care of greyhounds, but expanded. With their breed-specific options they obviously understand dog anatomy, high quality care for dogs, and dog owners' needs and wants. While their products come at a higher price, I think it's appropriate for a hand-made, cottage company with great customer service.
I really like the Voyagers K9 Dog Rain Coat. The fit, design, layers, and features make this jacket a choice dog owners need to consider. As for Rocket, the classical conditioning happened—when he sees this jacket, he knows fun is coming!
I'll continue testing this custom jacket on my dog in the coming months and will update its long-term use as we experience more rain and colder temperatures here in Washington State.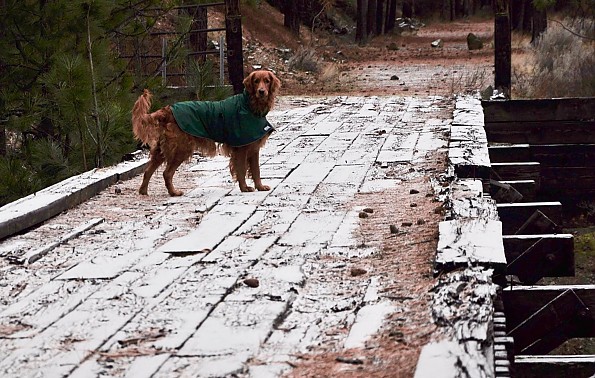 Experience
My dog is a thinner coated Irish Setter mix. I have used two kinds of dog packs, and my daughter, whom I hike with often, has used jackets for her thin-haired Irish Setter mix.
Source: received for testing via the Trailspace Review Corps (Sample for testing and review provided by Voyagers K9 Apparel)

Your Review
Where to Buy
Help support this site by making your next gear purchase through one of the links above. Click a link, buy what you need, and the seller will contribute a portion of the purchase price to support Trailspace's independent gear reviews.
You May Like
Specs
| | |
| --- | --- |
| Fabrics | Taslan nylon with DWR finish, Mesh lining |
| Waterproof | Yes |
| Machine washable | Yes |
| Hood | Yes |
| Leash opening | Yes |
| Harness opening | Optional |
| Origin | Handmade in Washington state, USA |
Recently on Trailspace