Salewa Micra

The Micra has been discontinued. It was replaced by the Salewa Micra II.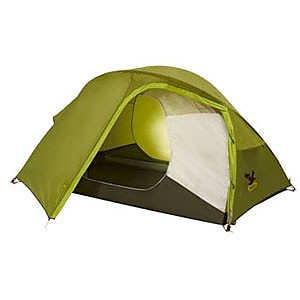 So I got the Salewa Micra as my first tent 11 years ago, and since then I used it pretty much in any condition you will put a 3-season tent to, and more. There are good things about it, and not so good.
The bad side is the weight. 11 years passed by, and still the current model weight 2.4 kg. I think the one I have is 2.5 kg.
The poles setup is great, and you do have a nice headroom, but it's a SMALL 2-man tent, and with one door you better LIKE your buddy a lot! So weight-for-space ratio is bad.
But then there are the good bits. It's super easy to setup, it's as waterproof as I need a tent to be — spent weeks camping in it in the rain and always stayed dry. The way that the 2 poles cross is great — it's a really solid tent also with it narrow profile.
I had it set in some really strong winds that flatten down a lot of other tents it this one stayed standing, and we found out you can put 4 people in it when you really need to (like sardines in a can). This poles setting work well also with snow load.
One of the factors that add to the weight is the lack of mesh, but when you add it up to its strength you really get a tent that is 3.5 season as it helps to keep the heat inside. The vents work well and I never had a big problem with condensation. The materials and craftwork are fine, holding up; I think they are good as much as I can tell.
So it gets 4 starts from me for being a really sound all around tent, better if you solo and like the room but then it gets a bit heavy comparing with other tents on the market today. Great if you want a double skin tent, solid, but not an overkill.

Price Paid: $300?

Your Review
You May Like