Salomon X Ultra 3 Mid GTX

The X Ultra 3 Mid GTX has been discontinued. It was replaced by the Salomon X Ultra 4 Mid GTX.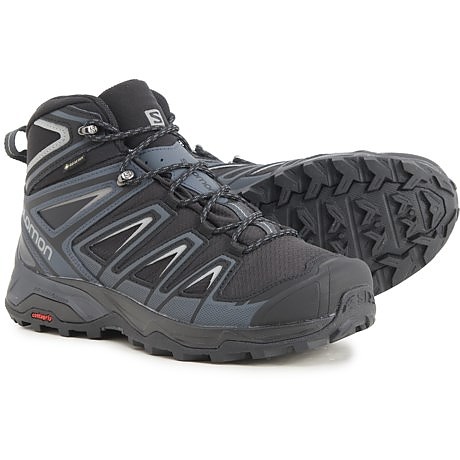 A lightweight mid-height light hiking boot that's a good all-around choice for all but the heaviest-duty hiking. Mixes relatively light weight and very good support. After about one year and 400+ miles, the soles show some wear, and the midsole feels like some of the cushioning in the forefoot has lost its spring. One of the better, more comfortable choices out there.
Pros
Comfort
Traction
Waterproof
Not too heavy
Reasonably stable
Cons
Not the best for heavy packs and broken trails
Durability vs. use
Salomon's X Ultra 3 mid has been my go-to light hiker for the past year. I wear them when I figure my low hikers (the X Ultra 3 low, I'm on my second pair) might not provide enough support or keep mud and moisture out, and when my heavier boots can stay on the shelf. Over the course of a year, I estimate that I walked and hiked 300-400 miles in them, carrying anything from small day packs to around 25-30 pounds.  
Salomon sells the X Ultra 3 Mid Gore Tex in men's sizes 7-14 and women's sizes 5-12, including wide sizes for both genders. it's worth noting that Salomon has rolled out the X Ultra 4 mid GTX, which will probably replace this boot. If you live in a place where breathability is more important, eg you don't want or need Gore Tex, consider the X Ultra Mid Aero, which has no Gore Tex and may vent moisture better for hot, dry climates.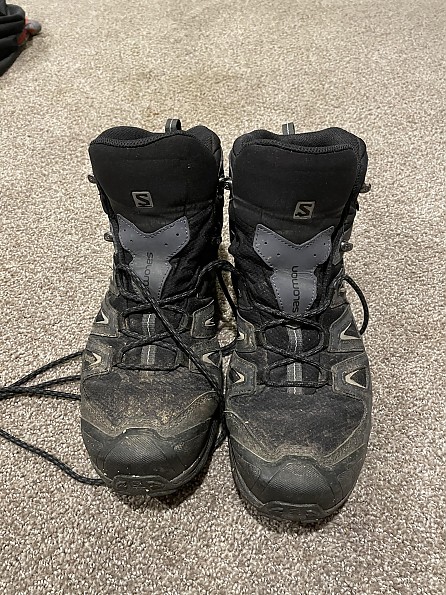 BASIC INFORMATION
My size 11.5 (European size 46) shoes weigh about 2.3 pounds. That's fairly light for a low hiker.
I think this is a shoe that is definitely worth trying on. Could say that for all shoes, but some Salomons run a little bit longer than normal, and the size conversion can be a little funky. I wear a 12 in some shoes, which matches up with European 47, but 47 was definitely too large for me.  
They use a traditional lacing system—3 sets of fabric loops plus two metal hooks, and normal laces. I make that distinction because the X Ultra 3 low uses skinny kevlar speed laces instead. The body of the boot is made of nylon and synthetic leather reinforcements, and the sole is EVA foam, a pretty typical cushiony material in hikers at this weight and price point. The sole is Salomon's 'contagrip' rubber with diagonal lugs.
The toe caps do a good job protecting you from roots and rocks.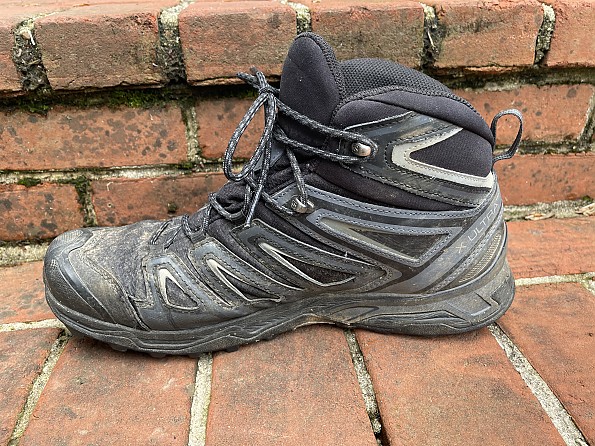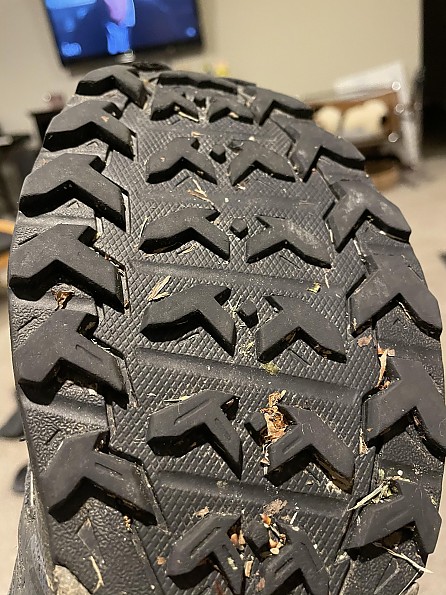 COMFORT AND STABILITY
This shoe falls safely in the light hiking zone for comfort and stability. They require relatively little break-in—a shakedown hike or two to loosen them up a little—and the feel solid considering their light weight. I have never had issues with my feet sliding around or with banging my toes on downhills in the X Ultra 3 mid.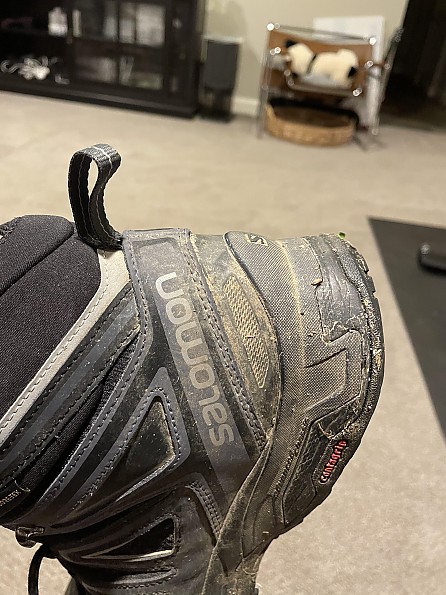 The back half of the midsole has extra support, a hard black plastic support that goes around the edge of the heel. The stock insoles are light and don't add much support or cushioning; I replace all stock insoles with a pair of hard plastic custom orthotics, which fit nicely into this boot.  
These boots do have limits in terms of stability and foot protection. I prefer a heavier-grade boot with a thicker, harder, more protective sole and midsole for hiking on talus or my favorite White Mountain trails littered with jagged rocks. These also aren't my choice if I'm carrying a fair bit of weight, where I prefer a shoe with a more solid base; the softer midsoles that are so comfortable for a wide range of trails and hiking aren't ideal for carrying a heavier load. 
Lighter, thinner EVA midsoles also have their limits. After 300-400 miles, I don't feel like the front part of the midsole is cushioning my feet as well as it used to. Eventually, EVA midsoles, no matter what manufacturer, get crushed, meaning the boot may need to get replaced. These can't be re-soled.  
WATERPROOFING/BREATHABILITY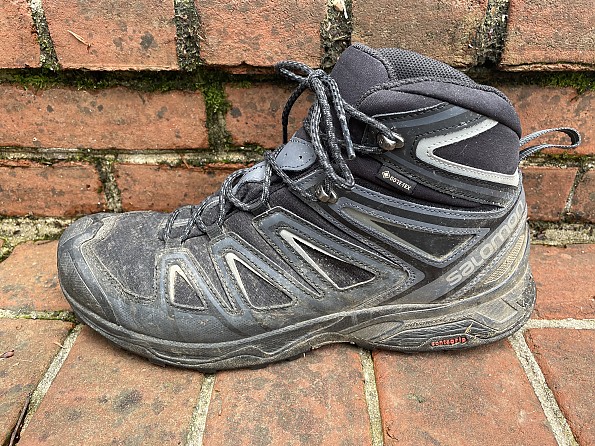 Hiking shoes and boots are always wrestling with some kind of compromise when it comes to waterproofing vs. venting moisture. Shoes without a leather outer that can be waterproofed or a Gore Tex membrane breath better, but your feet will get soaked on a wet trail or a rainy hike. Shoes that are waterproof don't breathe as well. The X Ultra 3 mid strikes a balance by using a waterproof/breathable Gore Tex bootie and decent-sized nylon fabric areas to help get some sweat out. 
I have had nothing but good experience with the waterproofing on these—they didn't leak. In cold or cooler weather, I didn't notice any meaningful sweat buildup. In hot weather (we live in the DC metro area, it gets pretty warm and humid), I found these work best if I changed socks in the middle of the day, because the boot feels kind of warm and socks get a little damp in very warm weather. (For what it's worth, I hike in FITS medium hiker merino blend socks with these.)
TRACTION/SOLE WEAR
The lugs work pretty well in sandy/muddy conditions due to the lugs. They shed mud well and provide nice traction. Traction on rock slabs is decent but not amazing. that is because Salomon's "contragrip' soles are actually dual-density rubber—harder, denser compounds around the edges, softer/more grippy compounds for the interior lugs. If traction on rocks is very important for your upcoming hike, approach shoes or shoes that are overall more grippy on flat rocks might work a bit better.  
As you can see from the photos below, high use areas are definitely showing some wear after a year of reasonable use.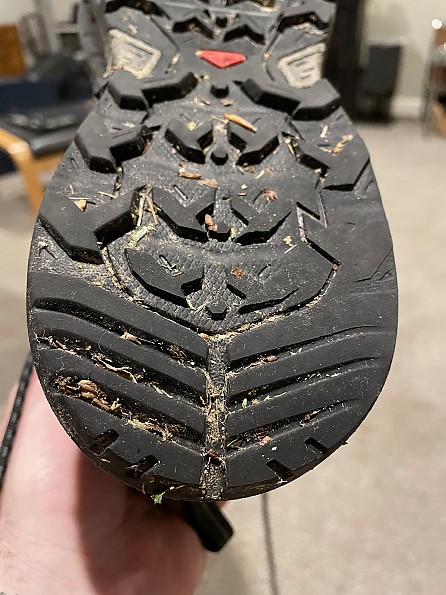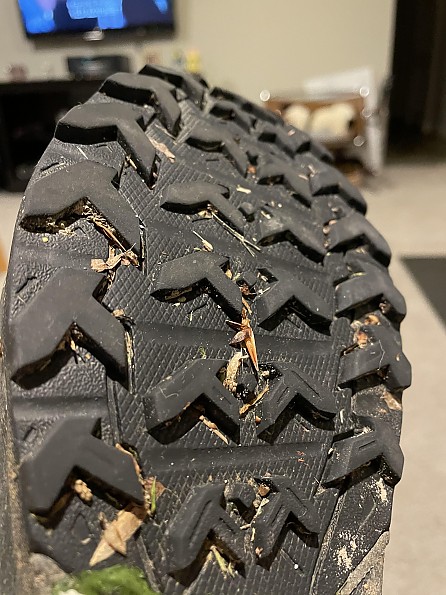 DURABILITY
These have done pretty well but have arrived at the point where I'll replace them with something for most hiking, whereas these will become more like "yard shoes" for gardening, chores, etc.
As I already mentioned and showed, the soles have decent wear—some of the treads and lugs are worn down or worn flat. Also, the cushioning function of the midsole isn't quite what it was at first, particularly under the front part of my foot. 
Finally, a seam or two is starting to come loose—take a close look at the photo below, where some of the stitching down near the sole, just forward of where the laces start, is coming loose. Otherwise, the seams are in decent shape, and the soles haven't pulled away, broken, or delaminates from the midsole. Given the mileage, I think they have provided good durability overall.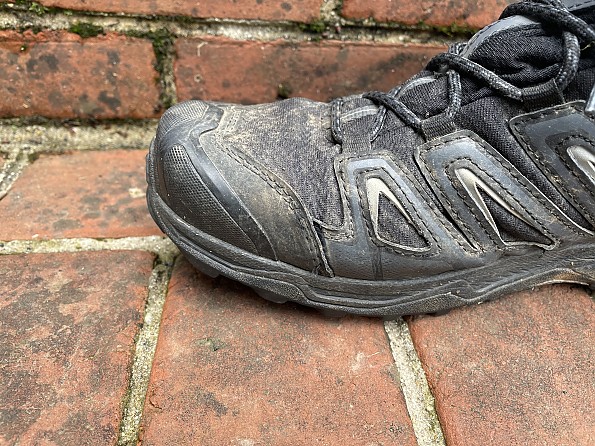 HOW I HAVE USED THEM
I may have worked from home over the past year, but I didn't stop hiking. Local trails in the DC area and in Massachusetts near my parents' place were my primary stomping grounds, but I also made repeat trips to the Shenandoahs and hiked in New Hampshire (White Mountains and Monadnock). These shoes saw more use than I would normally give light hikers in a year because longer trips got cancelled, so the burly all-leather boots tended to be worn less.  
CONCLUSIONS/TAKEAWAYS
These are reasonably lightweight, comfortably, high-performing light hiking boots that are great for a wide range of situations. They're a great boot for the niche they are intended to fill, and both light enough to substitute for a low hiking shoes and sufficiently supportive that people might use them for longer trips and harder trails. 
Experience
See above. A healthy year of hiking in a variety of situations.
Source: bought it new
Price Paid: $165

Your Review
You May Like
Specs
Men's
Price
MSRP: $165.00
Historic Range: $50.97-$165.00
Reviewers Paid: $165.00

Lacing system
Regular laces

Waterproofness
GORE-TEX

Anatomical fit
Standard fit

Drop
11 mm

Weight
450 g

Women's
Price
MSRP: $165.00
Historic Range: $79.99-$170.00

Lacing system
Regular laces

Waterproofness
GORE-TEX

Anatomical fit
Standard fit

Drop
11 mm

Weight
420 g