Salomon X Ultra GTX Mid

The X Ultra GTX Mid has been discontinued. It was replaced by the Salomon X Ultra 4 Mid GTX.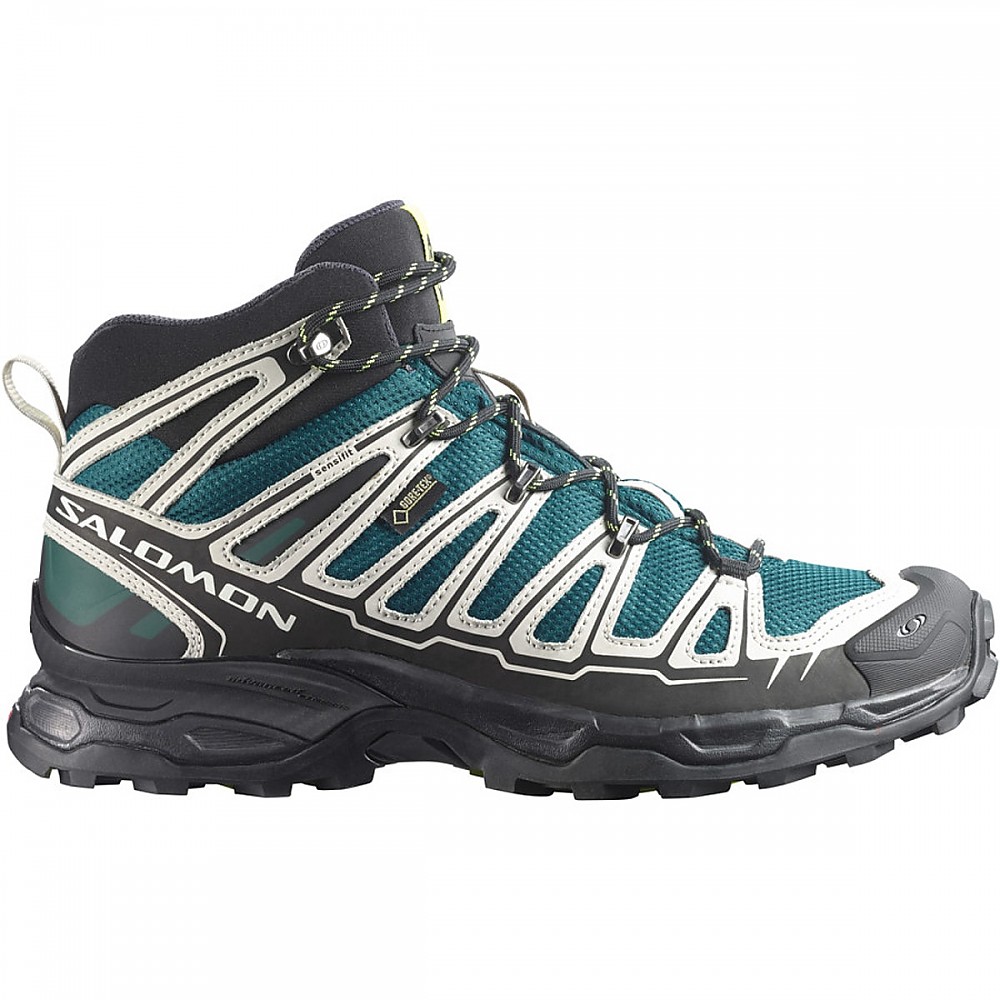 Overall I have never felt so 'one' with a shoe. The fit and thickness of the sole is exactly right and it is a pleasure to climb up steep terrain, or run down it. For long hard days I wish it had more rock protection, but not sure this is possible and keep the excellent feel of the trail.
Pros
Great mix of support and flexibility
Incredible fit, for narrow to normal foot
Very durable upper
Very durable soul
Cons
Wish it had more rock protection
Wish they had a non-GTX version
Design:
I think these are designed as a burly trail runner or trimmed hiking boot. They offer a good feel of the trail while giving more support and durability than a lot of trail runners. 
Fit:
I love these. But, with footwear more than anything, fit is everything so it depends. If you have a narrow or perhaps also normal foot, these fit really really well. Heel stays solidly in place, but toes have enough wiggle room. I bought these in my normal hiking shoes/boots size and they are a good length. Even in ten hour tropical rains I never got any blisters in these. 
Construction of the upper is very tough, no stitching getting loose and nothing holds on to the material so much as with other boots/trainers. 
I do wish they came in a non-GTX version as well, as they will get soaked in continuous steady downpours during the raining season. I have not yet owned another shoe or boot that didn't though.  
Water resistance: 
Trekking twice a week during the rainy season in Japan my experience has been that when there is sustained rain my socks will start to feel wet after two hours. Then they will be soaked and sogging in 2,5 hours. I've had this happen quite consistently while hiking in continuous rain. The rain I'm talking about varies from normal sustained to intense sustained rain, sometimes was a bit less, sometimes a bit more. But my shoes never stayed dry for more than 2~2,5 hours. 
I'm not talking about this shoe vs. another shoe, I'm talking about any GTX lined boot I personally ever had. 
I think there might still be cases where GTX lined boots could be good. In mild snow trails where you are not constantly subjected to lots of snow or water the GTX liners keep your feet warmer and dry enough if you combine them with a gaiter.
Support:
Mid-sole is a good balance between some cushioning and solidity which give you a very secure feel when scrambling over rocks. You get a good feel of the trail (good proprioception) which makes you move more securely. There is a hint of a rock plate I think but I do get a tired/battered feet on my treks/runs. I do long days over rocky terrain though and although I start to feel it after 30Km, it is from 40 to 50Km (25~30miles) that this really starts to be an issue. 
The outer sole has good grip, and the rubber seems to last quite a lot longer than similar boots I have with Vibram under them. Was kind of amazed by the difference in durability. I have used these once or twice a week for 24~50Km each time and I only recently ordered my second pair. 

Overall:
I have never felt so 'one' with a shoe. The fit and thickness of the sole is exactly right and it is a pleasure to climb up steep terrain, or run down it. For long hard days I wish it had more rock protection, but not sure this is possible and keep the excellent feel of the trail.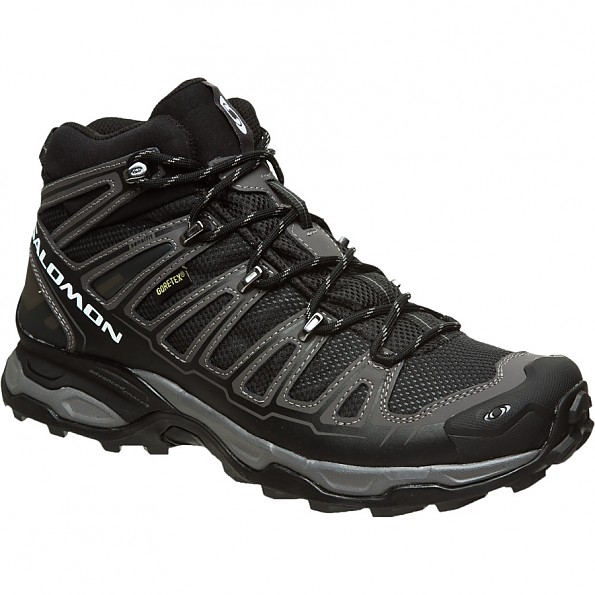 Source: bought it new

The least durable hiking shoes I have owned. For the first few months, they were good, now a little over a year later the Goretex is gone and the midsole isn't doing much anymore.
Pros
Good shoe for a month or three
Fit is pretty comfortable
Cons
Waterproofing is gone in a couple of months of regular use.
Take about a week to dry when soaked and yes this will happen frequently.
Any waterproofing stuff like Nikwax doesn't do much due to the materials used. The shoe will just soak it all up.
Mid sole disintegrates quickly making rocky areas uncomfortable to walk on.
These are the least durable hiking shoes that I have ever owned.
I bought these boots a little over a year ago and at first, they seemed great. The fit worked well for me, there is virtually no break-in needed, and blisters and other discomfort was nonexistent as well.
There were some minor drawbacks like shoelaces coming loose fairly easily and in the arch of the sole, there is some hard plastic that provides no traction resulting in a few scares here and there. But overall it served me very well at the beginning. I used it snowshoeing and my feet were warm and dry after several hours and rain and mud were no issue either.
Fast forward about three months and I noticed that moisture was getting into the shoes. At the time I assumed it was just sweat as it was mid-summer. In autumn I didn't do a lot of hiking but the next winter I went snowshoeing again and this resulted in completely soaked hiking boots. Also this spring I noticed that my boots got soaked after an hour or so of hiking in rainy conditions or stepping in a puddle. The added downside with these boots is the extensive dry time of multiple days.
Now a year and some months later the midsole is worn out making the shoe rater uncomfortable on rocky terrain. So, what I'm left with are hiking boots that optically still look good and still has plenty of tread left, but provide the same level of waterproofing and comfort as a pair of sneakers.
I expected these boots to last longer than 1.5 years with approximately two hiking days per month on average.  
Experience
I have owned these boots for 1.5 years and taken them on +/-25 hiking trips of 15km average in snow rain and dry conditions.
I have previously owned numerous other hiking boots and those all seemed to be more durable.
Source: bought it new

At best these boots are average. I own a pair of Jack Wolfskin mid boots that are much more comfortable.
Pros
Nice light feel
Decent sole with grip
Cons
These boots are uncomfortable as they rub against your inside ankle bone; the only way to stop that happening is by loosening the lace, which then makes the whole boot unstable as it is not tight on the foot which leads to blisters
An expensive boot with average capability
I have pretty much said it all in the pros and cons. These boots are nowhere near as comfortable as my Jack Wolfskin boots which cost around the same. Had I had known the problem with the ankle rub then I wouldn't have bought them. Once worn on a trek then you can't take them back. 
Source: bought it new
Price Paid: 165 euros

The perfect boot, I bought these a few months ago and have not taken them off yet. I figured I would break them in at work for a few days so come time for some camping, hiking they would be ready. Wow, did not have to break them in at all, out of the box great!!!
Cons
None that I could find
Need another pair for the trail
Love these mid high boots, or should I say sneakers, that's how they feel.
Source: bought it new

A waterproof all purpose boot. Suitable for the trail or the street.
I bought these to replace my Patagonia Drifter. I need to have products that are versitile. I wear boots for the trail and for work.
These boots were comfortable right out of the box. I wore them for hikes in the Bay Area, including Mt Diablo. On wet days, my feet stayed dry. On warm days, my feet didn't get hit. No blisters so far, after 6 months of wearing 3-4 times a week.
The only weakness is the tread, which I think could be beefed up a bit. It's a boot that does the job, whatever that job may be.
Your Review
You May Like
Specs
Men's
Price
Historic Range: $79.83-$160.00

Women's
Price
Historic Range: $79.98-$160.00

Recently on Trailspace